For proper car interior maintenance, there are some tools that you should always have such as a car vacuum cleaner.
Designed to work just like the normal vacuum cleaner in your home, this unit allows you to reach all the hidden crevices inside, leaving a clean and healthy passenger space.
That said, you might think of using the regular home vacuum cleaner on your car but it won't be as effective because car interiors have very many hidden spots that need a specialized cleaner to reach.
Therefore, if you want to leave your car's interior spotlessly clean, these are the best car vacuum cleaners that you should consider buying.
Editor's Recommendation: Top Car Vacuum Cleaners of 2021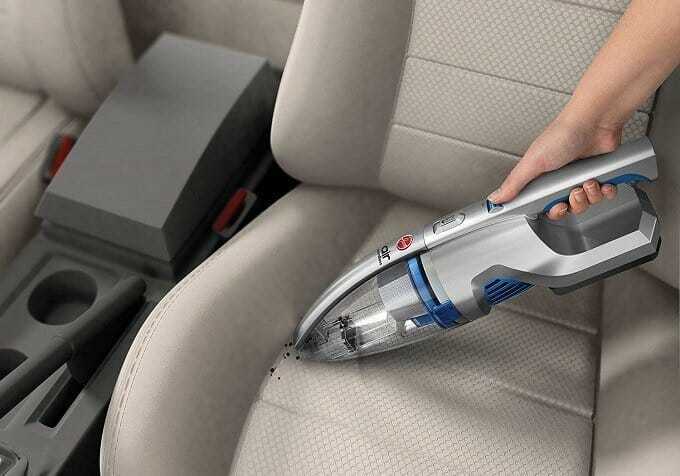 Summary of 7 Best Car Vacuum Cleaners
IMAGE
PRODUCT
FEATURES

1. ArmorAll AA255 (Best Overall)

Corded cleaner with a large 2.5-gallon tank
Powerful 2HP motor
Easily convertible into a blower
Automatic shut-off

2. Bissell 47R51

Compact corded vacuum cleaner
Curved carrying handle
Long 18-foot power hose
Multi-level filtration

3. Black & Decker CHV1410L

Cordless cleaner with smart charge technology
Cyclonic cleaning action
Slim rotating nozzle
Translucent bagless dirt bowl

4. Dirt Devil SD20005RED

Corded vac cleaner with a 16-foot power cord
Removable and washable filter
Quick flip on-board crevice tool

5. DeWalt DCV581H

Corded (AC) or Cordless (battery) powered
Wet/dry filter with 99.97% efficiency
2-gallon tank
Crush-resistant 5-foot hose

6. Novete VT-DH001

Lightweight cordless vac cleaner
Cyclonic cleaning action
2-in-1 charging station
4 detachable lithium-ion batteries

7. Homasy USAS1-VTHMHM207AWUS-VD

Cordless cleaner with fast charge technology
Ergonomic 65° sloping design
Powerful 100-watt motor
4 high capacity batteries
1. ArmorAll AA255 - Best Overall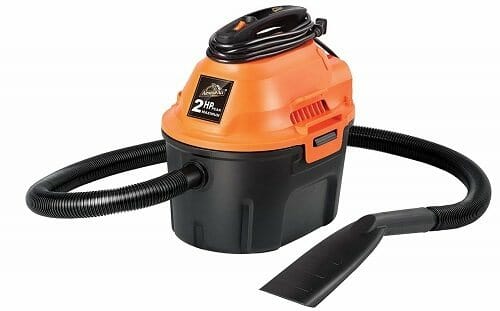 This AA255 stands out due to its large 2.5-gallon storage tank, which ensures you will clean your car's interior for a long time before emptying.
Also included is a powerful 2 peak horsepower motor, which is quite strong, and provides enough suction power to pull in large and small debris with ease. This actually makes it one of the most powerful car vacuum cleaners in this review.
The cleaner is powered using AC and it comes with a long 10-foot power cord for extending its reach. Additionally, a 6-foot hose is included, which makes the overall reach 16 feet, enabling you to reach all the corners inside.
Other features include the ability to pick up wet and dry debris, easy conversion to a blower, automatic shut-off when the tank is filled and the inclusion of a brush and several nozzles as accessories.
However, the cleaner is quite heavy and since it is AC powered (corded), it is not highly portable.

---
2. Bissell 47R51 Vacuum Cleaner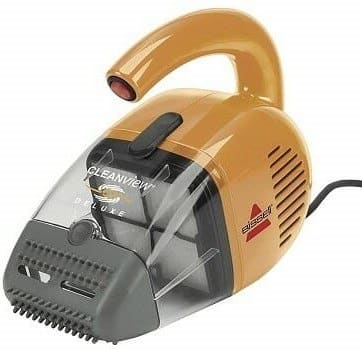 If you are looking for a compact car vacuum cleaner, Bissell's 47R51 is your best bet. The unit measures only 10 x 5 x 8 inches and has a curved carrying handle with a conveniently placed power switch at the end for one-hand use.
This leaves your other hand free to operate and direct the 2-foot hose on which you can attach a wide mouth or crevice tool. Though quite short, this hose is complemented by a long 18-foot power cable, which extends the total reach to 20 feet from the socket.
On the inside, a bagless design with only a dust cup makes the cleaner very easy to empty, while multi-level filtration reduces household allergens. Combined, these features make it the top-rated car vacuum cleaner in this review.
However, the unit has a very small dust cup that may require frequent emptying and because it is corded, this limits its portability.

---
3. Black & Decker CHV1410L Cordless Car Vacuum Cleaner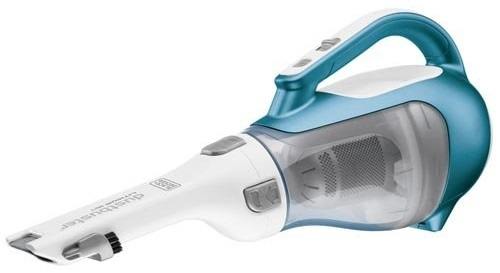 Black & Decker's CHV1410L stands out as the best cordless car vac because of a number of reasons. For starters, it has a built-in smart charge technology that uses up to 50% less energy when charging its lithium-ion long-life battery.
Once fully powered, the cleaner does its job via cyclonic action, which helps keep the filter clean and maintains high suction power for pulling in debris.
A slim rotating nozzle is used to collect this debris then passes it to be stored in a translucent bagless dirt bowl, which makes it easy for you to monitor the dirt level so as to determine when it's time to empty.
Though quite small, this dirt bowl is very easy to empty and easy to clean, which means you can have the cleaner back up and running after a short while.

---
4. Dirt Devil SD20005RED Car Vacuum Cleaner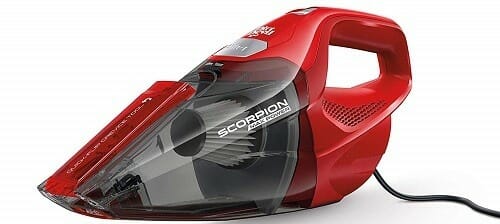 This car vacuum cleaner packs power and portability in just 3 pounds of weight. It includes a 7-amp motor, a 0.45-liter dirt cup and a removable washable filter that is easily accessible for quick maintenance and is designed for long-lasting performance.
On the outside, you get a 2.5-foot hose plus a quick flip onboard crevice tool for convenience and easy reach while a 16-foot power cord extends the overall reach to 18.5 feet so that you can get to each section of your car's interior.
However, this corded design limits the cleaner's portability while its small dirt cup means frequent emptying, especially if the interior is extremely dirty.

---
5. DeWalt DCV581H Car Vacuum Cleaner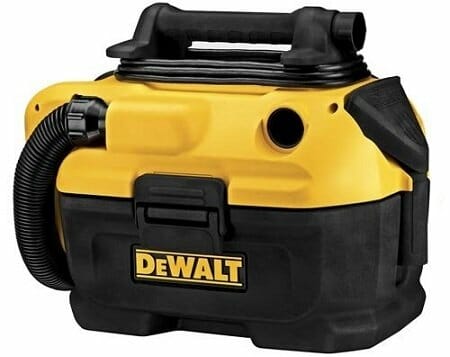 DeWalt is a well-known brand in making power and hand tools, and their DCV581H takes versatility to the next level because it can be powered using 2 sources. These include an AC wall outlet or a battery, in which an 18-volt or 20-volt battery can be used.
Aside from this, the unit has a HEPA-rated wet/dry filter that is designed to trap dust at 1 micron with 99.97% efficiency. This filter is washable and reusable and can be easily accessed for quick maintenance.
Other features include a crush-resistant 5-foot hose that is very durable and fully integrated into the cleaner itself, a large 2-gallon tank and the inclusion of crevice and wide nozzle tool attachments as accessories. On the downside, this unit is very heavy and costs quite a lot.

---
6. Novete VT-DH001 Car Vacuum Cleaner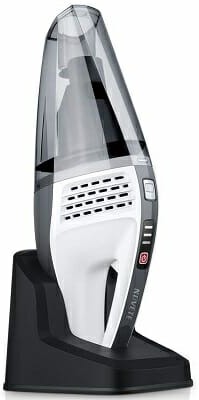 Being portable and lightweight is ideal for car vacuum cleaners because it makes handling easy so that you can clean your car's interior without experiencing fatigue on your hands. The VT-DH001 weighs only 2 pounds and this makes it very comfortable to use.
Despite being extremely lightweight, the cleaner has quite a powerful 100-watt motor that provides up to 7 kPa of suction force. With this, the unit creates a cyclonic force that keeps the filter clean and maintains strong suction for pulling in small and large debris with ease.
Power is provided via four 2200mAh lithium-ion batteries, which are detachable and provide up to 30 minutes of continuous run time when fully charged.
Charging is done using a 2-in-1 base station that delivers a full charge in 4 hours while also providing a convenient storage base.
However, the built-in dust cup is quite small (0.16 gallon), but it is translucent, which makes it easy to monitor its fill level.

---
7. Homasy USAS1-VTHMHM207AWUS-VD Car Vacuum Cleaner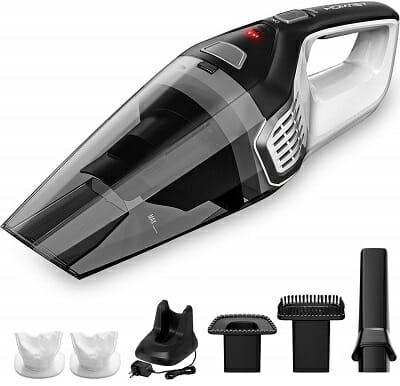 Homasy's car vacuum cleaner bears an ergonomic 65° sloping design that balances the unit perfectly on your palm to prevent wrist pressure. Additionally, it weighs only 3.26 lbs, which means you will effortlessly clean your car.
Other than this, the unit is powered using four 2200 mAh high capacity lithium-ion batteries that provide a continuous working time of up to 30 minutes on a full charge.
These batteries are charged using the latest generation of fast-charge technology, which can fill them up in as little as 3-4 hours.
Inside, power from the batteries is supplied to a 100-watt ultra-high-power motor that delivers a suction force of up to 6 kPa. This makes it capable of pulling in even the unseen dust buster motes hidden deep in your car's interior.
On the downside, the cleaner has a small 600 ml (0.16 gal) dust cup, but this helps to contribute greatly to its high portability factor.

How to Buy the Best Car Vacuum Cleaner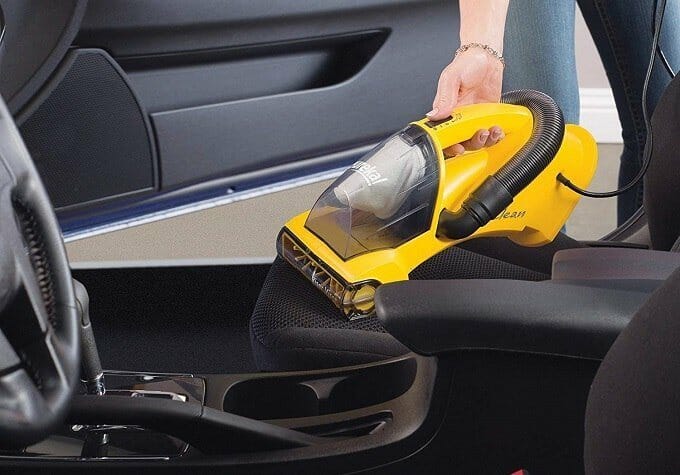 Before investing in a car vacuum cleaner, there are a couple of factors that you need to consider. These include:
1. Corded or Cordless
Corded
Corded units basically require AC power and draw it from wall outlets. This means you have to use it while close to your house when cleaning your car's interior.
However, there is a type that is DC powered and it draws energy from the cigarette lighter port of your car. Even though cables might limit the portability aspect, these cleaners have the main advantage of having unlimited power, which means they can run continuously uninterrupted.
Cordless
On the other hand, cordless vac cleaners are battery-powered and with this, their main advantage is being highly portable because they can be used practically anywhere.
However, battery power is limited and this means you need spare replacement batteries to avoid waiting for long charging hours if you have not finished cleaning.
Buying Guide : The DC cigarette lighter powered car vacuum cleaner does have an edge over the others because it does not require charging and can be used on your car anywhere. Another practical type is the one that can either be battery-powered or AC powered.
For the other types though, none can be said to be better than the other and therefore, selection should be based on personal preference.
2. Portability
This has mostly got to do with the weight and size of the vac cleaner. There are two things that can work here. The unit should be lightweight enough to be easy to handle using one hand so that the other hand can be left to lift mats, raise cushions, etc.
The other alternative is to have a regular heavy unit but with a long hose that can reach most of the corners and crevices. However, a small and compact cleaner is best if your main issue is portability.
3. Tank Capacity
Following up on the portability factor, small cleaners usually have small dirt containers that may require frequent emptying, especially if the interior is very dirty. This can be very inconveniencing.
On the other hand, the cleaners with large tanks are usually heavy and definitely bulky but they offer you the convenience of storing lots of debris before requiring to be emptied. The choice between the two, however, is down to personal preference.
4. Suction Power
Suction power is dependent on how powerful the motor is and it shows how much force the cleaner exerts when pulling in debris. Measured in kPa (kilopascals) or sometimes in AW (Air Watts), the higher this value is, the better and the more powerful the cleaner is.
Considering this, Novete's VT-DH001 is more powerful than Liberrway's cleaner because its 7 kPa is greater than 5 for the latter.
5. Accessories
Lastly, you have to consider the included accessories. These add value to the product and are usually crevice tools, wide mouths, brushes, etc.
Generally, the more they are, the better because they are designed to help you reach deep into crevices and tight spaces, and also brush the surface thoroughly for a spotless finish.
Conclusion
As you can see, apart from suction power, the main difference between the different types and varieties of car vacuum cleaners is their power source. Some are battery-powered, some AC powered and others draw power from the cigarette lighter port.
With all these varieties, there is a lot to choose from, which can be confusing at first. However, the review and buying guide above is meant to take care of all this so that you can have an easier time doing the selection and picking the best car vacuum cleaner that suits your needs.