Like any other part of your vehicle, your leather seats and other leather components need regular care and maintenance.
And although there are different ways of caring for leather the most effective ones will always entail the use of the best leather cleaners and conditioners.
With these leather cleaning solutions, the fabric becomes less prone to breakage, wear out, cracking and drying etc. And they also provide protection against UV rays and also help to keep the material water-resistant.
And to help ensure you get products that will keep your leather interior in pristine shape, we provide review of top 10 leather cleaners and conditioners. We also explain the factors to consider when shopping.
Editors' Picks for Top Leather Cleaners and Conditioners of 2021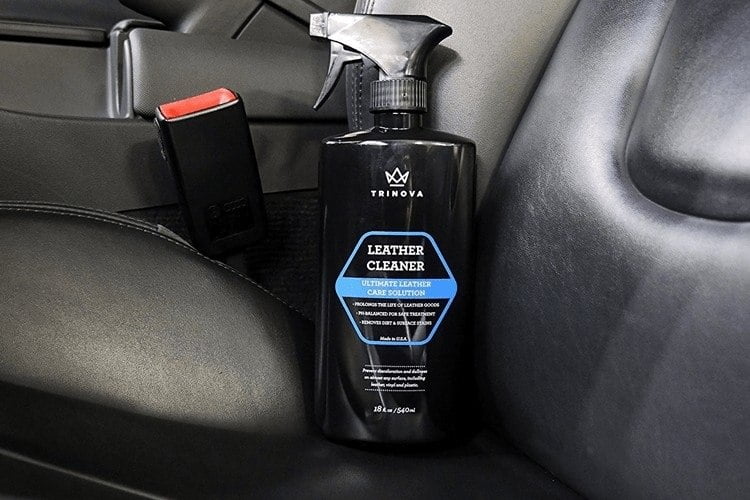 Summary of 7 Best Leather Cleaners & Conditioners
IMAGE
PRODUCT
FEATURES

Bick More Bick 5 Spray Cleaner And Conditioner

1. Bickmore Bick 5 (Best Overall)

Thick rich formula

Does not leave sticky leather residue

Convenient spray on

Cleans and polishes

Leather Honey Leather Cleaner

2. Leather Honey 857834002126 (Best Value for Money)

Good value for cash

Ideal for both vinyl and leather

Effective on tough stains and grime

Non-toxic formula

Chemical Guys Leather Cleaner And Conditioner

3. Chemical Guys SPI-109-16 (Best Conditioner/Cleaner Pair)

Complete cleaning and conditioning kit

pH balanced formula

Colorless and odorless
No sticky residue

Meguiar's G10916 Gold Class Rich Leather Cleaner And Conditioner

4. Meguiar's G10916 (Best Brand)

Top quality brand

All-in-one leather care solution
Provides UV protection

Non-greasy formula

KevianClean Leather Cleaner And Conditioner

5. KevianClean KC-16-LCC (Best All-in-One)

All-in-one formula

Works for a wide range of leather types

Deep-penetrating

High-grade and non-toxic formulation

Bickmore Bick 4 Premium Leather Cleaner And Conditioner

6. Bickmore Bick 4 (Versatile Wax-Free)

Ideal for all leather surfaces

Wax-free formula

Does not darken leather

One-step application

TriNova 18oz Leather Cleaner And Conditioner

7. TriNova Leather Cleaner and Conditioner (Enhanced Leather Appearance)

Very effective at enhancing appearance of leather

pH balanced

Good for both vinyl and leather

Complimentary applicator pad
1. Bickmore Bick 5 - Best Overall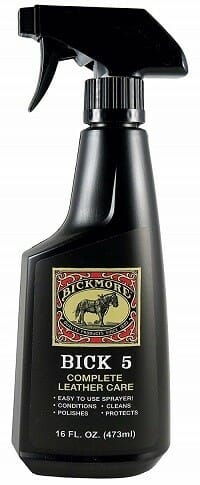 Bickmore Bick 5 cleaner provides total leather care to keep your leather components in good condition. And its thick rich formulation makes it out best overall as it is highly defective at taking care of leather.
Moreover, this spray is specially formulated to clean and polish the finished leather goods as well as maintain them for long. All you need to do is spray over the desired area and rub it using a clean cloth.
Also, it never leaves leather sticky or traces of residue after you are done with cleaning. This feature is worth appreciating as most of the leather care products leave sticky residue after usage.
Whether you want to recondition dry, old leather or cleaning your new leather car seats, this top-rated leather cleaner and conditioner is perfect as it great for both repair and maintenance.
With the adjustable spray cup, application is also super easy and you can easily dictate the spray pattern. And to get an even better value for your cash when buying this product, you can go for the 2-packoption.
This leather cleaner seems to dry a little to fast, but this is a small issue to fix as you only need to work faster or spray a little more of it on the dry areas.

---
2. Leather Honey 857834002126 - Best Value for Money

Leather Honey brand brings you this highly concentrated product, which when mixed with water makes up to 32 fluid ounces of leather cleaner. This high volume and its budget-friendly price tag ensure that this product gives you the best value for money.
With this product, you get a non-toxic cleaner works on both vinyl and leather. And it is also gentle enough for use on most other vehicle upholstery.
This Leather Honey cleaner removes all tough stains, grime, dirt and oil from vinyl and leather, and it can also be used to clean furniture, handbags, saddles, tack, shoes, and jackets.
For the best results, you should use this cleaner with the Leather Honey 13 conditioner, and apply them using a nice application cloth like Leather Honey Leather Conditioner Application Cloth, which is very gently on leather surfaces.
Although this leather clean can darken some leather surfaces, this should hardly be a worry if you apply it according to the manufacturer's instructions. Furthermore, the surface should gain its original color back in no time.

---
3. Chemical Guys SPI-109-16 - Best Pair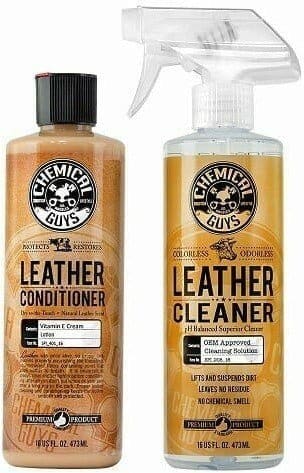 Chemical Guys makes this leather cleaner and conditioner pair to ensure you can clean and restore your leather interior fast and easily.
The cleaning and conditioning agents have a good pH balance to deliver the most effective and efficient cleaning, whilst also preserving the originality, durability and appearance of the leather.
It makes the leather look soft and original, and the formulation is odorless and colorless. There is also no sticky residue left behind, and cleaning will never cause the leather fiber to deteriorate after cleanup.
Since it is OEM approved, you can be confident it is safe to use on your car, and it is also super easy to apply and wipe away the dirt.
These leather treatment products are specifically formulated for leather, and so they can damage non-leather surfaces. However, a simple wipe should be enough to prevent damage in case they end up on non-leather components.
Also, this product has other options such as the smaller 4-ounce kitor the 16-ounce kit with a brush.

---
4. Meguiar's G10916 - Best Brand

Meguiar is one of the most reputable car accessories and cleaning agent manufacturer. Hence, if you are looking for a leather cleaner and conditioner from a top brand, their model G10916 is perfect.
This top brand product provides an all-in-one care solution for your leather components as it not only cleans and conditions, but also provides long lasting protection.
The formulation provides effective UV protection to ensure you will never have to worry about your leather components fading.
Another thing that makes this a good leather cleaner and conditioner is that it protects against leather cracking and also removes grime and dirt effectively.
The non-greasy formulation is also fantastic as it will ensure using this product will not leave your leather with unsightly greasy surfaces.
While this leather cleaner may feel a little slippery after application, this is only annoying on a leather seat and not necessary a shortcoming. Furthermore, this is a non-greasy cleaner and so you will not end up with oily clothes.

---
5. KevianClean KC-16-LCC - Best All-in-One

KevianClean KC-16-LCC is among the priciest products on our leather cleaner and conditioner review, but it is worth every buck as it a premium quality all-in-one leather treatment that rejuvenates any leather surface.
This formula is made for genuine, vintage, luxury, vegan, antique, real, Italian, distressed, designer, alligator and exotic range of leather. And all you need to do is apply a small amount and then wipe off.
This product penetrates deeper into the leather fibers to bring out embedded debris while also protecting against drying, cracking and premature aging.
You can also use it for sofa, couch leather, recliner, furniture, purse, carry bag, handbag, shoes, leather jacket, horse saddle and motorcycle gear. Hence, when it comes to versatility, this is one of the best automotive leather cleaners and conditioners out there.
And to make it even better, it features a high grade organic formulation with no toxic chemicals that can harm your car or your hands during application.
Although this formulation might not be potent enough on very tough marks and stains, for regular car interior cleaning it is still perfect.

---
6. Bickmore Bick 4 - Versatile Wax-Free

Bickmore Bick 4 is a top notch conditioner that is suitable for a variety of leather besides car interiors such as purses, boots, jackets, shoes, handbags, furniture, saddles, tack, motorcycle seats and many other leather surfaces.
This product will never darken the leather and will keep it smooth without compromising breathability and aesthetics. And because it is wax-free, it will not seal the leather pores or leave any sticky residue.
This leather conditioner is designed to give users an easy time as it is easy to apply in just one step. Besides cleaning and conditioning, it will also polish and protect the leather surfaces.
To ensure you get the best from this leather conditioner, you should pair it with the Bickmore Bick 1leather cleaner.
For some dark-colored leather materials, this cleaner can leave a faint white streak, but in most instances this will only be as a result of not wiping it properly.

---
7. TriNova Leather Cleaner and Conditioner - Enhanced Leather Appearance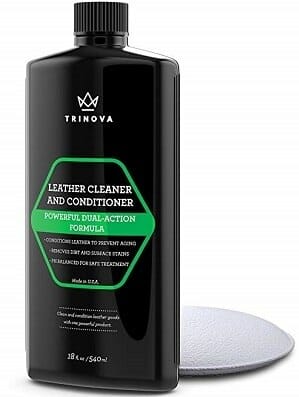 Trinova provides an easy but effective way to enhance the appearance of your leather surfaces with this product. It will clean the dirty leather and restores its color to ensure you end up with a more pleasant look.
Application is quick and easy, and it will cleanse both leather and vinyl materials and leave them looking soft and new. Because this is a pH balanced product, it will provide a safe treatment for your leather.
The formulation is effective for conditioning as it enriches the leather fibers and leaves the material feeling soft and supple.
Also, it prevents premature leather aging, protects against cracking and drying, and it is effective in preventing UV rays damage.
And you do not have to worry about how to apply it as it comes with a complimentary applicator pad.
The only notable gripe that some users will have with this product is the bottle cap design as it can lead to spills, but this is a small issue that should not be the deal breaker. Also, the smell only takes getting used to.

How to Buy the Best Leather Cleaners & Conditioners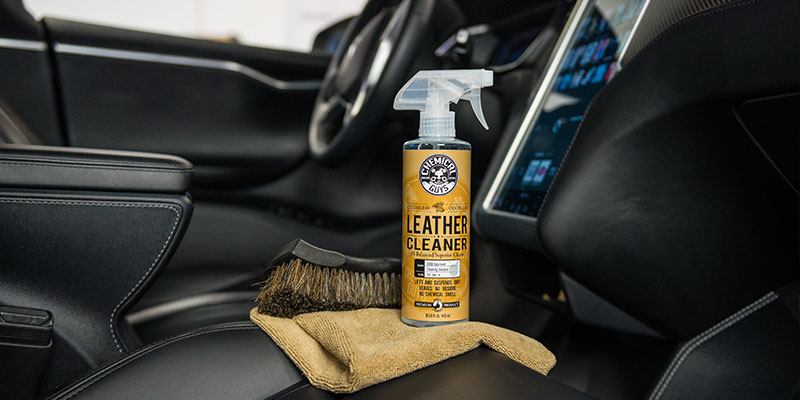 To make sure you pick the best leather cleaner and conditioner for car
from the myriad of options in the market, you need to consider the following things.
1. Types of Leather in your Vehicle
Vehicles will come with different types of leather which are also available in varying colors, and so to choose a good cleaner and conditioner you need to know what you have in your car.
Common types of leather include aniline, nubuck, pigmented, vinyl, rawhide and synthetic. The nubuck and aniline absorb water and prone to scratches whereas pigmented leather comes with natural markings and don't scratch easily.
Plus, nubuck and aniline feel buttery but pigmented leather feels slick. The type of leather helps decide the type of leather cleaner you need.
Pigment or Protected
Protected leather is coated with durable top and is waterproof with nice dirt resistance. Most cars have protected or pigmented leather so most cleaners are formulated to take care of this car leather and upholstery type.
Read More: 10 Best Upholstery Cleaners
Aniline
Aniline leather is elegant and prevents staining even if no protective sealant is used. As aniline leather is delicate, it is difficult to maintain and handle it. Also, it is more fragile when compared to pigmented leather.
Nubuck
Nubuck is quite similar to aniline and is also known as suede leather. While it is not as delicate as aniline it is still not as simple and easy to maintain as pigmented leather.
2. pH-Balanced Formulation
Whichever leather cleaner and conditioner you are going to buy must provide utmost protection.
No matter which material your car interiors are made if they have a neutral pH. And so your cleaner and conditioner also needs to have neutral pH like Lexol E301123100 and most others on our list.
The integrity of the leather is best maintained if the product you use is pH balanced because both alkalinity and acidity have the potential to ruin the material.
3. Ease of use
Some cleaners are such a pain that you feel like throwing them out as application is quite tough. To clean and condition the leather, the process must be easy, so you can do it more frequently.
Look for the leather treatment kits which offer ease of application like the spray bottle that you get with the Meguiar's G10916 as it will speed up the job and even make it more enjoyable.
How to Clean Car Leather Interior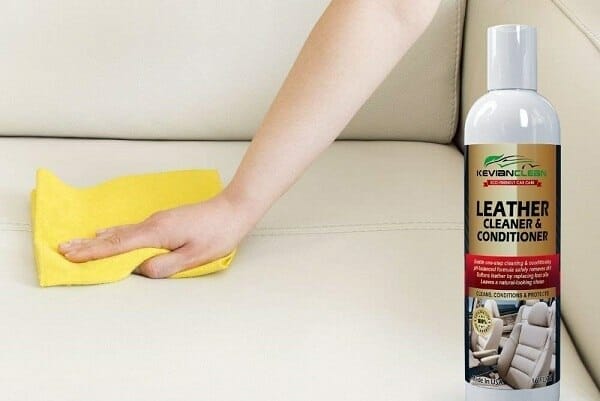 Once you get that perfect car leather cleaner and conditioner you will need to make sure you use it correctly for the best results. But this should be easy if you follow the simple steps below.
Check the kind of leather your car interior has and then choose the correct cleaner.
Once you have the right product, try it in a hidden part of the car before applying it to the entire vehicle to determine whether it has any adverse effects and if it is effective.
Now vacuum the car interiors and then wipe the dirty surface with damp cloth and then dry properly with paper towels or dry cloth.
Now apply the cleaning solution on a sponge and rub it over the leather surface. Make sure to apply this solution on a single panel at a time or in small sections.
To clean stubborn spots, use a soft bristled brush and use microfiber cloth to remove residue.
Move towards the windows, dashboard, leather seats and door panels to clean effectively.
Now, if you want to apply conditioner, go ahead. Other than that, you can add protectant solution to enjoy extended lifespan of your car interiors.
Read More: How to Clean Car Seat
How to Protect Car Leather Interior
While cleaning and conditioning your car's leather can help to restore it, you should not stop there as you also need to give it regular and long-term protection.
To make sure the interiors are protective against UV rays, moisture, heat and abrasion, you need to know the right leather treatment. Here's how:
The quality and lifespan of car leather interior is enhanced when protectant is used. Also known as protective sealant, this is different from cleaner and conditioner. It creates an additional layer to repel moisture and harmful rays of the sun.
Plus, the protectant keeps the topmost surface of the leather tough against abrasive forces. Since leather is delicate and fragile, the protectant takes special care.
As you may know, leather is prone to external elements such as UV rays and water. A protectant reduces the effects that these elements can have on the leather interiors to ensure long service life.
Conclusion
Finding that perfect product for cleaning and conditioning your car only requires you to understand the particular leather type you have and consider other factors like ease of application.
And with our leather cleaner and conditioner review above, you now have an idea of the brands and models to buy. That said, the Bickmore Bick 5with its thick rich formula and convenient spray on bottle is our best overall.
However, if you are looking to get the best value for your bucks, the Leather Honey 857834002126 will be a more appropriate pick for you.