Steam cleaning effectively trades heat for chemicals while retaining the same strength in cleaning power. When used correctly, this process can kill 99.9% of bacteria, making it a safe, healthy and natural way of cleaning your car or home.
That said, there are various steam cleaners out in the market and they all come in different designs. You will need one that is convenient and good for what you intend to use it for, as well as have sufficient cleaning power.
For this reason, the review below goes through 7 different steam cleaners and by the end of it, you should be in a better position to pick the best steam cleaner that suits your needs.
Editors' Picks for Top Steam Cleaners of 2021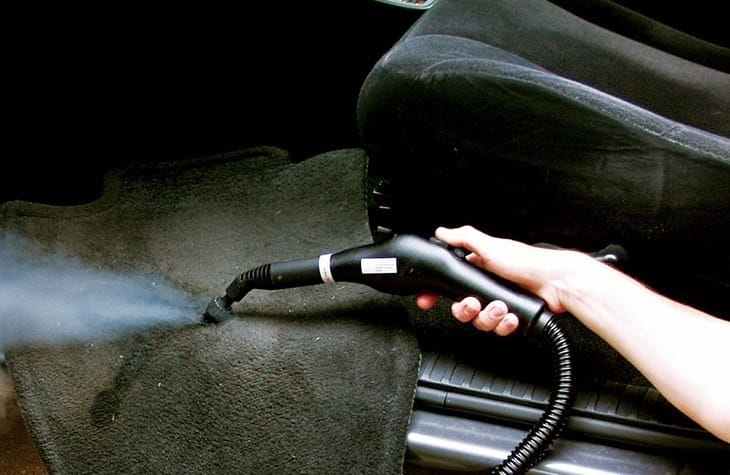 Summary of 7 Best Steam Cleaners
IMAGE
PRODUCT
FEATURES

1. Dupray DUP020WNA (Best Overall)

1500-watt steam cleaner with a large 54-ounce water tank
Produces superheated steam at 275°F
Steam locking function

2. Light 'N' Easy Steam Mop

Smart steam control function
Handheld steamer and mop in one
2 steam settings for different cleaning uses
11.5-ounce water tank

3. PurSteam World's Best Steamers Chemical-Free Steam Cleaning

Affordable 1000-watt handheld steamer with a 12-ounce water tank
Short 4-minute warm-up time
9-piece accessories set

4. Steamfast SF-370WH

1500-watt steam cleaner with a 45-ounce water tank
Steam lock function for easy use
Gives 45 minutes of steam on a full tank

5. McCulloch MC1275

1500-watt steam cleaner with a 48-ounce water tank
18-piece accessories set includes a powerful jet nozzle
Steam lock trigger for continuous steam production

6. Wagner Spraytech 0282014

1500-watt steam cleaner with a 48-ounce tank
Wallpaper removing attachment included in the accessories set
Large rear wheels for mobility

7. Pure Enrichment PEROLSTM

Large 50-ounce tank steam cleaner
Aesthetically good looking, with a sleek yet simple designed
Sturdy carrying handle for portability
1. Dupray DUP020WNA - Best Overall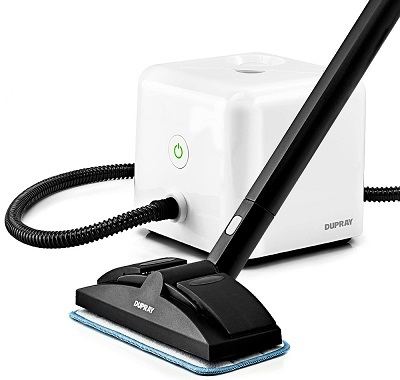 Power: 1500 watts
Water Tank: 54 ounces
Efficient and ultra-reliable are some of the words used to describe Dupray's Neat steam cleaner. Though it weighs 9 pounds and is quite bulky, it delivers the cleaning power of much larger professional units making it the top-rated steam cleaner in this review.
Featuring 18 accessories, a 16-foot power cord that wraps around the bottom the unit for convenient storage and a 78-inch hose, it gives you your money's worth and versatility as well. The only issue is that there is no storage bag for these accessories but this is a minor setback.
With a cleaning time of 50 minutes, the steamer works on all surfaces and uses ordinary tap water to easily remove dirt, grease, and stains while killing 99.9% of bacteria, viruses and other germs.
Warming up takes up to 7 minutes and the steam is heated up to 275˚ Fahrenheit, which is very hot and a steam lock function is built in to ensure there is a continuous steam cleaning action.
Apart from cleaning car interiors, you can also use this unit to clean floors, deep clean grout lines and tiles, sanitize and de-grease kitchen equipment and surfaces, kill bedbugs and remove dust mites.

---
2. Light 'N' Easy Steam Mop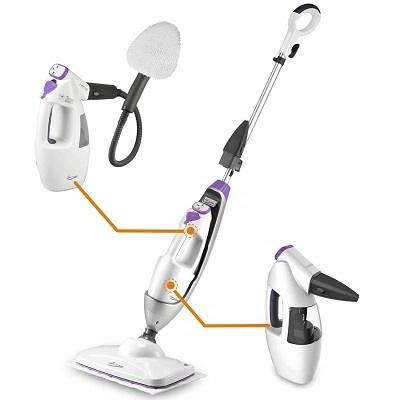 This steam mop takes the title of the best auto steam unit because of its smart steam control feature in which, making the steamer stand upright stops steam production while tilting the handle at an angle starts up the machine.
A handheld steamer that is removable from the steam mop is also included and it has its own smart switching system that uses a smart sensor placed on the handle. Holding the handle activates the sensor to power on the steaming process and leaving the handle power it off.
With the combination of a mop and a handheld steamer, you get a multipurpose tool that can clean floors, steam garments, steam clean faucets and hoods in the kitchen, and many other uses.
The handheld unit is particularly very versatile because it comes with a flexible 40-inch hose, which increases its reach for easier cleaning.
On top of this, the steamer is equipped with a 20-foot power cord, which gives an even wider range, and a cord wrap is built on the rear side of the unit for storage purposes.
Other features include 2 steam settings (medium-high and low steam) and a weight of 6.4 pounds, making it very portable. However, it has a small 11.5-ounce water tank but this contributes to its lightweight design.

---
3. PurSteam World's Best Steamers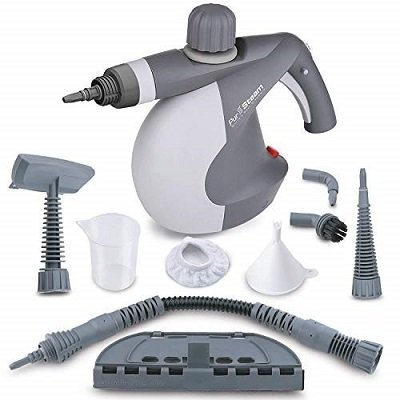 Power: 1000 W
Water Tank: 12 ounces
PurSteam's unit is both affordable and lightweight, but it still performs very well, producing 30% more steam than other handheld steamers, and can be used for multipurpose cleaning chores such as steaming floors, carpets, furniture, and barbecue grills.
A 9-piece accessory set is included in the package and it consists of a funnel, measuring cup, ironing brush cloth, bent nozzle, nylon brush, window squeegee, straight nozzle and extension hose, all of which are designed to deep clean the hard to reach areas by easier targeting.
Since it has a small 12-ounce tank, water takes only 4 minutes to warm up and this saves you time when cleaning as you don't have to wait for long before beginning the steaming process.
Other features include a 21-inch hose and a 9.8-foot power cord, which are both quite short and limiting, but this makes it ideal for small tasks and minor cleaning jobs around the house.

---
4. Steamfast SF-370WH Steam Cleaner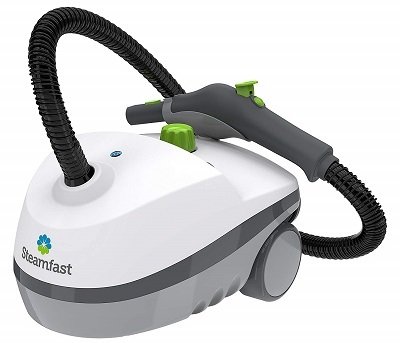 Power: 1500W
Water Tank: 45 ounces
The SF-370WH from Steamfast comes equipped with 15 accessories, which include a jet nozzle, 2 nylon utility brushes, a scrub tool, a squeegee, corner tool with scrub and sponge pads, 2 extension wands, a mop head with 2 microfiber pads and a measuring cup.
With these, the unit can tackle the hardest cleaning jobs around the home on all types of surfaces and, to help you in this cleaning process, a steam release lock mechanism is built in to give you steam on demand.
Ordinary tap water can be used to fill up the steamer's 45-ounce tank and with a warm-up time of 8 minutes, this water can be heated to 200˚ F, producing 45 minutes of continuous steam.
Large rear wheels make it easy to move the unit around as you clean and this is enhanced using a relatively long 15.4-foot power cord. Both features make it portable and after use, a cord wrap is built-in for convenient storage of the power cable.
On the downside, the 200°F water temperature is not as hot as compared to the max temperature in other steamers, which means the steam is released at low pressure.

---
5. McCulloch MC1275 Steam Cleaner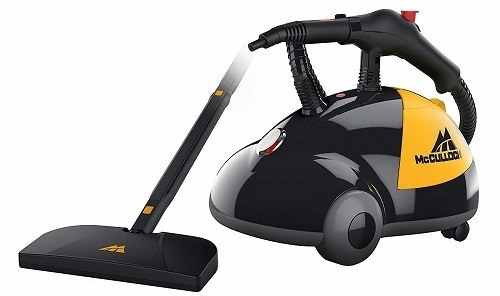 Power: 1500W
Water Tank: 48 ounces
If you are looking for a heavy-duty steam cleaner, then McCulloch's MC1275 should be in your radar. Weighing in at 10 pounds, the steamer is quite heavy but it houses some key features such as a large 48-ounce tank, which holds enough water to provide 45 minutes of steaming.
The unit is also equipped with a 15.7-foot power cord, 120-inch hose, and 18 accessories, which include a powerful jet nozzle that focuses the flow of steam, a floor mop for cleaning sealed flooring surfaces, a brush for brushing away grease and grime and 2 extension wands.
One unique feature about this steamer is that it has a storage compartment that keeps most of its 18 accessories within close reach for convenience purposes.
Other features include an 8-minute warm-up time that heats ordinary water to 212°F (100°C), which is very hot, and a steam trigger and lock switch, which provides continuous steam on demand.

---
6. Wagner Spraytech 0282014 Steam Cleaner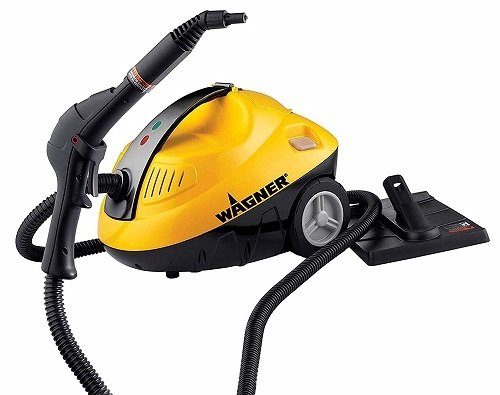 Power: 1500W
Water Tank: 48 ounces
This steam cleaner is a pressurized system that supplies steam at the touch of a button so as to clean and sanitize a wide variety of household surfaces, sinks, floors, showers, countertops, sofas and many more.
Included in the accessories is a wallpaper-removing attachment, which is used to lift away old wallpapers using steam, making this product one of the best cleaners for home use.
Other accessories included in the pack are a jet nozzle, 2 brushes, 2 extension wands, a window squeegee, a large cleaning brush, a cleaning brush towel, a funnel, and a measuring cup.
However, the steamer does weigh a lot (16 pounds) and this affects its portability. Also, it is recommended to use distilled water instead of ordinary water because the heating element is quite sensitive.
On the bright side, 2 large rear wheels help with portability by making the product mobile, while 96-inch hose gives an extended reach to hidden and hard to reach surfaces.

---
7. Pure Enrichment PEROLSTM Steam Cleaner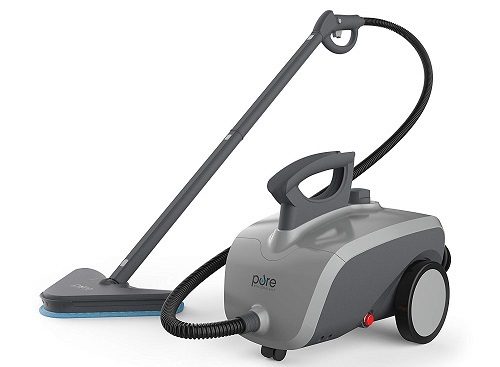 Power: 1500W
Water Tank: 50 ounces
Considering aesthetics, the PureClean XL from Pure Enrichment stands out above the rest due to its sleek yet simplistic design, which looks very good.
Even though it weighs 15.1 pounds, which is mostly due to its large tank capacity of 50 ounces, the steamer is equipped with large rear wheels for mobility over any floor surface and a sturdy carrying handle for portability purposes.
This cleaner comes with 18 accessories for versatility in use, and some of them include a mop head for working on various floor surfaces, a squeegee for cleaning windows, a jet nozzle for cleaning grease and grime and a triangular mop design that fits into corners and tight spaces.
A maximum cleaning time of 45 minutes allows you to work without interruptions while the 16-foot cord allows easy movement as you clean.

How to Buy the Best Steam Cleaner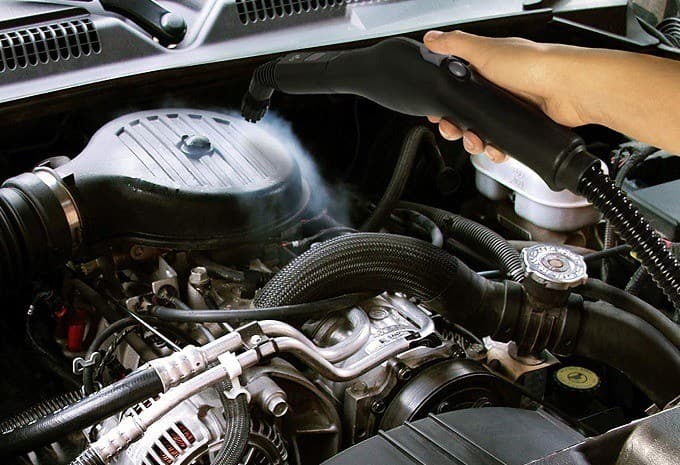 1. Types of Steam Cleaners
Handheld: Handheld steam cleaners are small, portable and are more affordable as compared to the other types of steam cleaners.
They are really easy to work with due to their compact size and are also easy to store after use. While great for cleaning small stains in floors, carpets or windows, they are impractical when it comes to cleaning large spaces.
They also have smaller tanks, which means you have to refill after every few minutes.
Cylinder: These are larger than handheld steamers and this is mostly due to the larger water tanks attached to them.
This big size means they may be more difficult to manage but they are more efficient than handheld pieces and most of them feature large rear wheel for mobility.
On top of this, the large tanks mean you get to do large cleaning jobs without having to refill as often.
Vapor: What characterizes this type of steam cleaner is that it provides a dry clean, in which it utilizes high heat levels to make the steam super hot such that only it touches the surface being cleaned, leaving behind no moisture.
Other than that, vapor steamers are quite similar to their cylinder counterparts but cost much more. Cost aside, this is the best type of steam cleaner to buy.
2. Size and Weight
Steam cleaners come in a variety of shapes, sizes, and weights. The bulkiness will depend on the type you buy as well as the model. If you are not comfortable carrying or pushing a heavy steamer, then choose a lighter model that will not be a bother.
Another thing to keep in mind is that whichever model you buy, you will need to have a place to keep it after use. Therefore, before buying a steamer, make sure to check its dimensions and compare them with your closet space or whichever place you will keep it.
3. Water Tank
A steamer will only continue to produce steam as long as there is water in its tank. For this reason, your water tank size plays an important role in the amount of time it will take you to finish cleaning.
Smaller steam cleaners will require you refill the tank more often and this will definitely slow you down.
On the other hand, larger tanks will steam for longer, but they also take longer to heat up leaving you stuck for some time before beginning the cleaning process.
Buying Guide : If portability is your thing, go for the small tank cleaner. If you are all about performance, a large tank steamer is best for you.
4. Accessories
Accessories bring in versatility in terms of the number and types of surfaces that the steamer can clean. The more they are, the better but this can raise the cost of the product.
For this reason, make sure that whatever you buy will have the functionality and attachments for all the types of cleaning jobs you plan on using it for.
Plan for this in advance so that you are not blindsided when you get home with your product and it cannot perform some functions.
5. Ease of Use
Lighter steamers are easier to use because of the portability factor but they may lack some features or cleaning capabilities.
Bulky and heavy steamers usually provide more cleaning power but you will have to pull the weight along. The choice between the two is basically down to personal preference.
Conclusion
As you can see, steam cleaners are very convenient, versatile, safe and chemical-free appliances that are a must-have in any home. They are also very effective and at the end of the cleaning process, you will have extinguished lots of germs and bacteria.
Due to the different types and varieties of these products though, it is important that you choose the one that suits your cleaning needs, which you can find after going through the 7 best steam cleaners above.