Maintaining a clean car is not easy, so car trash cans and bags have evolved over the years to offer a simple but effective method of managing trash in a car.
With a car trash can or bag, you get to keep trash out of sight, keep your car's carpets clean, stay organized, and you are able to use the bag for different purposes, such as storing stuff, as well.
Since there are different approaches to producing the best car bins, this car trash cans & bags review focuses on providing you with a list of the top offers in the market, so as to make it easier for you to choose.
Editors' Picks for Top Car Trash Cans Bags of 2021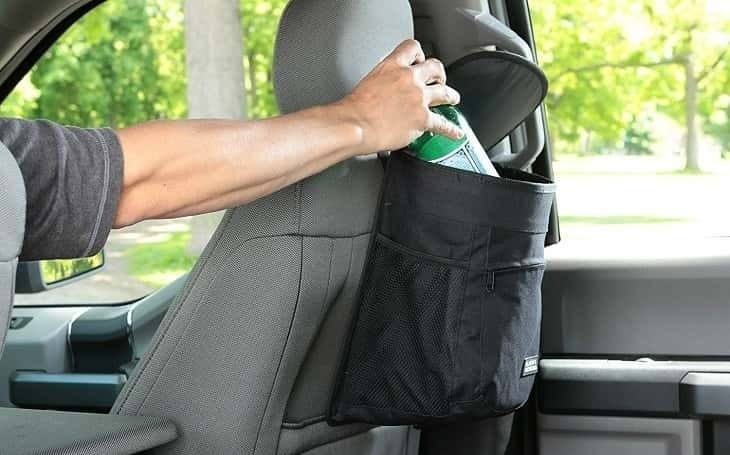 Summary of 7 Best Car Trash Cans & Bags in 2021
IMAGE
PRODUCT
FEATURES

1. Drive Auto Products 712324502381 (Best Overall)

Popular on TV trash can
Offers many attachment possibilities
Includes a 20-pack liners bonus

2. EPAuto AO-002-1

Multi-functional car trash bag
Features a waterproof interior
Adjustable buckle makes it easy to install

3. Hominize CGC-17-03

Large 3.2-gallon capacity
Also offers a waterproof interior
Backed by a 10-year warranty

4. Lusso Gear 5823948636

Beautifully designed trash bag
Offers three extra storage pockets
Backed by a lifetime warranty

5. BoltLink BOLTLINK20

Nice design with 2-gallon capacity
Easy to install and secure
Unique lid makes bottle disposal easy

6. Ipely Elastic

Easy to hang anywhere
Elastic top makes it easy to use
Features a bottom Velcro lock for emptying

7. ZoneTech OR0011

Versatile and durable polyester construction
Leakproof to protect your vehicle
Offered at an attractive price
1. Drive Auto Products 712324502381 - Best Overall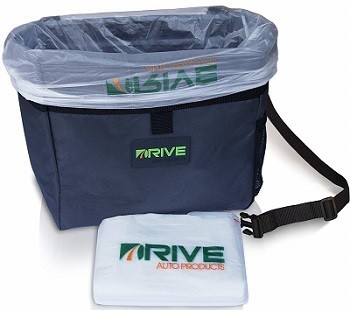 Capacity: 2 gallons
Dimensions: 10 x 6 x 8.7 inches
Material: Synthetic fabric
Coming from Drive Auto Products, this unique car trash bin got popular on TV as the DRIVE Bin, and it continues to satisfy customers with all kinds of vehicles today.
It comes with a strap, which makes it easy to hang on to a seat's headrest, door handle, or even the gear shift, and it is this versatility that makes it able to fit most cars.
Although it's one of the best automobile trash containers in the market, it lacks a cover, which makes it less ideal for certain uses. It comes with bonus liners, however, it's waterproof, and a very strong bag for multiple uses.

---
2. EPAuto AO-002-1 Car Trash Can & Bag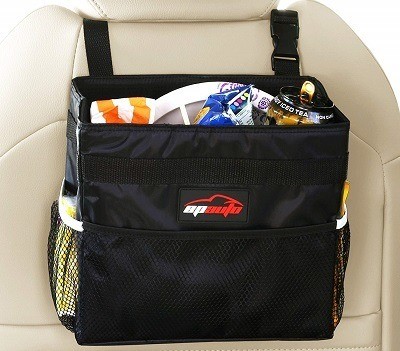 Capacity: 2 gallons
Dimensions: 10 x 8.75 x 5.75 inches
Material: Synthetic fabric
Having nearly the same dimensions as the DRIVE Bin above, this car trash bag comes at a cheaper price, making a better offer for those on a budget.
It comes with an adjustable buckle, so you can easily install it behind any seat or in any other position that you like. Although it lacks a proper bag cover, it still comes with a fastener, so you can quickly close it off and keep unsightly garbage out of sight.
EPAuto lines its interior with LiquiShield, which is a waterproof material to help protect your car from seals, and another thoughtful feature are the included side pockets made from netting, which makes it easy to keep important stuff handy.

---
3. Hominize CGC-17-03 Car Trash Can & Bag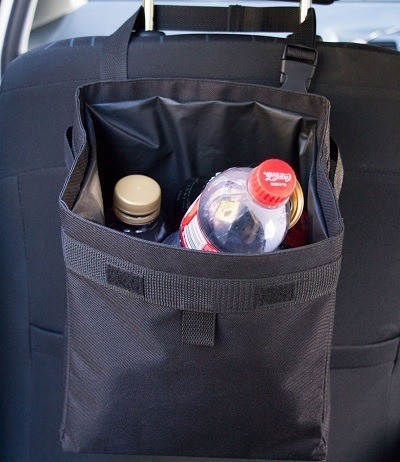 Capacity: 3.2 gallons
Dimensions: 11.6 x 10 x 1.5 inches
Material: Synthetic fabric
For those with a larger family, a larger than average car trash can becomes the ideal solution and that's what this package offers you with its 3.2-gallon capacity.
In addition to its large capacity, it also includes a waterproof interior and an adjustable strap to make it one of the best garbage cans & bags for large groups or families.
What it lacks, however, is style. Unlike the previous two offers in this review, this one is seriously lacking in aesthetics and there are cheaper offers.
It features an impressive Velcro closing system anyway and comes backed by a 10-year manufacturer warranty.

---
4. Lusso Gear 5823948636 Car Trash Can & Bag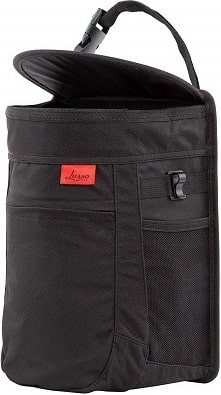 Capacity: 2.5 gallons
Dimensions: 9.5 x 6 x 13.5 inches
Material: Synthetic fabric, vinyl
Here comes one of the most stylish offers in this review. Made from synthetic premium material, it features a vinyl interior lining to make it waterproof, plus a lid to top off its design.
Lusso Gear makes it in four colors, including Black, Gray, Tan, and Brown. There's also a second option for the black version, which comes with red stitching.
If you're the type that loves stylish stuff, then this offer could most probably be for you. It's one of the smallest car trash cans & bags in the market, but it stretches to 2.5 gallons when you unfold it. Lusso Gear additionally backs it with a lifetime warranty.

---
5. BoltLink BOLTLINK20 Car Trash Can & Bag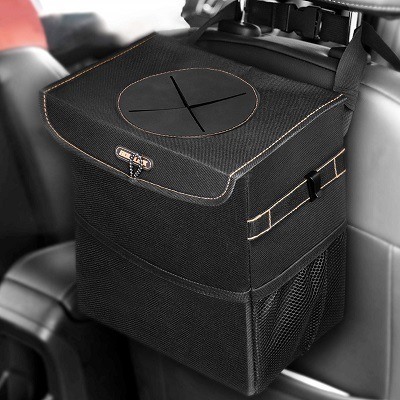 Capacity: 2 gallons
Dimensions: 11.8 x 8.9 x 13 inches
Material: Synthetic fabric
BoltLink's car trash can & bag offer is a beautifully designed and feature-rich product. It includes a drawstring cord, an adjustable clip for holding down plastic bags, an adjustable strap with buckle, and side pockets.
While it's possible to use it without plastic bags, you should note that it's rated leakproof, and not waterproof. This means that while it can handle small amounts of water, it won't hold back larger volumes.
It comes with a 2-gallon capacity and a cover, which includes a rubber lid that makes it easy to dispose of your waste inside the bag without lifting the cover.
Easy to install in a variety of positions
Nice design and spacious 2-gallon capacity

---
6. Ipely Elastic Car Trash Can & Bag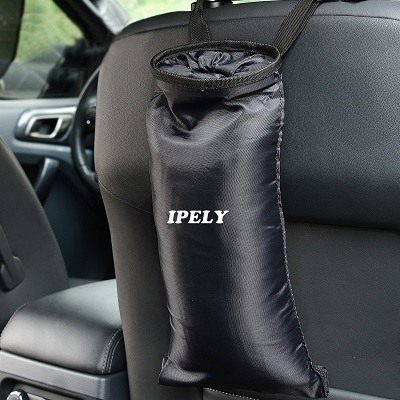 Capacity: 0.5 gallon
Dimensions: 7 x 15 inches
Material: Oxford fabric
Ipely takes an entirely different route here with this elastic car trash can & bag offer. It's made from Oxford fabric and so, you can expect it to last a long while.
Measuring 15 inches in length and just 7 across, you can easily attach it anywhere to serve as a well-controlled trash bin. The top is elastic and closed, so you can insert stuff, but they don't fall out.
The bottom features a Velcro locking system, so you can easily open it to release the trash. It won't hold water well and it has a rather small capacity of around a half-gallon, but its flexibility makes it ideal for many applications.

---
7. ZoneTech OR0011 Car Trash Can & Bag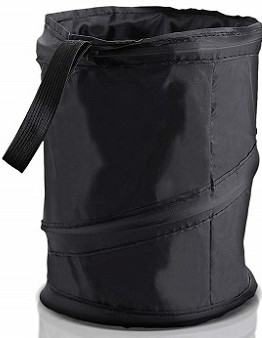 Capacity: 2 gallons
Dimensions: 8 x 6.5 inches
Material: Polyester
Designed to take up as little space as possible when not in use, this ZoneTech trash bin also offers you a top trash bin capacity up to two gallons.
It's made from polyester and easily collapsible for easy storage or transportation. In addition, the polyester is leakproof, so your car's interior remains protected from liquid spills of all types.
Few features that you might not like include the lack of a lid or an elastic top, and that its hanging strap is not adjustable, unlike that of most other offers.
On the bright side, however, it's practical and offered at a low and attractive price.

How to Buy the Best Car Trash Cans & Bags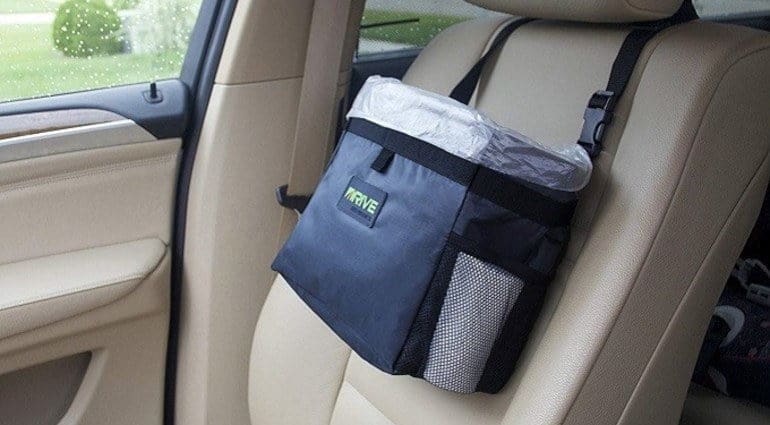 A car trash can or bag comes with a lot of advantages for you and your vehicle, but there are so many styles and designs to choose from.
In order to make this choosing process easier for you, this buying guide comes with a list of all the important aspects and features to understand and look out for when choosing a car trash can or bag.
Following are these important aspects that are worth your consideration.
1. Hanging vs Floor Car Trash Can
The major difference between car trash disposable systems is their method of attachment to the vehicle. The two most popular attachment methods or types are the hanging car trash cans and the floor car trash cans.
The hanging car trash can or bag is the most popular of the two and it typically hangs on the back of a seat either using a hook or attached to the headrest in other ways. You can also hang them on the console and on gear shifts.
With floor trash cans, you get a different group of car trash cans that typically rest on the car's floor and usually next to a passenger's feet.
There are different styles and implementations of this design, with most coming with some sort of mount or strap to attach it firmly to the vehicle. You'll also find free-standing ones, but they have a higher likelihood of tipping over.
2. Compatibility with Vehicle & Model
Yes, compatibility is a big issue. But you need to understand that this depends on the type of car trash can that you are buying. If you're getting the hanging type, then it'll probably fit into most vehicles, as long as they've got a headrest.
If you're choosing a floor trash can, however, then you'll need to pay more attention to the dimensions of the trash bin and to that of your vehicle's interior as well.
In the end, you'll find that most car trash bags and cans will fit one way or the other if you get a little creative.
3. Capacity
The trash bag's size or capacity is another important factor to consider before making a choice. This decision will depend on how much traffic your car gets, so you need to consider daily and weekly routing first.
If you've got lots of passengers in your car on a daily or weekly basis, then you'll need to consider a larger can or bag of about 2 to 3 gallons. If it's just you or just you and a passenger, then a smaller trash bag of about 1 gallon would be great.
Keep in mind, however, that larger car trash bags or cans will take up leg or head-space that's often very limited in a car. You'll need to reach a compromise here between the trash bag's capacity and your car's interior space.
4. Material
Different manufacturers offer different car trash cans and bags, which are from different materials, including plastic, polyester, Oxford fabric, and other synthetic fabrics.
A material consideration is important because it is the material will let you know how durable the trash can or bag is and the things that you can do with it.
5. Lid vs No Lid
Some come with a sort of lid, while many don't come with any type of lid. The major benefit of having a lid here is that it looks better and more organized.
Lidless car trash cans, however, are easier to use. It's left for you to decide what suits you best and what best fits into your vehicle's interior decor.
6. Waterproof vs Leakproof
You need to understand these two terms as well because they are often used by car trash cans and bags manufacturers.
A leakproof car trash bag is a largely leak-resistant container that tries to contain liquid trash and prevent it from soiling the car, but it's not waterproof.
A waterproof car trash bag, however, can comfortably hold a large amount of water without leaking, spilling, or breaking in any way.
7. Maintenance & Ease of Use
Finally, you'll also need to consider how easy it is to use and to keep up. Do you need to stress yourself to dispose of waste or is it a straightforward affair?
Also, for reusable bins, how easy are they to wash or to wipe clean with a napkin? Does a reusable car trash bag come with a fitting litter bag and a convenient way to store the unused ones?
Conclusion
We've reached the end of this car trash cans and bags review and you have seen all the impressive top offers on this list.
From the small to the large ones, including those with extra pouches and pockets, and those featuring unique designs and materials, there's definitely the perfect choice for every one of us.
You'll still have to make your choice by yourself though since you're the one that knows which trash bin best fits into your vehicle.