The car surface is usually very delicate, and if any rough material is used to clean it, this can result in unwanted scratches that ruin the aesthetic appearance.
Hence, whether you want to scrub off the dry dirt and dust or wipe your car after a fresh paint job, you need a gentle cloth such as a microfiber towel.
Microfiber towels contain very tiny fibers that are soft and super absorbent. This makes them ideal for cleaning, as well as other tasks such as quick detailing, removing wax, polish removal, etc.
That said, there is a wide variety of these cloth fabrics in the market, so we review 7 best microfiber towels to help you pick one. Take a look!
Editors' Picks for Top Car Microfiber Towels of 2021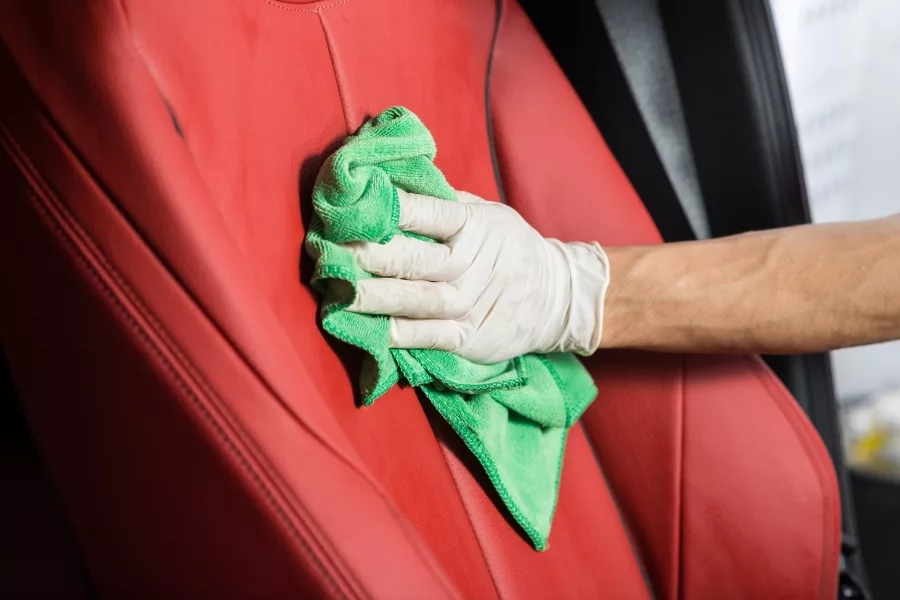 Summary of 7 Best Car Microfiber Towels
IMAGE
PRODUCT
FEATURES

7 Best Car Microfiber Towels of 2021



1. Meguiar's X2000 (Best Overall)

Super soft & absorbent
Gives a streak-free finish
Ideal for delicate surfaces


Chemical Guys MIC_507_06 Microfiber Towel

2. Chemical Guys MIC_507_06 (Best Professional)

Scratch, lint & swirl-free
Ideal for wet & dry cleaning
Machine washable

7 Best Car Microfiber Towels of 2021



3. Meguiar's X2020 (Best Budget)

Economical
Thick & deep dual-sided microfibers
Swirl-free finish

4. AmazonBasics CW190423 (Best Non-Abrasive)

Ultra-soft & non-abrasive
Absorbs 8x its weight
Lint & streak-free

Zwipes Microfiber Cleaning Cloth

5. Zwipes 737 (Best Value-Pack)

Large 36 pack
Dense fiber packing
Absorbs 8x its weight

6. AmazonBasics CW190423G (Ultra-Soft)

Ultra-soft & non-abrasive
Lint & streak-free finish
Affordable

Chemical Guys MIC_781_01 Waffle Weave Microfiber Drying Towel

7. Chemical Guys MIC_781_01 (Largest)

Large size (25 x 36 inches)
Soft waffle-weave groove pattern
High water-absorption capacity
1. Best Overall: Meguiar's X2000
Size: 22 x 30 inches

Quantity: 1

A fine quality, large size, and versatile use make Meguiar's X2000 the best of the best in our car microfiber towel review. This fine quality piece is soft & super-absorbent and ensures minimal wring-outs to speed up the job. On top of this, it gives you a spot & streak-free finish, and will not shed any fibers on the surface.

The towel is available in the 22 x 30 inches size, which means this single towel is sufficient to clean the entire car. The large size ensures you cover more area with every pass.
It soaks two times more water than conventional towels and has a waffle-weave pattern that is suitable for use on glass and other delicate surfaces. This makes it very versatile.
This one is a little pricey though as a single-piece towel. However, given its super absorbent nature, and the fact that it is washable and reusable, you will still get great value for your cash.

---
2. Best Professional: Chemical Guys MIC_507_06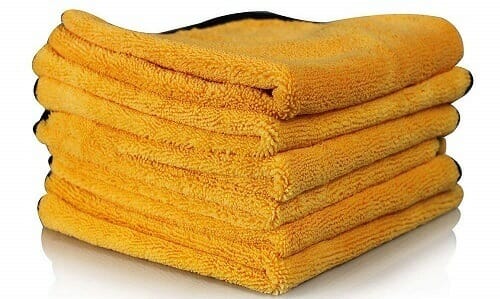 Size: 16 x 24 inches

Quantity: 6

Chemical Guys make these premium quality microfiber towels to ensure you always get a professional-grade finish. It will not scratch the surfaces or leave annoying swirls and lint.
The towels work great for glass and car surfaces that are more prone to scratches. Each has silk banded edges that make it very safe to use on these delicate surfaces.
You can use these microfiber towels to clean both dry and wet surfaces because the material is quite durable.
These towels also don't need any chemical or harsh materials to provide exceptional cleaning. After use, you can machine wash the pieces for easy maintenance, and they will not fade even after several washes.
On the downside, these seem a little pricey for a pack of 6 microfiber towels, and they also feel thin. However, they still clean incredibly well.

---
3. Best Budget: Meguiar's X2020
Size: 18 x 24 inches

Quantity: 3

If you want a few inexpensive microfiber towels for a quick clean up job, check out Meguiar's X2020.
The towel is 80% soft polyester material, which makes it ideal for cleaning various materials, including glass. It is also suitable for polishing, wax jobs, and spray detailing.
That said, the material is quite thick, and because it is dual-sided, it will absorb two times more water than other traditional cleaning cloths.
These towels guarantee a swirl-free finish, and they are machine-washable for easy maintenance. However, when compared to other high-quality microfiber towels, these are not very durable, and they might leave some lint on the car's surface when new.

---
4. Best Non-Abrasive: AmazonBasics CW190423
Size: 12 x 16 inches

Quantity: 24

It's time to get rid of the old rags and replace them with one of the highest-selling microfiber towels on our list. These ultra-soft and non-abrasive towels will never put a scratch on your car, and they do not require any chemical to clean the vehicle.
As a result, you can expect lint-free and effortless cleaning just with the towel itself, and it will also not leave any swirls. Also, the densely packed fibers will absorb water and moisture eight times more than their weight.
The pack contains a total of 24 reusable towels that are grouped into three different colors. These are 8 in yellow, blue & white, and this helps to avoid cross-contamination.
On the downside, some users might find these towels a little thinner and smaller, but the good news is they still clean up well and fast.

---
5. Value Pack: Zwipes 737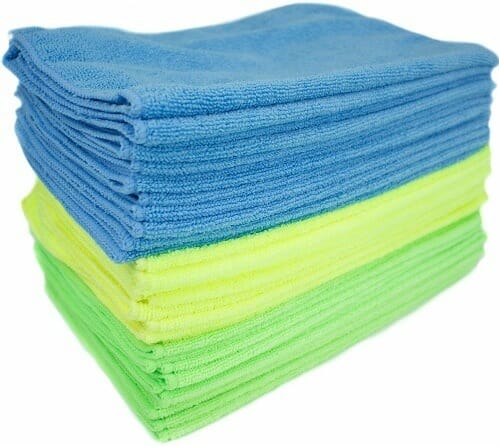 Size: 12 x 16 inches

Quantity: 36

Zwipes 737 gives you a large set of towels that come in assorted colors to help prevent cross-contamination. These include 12 in yellow, blue, and green, which is a total of 36.

Each piece measures a decent 12 x 16 inches size and is super-soft. This makes the set ideal for various purposes, such as cleaning, drying, and dusting. Additionally, the pieces feature dense 110,000 fibers per square inch to attract and trap the tiniest dirt and grime.
You will be amazed to know that these towels can soak water eight times their weight and they also do not leave any streaks or lint on the surface.
Although the colors fade a little too quickly with every wash, this should not be a big concern as it will not affect the effectiveness of the towels.

---
6. Ultra Soft: AmazonBasics CW190423G
Size: 16 x 24 inches

Quantity: 3

Here is another top-notch quality microfiber towel pack by Amazon. This towel set is ultra-soft and non-abrasive to ensure it never scratches your vehicle.
Another thing that makes these towels some of the best microfiber towels for cleaning is that they always leave a lint & swirl-free finish.
The towel does not require any chemicals or harsh cleaners to provide superior cleaning performance. However, you can still use it for cleaning with chemicals or cleaning agents.
Each towel will absorb up to 8 times its weight and is reusable for hundreds of washes to ensure this highly affordable 3-pack serves you for a long time.
While the bright color seems to get dirty a little too quickly, it is super easy to clean, which means this should not be a big issue.

---
7. Largest Car Microfiber Towel: Chemical Guys MIC_781_01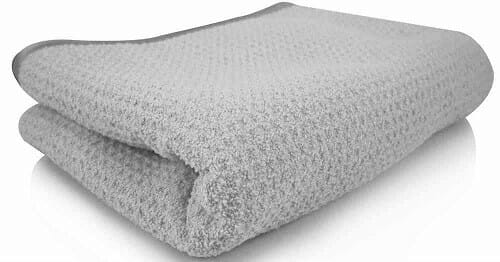 Size: 25 x 36 inches

Quantity: 1

Measuring in at 25 x 36 inches, Chemical Guys' MIC_781_01 is the largest microfiber towel in this review. This is advantageous because it ensures you clean a wide surface area on every pass. Additionally, this large size increases its absorbing capacity for better cleaning.
That said, the towel's wide surface is filled with a super-soft, waffle-weave groove pattern that is better at trapping and absorbing water droplets. This also makes it very plush, amazingly soft, and non-abrasive.

When using this towel, you can be confident of getting a scratch, lint, and swirl-free finish. After use, the cloth is 100% machine-washable for easy maintenance.
However, for a 1-pack towel, this one is a little pricey, but it makes up for this with its high-quality and durable design.

How to Buy the Best Microfiber Towels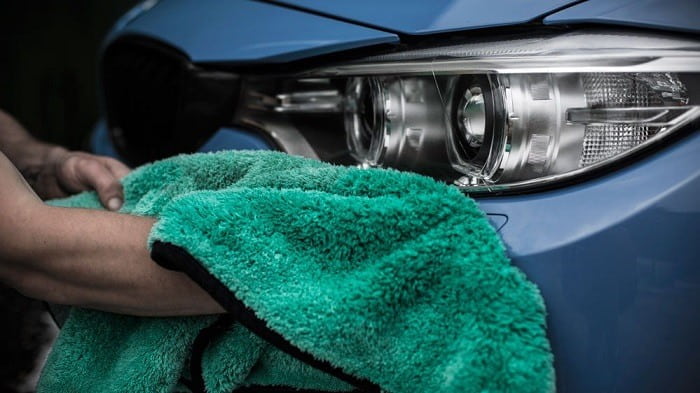 1. Type of Microfiber Towel
One of the first and perhaps most vital factors to take into account when shopping for a microfiber towel is the type. It is crucial to make sure you pick the right model as they are for different uses.
Most of these towels can be classified into five main categories, which are short pile, medium pile, long pile, waffle weave pile, and applicator pile.
Short Pile : The short pile towels are great for all-purpose cleaning, but they are not ideal for highly sensitive surfaces as they can leave marks and scratches.
Most of these towels come in 80-20 blends and with a GSM of 220-250. You can use these towels to clean upholstery, dashboard, and all those parts of a car that are not very delicate.
Read More: The Best Upholstery Cleaner
Medium Pile : Medium pile towels can be further classified into standard medium, plush, and medium-large pile.
Standard medium towels are suitable for the removal of car paints or car wax. These can also be used to rinse water off of the surface. While they are a little better than the short pile towels, you still cannot use them on delicate surfaces.
Plush towels are ideal for all kinds of delicate cleaning jobs, such as removing dirt and dust from chrome finished trims, glass, and other scratch-prone surfaces. The blend is in the ratio of 75-25, and they also have higher GSM ratings.
Lastly, the medium pile is suitable for the semi-delicate surface, but they are not as soft as the plush towels.
Long Pile : Certainly, the long pile is softer than the previous two types. These towels are great for buffing and have an excellent water absorption capability. Plus, the towels can provide the best shine to your car, without any scratches.
Waffle Weave Pile : The waffle weave pile are suitable for all kinds of cleaning, but they work best for mirrors and glasses. These microfiber towels mostly come in a blend of 80-20 and 350 GSM.
Applicator Pile : As the name suggests, the applicator pile towels are great for applying paint sealants or car wax. They come in a blend of 70-30 mix, and with 350 GSM.
2. Material
These towels are usually made of a polyester-polyamide blend, which is mostly in the ratio of 80:20, respectively.
Some brands play around with this ratio, but you need to know that a higher percentage of polyamide makes the towel more absorbent. On the other hand, polyester makes the cloth stronger while also improving its scrubbing ability.
However, polyester tends to leave lint if it is at a very high percentage. That said, 80:20 (polyester: polyamide) is good enough, but 70:30 is better.

3. Ease of Cleaning
The main purpose of buying a microfiber towel is to clean the car surface without imperfections. At the same time, the ease of using the towel is crucial as you do not want something that will make cleaning the vehicle harder than it should be.
A good microfiber towel should be able to absorb water fast and efficiently, and also super easy to wring out as this will give you an easier time when cleaning.
4. Thickness
Thick towels are generally better for drying surfaces and car detailing because they absorb more without leaving streaks. On the other hand, thin towels come in handy when cleaning narrow grooves and slots, like on rims, because they fit easily.

5. Washing and Reuse
Most microfiber towels are machine washable for easy maintenance. However, it would be best if you put more focus on the reusability factor. This shows how many washing cycles that the piece can withstand while remaining effective.
Some can withstand hundreds of washes but the more they are, the better because the towel will last longer.

Read More: 7 Best Car Drying Towels
Conclusion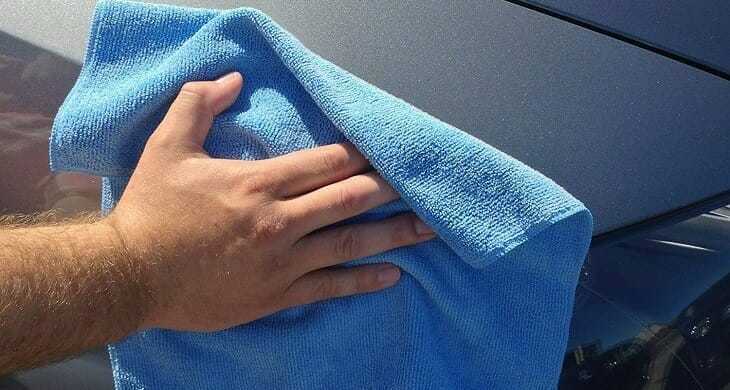 To summarize, Meguiar's X2000 is our best overall car microfiber towel because it has a fine quality that is soft and super absorbent. It is also quite large and has a waffle-weave design that can clean multiple surfaces.
However, if you want a professional-grade piece, we recommend Chemical Guys' MIC_507_06 as the best car microfiber towel. It gives a scratch, lint & swirl-free, and can be used with/without cleaning chemicals.
You can also check out Zwipes 737 if you want multiple towels because this gives you a set of 36 pieces at a fair price.