Most car owners don't pay as much attention to their car upholstery as they do to other parts of the vehicle. With the proper upholstery cleaner, however, you too can get your car's interior looking as good as new.
In addition to looking good, your car's upholstery will last longer with an occasional cleaning session using the right cleaning solution. This is why it's necessary that you understand the differences between the different upholstery cleaners, what they offer, and what they do.
This upholstery cleaners review focuses on making this choice easier for you by providing a list of the top cleaners in the market, as well as an insightful buying guide.
Top Upholstery Cleaners of 2021 by Editors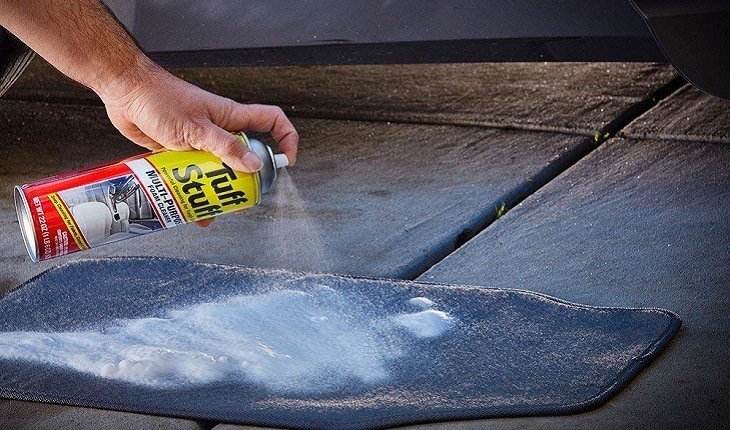 Summary of 7 Best Upholstery Cleaners
IMAGE
PRODUCT
FEATURES

1. CarGuys 5823899458 (Best Overall)

All-purpose cleaner for most surfaces
Gentle on vinyl, leather, fabrics, e.t.c
Comes with a lifetime warranty

2. Meguiar's G9719

Professional grade upholstery cleaner
Removes all stains and odors
Backed by a 3-year warranty

3. Tuff Stuff 350

Powerful multi-purpose upholstery cleaner
Works on most materials
Also available in value packs

4. Woolite 83524

Triple-action cleaner
Eliminates odor and discourages re-soiling
Package includes four cans

5. Chemical Guys SPI_191_16

Fast-acting formula
Tough on dirt but easy on materials
Easy to apply and work with

6. Armor All 78260 Oxi Magic

Makes stains disappear like magic
Restores the natural beauty of your upholstery
Works using oxygen action

7. Blue Coral DC22

Cleans and removes odors
Works on all types of grime and dirt
The cheapest item in this review
1. CarGuys 5823899458 - Best Overall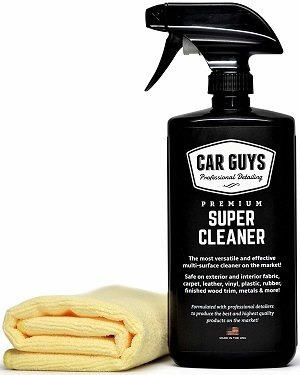 Size: 18 fl. oz
Brush Included: No
Although it's comparatively costly, this CarGuys Super Cleaner does come with lots of impressive features to make it one of the best car upholstery cleaners in the market.
It begins with what the Car Guys refer to as nano-technology, which lifts dirt and grime directly at the molecular level, enabling it to work well on multiple surfaces and materials.
You have to keep it away from glass and other sensitive surfaces though, otherwise, it cleans most materials without leaving a single trace that a cleaner got used.
Although there are cheaper offers, the CarGuys are so sure that you'll love this Super Cleaner that they're backing it up with a money-back guarantee without a time limit. So, you'll probably love it, although you'll have to pay a little more for it.

---
2. Meguiar's G9719 Upholstery Cleaner

Size: 19 fl. ounces
Brush Included: No
Meguiar's is another top brand in the auto detailing world and it always comes with impressive products. This time, it's the G9719, a top-rated upholstery cleaner that's guaranteed to leave your car shining and smelling like new.
Unlike the previous cleaner anyway, this one is specifically for carpets and upholstery, so you can't use it on other surfaces. It's also not the cheapest offer in this review.
On the plus side, however, it comes with a deep acting cleaning foam that easily gets rid of stains and odors from your upholstery.
Its spray-head also features two modes that let you select between a wide mist spray for general cleaning and a narrow stream that's ideal for targeting spots and stain removal.
Another nice feature is that it dries quickly and leaves no sticky residues. This leaves your car upholstery looking very new and smelling fresh.

---
3. Tuff Stuff 350 Upholstery Cleaner

Size: 22 fl. oz
Brush Included: No
The Tuff Stuff cleaner is a multi-purpose formula that's great for cleaning all types of materials and surfaces, especially the fabric and vinyl upholstery in vehicles.
It will also clean ceramic and asphalt tiles, porcelain, Formica, painted metal, wood, and so on. Its industrial strength formula reaches deep to remove stains with strong foaming action.
What it lacks though, is a brush accessory, for instance, to make spraying and brushing as simple as possible. It also can't remove urine stains.
You can either get this single can offer if you're not sure of this brand yet, or you can go for the 6- and 12-pack offers, which offer significant cost savings and allows you to always have a cleaner handy.
Powerful multi-purpose foam upholstery cleaner

---
4. Woolite 83524 Upholstery Cleaner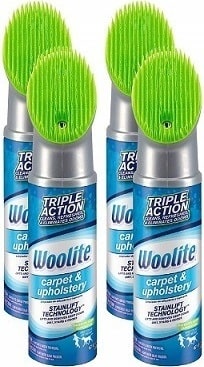 Size: 12 fl. ounces
Brush Included: Yes
It seems that the folks at Woolite know that to make it as the best upholstery cleaner for car interiors, one needs something special and a little out of the ordinary.
This offer embodies that idea by including a brush-head to make the user's life easier. This brush is additionally fabric safe, so you can always clean your car with peace of mind.
Another impressive feature is Woolite's patented odor elimination, which it guarantees to remove even the strongest of odors from your pet.
It also comes with Woolite's stain-lift technology, which is proven to remove stubborn stains like mus, vomit, urine and fecal stains.
Downsides include its high price and it only works on carpets and upholstery.


---
5. Chemical Guys SPI_191_16 Upholstery Cleaner

Size: 16 fl. ounces
Brush Included: No
The Chemical Guys Lightning Fast upholstery cleaner is a very concentrated formula that works well for both light and heavy stains.
It's recommended to dilute it 20:1 with distilled water before using it, and even after this dilution, it remains a very fast acting stain remover.
You can use it on upholstery, carpets, door panels, and different fabrics. It removes all kinds of dirt, including grease, juice, mud, wine and pet stains.
Lightning Fast works with a modern formula that separates the dirt without affecting the material's integrity and without much scrubbing. It then leaves a fresh smell that deodorizes the area, making it look nearly as good as new.

---
6. Armor All 78260 Oxi Magic Upholstery Cleaner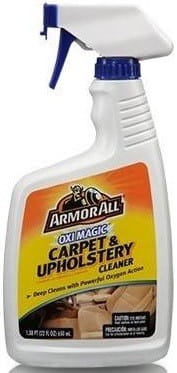 Size: 22 fl. ounces
Brush Included: No
Using oxygen action, Armor All's Oxi Magic upholstery cleaner makes most stains and dirt disappear very quickly and completely, just like magic.
It comes in a 22-fl. oz. Bottle and is also available in a 6-pack offer, which cuts its price by half, making it a great deal for anyone who needs lots of upholstery cleaners.
As one of the best upholstery cleaners in the market, this offer also restores your upholstery's natural plush and premium look, making the Oxi Magic worth its price.
Downsides include being designed for only carpets and upholstery, as well as the formula taking its time to dry.
It dissolves everything from mud to coffee, ink, and motor oil stains though. Simply soak up any excess liquid on the spot before application. Let stand for about five minutes, then blot with a cloth or sponge until dry.


---
7. Blue Coral DC22 Upholstery Cleaner

Size: 22.8 fl. ounces
Brush Included: Yes
Blue Coral's DC22 offers many features that make it a unique and valuable upholstery cleaner that everyone should at least try out.
It's offered at a low and attractive price, which makes it a favorite choice for price-sensitive buyers. Another feature is the included brush-head, which makes it easier to brush off stains and soils.
On the downside, its 3-pack offer does not come cheaper than the single canister, so there are no cost savings there. Its quick drying and leaves no stains, but its odor eliminator leaves your vehicle's upholstery smelling like new.

How to Buy the Best Upholstery Cleaners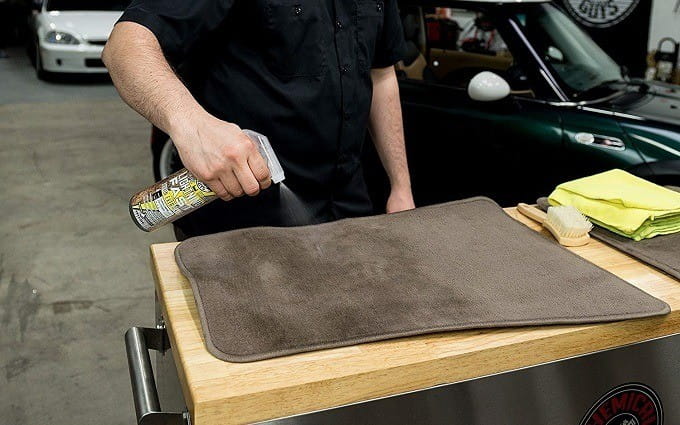 You'll need a deeper understanding of upholstery cleaning products and their performances if you are to make the right choice of the best upholstery cleaner for your vehicle's interior.
This means that you need to understand the most important features of an average upholstery cleaner and what they mean so that you'll know what you need and don't need.
These important considerations are as follows:
1. Upholstery Material
Your first major consideration should concern the type of material that your car's upholstery is from. This is important because some upholstery cleaners are specifically for certain types of materials.
Although most of the cleaners will do well for most materials, it's always worth checking if a particular product offers special cleaning features for the type of material in your vehicle.
The three major types of car upholstery materials are:
Fabric. This is the most common type of upholstery material that you'll find in most vehicles. It's comfortable and affordable, but often a challenge to clean and keep up because they can often soak liquids.
Vinyl. Car upholstery made of vinyl is the easiest to clean and keep up. You can easily wipe them down and they're good, plus they are also affordable.

Leather. They are the best looking of all upholstery materials and the most expensive as well. You usually find them in costlier vehicles and they are also the most expensive to keep up.

Unlike the other two types of materials, you'll often find special cleaners for leather upholstery, but always make sure that you read the instructions before use.
2. Performance
With upholstery cleaners, it's important that a product can easily penetrate the material and dissolve stains, making it easier to wipe or brush away.
A good cleaner should also not contain alcohol, volatile organic compounds, or any harsh solvents that can damage the upholstery material in any way.
3. Eco-Friendliness
Although lots of people don't care, there are still those who care about their immediate environments and the earth, plus they make efforts to live as eco-friendly as possible.
The goal here is to make sure that the cleaner that you're about to buy has only bio-degradable compounds and no harsh or environmentally damaging solvents.
4. Ease of Use
A good upholstery cleaner should possibly be easy to apply and probably come with extra features like an integrated brush, to make it a pleasure to work with.
5. Brand & Cost
As with many other products, upholstery cleaners come from different brands and have different prices. It's left for you here to choose between a higher-priced cleaner from a top brand and a lower-priced one from a lesser-known brand.
Conclusion
We've come to the end of this upholstery cleaners review and you've seen the wide range of offers out there, including the cheap and the premium ones.
You've also seen those that come with brushes and those that come without, as well as those that include special odor eliminator formulas and those that don't.
In making your choice therefore, you'll need to consider all these features to pick out the perfect product that exactly meets your needs.