Your vehicle might be producing that less aggressive sound while lacking in performance. Maybe, it might be the right time that you upgrade from your conventional stock exhaust system to the cat-back system. But what exactly is it? Well, this article comes in handy to define the cat-back system, its benefits and a review of the top rated models on the market.
Top Best Catback Exhaust Systems of 2021 by Editors' Picks
What's Cat-Back Exhaust System
This is a bolt-on system that comes right after the catalytic converter's back - an arrangement that gives it the name cat back exhaust. There are various components that make up this exhaust system. These include:
Mid-pipe
Muffler (mufflers)
Tail-pipe
Exhaust tips
And depending on the model of your vehicle, a cat-back exhaust system may include X-pipe, H-pipe, Y-pipe, and resonator. The pipe sizes vary depending on the type of engine. For instance, the V-6 engine stock tail pipe (2.25-inch diameter) gets to be replaced with a 2.5-inch diameter pipe. On the other hand, the V-8 engine's 2.5-inch pipe gets replaced with a 3.0-inch pipe.
In both cases, you get a larger pipe that provides a generous air volume for free exhaust gas flow. Unlike the stock exhaust system, the cat-back system sports a unique muffler chamber featuring a straight-flow design. With this design, you get free airflow that adds more to the performance of your vehicle.
Benefit of Cat-Back Exhaust System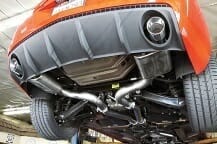 Cat-Back Exhaust System
Source: superchevy.com
Now that you've got an idea of what a cat-back exhaust system is, it's time that we jump into the benefits that this exhaust system has to provide. With this, you'll get to understand why it's worth all the hype.
1. More Horsepower
Who doesn't want some additional power in their vehicle? This is one exciting addition you get from a cat-back system. The system achieves this by reducing back pressure. This leads to a gain in both power and performance. Although it won't deliver the same performance you get from a supercharger or turbocharger, it actually adds something extra to your vehicle.
2. High-Performance Sound
A high-performance tone is what most car owners desire, particularly those with sport and muscle cars. A cat-back system goes an extra mile to deliver that improved, aggressive engine tone, something that's loved so much by the younger generation. This is a sound that can even be felt while inside the vehicle.
3. Improved Fuel Economy
Improved fuel economy is what makes a good vehicle. But did you know you can achieve that with a cat-back exhaust system? Strange at it might seem to some, this exhaust system has a positive impact on the amount of fuel consumed by the engine during operation. Though the numbers might not be that astronomical, you'll definitely get to see a boost in fuel economy.
The benefits you get from a cat-back system makes it a great alternative to the factory exhaust pipe arrangement and muffler. However, getting the best in a Cat-Back system will largely depend on your vehicle's year, make, model, and of course the existing modifications.
How Much for a Cat-Back Exhaust System
Price is one of the most important consideration when purchasing any product, and cat-back exhaust system is no exception. So the question is - how much do you get to pay to achieve the many benefits of a cat-back system? Well, the answer is not all that specific since there are hundreds of models that come at different prices.
However, the price ranges from as low as $200 to $2,100. So at the end of the day, what matters most is your need and what you're willing to spend on a cat-back exhaust system.
2 Best Cat-Back Exhaust Systems - Review
1. Flowmaster 817692 Cat-Back Exhaust System
Flowmaster 817692 Outlaw Stainless Steel Aggressive Sound Cat-Back Exhaust System
Flowmaster 817692 stands true to its name. This is a stainless steel cat-back exhaust built with quality and performance in mind. Specially designed to fit Toyota Tundra (2009-2014) truck, it delivers that awesome aggressive sound that can be felt inside and outside the truck. It's a dual-emission system, which can be fitted on the rear or side of trucks sporting 4.6 and 5.7 liter engines.
Exceptional performance and maximized sound is achieved via 3-inch dual mandrel bent stainless steel tailpipes and Super 10 stainless steel muffler. The tips sport a double-walled stainless steel construction measuring 4 inches in diameter. They're further coated in black ceramic for improved performance.
Installation is made a breeze since the system comes with all the installation hardware. This gives a much easier fit, not to mention that you get to benefit from the limited lifetime warranty that comes with the product.

---
2. Magnaflow 16518 Cat-Back Exhaust System
Magnaflow 16518 Stainless Steel Cat-Back Exhaust System
Want something that offers a little more power over the stock exhaust system? Try your hands on Magnaflow 16518. This cat-back system sports the performance and durability of 100% stainless steel construction. It adds some extra punch to the engine's torque and horsepower.
Magnaflow 16518 sports mandrel-bent 3-inch tailpipes and a 4-inch single slash tip. This what gives you that extra power. And you get that deep and smooth tone made possible by the rear side exit and 5 x 8 x 18 inches muffler. The half inch overlap sported at the welded joints guarantee an exhaust system that's built to last.
This tested dyno-proven cat-back system makes an ideal choice for years of trouble-free performance. And it's a versatile choice that's designed to fit virtually every vehicle ranging from race cars, passenger cars, SUVs, to off-road trucks. This is regardless of whether the vehicle is old or new.

Conclusion
Fitting your vehicle with a quality cat-back exhaust system is the perfect solution for year of trouble-free performance. This is a system that gives the benefit of improved power and sound while adding a little extra to the fuel economy.
It's an excellent option for those looking to upgrade from the conventional stock exhaust system. And it comes in a wide range of prices to choose from, so you might just be lucky to get one that fits you.