A vehicle's exhaust system plays a crucial role as it is what vents the engine. But the factory or stock exhaust system can be restrictive. Hence, the need to invest in a better aftermarket system.
With the best exhaust system, you can increase the vehicle's peak power while also reducing the system's back pressure. What's more, a good aftermarket exhaust can help the engine sound better and has a more aesthetically appealing look.
Because exhaust systems are one of the most popular aftermarket vehicle upgrades, there are plenty of types and models to pick from in the market. Here we help narrow down your choices with a review of some top ones and a buying guide.
Editor's Recommendation: Top Exhaust Systems of 2021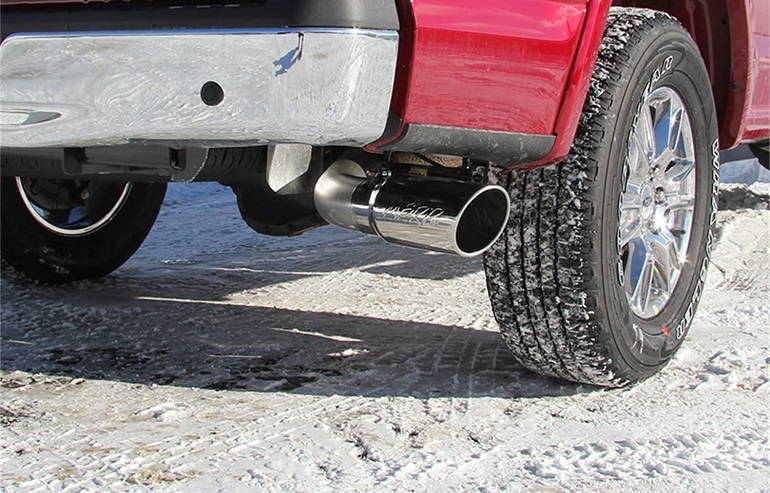 How Exhaust System Works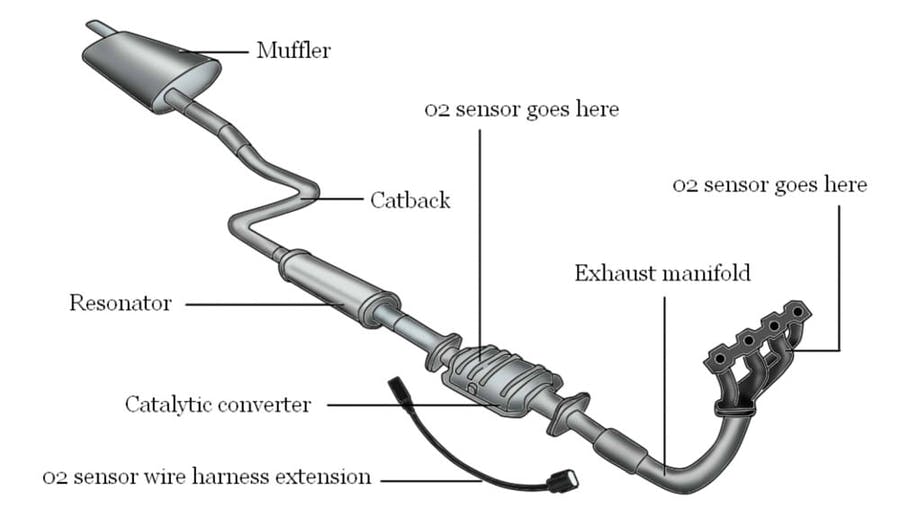 A typical exhaust system will consist of several components, with the key ones being the manifold, catalytic converter, mufflers, exhaust pipes, tailpipe, and exhaust tips.
In this setup, the exhaust manifold acts as a funnel that collects the exhaust gases from the cylinder head. The gases then move to the catalytic converter, a small metal chamber that helps reduce emission by altering the exhaust gases' composition.
From the catalytic converter, the gases move to a resonator. This component reduces some of the noise before the gases pass to the muffler, which further cuts down the noise. The exhaust gases then exit through the tailpipe, which is the last part of the system.
Summary of 7 Best Exhaust Systems
IMAGE
PRODUCT
FEATURES

1. MagnaFlow 15160 (Best Overall)

High-performance straight-through mufflers
100% stainless steel construction
Easy bolt-on installation

2. Dynomax 17340 (Best Budget)

Budget-friendly
Large internal flow tubes
Fiberglass matting technology minimizes resonance

3. Flowmaster 817692 (Best Sounding)

Super-aggressive sound
Durable stainless steel construction
Full bolt-on fitment

4. Borla 140595 (Best Dual)

Patented straight-through design
CNC manufacturing for accurate fit
Million-mile warranty

5. MBRP S5259AL (Best Single)

Heavy-duty aluminized steel construction
Fully sealed tubing
Vehicle specific muffler design

6. MagnaFlow 15811 (Best Straight-Through)

Unrestricted horsepower & torque
CNC precision manufacturing
All-mandrel bent tubing

7. Borla 11795 (Best Fitting)

Precision, computer-controlled CNC manufacturing
Premium stainless steel construction
Ultra smooth mandrel bends
1. Best Overall: MagnaFlow 15160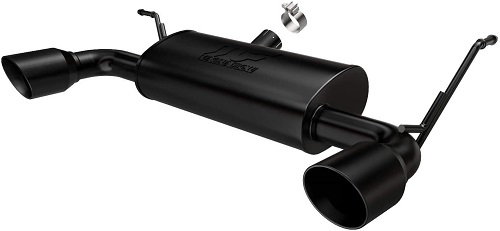 MagnaFlow 15160 takes or top overall spot as it has a lot to offer, from high overall performance to highly durable construction and a sleek look.
What makes this a good exhaust system is the straight-through mufflers that ensure minimal airflow restriction and improve the sound and overall performance.
With a 100% stainless steel construction, you can be sure this exhaust will serve you well for many years without corroding or rusting. Furthermore, it is backed by a limited lifetime warranty to give you even more assurance that it will last a long time.
Besides being well-built, this model has a nice black coating for a more attractive look while also making it more resistant to heat, salt, and fog.
Anyone with at least basic mechanic skills can install this exhaust thanks to the easy bolt-on installation design. Also, you get more precise vehicle fitment.
If you prefer an exhaust system that provides a loud and highly aggressive sound, this model might not be it. Otherwise, it still does a fantastic job and performs well in all other aspects.

---
2. Best Budget Exhaust System: Dynomax 17340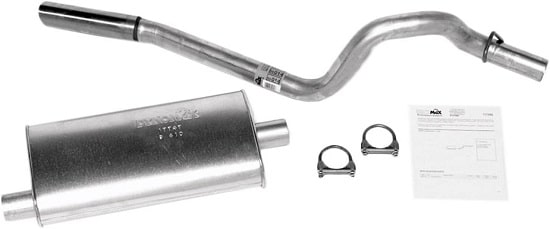 For motorists shopping for a more budget-friendly exhaust system, the Dynomax 17340 is unbeatable. But, despite being a budget model, it is still well-built and with a lot to offer.
One of its key highlights and why it has a spot on our best aftermarket exhaust systems list is the large internal flow tubes that improve the exhaust flow and reduce back pressure. What's more, there is a unique flow director design that helps eliminate turbulence and channel exhaust flow.
The mufflers on the system use fiberglass matting technology to absorb the unwanted interior resonance and ensure the exhaust maintains a mellow performance tone. Motorists also love the bolt-on installation as it makes mounting a breeze.
The kit seems to be missing some crucial components like pipe nuts for the catalytic converter adapter, but these are easy to get locally. Also, the tips' quality is not the best, but for this system's price, that is a small issue you can overlook.

---
3. Best Sounding Exhaust System: Flowmaster 817692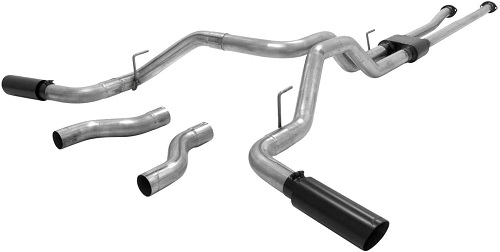 If you are on the hunt for the best sounding exhaust system, the Flowmaster 817692 is the perfect buy for you. With this exhaust system, you can be sure of getting a super aggressive sound, which is what many motorists look for in an aftermarket exhaust.
Besides the sound, this is also a well-built system with stainless steel construction that guarantees a long service life. What's more, it has been dyno tuned to ensure you always get maximum performance.
What's more, it has a full bolt-on fitment to ensure you have an easy time and speed up the job when it comes to installation.
Mounting the tailpipes seems to be the only problematic issue for this exhaust system as they are too snug. But a little grinding should solve this small issue and does not take anything away from the fact that this is an easy system to install.

---
4. Best Dual Exhaust System: Borla 140595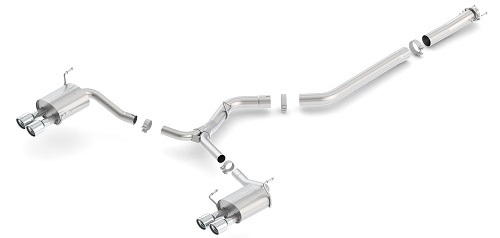 Dual exhaust systems like the Borla 140595 always provide better gains in power and torque than single units. Better still, this top-rated exhaust system uses patented straight-through technology to ensure there is no airflow obstruction for superior performance.
Since this is a CNC manufactured exhaust, you can be sure of always getting a more accurate fit provided you choose the right size for your vehicle. What's more, this also makes it more effortless to install.
You can buy this product with confidence that you will get value for money as it is guaranteed to last at least a million miles.
The exhaust's tips do not seem completely straight, but while this is a little noticeable, it does not significantly affect the aesthetics and is a minor issue you can overlook. Also, the higher price tag only reflects its superior quality.

---
5. Best Single Exhaust System: MBRP S5259AL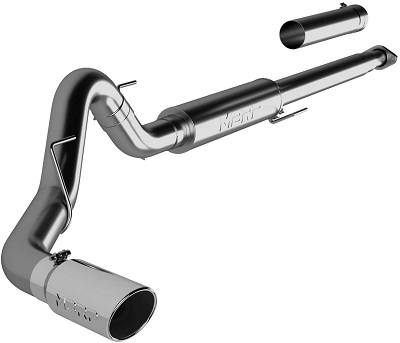 The more traditional single style exhaust system like the MBRP S5259AL are perfect when you want to maintain a more original appearance. This model features a heavy-duty aluminized steel construction that ensures both durability and a more pleasant appearance.
Because the tubing is also fully sealed, you never have to worry about rust or corrosion, making this an even more durable model.
Other key selling points for this system are vehicle specific mufflers and a mandrel bend design to further enhance the performance by minimizing vibrations. Additionally, it is simple to install exhaust that does not need any welding or cutting.
Some motorists might not like the booming sound, and this is more so those that prefer something more modest. However, the sound is quite pleasant once you get used to your new exhaust.

---
6. Best Straight-Through Exhaust System: MagnaFlow 15811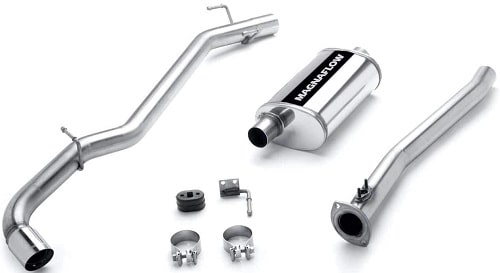 The straight-through design of the MagnaFlow 15811 is what makes it such a fantastic exhaust unit. With this design, you can be sure of unrestricted horsepower and torque as it ensures there is a minimal obstruction for the airflow.
Since the exhaust system has CNC precision manufacturing, you can be sure of getting a more accurate and precise fit. It is made from highly durable 409 stainless steel materials to ensure a long service life.
Other things like all-mandrel bending make this an even better model as it ensures higher performance as there will be minimal vibrations.
This exhaust does not come with all the hardware, which means you might need to buy a few components like bolts separately, but they are super cheap.

---
7. Best Fitting Exhaust System: Borla 11795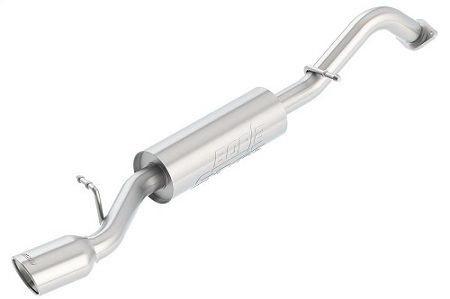 How an exhaust system fits the vehicle is as important as its actual performance. But, with Borla 11795, you never have to worry about the fit as it has precision computer-controlled CNC manufacturing to ensure accurate and precise fit.
Durability is also a guarantee with this exhaust system as it features a premium stainless steel construction. Additionally, Borla provides a million-mile warranty to assure you that this exhaust will serve you well for many years.
With the straight-through and multi-core technology, this system provides extra power and improves fuel economy significantly. What's more, the ultra-smooth mandrel bends ensure maximum airflow for even better performance.
The few drawbacks of this system include the fact that it has a droning noise from inside the car, but the sound only takes a little getting used to. Also, the wanting sound at low RPM should not be a deal-breaker given its overall performance.

How to Buy the Best Exhaust Systems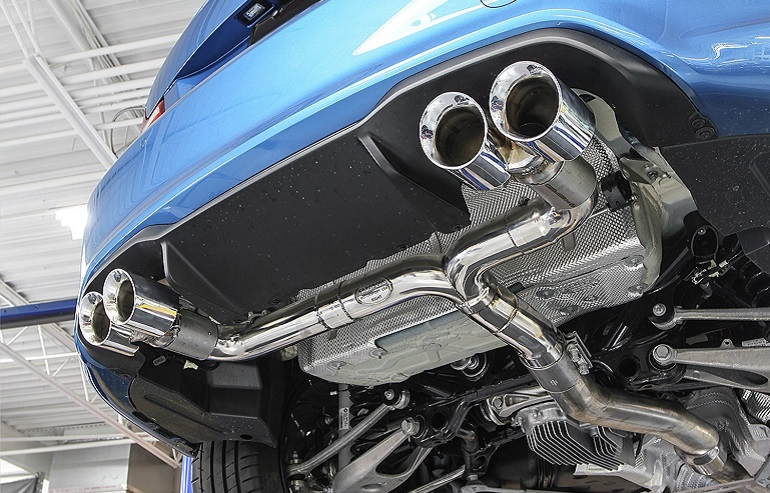 1. Compatibility
For any exhaust system to serve you well, it first needs to fit your vehicle. Hence, the first factor to consider when deciding on the model to buy is its compatibility with your car.
When it comes to compatibility, you need to check the vehicle model and year the particular exhaust is made to fit. Also, check engine size it works to ensure it can work for you.
But also note there are some universal fit exhaust systems like the Flowmaster 817674 that can work for almost any vehicle out there.
2. Types of Exhaust System
Header Back
The header-back exhausts typically have a single piece and with the header collector being the starting point, while the tailpipes are the endpoints. These exhausts are a complete system that replaces almost all stock exhaust system components. The simple design and the fact that header-back exhausts are simple to install makes them highly popular.
Cat Back
Cat-back exhaust systems have a long or short pipe for different vehicle models, and they typically include a muffler. Despite being more competitively priced than other types, these exhaust systems offer superior performance. Cat-back is also the best option when you do not want to replace your catalytic converter when installing the exhaust system.
Axel Back
The axel-back exhaust systems are similar to the factory or conventional exhaust system in appearance. They produce a deeper sound making them popular with motorists that prefer loud exhaust systems. Also, they tend to be more affordable, and hence an excellent choice for budget shoppers.
3. Performance and Sound
The actual performance you get from the exhaust system matters a lot as it is one of the key reasons you are buying it. Something that reduces pressure significantly is always the best as it leads to power gain and improves the fuel economy.
When it comes to the sound, it is often a matter of personal preferences as some will deliver a loud and deep engine sound while others tend to suppress the sound for quieter rides.
4. Construction
Crush Bends
As the name suggests, crush bend exhaust systems are those bent by exerting pressure at specific spots. The simple technique used to bend this exhaust makes it relatively more affordable. But, compared to the mandrel, these exhausts vibrate more and are hence low performers.
Mandrel Bends
Mandrel bend exhausts get their bends from a bending die as they pass through a hydraulic press. However, a mandrel is also added inside the tube to ensure it retains its shape. Hence, the pipe ends up with a more uniform diameter throughout its length.
Exhausts that use these bends are typically high performers as they vibrate less and are more durable. However, mandrel bend exhausts are more expensive.
5. Style
You will also need to decide on the exhaust style you prefer, and here the two main options are single and dual systems.
Single
Single exhaust systems like Dynomax 17340 feature one set of pipes, a single muffler, and in most cases, they have just one tailpipe and tip. With these exhaust systems, you can be sure of getting more power, decent torque gain, and significant fuel economy gains. Additionally, they are easy to mount as no welding or cutting is required.
Dual
With the dual types such as Flowmaster 817692, you get a pair of exhaust pipes, two mufflers, and two tips. These exhausts either exit on each side of the vehicle or at one point below the bumper. What makes the dual exhaust systems great is that they provide serious torque and power gains.
6. Material
The material used to make the exhaust system is vital as it determines both the appearance and durability. Although modern exhaust systems use various material types, mild steel and stainless steel are the most common ones.
Stainless steel exhausts are more durable and offer greater resistance to rust or corrosion. What's more, they have a pleasant look. However, stainless steel exhausts are more expensive.
Mild steel ones are more affordable and are often what many motorists turn to when looking for a new exhaust system. But, they are not resistant to corrosion and are also not very aesthetically appealing.
7. Ease of Installation
It would be nice to install the exhaust system yourself without incurring an extra cost to pay a mechanic for the job. However, for this to be possible, the exhaust you choose needs to be easy to install.
Models that come with all the components you need and some clear, step-by-step directions on what to do, give you the easiest time when it comes to DIY installation.
Conclusion
An aftermarket exhaust system provides an excellent upgrade for your vehicle as it enhances everything from the performance to the fuel economy. Additionally, it improves the sound and appearance.
If you are looking for the best exhaust system, there is something for you in our list above. From this review, the MagnaFlow 15160 is our best overall product as it has a high performance straight-through design, durable construction, and is super easy to install.
But, if you are looking for something more budget-friendly, go with the Dynomax 17340.