One of the best and probably also the easiest ways of enhancing your vehicle's performance is by installing the best cold air intake system.
A cold air intake system is an aftermarket engine upgrade that is designed to allow more air into the vehicle's internal engine combustion. It will often feature wider tubes with fewer bends than the factory installed air intake systems to ensure that more air passes through.
By allowing more cool air into the engine, this intake system will supply more oxygen because cold air is richer in oxygen than warm air due to the relatively higher density. More oxygen means better and more efficient fuel combustion.
One of the greatest benefits of installing a cold air intake system is that it can increase the horsepower by as much as 20 HP or even more.
Other benefits include improved throttle response, a longer engine life, and increased gas mileage. But, to get these and many other benefits, you need to choose a good cold air intake system.
Below we review 7 top-rated cold air intakes and also highlight other important things you need to know when shopping for these aftermarket vehicle upgrades.
Top Cold Air Intakes of 2021 by Editors
Summary of 7 Best Cold Air Intakes - Review
IMAGE
PRODUCT
FEATURES

1. K&N 57-3058 (Best Overall)

Material - High-density polyethylene
High horsepower gain
Improved throttle response and engine sound
Washable and reusable filter

2. Volant 151536 (Best OEM Standard Intake System)

Material - Plastic
Maintenance free filter
Faster and relatively easy installation
Looks amazing under the hood

3. Spectre Performance SPE-9900 (Best Budget Cold Air Intake System)

Material - Aluminum
Relatively more affordable
More durable aluminum tubes
Reusable filters

4. Airaid 400-140-2 (Great for High Horsepower and Torque gain)

Material - High-density polyethylene
Significant horsepower and torque gain
Washable and reusable filter
Quick and easy installation

5. AEM 21-478WR (For Longer Drives between Cleanups)

Material - Aluminum
Longer distances between cleanups
Higher horsepower gain
Improved acceleration and engine sound

6. S&B 75-5069 (Convenient & Aesthetically Appealing)

Material - Plastic
More efficient silicon filter
Looks fantastic under the hood
Fully enclosed airbox

7. Injen SP1902P (Perfect Upgrade for Nissan Juke)

Material - 6061 Aluminum
Significant horsepower and torque gain
High-quality filter
Limited lifetime warranty
1. K&N 57-3058 - Best Overall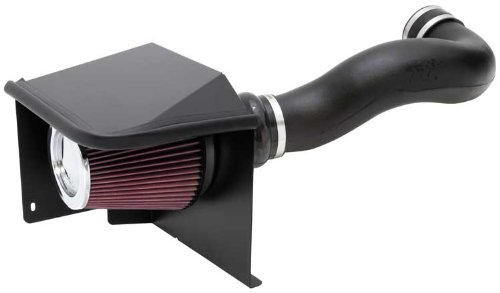 Fits: 2007-2008 Chevrolet GMC Cadillac
Material: High-density polyethylene
You cannot go wrong with a K&N cold air intake system as the brand is famous for making high-performing and highly durable ones like their model 57-3058 that will be perfect for your Cadillac.
With this air intake system, you can be confident of getting horsepower increase of up to 17.55 HP. And it is designed to improve the throttle response while also giving your vehicle a fantastic engine sound.
This intake system will last up to 100,000 miles before it requires servicing, and it uses a washable and reusable lifetime filter. And it will replace the entire factory intake system.
Also, K&N makes it with a highly durable and free-flowing high-density polyethylene tube to ensure a long intake system service life.
Despite the poor installation instructions, installation is also quite easy, and it should take many vehicle owners around 90 minutes to do it.

---
2. Volant 151536 - Best OEM Standard Intake System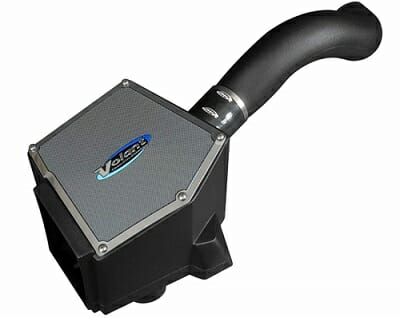 Fits: 2001-2006 Chevy/GM/Cadillac Truck, SUV
Material: Plastic
Volant is one of the best cold air intake brands out there and the popularity of their products comes from their highly innovative design. The performance of the Volant 151536 keeps up with the reputation of the brand.
This cold air intake system is designed to look great under the hood and despite featuring a mostly plastic construction, it is still well-built and highly durable.
With the marine grade stainless steel clamps and high-performing silicone connectors, you should be confident that the intake system will stay securely in place and maintain peak performance for its lifetime.
Because each of these intake systems is custom designed specifically for each vehicle and application, you can also be sure it will be a perfect fit and easy to install.
With this intake system on your truck or SUV, you can be sure of getting quicker throttle response and improved fuel economy, and it will also work with OEM computer systems.
Under heavy throttle, this intake system can be quite loud but this only takes some getting used to. Also, you can easily ensure the sensor holes line up perfectly by hogging them out a little.
Can be quite loud under heavy throttle
Sensor holes do no line up well

---
3. Spectre Performance SPE-9900 - Best Budget Cold Air Intake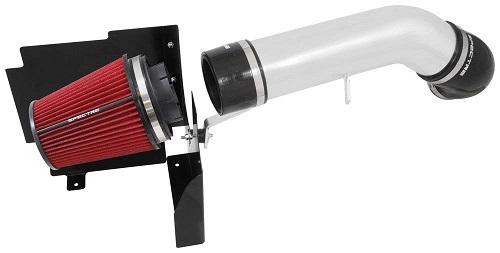 Fits: 1999-2007 GM Truck
Material: Aluminum tubes
Besides being the cheapest item on our cold air intake system review, this Spectre product is still quite high-performing, and it is designed to provide a long service life.
It is designed to provide decent horsepower and torque gain and hence improving the overall performance of your vehicle.
Given the high-quality parts that include powder coated steel heat shields and high-quality polished aluminum tubes, this is the best cold air intake system for the money as you will hardly get anything better at that price.
The intake system uses a red Spectra air filter that provides low air flow restriction and it is also reusable. This intake system will come with all the necessary hardware and is also relatively easy to install.
While this cold air intake system provides almost insignificant gas mileage increase, it still comes with several other benefits such as improved engine sound.

---
4. Airaid 400-140-2 - Great for High Horsepower and Torque gain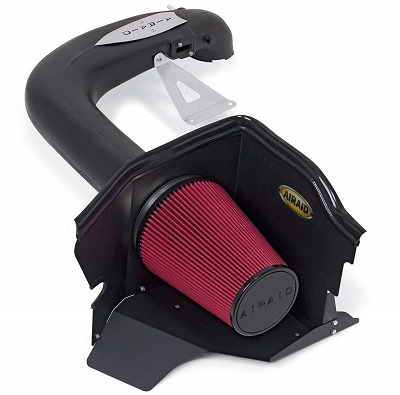 Fits: Chrysler 300, Dodge Challenger, Dodge Charger
Material: High-density polyethylene
With this Airaid intake system in your vehicle, you can be confident of improved performance as it provides increased airflow to the engine to ensure that you get more horsepower and torque.
The intake system includes an advanced air filter that is washable and reusable for a long service life. The premium air filter not only ensures superior filtration but also less restrictive than the traditional paper filters.
Airaid will provide all the necessary hardware that you need to install this cold air intake system and some instructions, and it will take some individuals as little as 30 minutes to install it.
And with the hassle-free lifetime warranty, you can be confident that you are buying a top-notch product that will serve you well for many years.
The installation instructions can be a little confusing but given that this is a super easy intake system to install, this should not be a big concern.

---
5. AEM 21-478WR - For Longer Drives between Cleanups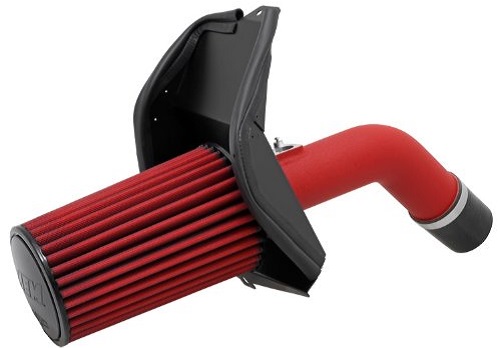 Fits: Subaru Impreza WRX, Subaru WRX, Subaru Impreza WRX STI
Material: Aluminum
AEM 21-478WR is a high-performing air intake system that is designed to ensure you will go for at least 100,000 miles before you need to do any cleaning which is quite convenient.
This intake system will provide horsepower gain of up to 36 HP which is relatively higher than what you will get from most aftermarket intake systems in its class.
It uses a lifetime Dryflow filter that is washable and reusable, and so it will last for the entire time you have the intake system in your car. Also, this filter is designed to provide outstanding filtration and air flow.
The low restriction aluminum tube helps to ensure efficient air flow and is also highly durable. Installation should be relatively easy and quick as the intake system comes with all the hardware and you will only need to use regular hand tools.
With this cold air intake system, the filter cleanup seems a little more hectic as you need to take it out completely. However, it should be easier once you get the hand of it.
Filter cleanup can be quite hectic

---
6. S&B 75-5069 - Convenient and Aesthetically Appealing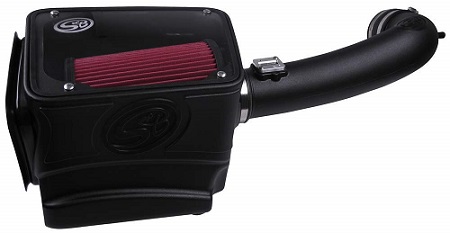 Fits: 1998-2003 Ford Powerstroke 7.3L
Material: Plastic
This top-rated cold air intake system by S&B is designed to enhance the engine performance on your 1998-2003 Ford Powerstroke, but it will also fit most 7.3L Ford F-250 and F-350.
S&B designs this intake system to provide better airflow than the stock while also minimizing restriction. And it will come with a fully enclosed air box to help protect the filter from, debris and also to keep out the hot engine air.
For the filter, the manufacturer uses a large and highly efficient silicone filter to enhance the performance and also for engine protection.
The couplers and tube seals are made from premium silicone for maximum durability as they can handle high temperature and will not crack.
If aesthetics are important for you, this air intake system will impress you as it will look amazing under the hood, and it also includes a convenient battery tray.
While there is no way to open up the housing for increased airflow, this intake system still provides high enough airflow, and so this will hardly be a significant concern. And although it also costs a few extra bucks it will be worth it.
Does not have an option to open housing for increased airflow
A little pricier

---
7. Injen SP1902P - Perfect Upgrade for Nissan Juke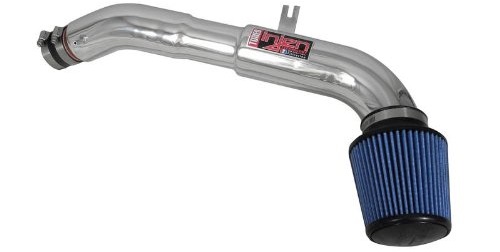 Fits: 2011-2015 Nissan Juke
Material: 6061 Aluminum
With a potential horsepower gain of more than 9 HP and improved acceleration and fuel economy, the Injen SP1902P will be an excellent aftermarket upgrade for your 2011-2015 Nissan Juke.
The manufacturer uses the patented MR Technology tuning process on this cold air intake system to ensure that you always get optimum air/fuel ratio for improved engine performance.
The air intake system is fitted with the EA Nanofiber dry air filter that enhances the airflow and 6061 aluminum alloy tube that will smoothen the air's path to your engine.
Injen SP1902P will install easily under the hood and also look fantastic on your vehicle and it will come with all the mounting hardware and some detailed and easy to follow instructions. And the manufacturer backs it with a limited lifetime warranty.
Noise is the only notable drawback with this cold air intake system but many vehicle owners will find the sound more pleasant than annoyng.

Cold vs. Ram Air Intake Systems
Cold and Ram air intake systems are two of the most common aftermarket air intake systems. If you are a novice, choosing between the two can be a little hectic. But, all you need is to understand what each is all about and both its merits and demerits.
1. Cold Air Intake System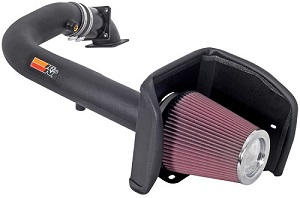 Cold Air Intake System
Cold air intake system or the cool air intake as some people often call it, is designed to draw in as much cold air as possible, and this explains its name.
With these intake systems, the air filter is placed as far away from the heat of the engine as possible to ensure the drawn air is not heated up.
Depending on the design of the engine and fitments possibilities this intake system can be placed either on the fender, under the engine or behind it.
The cold air intake system will have a longer piping, and so it is typically pricier than the ram air intake system and is also relatively harder to install.
2. Ram Air Intake System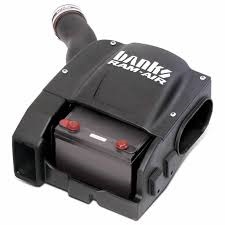 Ram Air Intake System
Ram or short ram intake system is quite popular and vehicle enthusiasts love it because it is designed to simply replace the factory installed intake system and is quite easy to install.
This intake system will have a much shorter intake tube than what you get on both the cold air intake systems and the factory installed or stock intake systems.
The principal aim of the short ram intake systems is to force more air directly into the engine, and the piping will have few bends to ensure a constant air flow.
Due to the proximity of the ram intake system to the engine, it will not draw in cold air like the cold air intake system. However, it seems to make up for this with the huge volume of air.
Buying Advice: If you are looking for something more affordable, easy to install and will be a direct replacement for your stock intake system, go for the ram intake system.
However, suppose you want something that will significantly improve your engine's performance under normal driving conditions and do not mind spending a few extra bucks. In that case, the cold air intake system is your best pick.
How to Buy the Best Cold Air Intake Systems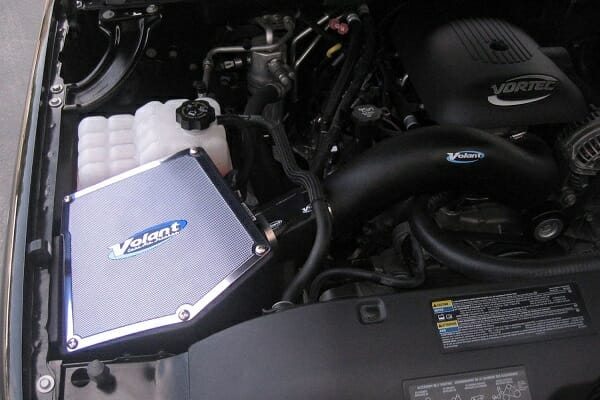 A cold air intake system can improve your vehicle's horsepower, increase gas mileage and also give you a longer engine life. But, all this will only be so if you pick the most powerful cold air intake system from the myriad of models in the market.
To make it easy to narrow down your options or make a more informed decision, you need to keep the following factors in mind when shopping.
1. Compatibility
The first and most important factor to consider is the compatibility because any air intake system that you buy will not be of any use for you if it cannot work with your car.
Cold air intake systems will come in different sizes and specifications to suit different vehicle types and models, and so you need to look under the hood to determine what you need to buy.
Your stock intake system size and the available space should give you some indication on the ideal air intake system to buy. Also, most brands that make these vehicle upgrade parts will always specify the models and makes of vehicles that they will fit.
2. Durability
Like with all other vehicle parts, it is important to make sure that your intake system is durable enough. You do not want something that will only serve you for a few months as this can be expensive.
Check the overall construction of the intake system and the materials used to make everything from the filter to the piping.
For the filter, something washable and reusable is often the best choice, and when it comes to the piping, metal is always a more durable option than plastic. But, also note that metal tubes will run hotter than the plastic ones.
A cold air intake system with many positive reviews from other users and a long warranty is a good indication that it is highly durable
3. Brand
Brand reputation is a key factor that you cannot afford to overlook when buying any car part, and the cold air intake system is not an exception.
It is always a wise idea to buy from the highly reputable companies that have been making intake systems for long enough as you are more likely to get something well-built and durable.
Some of the most popular cold air intake system brands are Volant, K&N, AEM, Takeda, Spectre, and Injen. However, it is also important to note that different brands are famous for different things.
For example, K&N is famous for having various models of these intake systems to suit almost any kind of vehicle. Their products often have a simple design and are straightforward to install.
4. Ease of Installation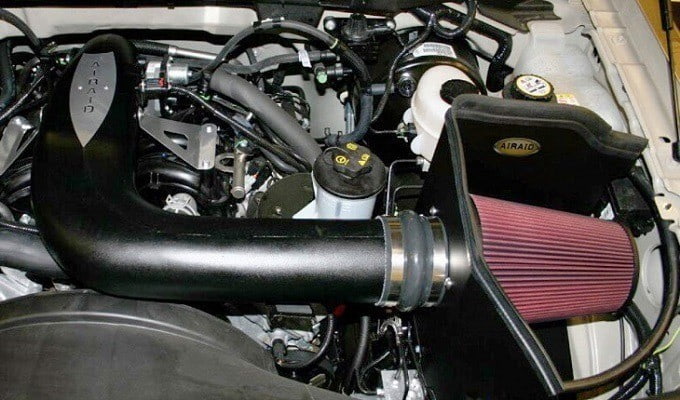 Nobody wants to have to pay a professional mechanic to install something as simple as an intake system. But, sometimes you will not have an option as some cold air intake systems can be quite complicated to install.
Before you decide to buy an intake system, it is vital to make sure that it is straightforward to install and comes with all the necessary hardware and detailed instructions.
Something user-friendly that does not have an overly complicated design will be the easier to install even for novice car owners.
5. Price
If you are like many other vehicle owners, you might be tempted to go for the cheapest cold air intake system in the market. However, in many instances, this is often not the best choice.
When it comes to aftermarket vehicle upgrades you should go for something that will deliver superior functionality and not just the cheapest.
For cold air intake system, you should establish a budget based on the average prices from the top brands and try to find the best one within that price range.
How to Install the Cold Air Intake System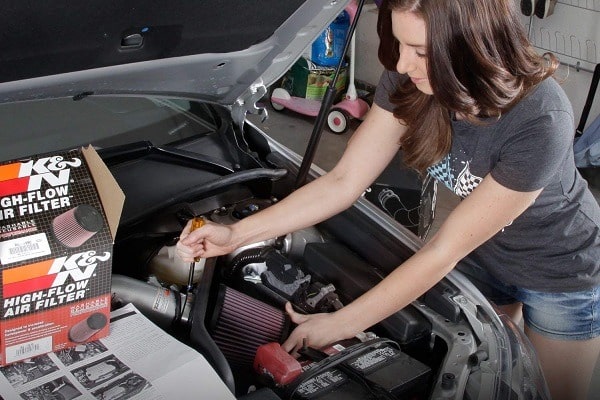 Even if you get the best performing cold air intake system, you still need to install it correctly to get maximum benefits from it.
While most manufacturers will provide instructions for installing their products, the following are simple installation steps that will work for most of these air intake systems.
Step 1- Turn off Engine
The first step is to turn off the engine after parking your vehicle somewhere there is enough space to walk around and also make sure that there is enough light. And then give the engine enough time to cool off before you start the installation.
Step 2- Unplug Battery
Once the engine is cool enough you can unplug the battery by removing the negative and positive terminals.
Step 3- Remove Stock Air Intake
The third step is to remove the stock or factory installed air intake system if it is what is still on your car or any other intake system you might be having. Locating the intake system should be easy if you know what you are looking for.
When removing the intake system you will have to remove the filter, filter box, and its piping or tube. Make sure that you do this slowly and carefully enough and you will often need to use a socket to unfasten the small bolts.
Step 4- Fit New Cold Air Intake System
Fitting the new cold air intake system is the most important step, and so you cannot afford to mess things up at this point. Make sure that you refer to the instructions that came with the cold air intake system and read them several times or until you understand them clearly.
You will need to understand the part that you will need to attach first and the tools that you need to use. Luckily, the installation instructions will specify all this but if not, you can get clear instructions and even very useful videos online.
Step 5- Inspect the Work and Reattach Battery
Once you have the new air intake system in place, the last step is to inspect your work before reattaching the battery terminals. Check whether the intake pipe is facing the right direction from the engine bay and that all the bolts and clamps are tight enough and in the correct place.
You can also try to tighten everything again just to make sure that everything is tight enough and secure. Lastly, reattach your battery terminals and always start with the positive one and finish with the negative.
Conclusion
While a cold air intake system installation is not necessary, it is one of the best aftermarket upgrades that you can give your vehicle to improve its performance.
And when it comes to choosing the best one, you need to consider factors like compatibility, durability, ease of installation and also the price.
With our review of top 10 cold air intake systems above you also now know some of the top brands and models to go for, and all you need to do is pick one that is suitable for your particular vehicle model.
Sources
Cold Air vs. Short Ram Air Intakes - 1A Auto
How to Install an Aftermarket Air Intake - WikiHow