Dogs sometimes like to enjoy occasional rides with you. While they can simply hop in, it is recommended to purchase the best dog car seat for many reasons.
For starters, these are dedicated seats that keep your pet in one place and since these are secured with harnesses, you can stay relax about the security of the dog.
Secondly, car seats are pretty expensive and dogs can ruin them with their nails. It is best to have a comfortable seat of their own so that no harm can come to your car seats.
We have dedicated this dog car seat review to help potential buyers in finding the best product on the market that will suit their requirements. Let's take a look at the recommendations.
Top Dog Car Seats of 2021 by Editors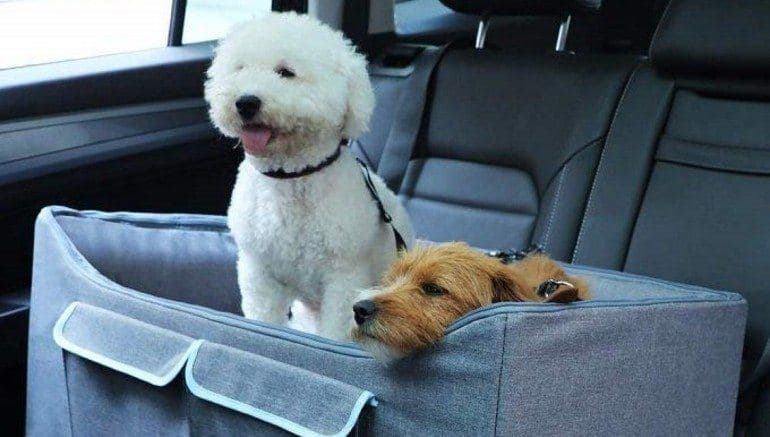 Summary of 7 Best Dog Car Seats
IMAGE
PRODUCT
FEATURES

1. K&H Pet Products Bucket Booster (Best Overall)

Made of 600D Nylon in dimensions 14.5 x 22"
Comes with 2 adjustable security leashes
One-year warranty
Removable & washable cover

2. Devoted Doggy Deluxe Car Seat

Made of soft plush liner in dimensions 14 x 12 x 7"
Collapsible metal frame
Easy to install
Comes with adjustable strap

3. Snoozer 801-ML

Made of quilted nylon in dimensions 19 x 22 x 17"
Can bear weight up to 25 lbs
Available in a variety of colors
Comes with sherpa lining

4. Kurgo Front & Rear Car Seat

Made of fleece material in dimensions 12 x 16 x 8"
Easy installation
Dog seat belt included
Comes in a variety of colors

5. Stella and Bear Car Seat

Made of fleece material in dimensions 13.5 x 16.5 x 8"
Can hold weight up to 20 lbs
Comes with collapsible silicone dish
Easy to setup

6. Petsfit Dog Car Seat Booster

Made of plush material in dimensions 29.5 x 16 x 14"
Can accommodate medium dog up to 45 lbs
Removable and machine washable liner

Amazon Basics Pet Car Booster Bucket Seat - 18 x 18 x 16 Inches

7. AmazonBasics Pet Car Booster

Made of quilted flannel plush in dimensions 18.5 x 17.7 x 15.7"
Bucket style booster
Adjustable security leash
Comes with a 1-year warranty
1. K&H Pet Products Bucket Booster - Best Overall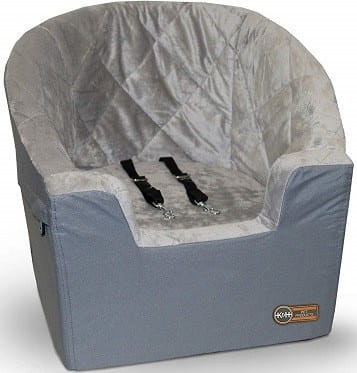 Dimensions: 14.5 x 22"
Material: 600D Nylon
The K&H pet products cover is available in the form of bucket car seat. This way, your dog can enjoy some elevation from the other seats and the outside view is also beautifully visible.
The dimensions of the model are 14.5 x 22 inches which makes it suitable for small to medium sized dogs. While the inner structure is made of steel material, the outside cover is constructed with nylon material.
The cover is removable and washable. Also, this product does not give you any hassle while installation. It comes with one-year warranty which seems pretty less when compared with the cost.

---
2. Devoted Doggy Deluxe Car Seat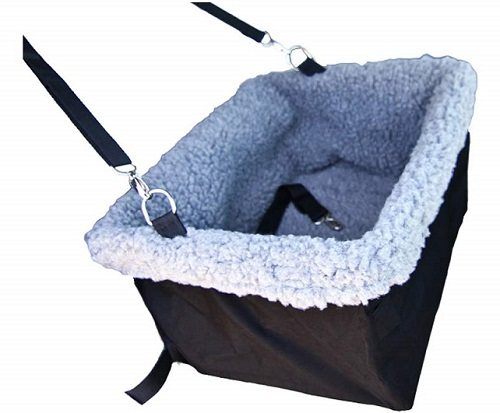 Weight Capacity: Up to 15 lbs
Dimensions: 14 x 12 x 7"
Material: Plush
From the Devoted Doggy, this is a high-quality bed car seat made of metal frame and plush material inside to give comfortable settings to your pet so that it can go to sleep.
The seat can accommodate up to 15 lbs of dog weight. That is why we have claimed it to be the best car seat for small dogs because it has appropriate size and various other essential features.
It comes with a single strap that fits around the head rest of the seat. This way, the seat is safely anchored and also slightly raised so that your pet can enjoy the outside beauty.
The metal frame is collapsible for quick storage. The company is willing to refund your money if the size does not fit your dog but they don't give any warranty on the damage happening to the seat.

---
3. Snoozer 801-ML Dog Car Seat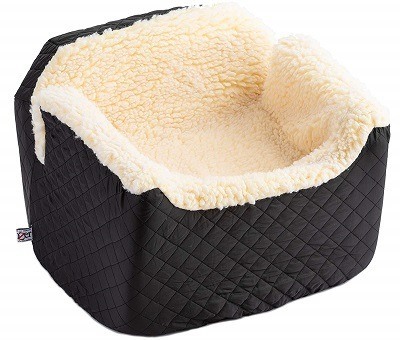 Weight Capacity: Up to 25 lbs
Dimensions: 19 x 22 x 17"
Material: Quilted Nylon
So, this model from Snoozer is a fantastic product but a bit overpriced. It is a bed car seat for your lovely dogs that is made of nylon and quilted material to provide high protection.
The top layering is done with Sherpa material which regulates the temperature. It keeps cool during summers and warm during winters. The cover is removable and washable.
The seat can accommodate weight up to 25 lbs and it is available in a variety of colors and fabrics. The connection strap that comes with the seat joins the harness. Unfortunately, the top cover will lose its softness after washes.

---
4. Kurgo Front & Rear Dog Car Seat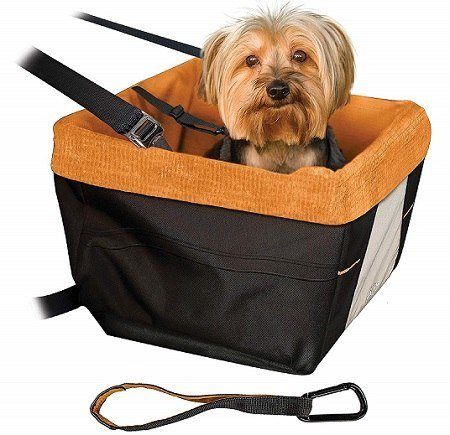 Weight Capacity: Up to 30 lbs
Dimensions: 12 x 16 x 8"
Material: Fleece
From Kurgo, this is another fantastic option available on the market. This model is made of fleece material inside with metal frame construction and a waterproof cover on the top.
The weight capacity of this product is up to 30 lbs which is remarkable. It is a simple dog booster car seat with easy installation. You can keep it on the front seat or the rear seat.
It comes with a dog seat belt tether which is adjustable and conveniently attaches to dog's harness. If you need a medium size dog car seat then this is a product to pick.
It also comes with lifetime warranty. What we didn't like in this product is that it does not have a lot of padding. Also, the inside material is not as durable.

---
5. Stella and Bear Dog Car Seat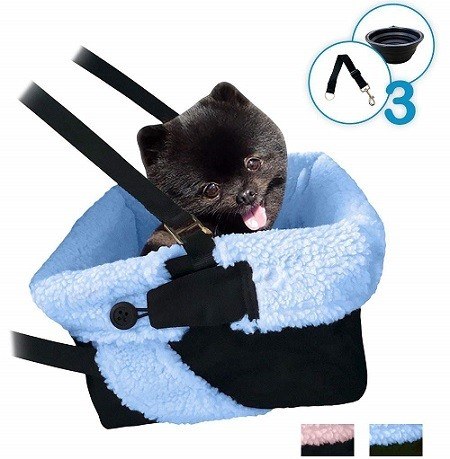 Weight Capacity: Up to 20 lbs
Dimensions: 13.5 x 16.5 x 8"
Material: Fleece
If you are running on a budget then this is one of the perfect purchases that you can make. This one is constructed with metal frame and has fleece material top sheet. Fortunately, this one has generous padding in it that save your pet from accidents.
It can accommodate weight up to 20 lbs and suitable for smaller dogs only. For road trips, you get a collapsible silicone dish and safety clip on leash that you set against the head rest.
The inner liner is washable and easy to maintain. The metal frame makes it easy to last for the longest time. While this is a suitable product, it will not suit if you have a large dog. Also, the fleece will lose the softness if washed often.

---
6. Petsfit Dog Car Seat Booster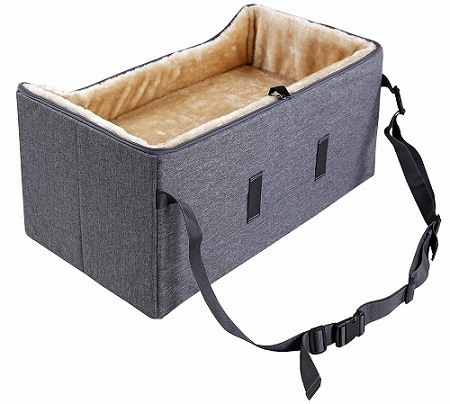 Weight Capacity: Up To 45 lbs
Dimensions: 29.5 x 16 x 14"
Material: Plush
Petslife dog car seat booster is available on a high cost and is constructed with plush material on the outside. The material is suitable for summers as well as winters.
This is a wide seat which can accommodate two small or one medium-sized dog. The product is quite stable although you can use some practice to understand its installation.
The plush cover is removable and you can machine wash it. Other than the high cost, another fall-out of this product is that it comes with a single leash. If you are trying to carry two dogs, you won't be able to put leash on both of them.

---
7. AmazonBasics Pet Car Booster
Weight Capacity: Up To 20 lbs
Dimensions: 18.5 x 17.7 x 15.7"
Material: Quilted Flannel Plush
From AmazonBasics, this is a suitably priced bucket style booster. It is made of super soft quilted flannel plush material that gives amazing comfort to your pet.
It is capable of holding not more than 20 lbs of weight which makes it suitable for small dogs. The elevated design will give wonderful view of the outside.
For more security, you get adjustable leashes that you can clip to harness. The color of this model is too light for pets and it will require frequent washing. Secondly, the one-year warranty is not so great.

How to Buy the Best Dog Car Seat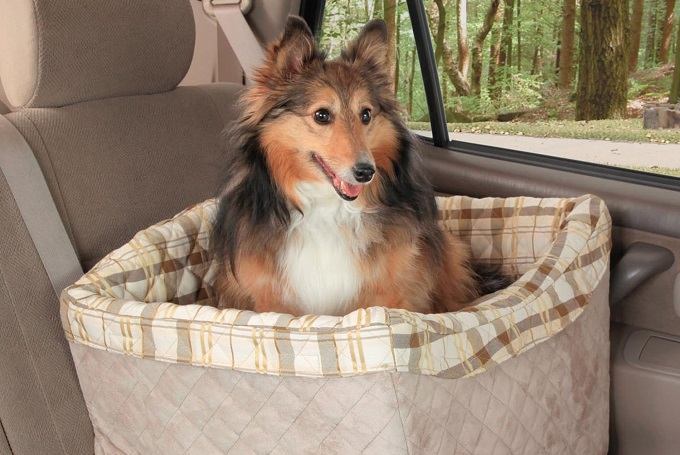 There are plenty of styles and designs available in the best dog car seats. You should keep some parameters in check while searching for the most suitable product.
You are looking for the safest dog car seat that is why you are here. Well, here we will share some important information on how you should select the right product.
1. Bucket Style or Bed Car Seat
There are different types of dog car seats on the market with their individual benefits and drawbacks. However, these two, bucket style and bed car seats are more popular among others.
Bucket Style
Honestly, these are the best dog booster seats because it gives them an elevated platform to sit and explore the outside environment.
It is named as bucket style because it is designed in the form of a bucket. The dog sits inside the bucket and strapped using a tether which is attached to their harness. This way, they sit on an elevated surface on a vantage point while enjoying their journey.
Bed Car Seat
These dog car seats are suitable for longer drives as there is a large area for your dog to get comfortable and laze out. This is quite versatile because you can use it as your pet's bed inside the house as well.
If you have a dog with nervous disposition then it will be the best option to consider.
2. Dog Size
This point is quite evident. You don't want to buy a dog seat in which your dog will not fit. According to the size of the dog, read carefully the dimensions and the size capacity of the seat.
As you must have noticed that with each recommendation made above, I have given both these specifications. These will help in making right selection.
If you have a small dog then there is no need to invest in a huge car seat. It will not be able to provide the safety that you need. Therefore, make sure to purchase the right size and capacity of a dog car seat for your pet.
3. Material & Padding
Most of these car seats are made of plush and quilted material so that you dog can stay at ease throughout the journey. Keep the aesthetics in mind with which you want to carry forward the purchase.
The frame of these products is made of foldable metal so that you can store the seats conveniently. However, there is a cover on the top that has a few layers of foam and plush soft cover to keep the dog happy and comfortable.
It is important that you pick a product with layers and soft cover on the top so that the bumps and the jumps taken by the car don't harm your pet.
4. Protection Feature
Like we take all necessary care about ourselves to prevent extreme damage during a crash, similar thing should be done for your pets.
First of all, make sure that the product you are selecting has sufficient padding. The top-rated dog car seats usually have thicker foam to provide protection and also to absorb shock from accident.
You are advised to select a seat with at least 2 inches foam or any other kind of sturdy base. Anything less than that will not be able to provide appropriate help to your pet.
5. Easy Installation
One of the most important features to consider while purchase is that a dog car seat should get installed easily and conveniently. You don't want to struggle with the car seat while you are getting late. Make sure that installation as well as cleaning of the product is super easy.
Read More: 12 Best Car Seat Covers for Dogs
Conclusion
There are some important and focusable points to keep in check while selecting the best dog car seat so that it could be your one-time purchase rather than making repeat purchases.
We will conclude our dog car seat review by saying that the safety and comfort of your dog are equally important as that of any other member in the car.
You don't want to risk it so make sure to do your research while shopping. All the recommendations that we have made above are in respect to all the leading products on the market.
Make sure to check the detailed guide as well because it will help you in making the finest selection. Happy Shopping!