Dents and dings are annoying as they affect the aesthetic appearance of the vehicle and reduce its value. And while a paint job is the most common method of removing them, there are still other even easier methods such as using the best dent puller.
Dent pullers do exactly what their name suggests, which is pulling the ding out to level with the rest of the vehicle. And they are available in different designs, including suction cups, hammer drill sets and bridge removal kits.
In this piece, we help make shopping for one easy by explaining the important factors to watch out for as you shop and with a review of top-rated dent pullers.
Editors' Picks for Top Dent Pullers 2021 Diy Paintless Dent Repair Kits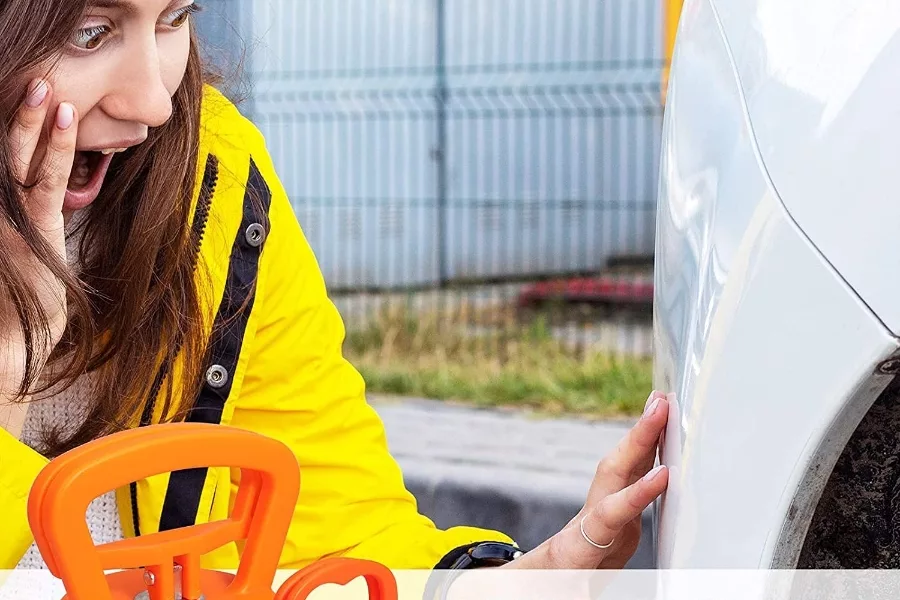 Summary of 9 Best Dent Pullers
IMAGE
PRODUCT
FEATURES

ARISD Paintless Dent Repair Puller Kit

1. Arisd Paintless Dent Repair Puller Kit (Best Overall)

Works on all kind of dents and dings
High-quality T-bar
Ideal for uses in different kinds of flat surfaces
Will not pull out vehicle paint

Yoohe Aluminium Suction Cup Dent Puller

2. Yoohe 4333093100 (Most Durable)

Heavy-duty aluminum handle
Impact-resistant housing

Single stroke pump action
Larger suction cup diameter
Great for various applications

Super PDR Bridge Puller Set

3. Super PDR-K1 (Best for Small Dent)

Includes smaller tabs for use on small dents
Easily adjustable design
High-quality and durable materials

BBKang PDR-05

4. BBKang PDR-05 (Best Paintless Kit)

All-in-one paintless dent remover
More paint-friendly dent puller
Tempered high carbon stainless steel tools


Gliston 45pcs PDR Kit

5. Gliston 45pcs PDR Kit (Best Value for Money)

45-piece kit provides excellent value for cash
Versatile for wide applications
Straightforward to use

AUTOPDR 48pcs

6. AUTOPDR 48pcs (PDR Kit with 48pcs)

Larger kit with more pieces

Durable and paint-friendly tools
professionally designed dent pullers

Arisd 2699023172

7. Arisd 2699023172 (Perfect Design PDR Kit)

Larger dent puller with distance adjustment
Soft, paint friendly silicone base
16 different tab sizes/shapes
Widely used dent puller

Manelord 2699023120

8. Manelord 2699023120 (Ideal for Home DIY Repair)

DIYer-friendly design
Ergonomic dent puller design
Efficient and versatile
High-quality stainless steel and rubber build

Yoohe PDR Tools Dent Puller Kit

9. Yoohe 5864307045(Environment Friendly )

Eco-friendly
Ideal for a variety of uses
Free glue gun included
Fast and easy to use
1. Arisd Paintless Dent Repair Puller Kit - Best Overall Dent Puller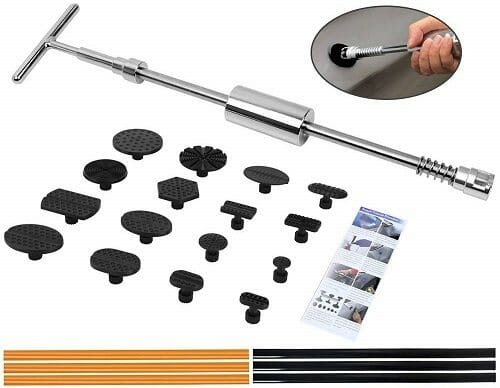 What makes this dent puller model from ARISD our best overall dent repair kit is that it can be used on various kinds of flat surfaces besides cars such as refrigerators, motorcycle body and washing machine. It can easily repair all kind of dents and dings.
This dent puller will use a hammer like T-puller bar that provides more effective hold and is also quite sturdy. The bar has an inspired design that allows it to be decomposed into to T-bar for even more uses.
Overall, this is a highly durable dent puller made from a tough high carbon stainless steel material and with rubber and plastic tabs. Besides being long-lasting, these tabs will also not hurt the auto surface.
A carry bag would be nice to help you keep all the components well-organized in one place. However, absence of is still not a dealbreaker given that it does not affect the usefulness and effectiveness of the dent puller.

---
2. Yoohe 4333093100 - Most Durable Suction Cup Dent Puller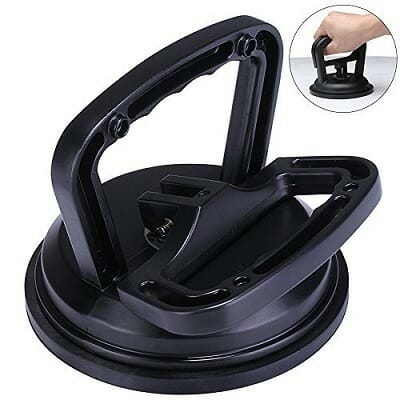 This Yoohe dent puller is designed to ensure that it will be along time before you need a replacement as it features a durable aluminum handle, impact-resistant housing and a high-quality rubber seal.
The 4.7-inch suction cup diameter is also ideal when dealing with medium to large dents, and this top-rated dent puller also ensure that repairing dents will be 100% Eco-friendly.
The grip is perfect to ensure easy dent pulling and it will allow you to use the dent puller for other things such as lifting different material like metals sheets and glass. This versatility is what you need in the best automotive dent pullers.
If color matters to you, this dent puller will be perfect for you as you get to choose between black and silver.
If you are dealing with very small dents, this might not be the best dent puller for you as it will not be able to create the airtight seal required, but for larger dents it is perfect.

---
3. Super PDR-K1 - Best Puller for Small Dent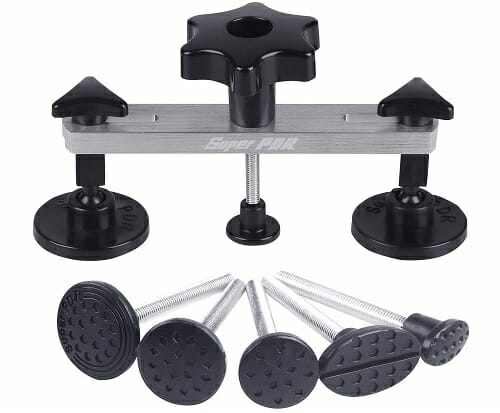 For the car owners looking for the best dent puller for small dents that comes at a great price tag, this model by Super PDR will be a great pick. It comes with just the right tab size for even the tiniest dents.
The company makes it with 6 different size tabs to suit different situations by. And it also allows you to adjust the size according to the dent you are dealing with.
Using it is quite straightforward as all you need to do is align the hole in the middle of the bridge and pull. And it has a strong and comfortable knob grip to make dent pulling even easier for you.
The adhesive quality is not the best but given that this dent puller is meant for use on smaller dents, it should still be good enough.

---
4. BBKang PDR-05 - Best Paintless Dent Repair Kit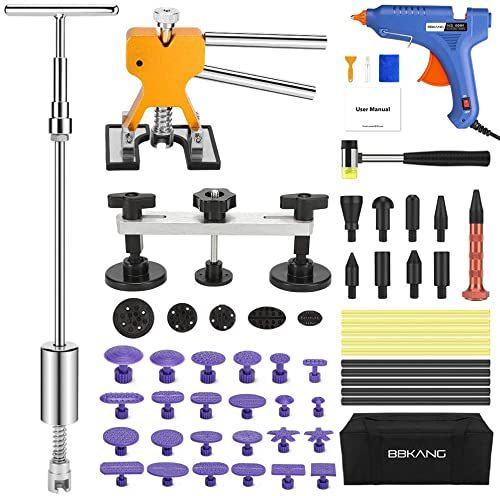 If you are on the market for the best paintless dent repair kit, the BBKang PDR-05 is unbeatable as it comes with everything you will need to quickly repair dents and dings. And this also makes this more versatile and ideal for various applications.
With this kit, you get a versatile and more powerful 2-in-1 slide hammer that will work with the glue. There are also various tabs to repair all kinds of dents regardless of the size or depth.
To ensure that you do not worsen the situation when trying to repair the dents, this dent puller will include soft silicone material on the base. This material makes it more paint-friendly.
Besides making dent pulling quick and easy, the kit is straightforward to clean to ensure you will not have a lot to do afterward.
When you compare this dent puller to others on our list, it is the priciest. But, the extra bucks you pay for it will stem from the fact that it will also offer superior service.

---
5. Gliston 45pcs PDR Kit - Best Value for Money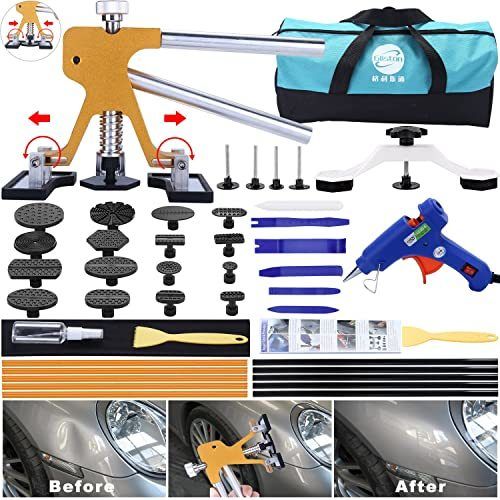 For a 45-piece dent puller kit, the Gliston 45pcs PDR Kit is quite affordable and you can hence be confident that this kit will give you excellent value for cash.
With this kit, you get lots of tabs that include 5 for the dent bridge kit and 16 for the dent lifter. Because the tabs come in various sizes, this kit will also be perfect for wide applications.
Using this paintless dent puller is also straightforward and anyone can lift out dents effortless. With the padded rubber feet on the dent puller, it will also be more friendly to paint to ensure you not need to deal with scratches afterward.
If you are dealing with more problematic dents and dings, the nice glue gun and extra sticky glue will be very useful.
The glue gun is a little on the smaller size but it still does a fantastic job and should still be good enough for most dents. While the quality of the provided bag is not the best, it should still not be a big concern.
You can also check out the Gliston Store for other options that will suit your specific needs and preferences.

---
6. AUTOPDR 48pcs - PDR Kit with 48pcs
With up to 48 different pieces, this is a more comprehensive kit that comes with more pieces that most others on our dent puller review. And what this means is that it will be ideal for a wide variety of uses.
Beside the higher piece count, every component is the kit is well-made for good and long-lasting service. However, the professional and ergonomic design of the dent lifter and dent bridge puller is what many users will love. Both will make the job faster and much easier for you.
With the high-quality rubber on all parts that are in contact with the car paint, this kit will be very effective at protecting the original paint job.
Other things that make this an amazing kit include the nice glue gun that is designed to withstand high temperatures and extra sticky glue sticks.
For a kit with as many pieces as this one, it is right to expect it to also include a glue removal product. But, some a blower to heat up the glue and a clean cloth to wipe it off is all it takes to remove heat, and so this should not be a big issue.

---
7. Arisd 2699023172 - Perfect Design PDR Kit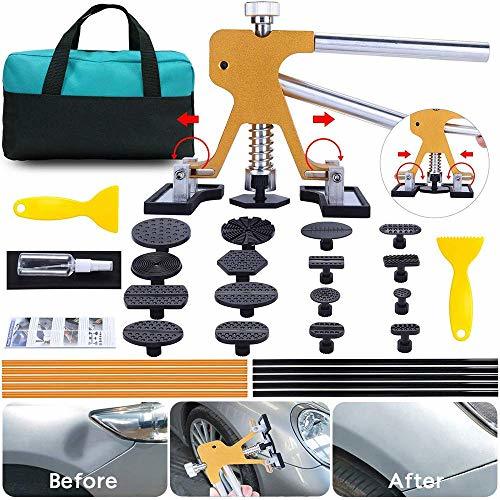 The perfectly designed Arisd 2699023172 will be perfect for working on almost any dent size. And this is because the bottom will extend for larger distances to accommodate larger dents. Better yet, the bottom also includes a soft silicone material that will make the dent puller more paint-friendly.
Versatility is guaranteed with this dent puller as it will come with 16 different tab sizes and shapes, which are designed to work on different kinds of dents. Besides vehicles, this dent puller will also be effective on motorcycle and various other surfaces.
One more thing that users will love about this dent puller is that it has been made from high quality material. These materials include a stainless steel frame and it is super easy to take apart for storage and transpiration.
This kit will not include enough instructions on how to use the different tabs, but even if you are a complete newbie, this is still a small issue to figure out. And the absence of a hot glue gun is acceptable for its price.
Also, check out the ARISD 32Pcs Paintless Dent Removal Kit as it will be a fantastic choice for those that prefer something with more pieces.

---
8. Manelord 2699023120 - Ideal for Home DIY Repair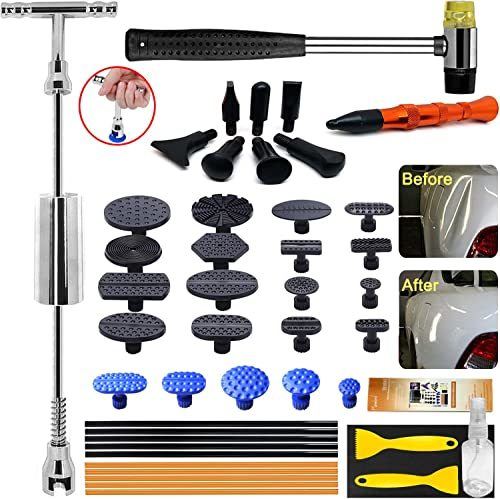 For DIYers looking for something highly effective at pulling out dents and cost-effective, the Manelord 2699023120. Better yet, it will also save you unnecessary trips to the auto body repair shop.
The dent puller is well-built and with an ergonomic design that will make it easy for user to get the perfect grip. Because the paintless T-bar dent puller is made from a high-quality stainless steel material, it will offer long-lasting service.
Also, the dent puller will have soft and high-quality rubber in all parts that will come in contact with the vehicle surface to protect the paint from chipping.
This dent puller will be useful for various other applications besides dent pulling such as removing dents from other metal surfaces such as motorcycles.
Pulling out the dents can take a little more effort without a hot glue gun. But, the good news is that besides being affordable, these guns are easy to get and so you can easily buy one.

---
9. Yoohe 5864307045 - Environment Friendly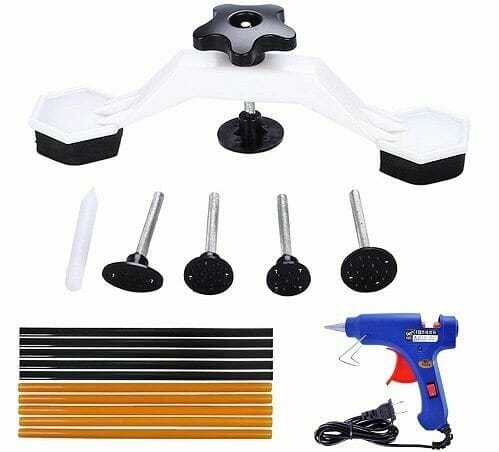 For the environment-conscious car owners, this Yoohe dent puller will be a perfect choice as it is is completely Eco-friendly given that you will not need to use any chemical or paint.
The company also makes this dent puller kit for a wide range of applications. And it will be very useful to have around as it comes in handy for various other uses besides pulling car dents.
It is a complete kit with several items that include a bridge dent puller, 5-piece glue tabs and hot melt glue gun. Hence, you will not need to buy anything else to use it as it has everything you need.
Other than the dent removal, the product is useful in hail damages and car door ding paint less repairs in no time. And this is also a quick and easy to use dent puller that should only take a few minutes to repair dents.
Although the crossbars on the dent puller look like they are made from thinner gauge plastic, they are still quite tough and durable. Also, the suction cap has a relatively smaller diameter but for small and medium size dents, it is still more than enough.

Types of Dent Puller
As you choose the best dent removal tool, it will be important to first understand the different types available and what each is best for. Here are the most common dent puller types out there.
1. Glue Pull
Glue pull dent puller are the most common type and what many user seem to prefer to use. These dent pullers will require you to use glue to affix them to the dented area and then pull out the dent or ding.
You can get glue pulls in three different styles which are slide-hammer, bridge and golden dent pulls and each will be ideal for different uses.
Slide Hammer Dent Puller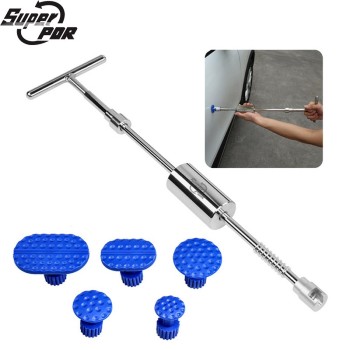 The slide-hammer is designed to handle more pulling force and it will consist of a a long straight body, T-handle and an attached tubular piece in the middle.
This sliding middle piece will create extra force to make dent pulling easier as users will not have to apply too much force.
These are more beginner-friendly and the design also makes them ideal fro handling larger dents.
Bridge Dent Puller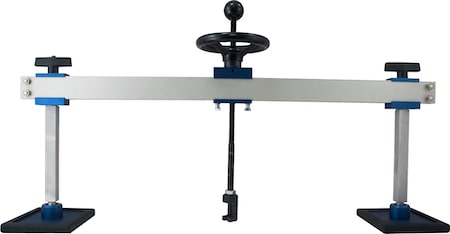 Many dent puller kit will include both the T-bar and bridge dent pullers as they are meant for different kinds of situations.
Bridge dent puller will consist of a couple of support legs that will be attached to a flat bar and a with a screw mechanism in the middle. This screw mechanism is attached to the pad that is attached to the vehicle surface.
Bridge dent pullers like BBKang PDR-05 are ideal when dealing with dents that are in harder to reach areas. Also, they will come in handy when dealing with deeper ones that require extra leverage to pull out.
Golden Dent Puller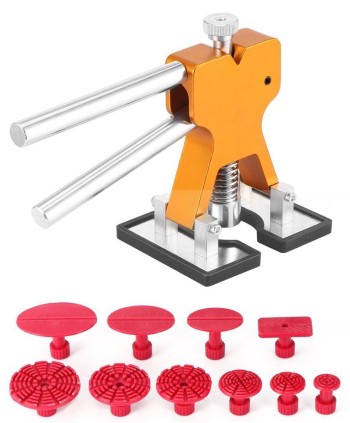 Golden dent puller are more like bridge dent pullers. However, these dent pullers have a more sophisticated but still easy to use design.
What sets this dent puller apart from the bridge type is that instead of the screw mechanism it has a trigger style handle and a different kind of leverage.
When you squeeze the trigger it will create pressure and pull out the dent. This dent puller will be more useful for the larger and harder to remove dents that the bridge dent puller cannot handle.
2. Suction Cup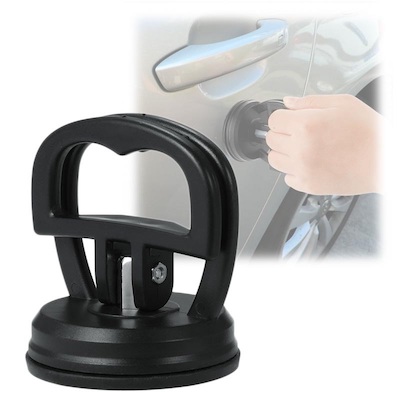 A suction cup dent puller like Super PDR-K1 will not have anything mechanical but it will still be effective enough at removing dents and dings.
This suction style dent puller will use strong suction to latch onto your vehicle and once it has latched on you have to use brute strength to pull out the dent.
Given that they require some muscle strength to use, these dent pullers will be more ideal for small and shallower dents that are not very oddly shaped.
3. Push from Behind
The push from behind dent pullers will make use of different tools like rods to push the dent out from behind the vehicles panel.
With this paintless dent removal process the size of the dent and its depth will determine how easy it will be to deal with. But, the more tools you have the easier the job.
Many people will use them as last resort for situation where other dent pullers might not have enough power to pull out the dent. Also, you can use this method when starting out to decrease the depth of the dent before smoothing it out with the suction cup, T-bar or bridge dent pullers.
How to Buy the Best Dent Pullers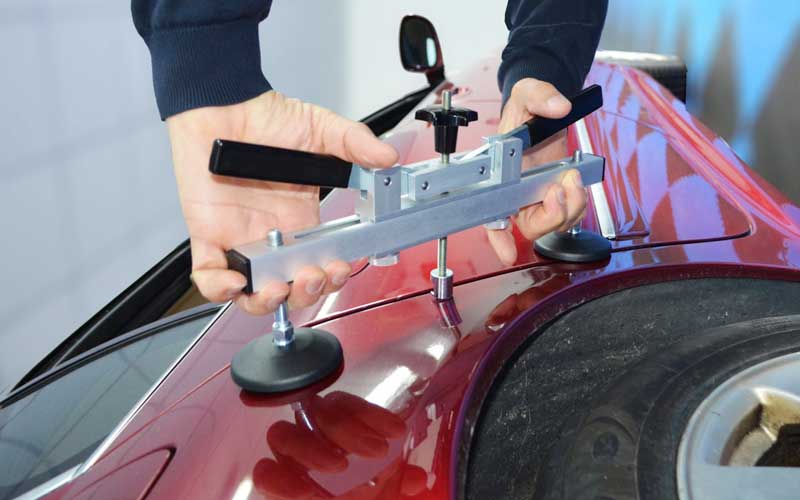 Choosing the perfect dent puller should not be hard as you only need to consider the following points when shopping.
1. Cup Size
The cup size is one of the first and most important things to consider when shopping for a dent puller. And this is because it will affect everything from the size of dent, you can pull to the overall effectiveness.
Most dent pullers will have cup sizes that start from as little as 2 inches in diameter to as large as 5 or 6 inches.
If you think you will need to deal with larger dents and dings often, a larger size cup is more preferable as it will be faster and more effective. But, something with different cup sizes like the 32-piece Super PDR-K1 is even more preferable.
2. Seal Quality
Another important feature to consider is the seal quality. While all the seals are made of rubber, the quality of the rubber used matters a lot.
The rubber comes in contact with the car body and is designed to ensure an airtight seal for maximum effectiveness.
A good quality rubber ensures you get a perfect seal to create a vacuum so that you can easily pull out even the deepest dents.
3. Handle Construction
The handle is where you will hold the dent puller when working on a dent, and so its quality and design also matter a lot.
A good handle has to be sturdy and well-built, and it must withstand the forced used to pull the dent without breaking.
Most of the handles will be typically made of plastic but many modern models especially the T-bar style dent pullers like Gliston 45pcs PDR Kit will use high-quality stainless steel handle materials.
Also, the handle should be ergonomic and comfortable on your hand to make the dent puller easier to use.
4. Accessories
As you shop for the best dent repair kit, you will also need to consider the accessories you get on the option that you choose.
Different kits will come with different accessories, depending on the type and other things like the brand. However, there are certain general things that you will need to watch out for.
Some of the most important accessories that you need are glue gun, glue sticks, alcohol and cleaning cloth. A carry bag for all the tools will also be a nice accessory.
Frequently asked questions
Do Dent Pullers Really Work?
A: Yes, dent pullers are highly effective at pulling out dents and dings and they will save you the need to repaint the vehicle. But, you still need to choose the best model to ensure maximum effectiveness.
Is Paintless Dent Repair (PDR) Permanent?
A: Yes, PDR dent repair is permanent because once you smooth out the surface, it should remain like that unless the vehicle hits something and it gets another dent.
Can All Dents be Removed?
A: It depends. Most dents and dings are typically repairable with a dent puller. However, some that are too deep and in a very odd shape cannot be pulled out and may require professional panel beating.
Is Paintless Dent Repair Safe?
A: Yes, provided you use a dent puller that has been designed with a soft base that will be paint-friendly it should be safe enough for the vehicle. Also, dent pullers are safe for the users as there are simple machines with almost no part or design that poses any risk.
How Much Does it Cost to Get Dents Removed?
A: It will depend on the dent pull kit that you buy. But, it can cost as little as $10 given that this is what the cheapest kits will cost. And with the kit you will in many instances not need to buy anything else or pay anyone as you can easily do it yourself. On the higher side, you will hardly ever spend more than $100.
Is PDR Hard to Learn?
A: No, it is quite straightforward to learn and most users will only need a few trials to master the technique. Some like the suction car dent pullers may not even require you to read the instructions as they are super easy to use.
Conclusion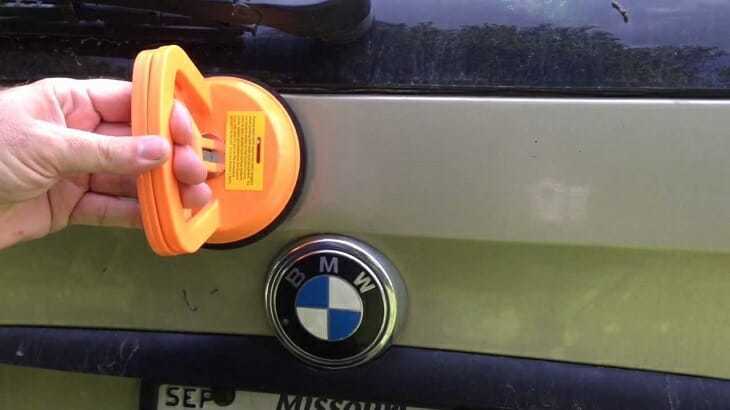 With our dent puller review above for recommendations, finding the best dent puller should now be just about picking one model that suits your needs and budget from the 9.
However, the Arisd Paintless Dent Repair Puller Kit, it is our best overall models and hence top recommendation. And this is thanks to its suitability for all kinds of dents and dings, durable design, and the fact it is also a versatile tool that works on different surfaces.
But, if you are looking to get the best value for cash, the 45-piece Gliston 45pcs PDR Kit will be an unbeatable choice.