Although hose clamps are more secure and durable than regular clamps, they tend to be harder to install and remove. But, they do not always have to be hard to deal with, as all you need is the best hose clamp pliers.
These unique pliers are designed specifically for removing hose clamps. They lock onto clamps to squeeze them open so that you can remove or install them with ease.
Hose clamp pliers make it easy to access clamps in hard to reach areas and minimize the risk of damaging engine components as you do not need to use sharp tools like screwdrivers. Below we review a few of these handy tools to give you recommendations and provide a buying guide.
Editors' Picks: Top Hose Clamp Pliers of 2021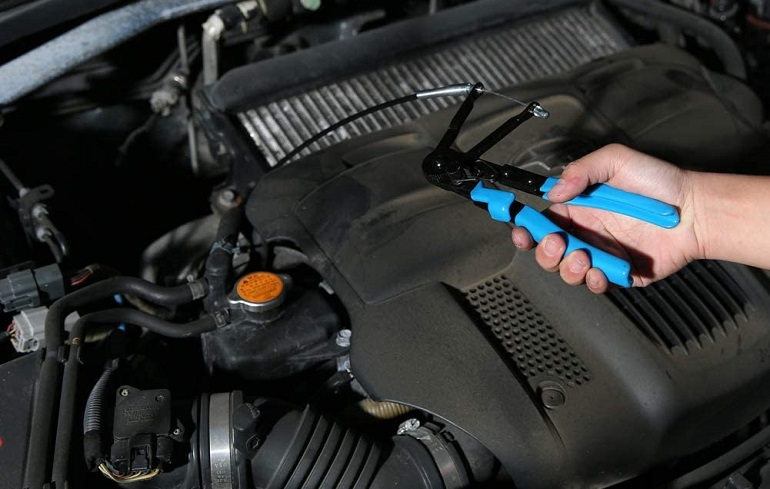 Summary of 7 Best Hose Clamp Pliers
IMAGE
PRODUCT
FEATURES

1. Astro 9409A (Best Overall)

Re-engineered double gear lock
Works for both metal & plastic hose clamps
Precision clamp included

2. Astro 9406 (Best for the Money)

Comprehensive hose service pliers kit
Sturdy storage case
Removes metal & plastic hose clamps

3. Gearwrench 3977 (Best Angled)

Angled for a better reach
Magnetic tip for tight fastener hold
Comfortable, rubberized grip

4. Knipex 8551250A (Best Spring)

Suitable for most spring band clamps
Comfortable to use design
Rotating jaw inserts for versatility
Slim head shape

5. HFS 16141 (Best Long Reach)

Reaches into awkward places easily
Compact head for use in confined areas
Comfortable vinyl dipped handles

6. ABN 2145 (Best Universal)

Universal 9-piece set for various uses
Durable nickel chromium steel construction
Rubberized & molded handles
Heavy-duty storage case

7. Drake Off Road 4525 (Heavy-Duty)

Heavy-duty 24-inch cable
Secure locking mechanism
Comfortable, non-slip handle
1. Best Overall: Astro 9409A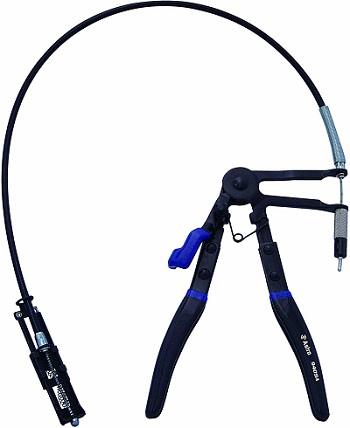 The Astro 9409A is our best overall hose clamp pliers as it provides a more secure lock and clamp hold. It uses a re-engineered double gear lock lever with deeper and wider gears to ensure a more secure lock.
This product has an improved cable assembly that includes a larger and tougher cable with a stronger connection to provide superior strength. Hence, the pliers are ideal for use on both metal and plastic hose clamps.
With the inclusion of a new cable adjuster and multiple gear lock, you can be sure of getting a secure lock regardless of the clamping position. What's more, you get an extended reach thanks to the precision clamp at the end of the flexible cable.
Because you can lock these pliers in place, they free up your hands to allow you to finish the job faster and more efficiently.
These pliers can be a little hard to store given they do not come in a storage case and the cable's extra stiffness, but this should not be an issue if you have enough space on your toolbox.

---
2. Best for the Money: Astro 9406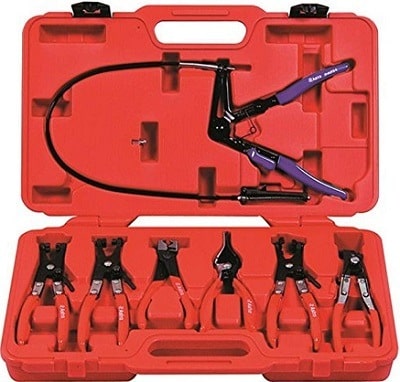 With the 7-piece Astro 9406, you get a wide variety of hose clamp pliers types at a great price to ensure excellent value for money.
Besides the different plier types and sizes, there is also a sturdy carry case that makes the tools easy to organize and store, so you never lose any of them.
These tools can deal with almost any hose clamp as they accommodate diameters between 11/16 and 2-1/2 inches. You can also use them for both metal and plastic hose clamps. And they are lockable to free up your hands.
The hose clamp pliers seem quite clunky, and some of the others seem relatively small. However, with the storage case that includes a dedicated spot for every product, the bulky pliers should not be an issue, and despite their size, all the pliers in the kit are still very handy.

---
3. Best Angled: Gearwrench 3977

If you are dealing with hose clamps in some awkward and hard to reach areas, the angled design of the Gearwrench 3977 makes it very useful. The style and the ball plus ends allow you to use it at almost any angle.
These locking hose clamp pliers hold clamps more securely, thanks to the stronger magnetic tips made with rare earth magnets. Hence you can be sure of having an easier time removing or installing clamps.
Gearwrench 3977 is a more comfortable tool to hold as it has a rubberized and ergonomic grip. Hence, you can use this tool for extended periods with no cramps and minimal hand fatigue.
While the tips can be a little large for some hose clamps, they should fit most types well enough. Still, you can replace them with smaller ones if you have another clamp pliers. Also, once you figure out the ratcheting mechanism, it should be okay.

---
4. Best Spring: Knipex 8551250A

The Knipex 8551250A is a fantastic choice for anyone looking for spring hose clamp pliers. This tool opens and holds large spring band clamps that are up to 70mm with ease making it highly useful to remove and install these clamps.
With this tool, you get rotating jaw inserts that allow you to use it from all angles and a slim head to ensure you can work well even in confined spaces. Adjustments are quick and easy as these pliers include a quick-set adjustment mechanism.
The non-slip handles are also an excellent addition to the pliers as they ensure it sits more firmly on the hand. Durability is also guaranteed as this tool uses a combination of some strong materials like chrome vanadium electric steel.
When you compare these pliers to others on our list, it seems quite pricey, but its functionality and service make it worth the extra cash.

---
5. Best Long Reach: HFS 16141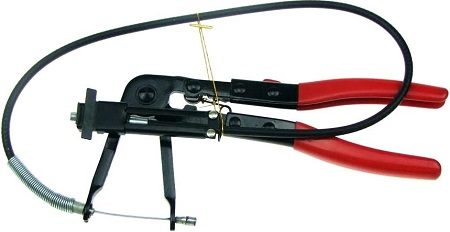 When you have awkwardly-positioned hose clamps to deal with, long-reach pliers like the HFS 16141 will be a handy tool to have around. Better yet, it comes with a long and flexible shaft that makes it even easier to work on the awkward angles.
The compact head makes operating the tool in confined spaces more comfortable. With the ratchet action and ergonomic vinyl handles, this tool is even easier and more comfortable to use.
The opening capacity, design, and style of these pliers make them ideal when dealing with clamps on fuel, oil, and water hoses.
At first, the release angle feels slightly awkward, but this only takes some getting used to. As you use the pliers more and more, things get more comfortable. Also, it needs a little more squeezing force to handle large clamps, but it is perfect for small and medium ones.

---
6. Best Universal: ABN 2145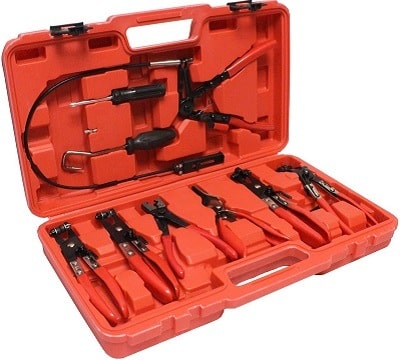 ABN 2145 is a universal kit for installing and removing hose clamps. The kit has nine pieces that include six different size pliers to ensure you can use it to remove clamps from oil, fuel, water, and various other hoses, provided they are within the 1.75-inch maximum jaw diameter.
Another element making this kit fantastic is that the pliers last a long time as they feature nickel-chromium steel construction. Better still, you can be sure they do not rust or corrode thanks to the black oxide finish.
The handles also provide maximum user comfort as besides the ergonomic design, they have a rubberized and molded design that minimizes user fatigue. Because the pliers come with a heavy-duty molded case, they are easy to organize and store.
The cables' ends seem a little too big, but once you get used to the hose clamp pliers, you should not have any alignment issues due to the size. Despite not being ideal for heavy-duty jobs, the pliers should still handle most hose clamp sizes and types with ease.

---
7. Heavy-Duty: Drake Off Road 4525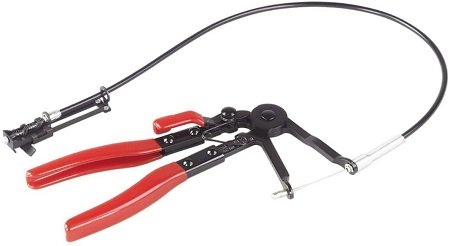 A heavy-duty hose clamp pliers like the Drake Off Road 4525 is guaranteed to not only work well but also serve you for a long time. Besides the actual pliers being highly durable, it has an equally sturdy cable.
The pliers' design and the 24-inch long cable make this tool very ideal when dealing with hose clamps that are in awkward and hard to reach places. And there is also a locking mechanism that locks the clamps in place to ensure you have an even easier time.
Many users appreciate the handles a lot as they have a more ergonomic and super comfortable design with a non-slip cover for a secure hold.
While these pliers make removing hose clamps a breeze, things seem a little challenging when using them for installation as you need to apply much more pressure. But this only takes some getting used to, and you should be okay.

How to Buy the Best Hose Clamp Pliers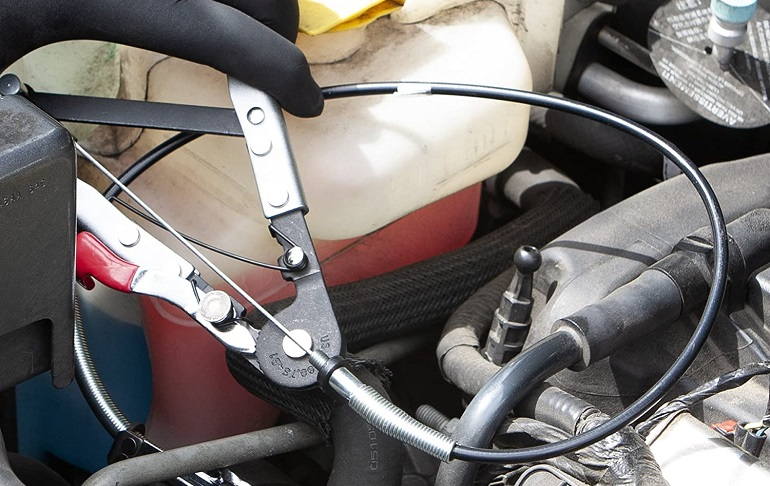 1. Compatibility
Because hose clamp pliers come in different styles, it is vital to make sure that what you choose is ideal for the specific hose clamps you want to install or remove.
Flexible cable hose clamp pliers are the most common types, and they use a thin but strong cable to manipulate the hose clamp on its outer edges. These types are ideal for use on spring-type clamps that you get throughout the coolant, fuel, and oil lines.
Flat band pliers are ideal for removing flat band clamps used in the heater and radiator hoses, and the Clic-R pliers are suitable for removing the unique Clic-R clamps.
Some types have cross-slotted jaws that make them ideal for removing the wire-type clamps, which can be a little hard to remove with other types.
2. Flexible Cable Pliers
Hose clamp pliers can come with or without cables, but those that include them are often the best choice as they are more useful.
Besides flexibility, you need to make sure the cable has a strong and tough material for long service life.
The cable should also be long enough, and the best hose clamp pliers have between 12 and 24-inch long ones. A heavy-duty 24-inch wire like what you get on the Renekton Flexible is always more preferable.
3. Max Opening
All hose clamp pliers have a maximum opening threshold, which determines the size of hose clamp they can handle.
Pliers with large openings are the best as they allow you to handle almost any hose clamp. Typical opening sizes range between 11/16 and 2.5 inches, which is the standard size for most clamps. You can still find some with a larger opening than this to allow them to handle larger ones.
4. Locking Mechanism
A locking mechanism is a crucial feature of these tools that you should never overlook. A model that includes one like the Astro 9409A frees up your hand to allow you to work on other parts of the car or hold the hose more securely.
The good news is that almost all modern pliers include this function and so you will not have any issues here. However, you need to make sure what you choose has a tight and secure enough locking mechanism so that it does not release accidentally.
The locking mechanism should also be easy to unlock and reachable when the pliers are in awkward or hard to reach places.
5. Material
The material used to make the hose clamp pliers determines its durability. Therefore, it is a crucial factor to consider when shopping. Here aluminum and stainless steel are the two most commonly used materials.
Aluminum pliers are more lightweight than stainless steel ones, making them easier to handle and carry around. Better still, they tend to be more affordable. However, they are not as durable as stainless steel, making them more ideal for occasional DIY users.
Stainless steel makes the most durable pliers, and these are the kinds you can expect to have in your garage for many years to come. Also, they are highly resistant to rust and corrosion. But they are relatively more expensive.
6. Comfort and Design
Any pliers you buy need to be comfortable to use. Uncomfortable ones make the hose clamps hard to remove. Something with an ergonomic and rubberized handle like the ABN 2145 is the most comfortable to use.
The grip should also be non-slip to ensure the pliers do not slip off the hand working. And if the overall design is flexible, the better as you can use it for extended periods without ending up with cramps.
Conclusion
When you want to remove or install hose clamps on fuel, oil, water, or any other line on the vehicle, you need good pliers to make the job quick and easy.
Luckily, finding the best hose clamp pliers for the job should be a breeze as we provide more than enough recommendations. The Astro 9409A takes our top overall spot from these recommendations as it has a lot to offer, from a more secure lock to an improved cable assembly.
The 6-piece Astro 9406 provides the best value for money as it is a set of several pliers types that comes at a great price.