During off-roading, your vehicle may occasional get stuck in the mud, sand, or snow. In such situations, a recovery strap can be your savior.
Vehicle retrieval is easy with these straps. Simply hook one end to the stuck automobile. Then attach the free end to the vehicle executing recovery.
A combination of the strap's break strength, length, and width allows it to handle significant forces and succeed in tagging stuck vehicles.
In our recovery strap review, we explore the leading models and their features while helping you choose one that meets your vehicle retrieval demands best.
Editors' Picks: Top Recovery Straps of 2021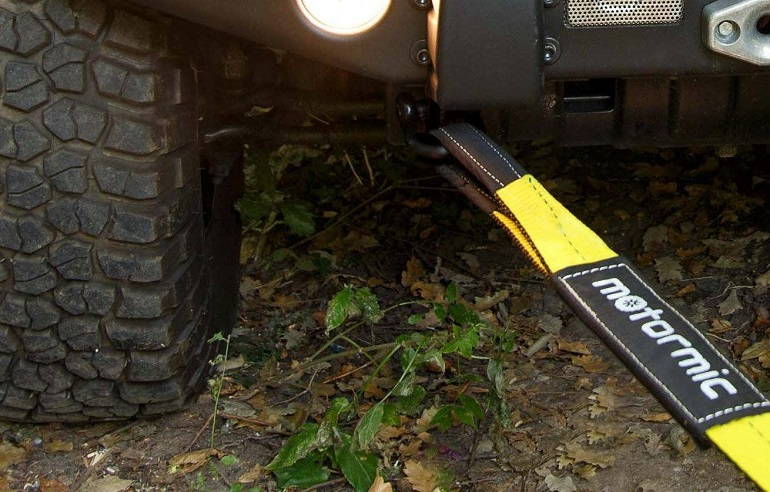 Summary of 10 Best Recovery Straps
IMAGE
PRODUCT
FEATURES

1. All-Top AT11000-9CBS (Best Overall)

High 35,000-lb break strength
Strong & elastic nylon material
A heavy-duty nylon tool bag
Generous lifetime warranty

2. ARB 710LB (Best Nylon)

Strong nylon construction
Recovery-optimized elasticity
Minimizes vehicle damage
Reinforced strap eyes

3. Rhino USA 330 (Best Budget)

Affordable & high-strength
Triple-reinforced loop ends
Heavy-duty protective sleeves
Tough drawstring carry bag

4. GearAmerica GAMDTS (Best Heavy-Duty)

Superior 45,000-lb break strength
Strong weather-resistant polyester
Extreme temperature resistance
Extended lifetime guarantee

5. Rugged Ridge 15104.02 (Best for Off-Road Enthusiasts)

Heavy-duty & mildew-proof
Abrasion-resistance strap eyes
Excellent shock absorption
Cable-winch damage prevention

6. Hi-Lift STRP-315 (Best for Night Use)

Night-optimized reflective loops
Dangerous recoil minimization
Optimized for controlled pulls
Reliable winching capacity

7. Smittybilt CC330 (Most Durable)

Strong double-stitch webbing
Reinforced double-hoop design
Versatile multi-function strap
Water-resistant for damp conditions
1. Best Overall: All-Top AT11000-9CBS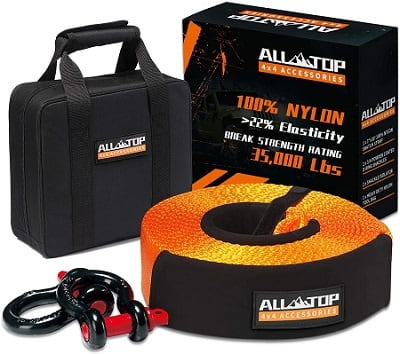 Break Strength: 35,000 lbs.
Material: 100% Nylon
Length: 30 ft.
The superior breaking strength, genuine elasticity, and generous life-time warranty of the All-Top AT11000-9CBS make it our best overall recovery strap.
It is made using 100% N66 nylon, which is renowned for its reliable strength and durability. To accommodate high-tension and resist snapping, the strap has a 22% elasticity.
Combined, the material and elasticity of this strap manage a superior breaking strength of 35,000 lbs. It will tow heavy vehicles under high tension, without compromising structural integrity. Also, the strap has a decent length of 30 ft to create enough clearance between vehicles.
For additional strength, the strap comes with two 3/4-in forged D-ring shackles, that go into the triple-reinforced eye loops.
And as a bonus, you get a heavy-duty nylon tool bag for carrying your strap and a generous lifetime warranty with free component replacement.
Something to note about the All-Top AT11000-9CBS's carry bag is that it is susceptible to mold, so avoid storing the unit in damp areas.

---
2. Best Nylon: ARB 710LB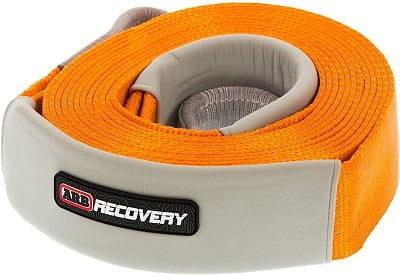 Break Strength: 24,000 lbs.
Material: 100% Nylon
Length: 30 ft.
The ARB 710LB recovery strap boasts of strong nylon construction, which allows it to stretch and adapt to the demands of different vehicle recovery tasks.
This 100% nylon strap has a high elasticity of 20%. It stretches to produce kinetic energy, which aids in the recovery of immobilized vehicles, included 4WD ones.
Even though the strap has a minimum break strength of 24,000 lbs., it is specifically crafted to stretch appropriately, under maximum load. The performance of this strap also minimizes the likelihood of a stalled or bogged vehicle getting damaged.
It adopts a snatch strap design, which is more appropriate than tow straps when it comes to vehicle recovery. The eyes on the straps are also reinforced.
A slight inconvenience of the ARB 710LB is that it may require additional accessories, such as a recovery damper, to boost operational security. This and other similar accessories are not included.

---
3. Best Budget: Rhino USA 330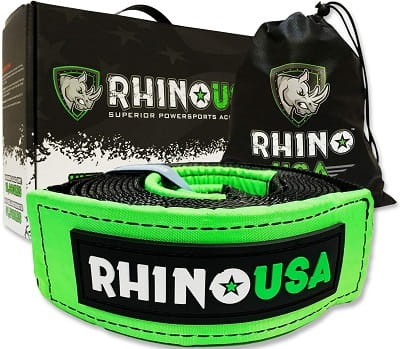 Break Strength: 31,518 lbs.
Material: Polyester/Silk Blend
Length: 30 ft.
The Rhino USA 330 recovery strap manages a top-of-the-range break strength and comes reinforced for high-tension vehicle recovering, at an affordable price.
Our best budget recovery strap has a lab-tested break strength of 31,518 lbs., which puts it in the league of our premium and pricier versions. The strap is made of an exclusive polyester/silk blend to provide reliable strength.
The loop ends of this 30-ft strap are triple reinforced. They can handle extreme tension, especially during emergency off-road recovery, without snapping or tearing.
Another premium addition to this strap is a heavy-duty drawstring bag. This bag is strong enough to carry up to 10 pounds of items, including additional vehicle accessories.
On the downside, the D-ring shackles required to make the Rhino USA 330 complete are not included with this strap. You need to buy these separately.

---
4. Best Heavy-Duty: GearAmerica GAMDTS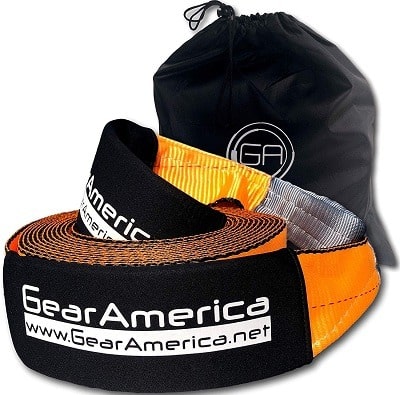 Break Strength: 45,000 lbs.
Material: Polyester
Length: 30 ft.
The GearAmerica GAMDTS is a heavy-duty recovery strap that is capable of multiple tow-related functions, and reliable for the most demanding towing tasks.
With a minimum break capacity of 45,000 lbs., this strap succeeds in intensive towing and recovery. You can also use it as a tree-saver and winch extension strap, making this tool highly versatile.
It is optimized for recovering large trucks and tagging bulky equipment. Off-roaders, farmers, and even emergency personnel will find this trap an essential tool for most of their core activities.
The main material used to make the strap is 100% polyester, which is not only weather-resistant but also withstands high temperatures (-40°F to 215°F).
There's also a generous lifetime replacement warranty offered with this strap. You're guaranteed a risk-free purchase.
Your GearAmerica GAMDTS does come with a drawstring bag, but it is not the best quality when it comes to weight capacity. The bag may stretch under heavy loads.

---
5. Best for Off-Road Enthusiasts: Rugged Ridge 15104.02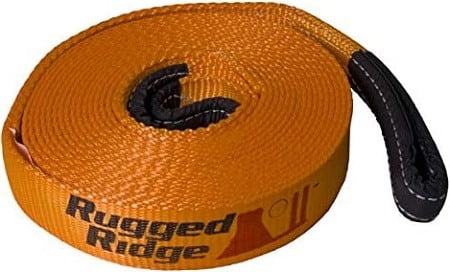 Break Strength: 20,000 lbs.
Material: Nylon
Length: 30 ft.
If you're an off-road enthusiast, then the high-performance Rugged Ridge 15104.02 recovery strap is your best bet when it comes to vehicle retrieval.
It features a heavy-duty nylon construction, which is mildew-proof, for use in fairly damp conditions. The choice of material is great for off-road use, as nylon is a better shock absorber than polyester when it comes to heavy pools.
Besides, the strap's eyes are reinforced, to boost abrasion resistance, especially because its protector wraps around the bases of trees, preventing winch cable damages.
We were disappointed, however, that our best off-road recovery strap does not come with a carry bag for easy portability. Also, this base version does not come with D-rings.

---
6. Best for Night Use: Hi-Lift STRP-315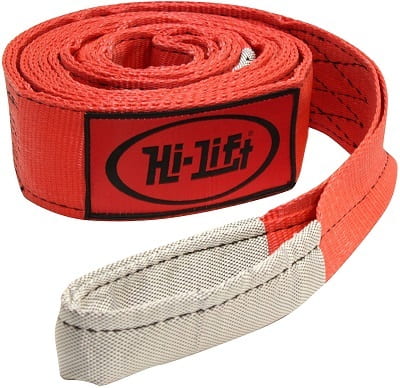 Break Strength: 30,000 lbs.
Material: Polyester
Length: 15 ft.
The reflective enhancements present in the Hi-Lift STRP-315 make it the ideal recovery strap for night use.
Reflective loops have been integrated into the strap's design, to enhance recovery in the dark. The loops will shine and reflect for enhanced visibility of connection points. Besides, the entire strap is optimized for vehicle extractions that are slow and meticulous.
And because night recoveries can present unique challenges due to low visibility, this strap attempts to mitigate them by adopting polyester material, which is proven to control the pull effect and minimize dangerous recoil.
You can also use this strap for winching, as its 30,000-lb break strength is capable of accommodating high pull forces on this vehicle accessory.
A disappointing aspect of the Hi-Lift STRP-315 strap is its short 15-ft length. It is the shortest strap on our list. Also, it does not come with a carry bag, which would help enhance storage and portability.

---
7. Most Durable: Smittybilt CC330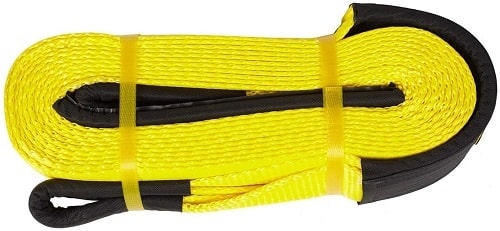 Break Strength: 30,000 lbs.
Material: Nylon
Length: 30 ft.
Heavy-duty stitching and hoop reinforcement boost the Smittybilt CC330's recovery strap's strength, and by extension, its durability.
The strap excels at recovery, thanks to its double-stitched webbing and double hoop design. Combined, these structural enhancements increase the strap's dexterity and longevity.
With a 30,000-lb break strength, this strap effortlessly recovers and tows vehicles, pulls different equipment, and even moves debris during intensive cleanup exercises. It offers versatility as a bonus to strength.
To boost your confidence in the durability of this strap, it is weather-resistant and supports recoveries even in snowing and wet conditions. Also, setting it up for a recovery operation is fast and easy.
Unfortunately, the Smittybilt CC330 strap does not come with reflectors, which limits usage in low-light situations, such as night recovery.

Recovery Straps vs. Tow Straps
People often confuse recovery straps and tow straps as being the same thing. But they're not. They differ in design and usage.
Tow straps come with large metal hooks for slotting into vehicle towing points. Recovery straps, on the other hand, do not come with hooks. Instead, they have loops.
Recovery straps are made using nylon and other potentially elastic materials to facilitate the application of the quick kinetic forces needed to recover your off-road car from mud, rocks, or sand.
Tow straps, on the other hand, are built using Dacron of polypropylene. These don't need to be elastic. They only need to secure the vehicles during transportation, hence the hooks at the ends.
How to Buy the Best Recovery Straps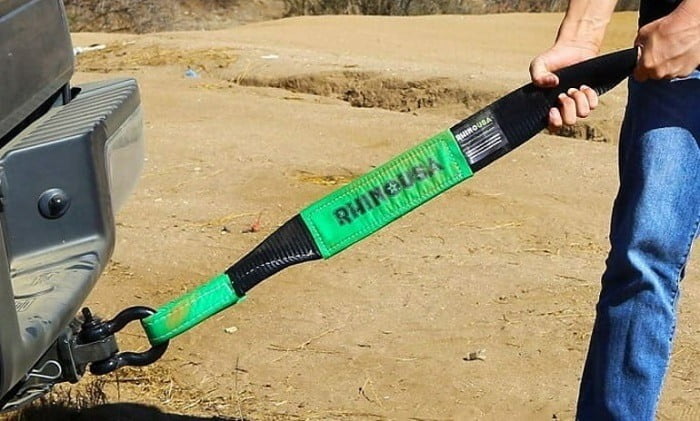 1. Break Strength
Break strength is a very vital metric when it comes to rating a recovery strap's performance. It represents the minimum force required to snap a recovery strap.
The consensus among experts is that the ideal recovery strap should have a break strength of about 3 times your vehicle's weight.
Therefore, if you own a 4x4 vehicle, for instance, a recovery strap with 30,000 lbs. of break strength should be enough to recover it safely.
2. Length & Width
Recovery straps should have a length and width combination that's ideal for providing the strength required in their intended applications.
Length is an essential consideration because it affects pressure distribution, throughout the strap, during recovery. 30-ft straps are considered ideal for recovery, as they offer optimal safety and pressure distribution.
As for width, 3-ft is considered standard, but some straps, such as the 4-inch-wide Keeper 02942 are wider, for enhanced strength and even better pressure distribution, for heavy-vehicle recovery.
3. Visibility
For night vehicle extractions and recovery, then you need a high-visibility strap. Such straps come with reflective enhancements added to them.
A visible strap will be much easier and safer to use, compared to a low-visibility equivalent. The Hi-Lift STRP-315 recovery strap is optimized for night use, thanks to its reflective loops, which reflect light to boost visibility.
Lustrously-colored recovery straps are also great at enhancing low-light visibility.
4. Weather-Resistant
If you expect to be executing vehicle recoveries in damp or wet environments, such as during winter, then aim for a weather-resistant recovery strap.
Prolonged exposure of your recovery strap to dampness or wetness can damage its materials if they are not weather-protected.
Consider getting the Smittybilt CC330 or the GearAmerica GAMDTS straps, if weather resistance is a priority for your recovery operations.
5. Durability
We all desire durable tools and accessories, especially when it comes to vehicles. Recovery straps are no exception.
Aim for a strap with reinforcements in the sections typically considered weak points. Loops, sleeves, and eyes are subjected to a great deal of stress. If these sections on your strap are strengthened, that's a durability booster.
Superior stitching also helps boost durability. Weather-resistant straps also tend to step durability a notch higher.
6. Materials
The materials used to construct recovery straps contribute a great deal to their utility and performance.
The 2 main materials used to make recovery straps are nylon and polyester. Though uncommon, straps may also feature a blend of materials, such as silk and polyester.
Nylon is preferred for its elasticity. Snatch recovery operations rely on strap elasticity to be effective and successful because stretching helps minimize snapping.
Polyester is incredibly strong and works great for straps with high break strengths, such as the GearAmerica GAMDTS.
7. Hooks
Some recovery straps come with hooks, which are fixed on the ends to provide latching points, for attachment to vehicle towing points.
The straps that come with a hook are mostly intended for towing as most are not elastic. If you're interested in a strap for recovery tasks, only, then consider getting looped models, not hooked ones.
D-ring shackles are the hook equivalents when it comes to recovery straps. If you want your strap to perform more securely and firmly, then get one with these accessories, or buy them separately.
Conclusion
From our recovery strap review, it's evident that these accessories are essential to every vehicle owner.
If you're looking for the best of them all, choose our top pick, the All-Top AT11000-9CBS. It is made of strong and elastic nylon and comes with D-ring shackles for maximum value.
If you're on a budget but still desire the best value from a recovery strap, we recommend the Rhino USA 330, for its strength, triple loop enforcement, and reliable off-road performance.
And if you conduct regular night vehicle recoveries, then the most suitable recovery strap is Hi-Lift STRP-315.