The jack stand is an easy-to-use lifting tool that allows you to quickly and easily hold your lifted vehicle in place, making it easy to access the underside for rim or tire repairs.
Jack stands typically have a triangular shape with a large base to offer stability and ensure maximum safety during usage. They are also quite versatile as they come in different weight capacities from 2 to over 10 tons.
If you are searching for the best jack stands, we review 7 top quality models and show you how to choose an ideal one.
Editor's Recommendation: Top Jack Stands of 2021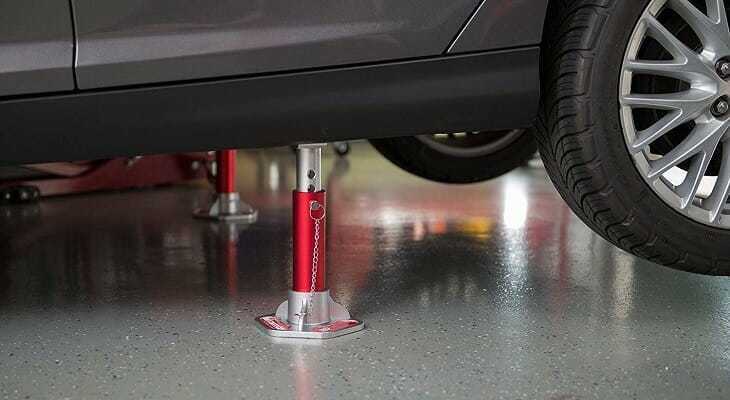 Summary of 7 Best Jack Stands
IMAGE
PRODUCT
FEATURES

1. Pro-LifT T-6906D (Best Overall)

Sturdy stamped steel construction
Double locks mechanism
Smooth height adjustment

2. Alltrade 640912 (Best for Off Road Vehicle)

All-in-one design
Extra-wide steel base
Secure safety bar

3. Torin Big Red T43004 (Best Aluminum)

High-grade aluminum construction
Large saddle surface area
Locking support pins
Wide foot base

4. Torin Big Red T43002A (Best Steel)

Industrial welded heavy-duty steel
Wide pyramid style foot base
Multi-position ratchet bar

5. AmazonBasics SW-STJK02 (Best Budget)

Budget-friendly
Self-locking ratchet
Durable steel frame

6. Camco 44561 (Best for RV)

Secure & level RV positioning
Lightweight but durable aluminum build
Easy to use screw lock system

7. Esco 10449 (Best Low Profile)

Low-profile design
Removable rubber flat top saddle
7 adjustable positions
1. Best Overall: Pro-LifT T-6906D
Weight Capacity: 6 tons
Height Range: 15 to 23.5 inches
Material: Steel
The Pro-LifT T-6906Dis our best overall model as it is a top-rated jack stand that is well-built, has a smooth upward movement, a more stable base, and secure locking mechanism.
Pro-Lift builds this jack stand with a heavy-duty stamped steel material that makes it highly durable as it can withstand more abuse. Additionally, the jack has a high-quality cast ductile iron ratchet bar for extra sturdiness.
Since the jack is for commercial and home use, it has a higher 6-ton capacity to ensure you can use it to hold most vehicles on the road. The lift is also easier as there is a height adjustment mechanism that ensures smooth upward movement.
Moreover, the double locking system with both mobility pin and handle locks makes the stands safer to use as well. Furthermore, they have a larger and more stable base for safe operation.
These jacks are certified to be safe and well-built as they meet the strict ANSI/PALD standards.
The 15-inch minimum height is not low enough for those with low-profile vehicles. However, it is still enough to go under most cars on the road today.
Note: Pro-Lift also has a 3-ton version, the Pro-LifT T-6903D. The 3-ton option is ideal for those who do not have heavy vehicles and prefer a more affordable option.

---
2. Best for Off Road Vehicle: Powerbuilt Alltrade 640912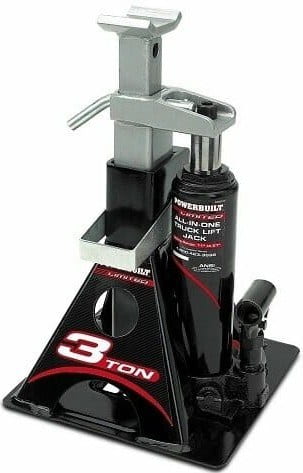 Weight Capacity: 3 tons
Height Range: 11 to 21 inches
Material: Steel
When it comes to lifting off-road vehicles and trucks, you can trust the Powerbuilt Alltrade 640912 to do a fantastic job for you. It is an all-in-one 3-ton jack with both a bottle jack and jack stand for lifting and holding the vehicle in place.
With a broad steel base, this tool remains stable under load to prevent accidents. It can also get under almost any vehicle out there as it goes as low as 11 inches and has a maximum lift height of 21 inches.
The safety lock bar is sturdy enough as it locks in place to ensure the stand never lowers once secured.
At 22 pounds, this unit seems heavier than expected, but it is still easy enough to handle for most motorists.

---
3. Best Aluminum: Torin Big Red T43004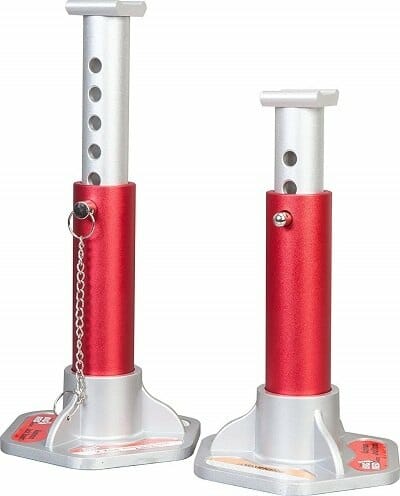 Weight Capacity: 3 tons
Height Range: 10.71 to 15.63 inches
Material: Aluminum
Torin Big Red T43004is a pair of heavy-duty jack stands made from a high-grade aluminum material that makes them lightweight as they weigh just 10.2 pounds.
Moreover, these stands are secure and stable as they feature a broad foot base and have a larger saddle surface area for excellent contact with the vehicle.
Another element that makes this a more secure jack stand is the inclusion of removable support locking pins. The pins provide extra security and can be locked in 6 different positions.
The relatively higher price tag and sharp edges seem to be the most significant concerns with these jack stands. However, the price reflects the quality, and you can always sand down the edges to smooth them.

---
4. Best Steel: Torin Big Red T43002A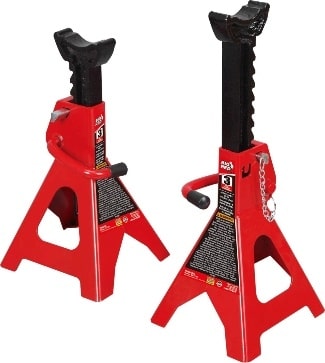 Weight Capacity: 3 tons
Height Range: 11.25 to 16.75 inches
Material: Steel
Steel is one of the most durable jack stand material, and it is what makes the Torin Big Red T43002Asuch a fantastic product as it guarantees you get many years of service. Better still, the stands have highly durable industrial welding.
Another element that makes the heavy-duty jack stands fantastic is the broad pyramid style foot base. The base provides extra strength and stability.
You can also be sure of always getting better contact with the load thanks to the large saddle surface area.
Additionally, these stands can handle a wide variety of vehicles, from cars and Jeeps to ATVs. Better still, you have an easy time adjusting the height to suit the different vehicles thanks to the multi-position forged iron ratchet bar.
Since the security pin is non-locking, it is possible to knock it out of place, but a little precaution is all it takes to ensure this never happens. Also, there is no rubber on the feet, meaning the stand can damage delicate garage floors. However, placing a wood plank under the feet should ensure this does not happen.

---
5. Best Budget: AmazonBasics SW-STJK02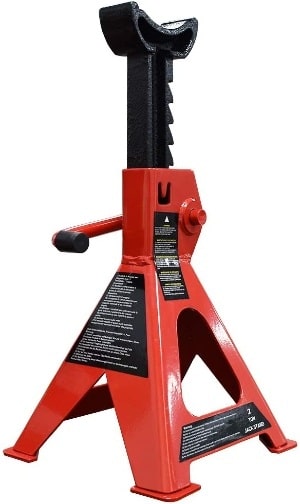 Weight Capacity: 3 tons
Material: Steel
For motorists shopping for a more budget-friendly pair of jack stands,

is the perfect option for you on our list.
Despite these being budget stands, they are still well-built with durable steel frame and some top quality welds to ensure they hold up well for many years to come.
What's more, the stands have a self-locking ratchet that eliminates the need for a locking key and makes raising and lowering them easier. There is also little risk of using the jacks on unsuitable vehicles as the weight capacity is easy to read.
While these stands could have better anti-rust protection, the coating still does a decent job keeping rust and corrosion in check.

---
6. Best for RV: Camco 44561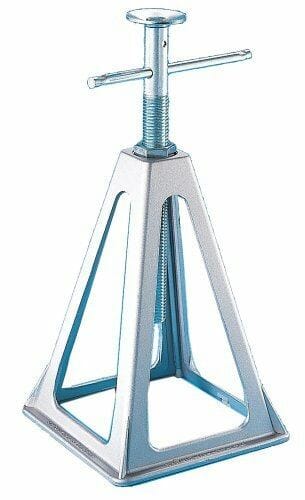 Weight Capacity: 3 tons
Height Range: 11 to 17 inches
Material: Aluminum
When it comes to lifting your RV or camper, the Camco 44561 is a perfect choice. Each stand has a 3-ton capacity, meaning that the pair should be good enough for most campers and RVs on the road today.
The heavy-duty but still lightweight aluminum construction ensures the stands provide a long service life and are also easy to carry on your camper as they do not add any significant weight.
These are also some of the cheapest on our jack stand review, making them ideal for motorists looking to save a few bucks. Additionally, they are easy to use and have a secure locking mechanism.
Like most others out there, these come in a pack of 2. However, the manufacturer also offers them in a 4 pack for those that may need to use more.
The base for these jack stands could be a little wider to ensure maximum stability. But provided you are using them on vehicles that do not exceed their 3-ton capacity, they should be stable enough.

---
7. Best Low Profile: Esco 10449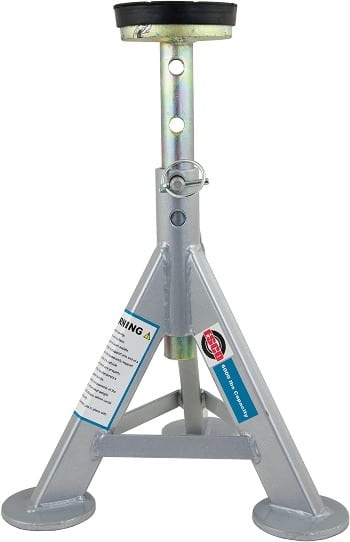 Weight Capacity: 3 tons
Height Range: 11 to 17 inches
Material: Aluminum
If you drive one of the many modern vehicles with low ground clearance, the low-profile Esco 10449is an excellent choice of jack stands. With a height range of 11 to 17 inches, these jacks can work for most low ground clearance vehicles out there.
Another element users love is that they have 7 adjustable height options to ensure you get the exact support height you want. Better still, you can lock the position in place more securely as the jack stands use an extra-safe pin style lock mechanism.
The saddle provides excellent contact with the car frame as it includes a rubber cushion that prevents damage to the car. Additionally, the stands also more stable legs with a round base.
Quality control seems to be lacking for these jack stands as welding splatters are quite common, but this does not significantly affect their quality or usability.

How to Buy the Best Jack Stand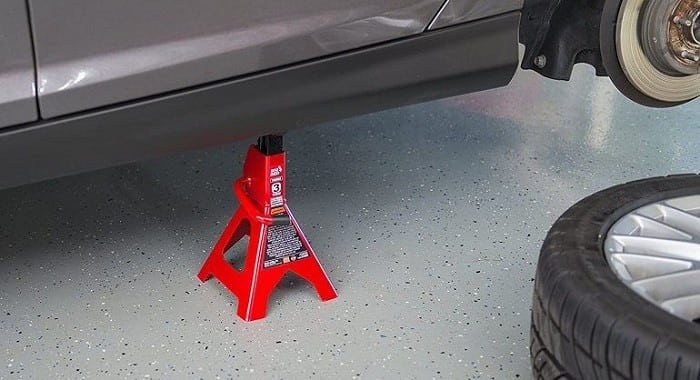 1. Types of Vehicle
It is vital to ensure the jack stands you want to buy can work for your specific vehicle type.
While in most instances, the jack stand is a versatile and flexible lifting tool that can be used on almost all types of vehicles, some like the Camco 44561 is for specific ones, which are RVs and campers.
That said, you need to make sure the weight capacity and design of the jack stand suit your particular vehicle type.
2. Weight Capacity
A jack stand's weight capacity tells you the maximum amount of weight they can hold and hence the vehicle type or size you can use them on.
A typical jack stand can hold anything from 2 tons to over 10 tons. Hence, it is up to you to choose the capacity you prefer. Your vehicle's weight should guide you here, but it is vital to note that the higher the capacity, the pricier the jack stand.
3. Material
It is also vital to consider the jack stand's material, and here the two main options are aluminum and steel.
Aluminum : Aluminum jacks like Torin Big Red T43004 are lightweight and more resistant to corrosion. However, the material is not as durable as steel, and it might not be the best choice for those looking for something heavy-duty for lifting weighty vehicles.
Steel : Steel is the material of choice when it comes to heavy-duty jack stands. A steel jack like the Torin Big Red T43002Aoffers long service and can take more weight. However, steel is often prone to rust or corrosion if it does not have a proper coating.
4. Lock Mechanism
The lock mechanism in the jack stand helps secure it at a specific position, and there are 3 main types used on most models.
Pin: This mechanism uses a pin made of steel or iron that slips in a slot or hole system to lock the jack. It is the most popular lock mechanism given the heavy-duty and durable construction, but pins can be a little hard to use.
Ratchet: The ratchet is one of the most user-friendly lock types you can find in a jack stand. It uses a ratchet system that locks the jack once you push it in place. However, the ratchet system is not the safest type and is not ideal for heavy-duty use or a professional workshop.
Screw: As the name suggests, this is a screw and lock that locks your jack stand at the desired height. Once locked, the screw system is very stable and less likely to fail than the ratchet system. But, this mechanism is a little more time-consuming to use.
5. Lift Height and Base Width
The lift height is pretty self-evident as it is just the maximum height the jack stand can hold your vehicle.
If you have a low-profile vehicle like a sports car, you need a stand that holds the vehicle at the desired height and is low enough like the Esco 10449 to get under these vehicles with ease.
On the other hand, the base width dictates the stability of the jack stand. Basically, the larger the base, the more stable the jack stand will be. Additionally, a jack stand with a broad base is safer to use.
6. Safety
Several things determine the safety level of your jack stand. Key among them is the base width, and here the wider it is, the safer the unit.
Also, secure locking mechanisms are vital as they ensure the stand never slips or lowers when in user. One more thing to look for to ensure safety is a large enough and firm saddle that provides excellent contact with the vehicle.
Conclusion
A jack stand is a practical tool that allows you to quickly access your car's underside safely and efficiently. But for good service, you need to make sure you have the best jack stands.
However, the Pro-LifT T-6906D is our top overall recommendation thanks to its sturdy construction, more stable base, and ease of use with smooth upward movement.
For motorists shopping for something specifically for off-road vehicles, the all-in-one Powerbuilt Alltrade 640912 is a perfect choice.