Car ramps are invaluable accessories for every automobile owner. By elevating your car wheels, ramps simplify access to the vehicle's belly, allowing you to perform a wide range of maintenance works with ease.
Your choice of car ramp will depend on its intended purpose. Solid high-profile ramps are great for supporting car maintenance tasks, including tire changes.
Strong low-profile ramps, on the other hand, are ideal for slight elevation and are great platforms for displaying cars.
In our car ramps review, we explore some of the best performing models and help you choose the ones that meet your car needs best.
Top Car Ramps of 2021 by Editors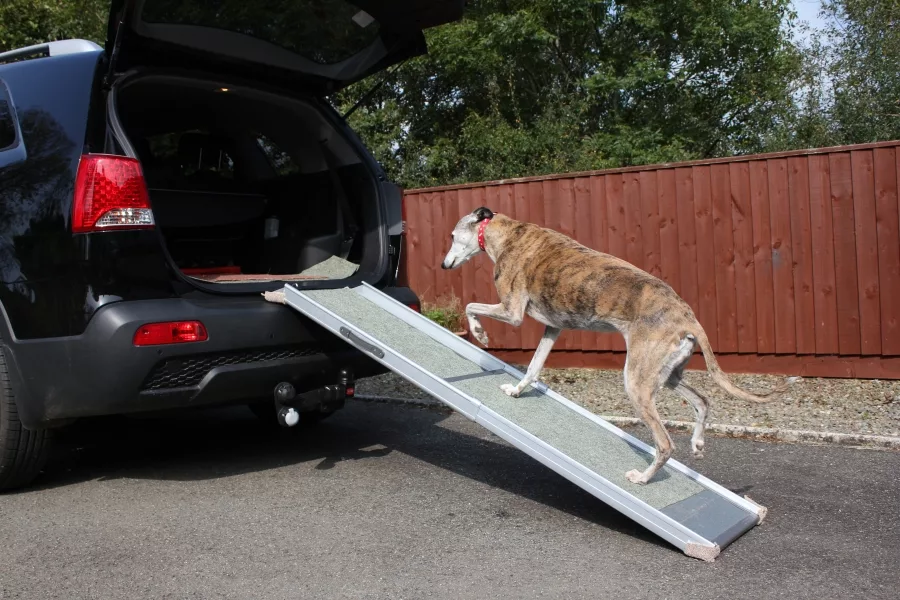 Summary of 7 Best Car Ramps
IMAGE
PRODUCT
FEATURES

RhinoGear 11912ABMI

1. RhinoGear 11912ABMI (Best Overall)

Superior 16,000-lb load capacity
Rugged & strong design
Firm CoreTrac non-skid base
Nestable for easy storage

Discount Ramps 6009-V2

2. Discount Ramps 6009-V2 (Best Budget)

Affordable & versatile
Optimized for low-profile cars
Reliable moisture deterrence
Heavy-duty build quality

Race Ramps RR-40

3. Race Ramps RR-40 (Most Durable)

High-density foam construction
Low heat/cold transfer capacity
Reliable traction coating
Optimized for sports car support

Trailer-Aid Tandem

4. Trailer-Aid Tandem (Best for Tire Changing)

High 15,000-lb weight capacity
Jack-free tire change support
Waterproof & rustproof
Super-strong polymer material

Tomioka Racing Super Slopes

5. Tomioka Racing Super Slopes (Best Low-Profile)

Boosts jack point access
Textured for firm wheel grip
Reduces moisture build-up
Compact, light & portable

Black Widow PSR295

6. Black Widow PSR295 (Best Plastic)

High-impact plastic build
Superior 16,000-lb weight capacity
Efficient water/snow/dirt filtration
Slip-reducing rubber padding

Pyle PCRBDR27

7. Pyle PCRBDR27 (Best Portable)

Lightweight & easy to transport
Versatile for multiple uses
Durable industry-grade materials
Supports permanent mounting
1. Best Overall: RhinoGear 11912ABMI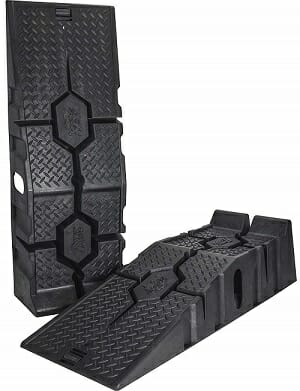 Weight Capacity: 16,000 lbs.
Incline Angle: 17 degrees
Height: 6.5 in.
Material: Plastic
Width: 11.5 in.
A rugged design, heavy load support, and storage space economy make the RhinoGear 11912ABMI our best overall car ramp set.
It comes as a set of 2 ramps, which combine for a gross vehicle weight capacity of 16,000 lbs. It will support vans, pickups, SUVs, and even moderately-sized trucks, without caving.
The pair adopts a rugged design featuring tough plastic as the main material. And its base is made using CoreTrac non-skid to help mitigate the risk of slippage, especially when attempting to support heavy vehicles.
With its 17-degree incline, the ramp enhances accessibility for low-clearance vehicles, to support maintenance tasks such as old changes.
Finally, the set is nestable, for space economization, especially during storage in your garage, when not in use.
The RhinoGear 11912ABMI is, however, designed for hard surfaces only. It is not ideal for smooth surfaces, due to an elevated risk of slippage.

---
2. Best Budget: Discount Ramps 6009-V2

Weight Capacity: 4,400 lbs.
Incline Angle: 9.05 degrees
Height: 2.5 in.
Material: Plastic
Width: 7.75 in.
Discount Ramps 6009-V2, our best budget car ramp, has demonstrated outstanding reliability in supporting cars during repairs, and for displaying vehicles in sales and exhibitions.
It is a low-profile set of ramps, which simplifies the loading of low-clearance vehicles. This capability is further enhanced by the gentle 9.05-degree loading angle, which ensures your car's underside is protected as it's elevated across the ramps.
The ramp also features unique honeycomb channels on its upper surface, to prevent moisture buildup by providing paths for water to escape through.
Overall, this ramp set is strong. Built using heavy-duty plastics, the two ramps combine to support weights of up to 4,400 lbs., which is an adequate capacity for most sedans.
Even though the Discount Ramps 6009-V2 is a high-quality budget unit, its width of 7.5 in. is rather limited and may not accommodate wider tires, which tend to be commonplace today. Also, some skidding may occur when loading cars on the ramp.

---
3. Most Durable: Race Ramps RR-40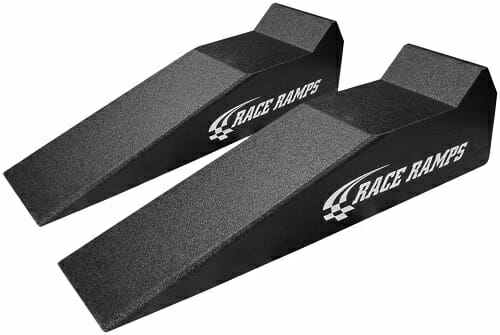 Weight Capacity: 3,000 lbs.
Incline Angle: 16.7 degrees
Height: 7.08 in.
Material: High-Density Foam
Width: 8.0 in.
Race Ramps RR-40's excellent thermal resistance, skid-resistance, and utilization of high-density build material makes it the most durable car ramp on our list.
The ramp set is built using high-density foam, which is not only light but also very durable. A traction coating has been applied on the ramp to enhance surface grip, especially during the car-loading process.
Because of the traction coating, the ramp won't skid. It has also demonstrated reliable thermal resistance in its ability to minimize heat or cold transfer.
These RR-40 ramps are designed to support sports cars during servicing, maintenance, or general display. At the front of the ramp is an elevated edge, which also serves as a stopper to prevent accidental wheel movements.
But because each of these durable Race Ramps RR-40s have a load capacity of 3,000 lbs., they are limited in their support for heavy vehicles. Also, the ramp's price is not pocket-friendly.

---
4. Best for Tire Changing: Trailer-Aid Tandem

Weight Capacity: 15,000 lbs.
Height: 4.5 in.
Material: Strong Polymer
Width: 7.5 in.
With the Trailer-Aid Tandem car ramp, you won't need a jack to execute tandem wheel changes. This ramp and its optimized lift capacity support tire changes even in loaded trailers.
The single ramp is designed to support weights of up to 15,000 lbs., which allows it to accommodate a wide range of vehicles, including trailers.
It simplifies tire changes in your tandem wheel trailer, even when you're alone, and without a jack. This ramp's wheel cradle also allows you to execute tire changes without offloading the trailer.
Finally, the entire ramp is rustproof and waterproof. You can be confident in carrying it in your trailer, in all your outdoor experiences. Its super-strong polymer build material enhances the ramp's dexterity.
If your trailer/car has large tandem wheels on tightly-coupled axles, then the 4.5 in. of lift offered by Trailer-Aid Tandem may provide adequate clearance. In such cases, you may need to add some form of support underneath it to boost ground clearance.

---
5. Best Low-Profile: Tomioka Racing Super Slopes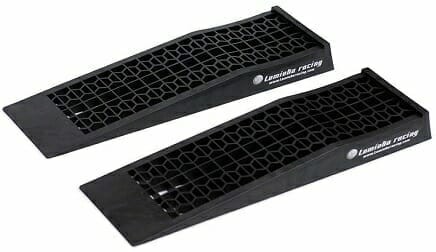 Height: 2.5 in.
Material: Plastic
Width: 8.0 in.
If you're a low-clearance car owner, the Tomioka Racing Super Slopes ramp will prove invaluable in elevating your vehicle across a low-profile, for display, regular inspection, and even light-duty maintenance.
Our best low-profile car ramp is designed to enhance the accessibility of your car's front, rear, and side jack point areas. When the car is on the ramp, you can then elevate it further using a regular jack, for easier underside accessibility.
Besides, the surface is textured for enhanced grip and contains channels that enhance water routing, effectively reducing moisture buildup on the ramp.
At 5 lbs. per piece, the entire set is lightweight, in ramp standards. Also, because of this low-profile ramp, it is notably compact, easy to store, and easy to transport.
Because the Tomioka Racing Super Slopes ramp is a low-profile one, it's clear that you'll need additional gear to lift the car to the desired height, something that may be an inconvenience to some users.

---
6. Best Plastic Car Ramp: Black Widow PSR295
Weight Capacity: 16,000 lbs.
Incline Angle: 15.6 degrees
Height: 8.5 in.
Material: Plastic
Width: 12.0 in.
The Black Widow PSR295 positions itself as one of the most premium and heavy-duty plastic car ramps available today.
This 2-ramp set is made of durable, high-impact plastic, which boasts of a superior 16,000-lb load capacity. It will elevate a wide variety of weighty vehicle, with consistent stability.
Not only do these ramps lift trucks and cars to an impressive height of 6.25 in. above the ground, but its superior width of 12 in. allows for the accommodation of wide tires.
Then there's the unique grid design embedded on these ramps to facilitate the easy filtration of water, snow, and even dirt, through the structure.
Each of these ramps also comes equipped with rubber padding at the base, to prevent slipping when lifting cars on concrete shop floors.
A potential downside of the Black Widow PSR295 is its significant 18-lb weight. Also, the 2 ramps are chunky and occupy a lot of storage space.

---
7. Best Portable: Pyle PCRBDR27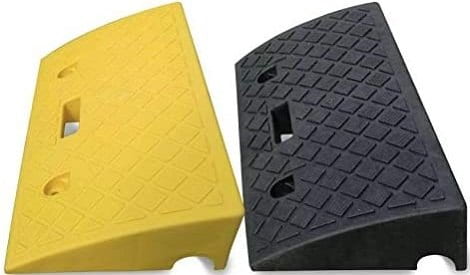 Weight Capacity: 6,600 lbs.
Height: 4.1 in.
Material: Plastic
Width: 20.0 in.
Pyle PCRBDR27 car ramp set is not only lightweight, but it also features open slots that you can slip your hands into and carry the units easily across significant distances.
At only 7.7 lbs. in weight, this ramp is one of the lightest you can buy today. This benefit makes the ramp set highly versatile and useful in a variety of applications.
Not only can the lamp lift your car, but it also facilitates access to trailers, lifts, carts, wheelchairs, bikes, scooters, and even simplifies the movement over curbs.
This level of versatility can take a toll on any ramp, and the PCRBDR27 maintains consistent performance by adopting heavy-duty industrial-grade polypropylene, which is very strong.
The ramp works great on uneven ground, or curbsides. For even more productivity, it can be installed permanently in high-traffic sections, using the integrated mounting holes at the ramp base.
The Pyle PCRBDR27 does, however, miss out on channel openings on the surface, which are very handy in facilitating water passage.

How to Buy the Best Car Ramps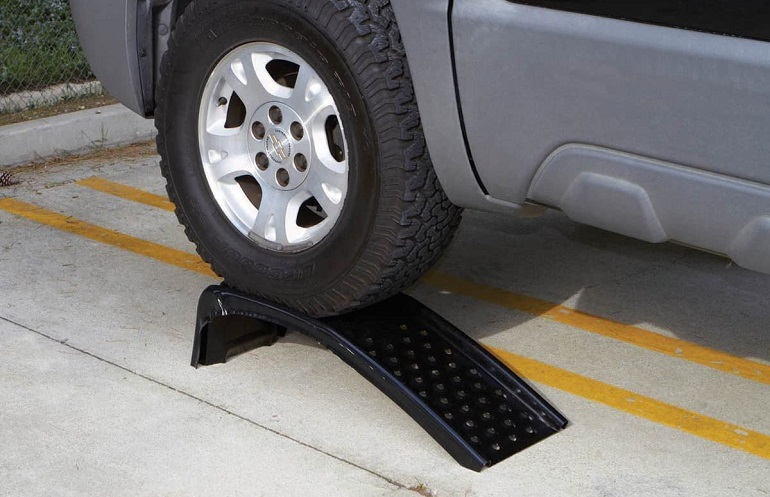 1. Weight Capacity
When choosing a ramp, you should start by taking into account, the weight of your car. The last thing you want is to get a ramp that cannot withstand your car's weight.
The ideal approach is to determine the weight rating of your car's axle. That way, you can compare it with the rated gross vehicle weight (GVW) of the ramps you're considering getting.
Then, choose a ramp with a GVW that's higher than the axle load of your car. Avoid overloading your ramp with excess car weights.
2. Vehicle's Ground Clearance
Vehicles come with varying ground clearances, which means that you cannot use the same ramp to lift all vehicles. The profile of your car, whether low or high, should guide your choice of the ramp.
If you own or work with sports cars, most of which tend to have low ground clearance, then a low-profile ramp like the Tomioka Racing Super Slopes, which has a low incline angle and height, is the ideal fit for it.
For large vehicles with high ground clearance, such as trucks and some vans, then a ramp with a high incline angle of above 10 degrees should work just fine.
3. Wheel Width & Chocks
Before choosing a ramp for your car, check that it's rated width is large enough to accommodate the width of your vehicle's tires.
If, for instance, your car wheels are 8 in. wide, then the most ideal ramp width for them is 10 - 12 in. Sometimes, ramps will specify a recommended wheel width, and you can use that as well.
A universal principle when using ramps is to add wheel chocks. Even if your ramp does not come with accompanying chocks, you must buy and use them to secure the other set of car wheels that aren't elevated, for your safety.
4. Construction Material
Since car ramps are subjected to significant amounts of stress throughout their lifespans, the build material is critical to their longevity.
Most car ramps are built using strong plastic, which has been optimized for supporting heavy loads without caving. Another strong material that offers similar performance is high-density foam.
Ramps can also be metallic, even though they are not as common as plastic ones. You can check out the Nicky Nice 612944 ramp, which is made of strong steel.
5. Ramp Surface
The surface of your ramp has a direct impact on its grip capacity on car wheels. A highly textured ramp surface enhances grip and prevents car slippage, especially during loading.
In contrast, smooth ramp surfaces are not very ideal since they offer very little traction both during loading and when the car is stationary.
Some ramps also come with punched holes, to boost traction, while others feature channels that facilitate water passage, effectively reducing moisture build-up. Consider getting such, for boosting traction capacity.
Frequently asked questions
1. Is Car Ramp Safe?
Yes. As long as you strictly adhere to the usage instructions. To enhance user and car safety, lift your car using only ramps that can support its gross weight.
Also, check that you're using the ramp only on the recommended surfaces. Some ramps won't work safely on smooth surfaces.
2. What is the Main Difference between Car Ramp and Jack Stand?
A car ramp offers a platform that your car can load on, typically by driving onto the structure using the wheels that align with the side to be lifted.
A jack stand, on the other hand, is a tripod-shaped tool that's designed to support the weight of your vehicle, when it is suspended.
3. What Tasks can You Use Car Ramps for?
Oil changes, general maintenance, repairs, and underbody visual inspections. Some ramps such as the Trailer-Aid Tandem are specialized for changing wheels on tandem-wheel trailers.
Others are versatile enough to be used for mounting wheelchairs, scooters, bikes, and even curbs. Of course, it's best to use a ramp for only what it is built for, to boost safety.
4. How long do Car Ramps Last?
Car ramps can last a lifetime, depending on the build material and usage intensity. Those made using high-impact plastic and high-density foam have demonstrated exceptional durability.
Metallic ramps are also durable, but you need to protect them from elements that could cause rusting and corrosion.
Conclusion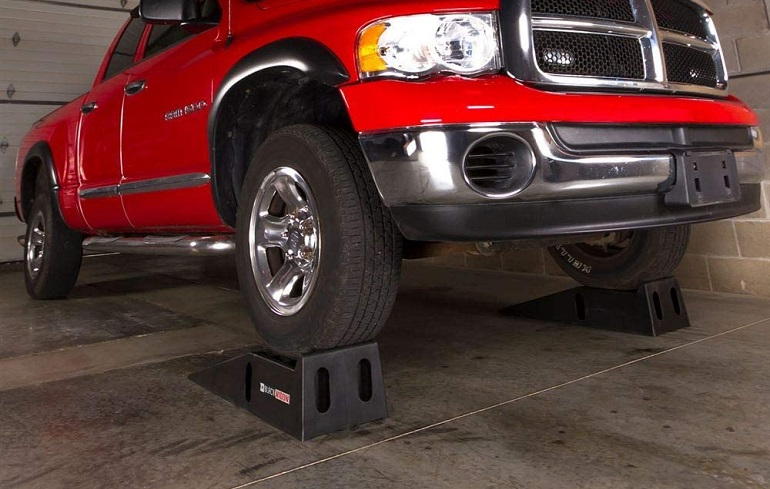 From our car ramp review, it's clear that these tools are essential for any car owner because of their proven reliability in car-lifting.
If you want the best car ramp in strength, reliability, and support for heavy vehicles, grab our top pick, the RhinoGear 11912ABMI.
If you're on a budget and desire some excellent value and quality from a car ramp, go for the Discount Ramps 6009-V2 is your best bet, especially for low-profile cars.
And if car ramp portability is a priority, we recommend getting Pyle PCRBDR27, which is also highly versatile and can be used in other ramp-related applications.