Let's face it! Listening to music or communicating with people on the motorcycle is not an easy task. In the past, you had to literally stop the motorcycle and remove your helmet, simply to pick up a phone call.
This is not a problem anymore with the motorcycle helmet speaker. As its name suggests, it is a speaker that sits discreetly inside your helmet and provides you with a vibrant sound while you drive your motorcycle.
You also can talk to other people without lifting your hands from the handle because most models have a microphone with a voice-control operation.
But best, most top-rated motorcycle helmet speakers can connect to more than one rider for a voice call. Since its operation range is quite big, you can easily keep in touch with other riders in the area.
Top Motorcycle Helmet Speakers of 2021 by Editors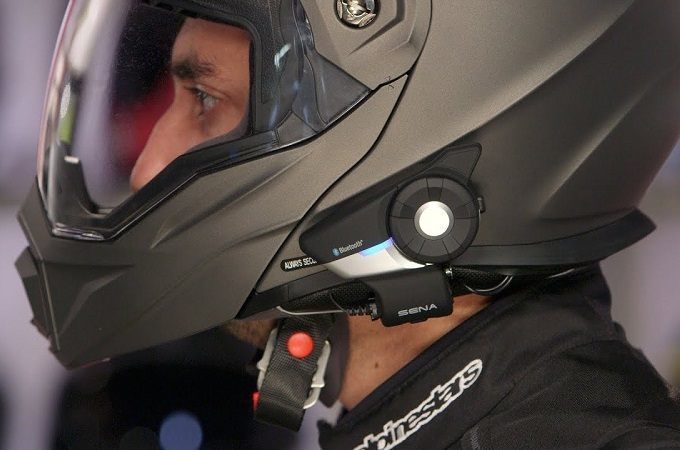 Summary of 7 Best Motorcycle Helmet Speakers
FEATURES

Sena 20S-01

1. Sena 20S-01 (Best Overall)

Long operation range of 1.2 miles
Can connect up to 8 riders at a time
High fidelity audio for music and voice calls
Easy to install and use by beginners

Sena SMH10-10

2. Sena SMH10-10

Long talk time of 2 hours
10 days of standby time
Noise cancellation microphone
Universally compatible Intercom protocol

Cardo SRPT0002

3. Cardo SRPT0002

Superior operation range of 5 miles
Able to connect with 15 riders
You get a high-quality leather carry case

UClear Digital Pulse 11023

4. UClear Digital Pulse 11023

Affordable and great value
Uses 3.5 mm audio jack for the connection
The sound quality is excellent

Lexin LX-B4FM

5. Lexin LX-B4FM

Competitive price and great performance
Decent operation range of 1 mile
Good sound quality despite being Bluetooth

IMC Motorcom HS-H130P

6. IMC Motorcom HS-H130P

Will fit any Harley-Davidson with a 7-pin audio jack
Good sound reproduction
Comes in different styles to suit your need

IASUS IAXS3

7. iASUS IAXS3

Exceptional sound quality
Soft earpads for comfort
Compatible with most motorcycle audio systems
1. Sena 20S-01 - Best Overall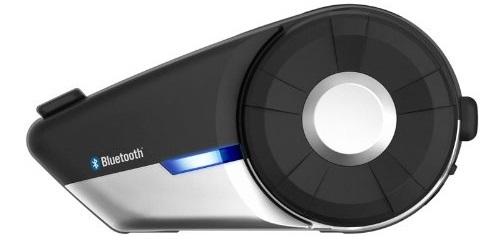 Operation Range: 1.2 miles
Connect Riders: 8
There is one department where the Sena 20S-01 is unbeatable. That is its superior range of 1.2 miles when compared to all other models in this motorcycle helmet speaker review.
Furthermore, since this model allows you to connect up to 8 riders by Intercom, you can chat with many people in the area with it. It also shines with its sound quality, since its outputs at 48 kHz will reproduce music quite well.
Since this model is a complete kit, you get everything you need to get started and you don't have to purchase separate accessories. The receiver will firmly attach to the outside of your helmet, and it will communicate by Bluetooth 4.1 to the speakers inside the helmet. Installation is extremely easy, even if you have never installed a motorcycle helmet speaker before.
Moreover, you can quickly and easily adjust the volume or pick a call by simply pressing a button on the receiver. Best, this model is equipped with motion sensor technology so you can easily pair Bluetooth devices with a shake of the receiver.
All in all, if you need to communicate with many riders in distant locations, or listen to music in HD quality, the Sena 20S-01 is an excellent choice.
Notes: Since the receiver is located outside of the helmet and not weatherproof, we don't recommend you use this helmet speaker in wet conditions.

---
2. Sena SMH10-10 Motorcycle Bluetooth Headset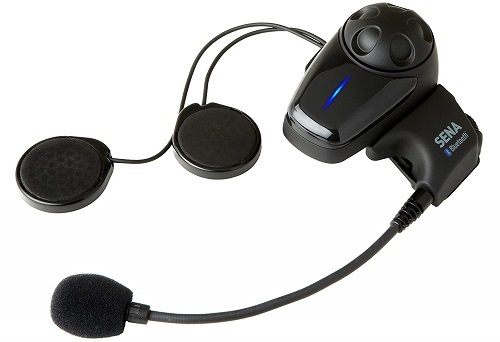 Operation Range: 0.55 mile
Connect Riders: 4
This is a more affordable variant of the Sena model we have just reviewed above. It uses an older Bluetooth 3.0 technology. But the sound quality is just as good. But what really sets this model from the rest of the competition is its long 12 hours of talk time and 10 days of standby time.
You will not have to constantly recharge this helmet speaker. Moreover, there is a long boom mic that can reach up to your mouth when you speak. Added to the fact that the microphone has a noise cancellation technology, it will result in crisp and high-quality audio when doing voice calls.
Also, you will be able to connect to 4 riders with this speaker. This is not the best we have seen, but it is still more than enough for most people. Additionally, it uses a special intercom protocol that is universally compatible with all Bluetooth helmet speakers.
However, nothing is perfect.
For one, the operation range of this helmet speaker is quite average at 0.55 mile. It could have been better, but this is expecting too much from an older model that uses Bluetooth 3.0. But despite all this, this model by Sena still remains one of the best Bluetooth motorcycle helmet speakers that you can get.
Notes: You cannot use this motorcycle helmet speaker with a half-helmet because it uses clamp clips for the installation. This is only found on an integral motorcycle headset.

---
3. Cardo SRPT0002 Motorcycle Helmet Speaker
Operation Range: 5 miles
Connect Riders: 2 to 15
The Cardo SRPT0002 one of the best wireless motorcycle speakers that you can purchase. It has a superior build construction that is durable and long-lasting. As well as produces an excellent sound quality, whether you are listening to music or doing a voice call.
But above all, this model has an operational range of 5 miles, which is quite high. With it, you will be able to connect with motorcycle riders that are very far away. As a matter of fact, this model allows you to connect to up to 15 riders, which is truly incredible!
Moreover, the boom microphone of this helmet speaker is equipped with noise cancellation technology. It will produce a clear and crisp sound of your voice so other writers will have no difficulty hearing you.
As always, installation is very easy, and you get a complete kit with this helmet speaker. You normally install the receiver at the lower back of your helmet for best reception. When not in use, you also get a leather carry bag for storage.
Once installed on your helmet, you will find that there are few models that can compete with it both in terms of build construction, sound quality, and reliability. Despite its very steep price, we highly recommend it!

---
4. UClear Digital Pulse 11023 Motorcycle Helmet Speaker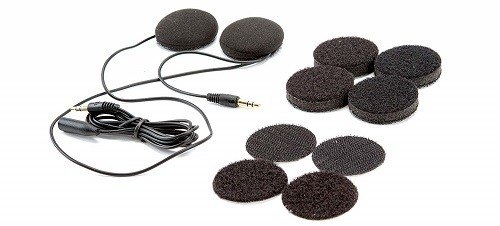 Not everybody can afford a motorcycle helmet speaker that cost several hundred dollars. This is where models like the UClear Digital Pulse comes into play. Indeed, this model is by far the best motorcycle helmet speaker when it comes to price.
The ear cups are padded and will provide you with comfort even during an extended period. You get a few mounting pads with a speaker that will allow you to adjust it to any position you want inside your helmet. It also uses standard 3.5 mm audio jacks, so the installation and usage are extremely easy and versatile.
Moreover, these 40 mm speakers can output high fidelity audio so that it can reproduce a clear and crisp sound stage while listening to music. When it comes to voice, you will also be able to hear people quite well.
The bottom line is, if you don't have a lot of cash to spend on a motorcycle helmet speaker, then the UClear Digital Pulse is an excellent choice. The only problem is that it is not wireless and quite basic. But it gets the job done!

---
5. Lexin LX-B4FM Motorcycle Helmet Speaker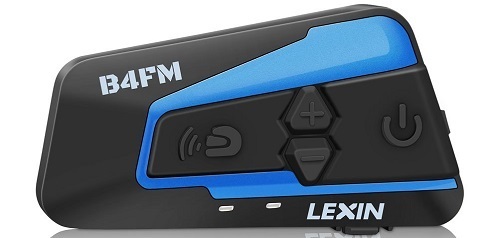 Operation Range: 1 mile
Connect Riders: 4
One of the biggest advantages of the Lexin LX-B4FM is that it is competitively priced considering its feature-set. The build construction is very good, the sound quality is superb, and you can quickly and easily connect to any Bluetooth device with it. It has an excellent price to performance ratio.
Best, this top-rated motorcycle helmet speaker has an excellent operation range of 1 mile. With it, you will be able to communicate with other riders at long distances. It will allow you to connect to up to 4 riders at a time. Not the best, but still more than decent for most people.
Despite using only Bluetooth 3.0, which is an older Bluetooth technology that consumes more power, it has A2DP profile which guarantees high music fidelity. The microphone of this motorcycle helmet speaker is also equipped with noise cancellation, which will make you sound clearer in voice calls.
The only disadvantage we see with this helmet speaker is that it does not store the last FM radio channel in memory. If you listen to a lot of FM radio, this will be a big downer.

---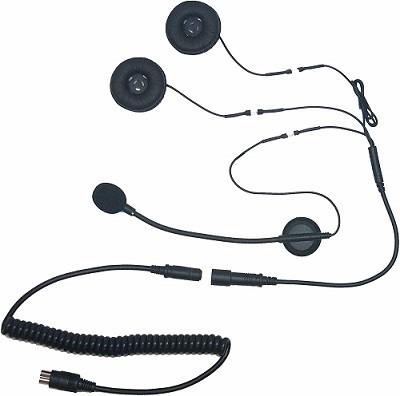 Owners of a Harley Davidson motorcycle will absolutely love the IMC Motorcom HS-H130P. In fact, this model has been built from the ground up to be the go-to Harley helmet speaker. If your Harley has a 7-pin audio system, then this helmet speaker will fit.
It is built with deep attention to detail. But best, the sound quality is excellent and one of the best that you can get. The speakers themselves are padded, so it is very comfortable to wear.
You get a 2-year manufacturer warranty with this helmet speaker, and you do not need to perform any modifications to install it. But best of all, you can purchase this model in different styles to suit your need. You are not limited in any way.
We highly recommend this helmet speaker to any Harley-Davidson owner, even if the price is a little bit high. The quality speaks for itself.

---
7. iASUS IAXS3 Premium Audio Motorcycle Helmet Speakers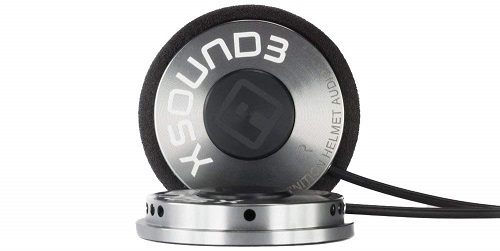 If your primary aim is to get a motorcycle helmet speaker for listening to music, then the IASUS IAXS3 is in a league apart. Indeed, when it comes to sound quality, this speaker is one of the best motorcycle helmet speakers for music that you can get.
The 45 mm drivers allow it to output a rich soundstage with deep and vibrant bass. Furthermore, voices on this speaker will appear fully and deeper, making it clearly audible in any situation.
Since this is a speaker that you wear directly on your ears, the earcups are padded with thick foam for comfort. You can wear this helmet speaker for an extended period without any discomfort.
Out of the box, you get everything that will allow you to connect it to a motorcycle. It uses standard 3.5 mm connectors, so it should be compatible with almost every motorcycle audio system out there.
The only caveat we have with this model is its price, which is quite high. However, the price is easily justified by the amazing sound quality.

How to Buy the Best Motorcycle Helmet Speaker
Before finding the best motorcycle helmet speaker out there, there are some important factors to look out for. This will prevent you from making an expensive purchase and having to return your helmet speaker.
Here are what you need to consider:
1. Fits Your Helmet
First and foremost, you must ensure that your motorcycle helmet speaker fits inside your helmet. You will need to consider the size of your helmet as well as the space you have available inside.
Most motorcycles helmet speakers have a slim and compact form factor that makes the process of fitting inside your helmet easy. However, depending on the model you choose to go with, it might not fit, so you need to double-check on its size and shape before you purchase.
2. Connectivity
There are 2 main ways that you can connect your motorcycle helmet to your motorcycle.
The first one is by using audio wires, and the second is by Bluetooth. A wireless connection with Bluetooth will provide you with a lot of conveniences, especially when driving your motorcycle.
However, even if a wired connection is not as practical as a Bluetooth connection, you will enjoy a superior sound quality with it. In this case, you will have to choose which connectivity method suits your needs the best.
3. Bluetooth Version
If you choose to go with a Bluetooth speaker, then you will need to decide on the Bluetooth version. The more recent, the better in this case.
If you're still undecided, we recommend you go with a helmet speaker that has at least Bluetooth 4.0. This will ensure that you get superior sound quality, lower drop rates, and lower power usage.
You must also check the range of the Bluetooth connection. Bluetooth 4.0 will have a better range than its predecessor Bluetooth 3.0.
And even if the last generation Bluetooth 3.0 helmet speaker may be more affordable, a newer model will be superior in every way.
4. Audio Quality and Volume
A helmet that can output high-quality audio will be more enjoyable.
Both for listening to music, as well as for communicating. Your voice will sound clearer, and you will be able to understand people more easily.
In addition to the sound quality, also ensure that your helmet plays at a decent volume. This is important because the motorcycle is already loud, and when cruising on the highway, a helmet with a low volume will be difficult to hear.
You also need to be able to quickly and easily adjust the volume. Many helmet speaker models have voice control to adjust the volume. This is a preferred and safer option.
5. Intercom
The intercom feature is what makes the motorcycle helmet speaker such a brilliant and useful device.
With this feature, you can connect to the helmet of other riders with the push of a button and start conversating. It's a great way to talk to your passenger as well as other motorcycle riders.
The actual number of people that you can communicate with will depend on your helmet's capabilities. Some can connect to only 2 people while more advanced models will allow you to talk to several dozens.
6. Operational Range
The operational range of the motorcycle helmet speaker is simply how far away it can communicate with either your motorcycle's sound system or with other riders (using the Intercom feature).
Most top-rated motorcycle helmet speakers will offer you a range of at least 1 mile. There are models that have an operational range several times that! Of course, those models are also more expensive.
7. Battery Life
Since this accessory works on batteries, the battery needs to be big enough to last the trip. You don't want a model that has a weak battery that constantly dies and needs a recharge.
Moreover, it is best to go with a helmet speaker that has a rechargeable lithium-ion battery. This type of battery is usually heavy-duty, can undergo many recharge cycles and will last a long time.
8. Ease of Control
Distractions are a dangerous thing when driving a motorcycle. Therefore, you don't want your motorcycle helmet speaker to cause any type of distractions.
Choose a model that is easy to control. It should allow you to control the volume as well as calls with your voice. In fact, most quality helmet speakers will have a quality microphone built-in as well.
This is important because the less you physically need to interact with the helmet speaker, the better.
Read More: 7 Best Motorcyle Helmet Cameras
Conclusion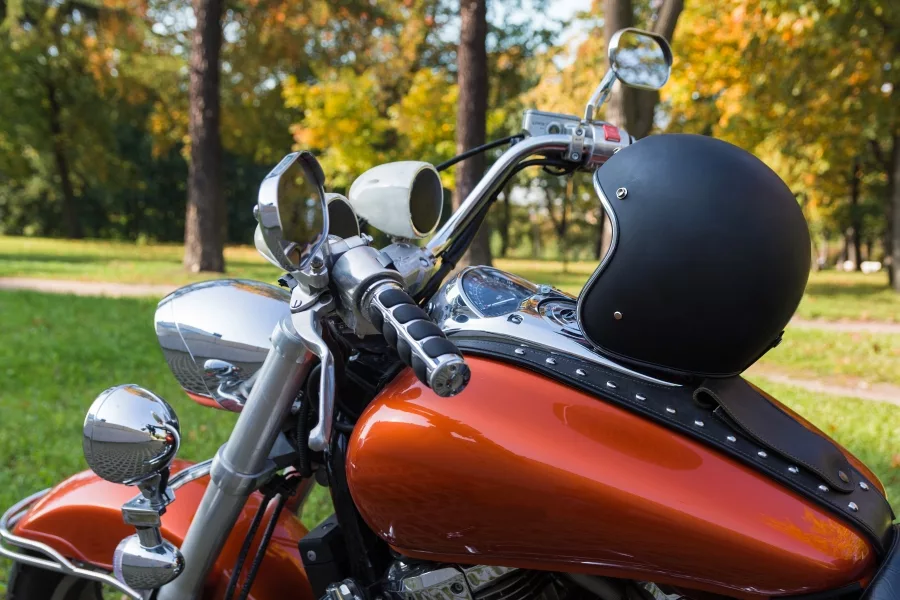 Clearly, the motorcycle helmet speaker is a very versatile type of speaker.
With it, you will be able to hear your favorite radio stations, listen to GPS instructions as well as communicate with other riders. You can do so safely as well as legally, which is one of the many advantages of the motorcycle helmet speaker.
Moreover, the sound quality that you will experience from the motorcycle helmet speaker is second to none. You get deep bass as well as a rich soundstage with the helmet speaker.
In closing, if you have read our motorcycle helmet speaker review above and still not decided on which speaker model to go with, then just read it again.