Draining your car or motorcycle's oil can be a messy affair if you don't have the right tools for the job. An oil drain pan is one such invaluable accessory designed for mess-free fluid drainage.
By placing the container beneath the vehicle's drain plug, you can change oil or other fluids easily, without creating messes.
Some pans come with handles that allow for carrying and pouring, while others have caps that help in leak-free transportation.
In our oil drain pans review, we explore these accessories in detail while helping you choose the one that meets your vehicle maintenance needs best.
Editor's Recommendation: Top Oil Drain Pans of 2021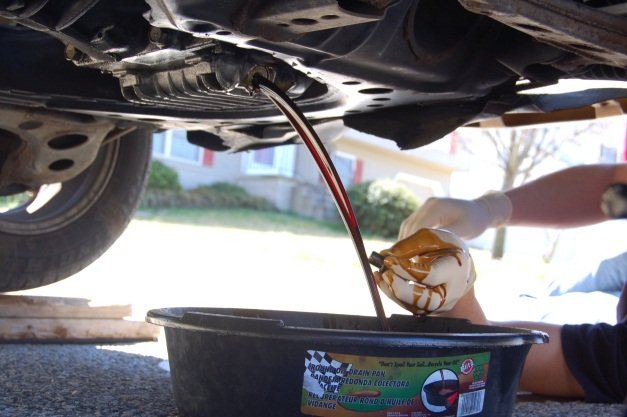 Summary of 7 Best Oil Drain Pans
IMAGE
PRODUCT
FEATURES

1. Lumax LX-1632 (Best Overall)

Versatile draining & recycling
Leakproof O-ring seals
Wheel-supported portability

2. ATD Tools 5184 (Best Large-Spout)

Large pouring spout
Firm molded-grip handle
Efficient anti-splash lip

3. WirthCo 32953 (Best Budget)

Affordable & convenient
Large 17.75-inch opening
Reliable EZ grip handles

4. Capri Tools CP21023 (Best Anti-Splash)

Optimal anti-splash lip
A large 19-inch opening
Tough polyethylene material

5. Custom Accessories 31118 (Easiest to Clean)

Simplistic easy-to-clean design
Versatile multi-fluid pan
Multi-vehicle compatibility

6. Neiko 20762A (Most Durable)

High-quality polyethylene build
Anti-splash curled lip
Easy handling & storage

7. OEMTOOLS 87017 (Best for Extended Undercarriage Reach)

Efficient goose-neck design
Low-profile for enhanced reach
Chemical-resistant material
1. Best Overall: Lumax LX-1632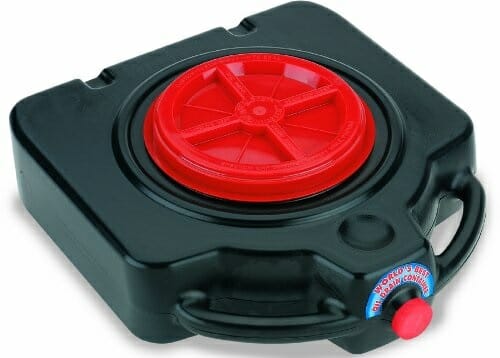 Oil Capacity: 3.8 gallons
Dimensions: 19 x 16 x 5 inches
Lumax LX-1632, our best overall oil drain pipe is a space-optimized, multipurpose, and mess-free container that supports all your vehicle's fluid changes.
This 3.8-gallon pan is perfectly sized to support all the standard fluid changes you will undertake on your cars and even motorcycles. It will not only collect oil but also store the waste for recycling, thanks to the container's adoption of leakproof rubber O-ring seals.
A key feature that sets the oil catch pan apart from the rest is its support for direct draining. With this capability, you avoid oily tubs, funnels, and messy drainage processes.
Its catch-all basket's superior width allows easy drain plug retrieval. And for ease of waste oil transportation, the pan comes complete with integrated wheels for convenient slosh-free mobility.
On the downside, the Lumax LX-1632's may be too tall to fit under low-profile bikes. Also, its 8-inch opening could be wider, especially for those used to wider pans.

---
2. Best Large-Spout Oil: ATD Tools 5184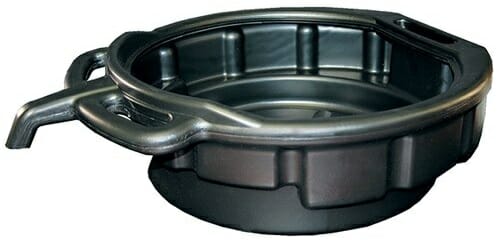 Oil Capacity: 4.5 gallons
Dimensions: 2 x 3 x 4 inches
With its large spout, the ATD Tools 5184 oil drain pan simplifies fluid changes by supporting easy pouring.
Its unique spout eliminates the pouring limitations common in small-spout pans. The waste oil flows out freely and fast, without any splashing, because it is being routed efficiently by the sprout.
On the pan's circumference is a molded handle, which simplifies carrying and pouring. It offers a superior grip so that you have full control of the entire 4.5-gallon load. Also, if you intend to store the oil in the pan, the handle makes the process easy.
Another convenience-enhancing feature is the pan's anti-splash lip, which is great at containing fluids during short-interval transportation. The 6-inch depth also helps increase stability especially when the pan is fully loaded.
An issue we noted with the ATD Tools 5184 pan is its reinforcement ribs, which make cleaning the container rather cumbersome. Also, the pan could use a lid, especially given its regular shape.

---
3. Best Budget: WirthCo 32953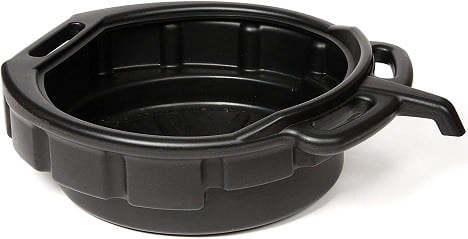 Oil Capacity: 4 gallons
Dimensions: 17.75 x 5.5 inches
The WirthCo 32953 oil drain pan offers a wide collection allowance, protection against fluid splashing, and enhanced handling, all at a budget price.
You are guaranteed mess-free fluid changes thanks to the pan's large 17.75-inch opening. It will collect all the oil, and catch dirty filters without any spillage. The wide opening makes this pan ideal for draining high-profile vehicles.
When fully loaded with oil, the pan is reliably shielded from oil splashing by a handy guard lip, which ensures all fluids are contained inside.
There's also a 1-inch-diameter spout built into the pan for easy fluid pouring. This is angled such that the oil flows in a more directed motion, thus preventing accidental spillage.
During carrying and pouring, the pan's handling is enhanced by multiple EZ grip handles positioned for maximum grip efficiency.
Since the WirthCo 32953 drain pan's spout is angled down, however, it may continue dripping after you've emptied the container.

---
4. Best Anti-Splash: Capri Tools CP21023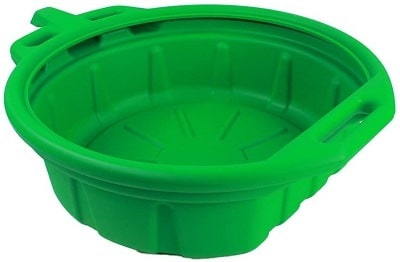 Oil Capacity: 4.5 gallons
Dimensions: 23 x 19 x 6 inches
The unique lip design of the Capri Tools CP21023 oil drain pan boosts its anti-splash capacity, effectively helping contain fluids during pouring.
Whether you're carrying, pouring, or storing the pan and its contents, the anti-splash lip makes these processes simpler when you don't have to worry about fluid splashes. Oil changes become easier and cleaner with this pan.
It offers a wide 19-inch opening, which allows for direct fluid drainage into the pan. You don't need to use a funnel with this pan.
The entire pan is constructed using tough polyethylene material, which promises durability and long-lasting reliability, even with intensive usage.
For ease of pouring and storage, the pan's molded handle will provide the necessary grip for stable handling.
Because of the Capri Tools CP21023's significant height, however, it may prove hard to collect oil from underneath low-profile cars and bikes, using this pan.
You can, however, opt for the improved Capri Tools CP21024, which is lighter, slightly cheaper, and stackable for easier storage.

---
5. Easiest to Clean: Custom Accessories 31118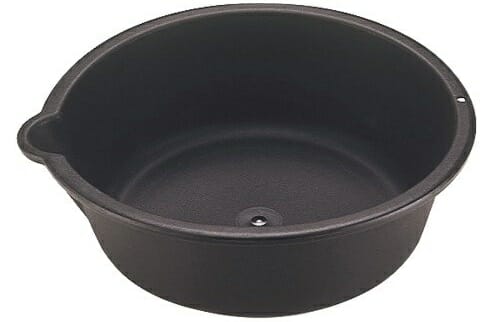 Oil Capacity: 1 gallon
Dimensions: 13 x 13 x 4.25 inches
Since the Custom Accessories 31118 oil drain pan has no grooves, ribs, or irregular patterns on the surface, it is the easiest to clean of all pans on our list.
The pan's uniform and uninterrupted design simplify cleaning by not only ensuring complete oil pouring but also easy wiping with whatever cleaning agents you choose. There are no surface enhancements to trap the oil.
Beyond ease of cleaning, the pan has a wide 13-inch opening, which allows for direct oil collection while undeath your car or truck. It is also reliable in preventing oil spillage. Your garage floor remains clean during oil draining.
You can use this pan to drain multiple fluids, and it supports draining from multiple vehicles, including cars, trucks, and motorcycles.
Because of the Custom Accessories 31118's simplistic design, it misses out on a splash-preventing lip. Also, it has a short drain spout, which makes the pouring process somewhat inefficient.

---
6. Most Durable: Neiko 20762A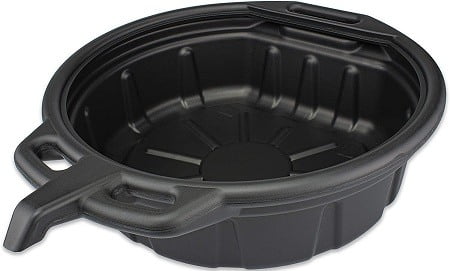 Oil Capacity: 2 gallons
Dimensions: 45 x 17.32 x 5.2 inches
The corrosion-resistant capacity of Neiko 20762A's high-quality build material makes it our most durable oil drain pan.
This pan is built using premium & recyclable polyethylene plastic, which resists corrosion and remains durable across the accessory's lifespan. The anti-corrosion properties of this pan make it ideal for handling gasoline and antifreeze, alongside oil.
There's a highly-reliable anti-splash curled lip edge designed for preventing splashes, which typically occur during pan transportation.
For ease of handling, easy-grip handles have been molded on both of the pan's sides. They support easy transportation and pouring.
When not in use, you can hang the oil change pan conveniently using a sturdy handle on the container's side. It will save you valuable floor or cabinet space.
Since the Neiko 20762A pan has many ridges in its design, you may find cleaning it quite cumbersome. Also, it is lacking measurements on the side, to help determine the amount of drained oil.

---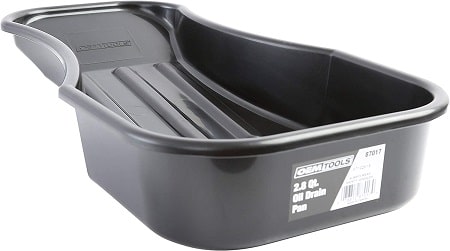 Oil Capacity: 0.7 gallons
Dimensions: 15.9 x 8.5 x 2.68 inches
If you struggle to reach your vehicle's undercarriage during oil changes, consider getting the OEMTOOLS 87017 oil drain pan for its extended reach.
The pan features a gooseneck design to provide extended reach under your car. It will support direct drainage even when the drain plug is not perfectly aligned beneath the pan.
Extended reach is enhanced by the low-profile design of this pan. Its curved shape and splash-guard lip also combine well to prevent fluids from both splashing and spilling.
Another impressive feature of this pan is its build quality. Made using heavy-duty chemical-resistant plastic, the oil drain container is highly durable. It will provide you with long-lasting service in multi-fluid draining.
Because of the OEMTOOLS 87017's unique neck design, the usable capacity of this drain pan is only 0.7 gallons, which is very low especially compared to rival models.

How to Buy the Best Oil Drain Pans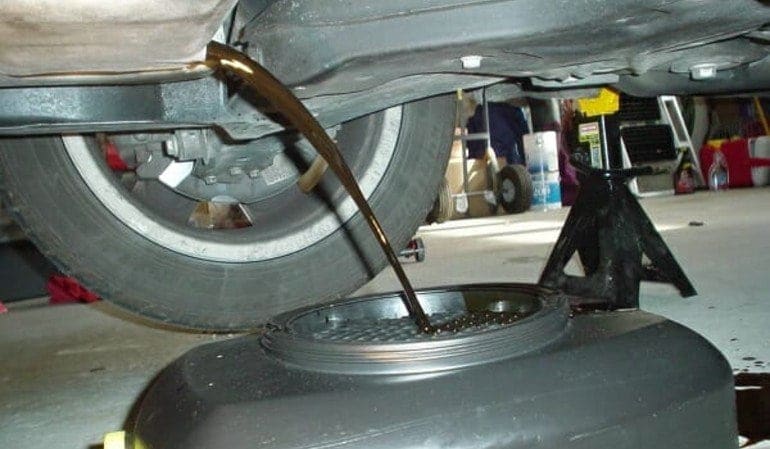 1. Oil Capacity
Oil capacity should be a top priority when choosing a drain pan. You want a pan that is large enough to accommodate all the waste oil from your vehicle's tank.
Often, vehicle type determines the amount of oil used, which in turn, informs the capacity of pan you should get. For example, large trucks may consume more oil than sedans, which means the former types need higher-capacity pans.
If you want a pan that accommodates all the waste oil, or one that supports multi-vehicle draining in a single run, get one that's at least 4 gallons, such as the high-capacity 7.5-gallon Lisle 17922.
2. Size and Shape
The size and shape of the oil drain pan affect the tool's usability and also determine the type of vehicles that can accommodate it.
Some pans are fairly deep and will rise to some degree, above the ground. That means if you have a low-profile car or motorcycle, a tall pan won't fit beneath the vehicle.
In the case of low-profile vehicles, shallow pans such as the TCMT XX-336 and GarageBoss GB150 are the most suitable. These are especially great for motorcycles, which have limited space between their drain plugs and the ground.
It's common for the low-profile pans to have rectangular can-shaped designs, to enhance handling. Circular pans are also common, to enhance a direct fluid collection.
3. Lockable Container
While most drain pans are open, some are lockable. There are different locking mechanisms present in drain pans.
Leakproof O-ring seals are great for preventing oil spillage during storage or transportation. The Lumax LX-1632 pan has such rings to keep its contents intact.
Another locking mechanism is leakproof caps. These offer the same locking performance as the O-rings. GarageBoss GB150 offers reliable leakproof caps.
It's worth noting that most lockable pans have narrow openings, which may inhibit direct pouring. If you encounter such a challenge, a funnel can prove handy.
4. Ease to Use and Cleanup
An easy-to-use oil drain pan is one that requires minimal to no assembly, for use. All the pans on our list require no assembly. Simply slip your desired pan beneath the oil drain plug to begin the collection.
Also, direct-drainage pans are easier to use than those requiring funnels. These pan types have wide openings allowing oil to drain directly into them without spilling.
Open and large-diameter pans offer simplified cleaning compared to lockable ones. Simplistic pans such as the Custom Accessories 31118 are the easiest to clean because they have no ridges or ribs to trap the oil.
Conclusion
Without a doubt, oil drain pans are invaluable tools that guarantee to simplify your vehicles' fluid changes by eliminating messes and splashes.
If you want the best oil drain pan for your car, choose our top pick, the Lumax LX-1632. It is spacious, lockable, and supports direct draining for spill-prevention.
If you're on a budget but still desire a reliable drain pan, the WirthCo 32953 oil drain pan offers great value in the form of adequate space and a large opening.
And if your goal is to minimize messes such as oil splashing, the Capri Tools CP21023 drain pan offers reliable splash protection.