Many motorists will hardly pay attention to a vehicle's AC system until it stops working or does not blow enough cold air on a hot summer day. In most instances, this is often because the refrigerant is finished or has gone bad. Luckily, you can fix this issue quickly with the best AC recharge kit.
AC recharge kits will consist of a refrigerant, gauge, hose, and pump. Their primary purpose is to recharge the vehicle's air conditioner. While you can always take the car to a professional for recharge, these kits make the job easier, faster, and more cost-effective.
However, it is vital to purchase a proper AC recharge kit, but this is what this post is all about as here we review some top-rated models and give you a buying guide to make shopping easy.
Editor's Recommendation: Top Ac Recharge Kits of 2021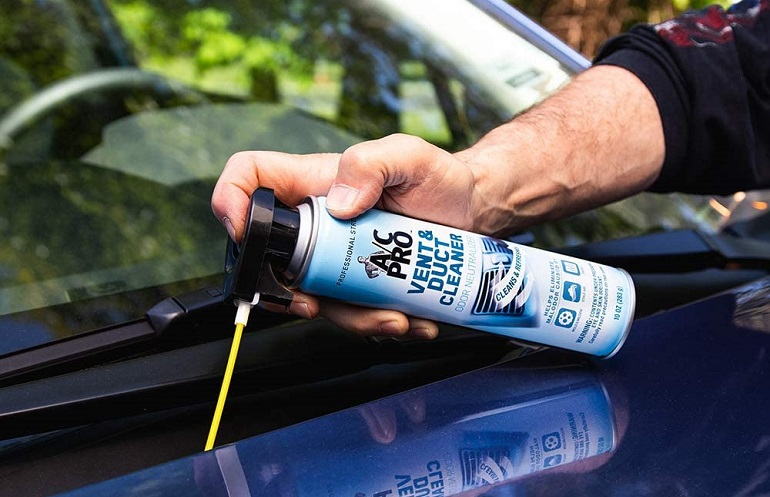 Summary of 7 Best AC Recharge Kits
IMAGE
PRODUCT
FEATURES

1. XtremepowerUS 71097 (Best Overall)

Comprehensive & versatile kit
Heavy-duty vacuum pump
Silicone-dampened gauges

2. Orion Motor Tech 8542049659 (Best Professional)

Made for professional auto mechanics
Multifunctional kit design
Extra-long charging hose
Fits R-134A, R-12, R-22 & R-502 Refrigerants

3. Mofeez Pro 03MF18004 (Best Budget)

More budget-friendly
Solid overall construction
Refrigerant sight glass

4. Robinair RG3 (Most Compatible)

Wide refrigerant compatibility
Compact & lightweight
Efficient cross-flow design
High-pressure safety switch

5. InterDynamics ACP-100 (Ultra-Synthetic)

Delivers maximum cold air
Reusable trigger dispenser
Includes moisture & acid eliminator

6. Kozyvacu KZTA35011 (Full Complete)

Comes complete with everything you need
Durable but lightweight pump
Easy DIY use

7. InterDynamics 18575 (All-In-One Recharge Solution)

Ideal for both refrigerant & oil replacement
Safe for all R-134A systems
Includes odor neutralizer
1. Best Overall: XtremepowerUS 71097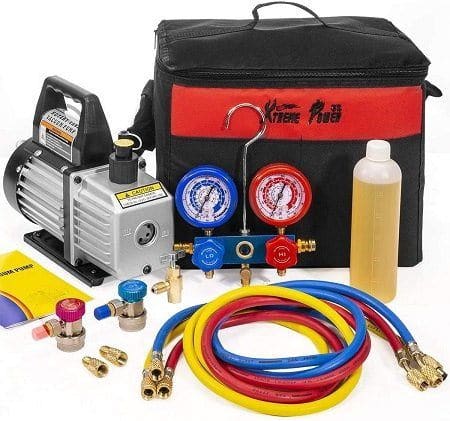 The simple but powerful XtremepowerUS 71097 is our best overall AC recharge kit. What makes it such a fantastic model is that it comes complete with almost everything you need to diagnose and recharge the AC system.
Versatility is also at the heart of the design as this kit is ideal for both vehicle and home AC system recharging. What's more, the components are built to offer a long service life. They include a heavy-duty vacuum pump and silicone dampened gauges.
The kit also comes with vacuum oil and a carry tote that will make it easy to organize everything and ensure you can carry the equipment for use on the go.
This kit does not come with a good can tap, but the good news is that they do not cost much and so you can always buy one separately. The hoses are not the best quality, but they should still hold up well for long enough.

---
2. Best for Professionals: Orion Motor Tech 8542049659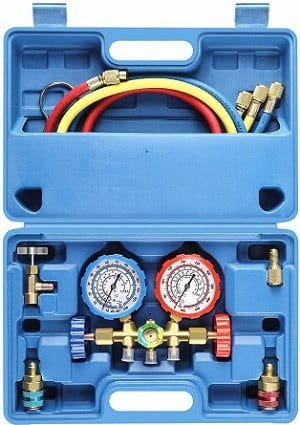 Orion Motor Tech 8542049659 is a heavy-duty Freon recharge kit that can withstand heavy use, making it ideal for professional use. It features a solid aluminum, PVC, and plastic construction to ensure it can take a lot of abuse.
Users love that this kit can work with different refrigerants, including R-12, R134A, and R-22, making it ideal for use on almost any vehicle AC system. What's more, it is a multifunctional model that will be useful for various other things besides AC charging, such as diagnostic and recovery work.
The kit includes an extra-long 3-piece charging hose that comes in 3 different colors to ensure you have an easy time differentiating the hoses. And when it comes to the installation, you can be sure of having an easy time as it comes with detailed step by step directions.
Some of the connectors seem a bit shaky, but they still hold up, and you will hardly ever have to worry about getting leaks.

---
3. Best Budget: Mofeez Pro 03MF18004
Motorists shopping for a more budget-friendly recharge kit will love the Mofeez Pro 03MF18004 because the price is quite good for a complete AC recharge kit. Besides the pressure gauge and hoses, this kit includes couplers, an adapter, and comes with detailed instructions.
Despite the smaller price tag, the kit components are well built with heavy-duty plastic, aluminum, and PVC materials.
Also, it has a refrigerant view window to make it easy to keep track of the Freon when charging or recovering the AC system. Another convenient feature is that the hoses are color-coded to ensure you have an easy time identifying them.
The knobs on the gauges feel a little cheap, but they still work well, and like all other components of the kit, they are surprisingly very durable. While the plastic seal rings are not the best, you can still get a proper seal by tightening the connector with pliers.

---
4. Most Compatible: Robinair RG3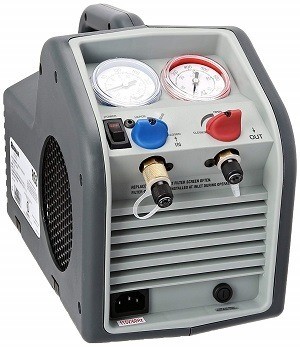 The broad refrigerant compatibility gives the Robinair RG3 an edge as it can handle almost any type from CFC and HCFC to R-410A. What this means is it is an ideal kit for use on any modern vehicle AC system.
Another reason this is one of the best AC recharge kits is the compact and lightweight design. This design ensures it has a small footprint and is easy to carry around.
The machine has a high efficient cross-flow design with a fan and condenser layout to deliver shorter cycle times. This recharge kit can recover both vapor and liquid, and you never have to worry about high pressure damaging it as it shuts down automatically when the pressure goes above 550 PSI.
Price seems to be the most significant drawback, as this is one of the priciest items on our list. Still, with its superior quality and broad refrigerant compatibility, it is worth every buck. The kit is also a little slow when using it on large systems, but it still gets the job done.

---
5. Ultra-Synthetic AC Recharge Kit: InterDynamics ACP-100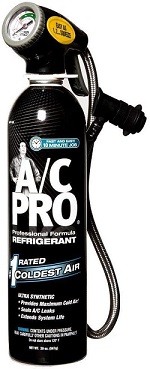 The ultra-synthetic InterDynamics ACP-100 ensures you get one of the coldest air from your air conditioning system. It is also very effective at sealing leaks in the AC system and extending its service life.
You never have to worry about acid or moisture in the system as this kit contains an eliminator for both. You can also be sure of an easy time accessing the hard to reach areas as the kit comes with an extra-long 24-inch hose.
This fantastic AC recharge kit includes a reusable trigger dispenser and allows for easy coupler attachment as you just need to push it on the port.
The gauge is not the best quality, but it should give you a good idea of the system's refrigerant level.

---
6. Full Complete AC Recharge Kit: Kozyvacu KZTA35011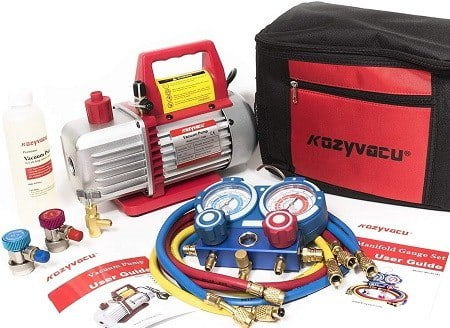 Kozyvacu KZTA35011 is a full complete AC recharge kit that includes everything you need to recharge your system. The kit has a pressure gauge set, pump, hoses, coupler, and all the necessary connectors.
Besides being complete, the components are made to last as the pump has a durable but lightweight die-cast aluminum housing. The pump also takes little effort to start and does not require any maintenance.
When it comes to the connections, the color-coded hoses ensure you have an easy time as you can tell them apart quickly. This kit also includes a can tap and will come with well-written instructions to allow for easy DIY use.
The can tap does not always work very well, and sometimes you have to fiddle with it to get the refrigerant to flow smoothly. But, other than this, the kit will work fine.

---
7. All-In-One Recharge Solution: InterDynamics 18575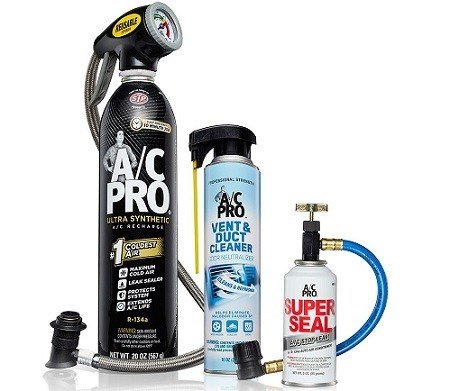 With an all-in-one recharge solution like the InterDynamics 18575, you get a complete solution for your AC system as it recharges both the refrigerant and oil. Better still, the kit helps seal common leaks in the AC system and ensures you get the coldest air output.
InterDynamics 18575 works with any R-134A system and recovery equipment, but it will be compatible with all kinds of lubricants to make it a little more versatile.
This R-134A recharge kit includes a duct cleaner odor neutralizer that helps eliminate the malodor from mold and mildew. Besides being more straightforward to use, this kit comes with a recharge hose to ensure you do not need to buy one separately.
The price seems a little steep when you compare this to other options on our list, but for an all-in-one bundle, you still get a good deal. The pressure gauge seems a little confusing for beginners, but most still figure it out within a short time.

How to Buy the Best AC Recharge Kits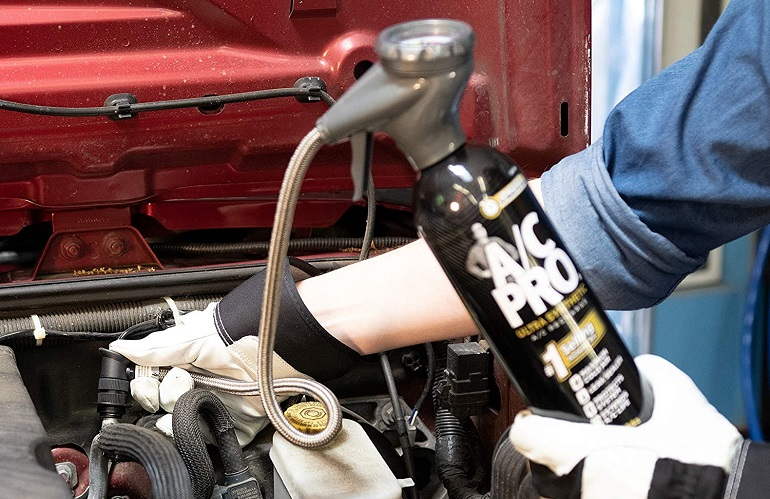 1. Compatibility
It is crucial to ensure that the AC recharge kit you choose is compatible with your vehicle's specific refrigerant. Different vehicle models use varying refrigerant types, so you need to refer to your vehicle manual to know what is in your AC system.
Using the wrong refrigerant can have adverse effects on your AC systems and sometimes can damage it beyond repair leading to expensive replacements.
The good news is that most recharge kit manufacturers make compatibility very clear on the product description. For example, the Robinair RG3 works with all common CFC, HFC, and HCFC refrigerants, including R-410A but will not be compatible with R-12.
2. Professional or Amateur
As you shop for the best auto AC recharge kit, you need to decide whether you want a kit for professional or armature use. These kits vary in ease of use, and so what works for a professional might give an inexperienced user a hard time.
If you are conversant with AC recharge kits or are a professional that has used them several times before, something more sophisticated like the Orion Motor Tech 8542049659 will be perfect. But, for first time DIY users, make sure what you buy is as simple as possible, and here a basic kit like the InterDynamics ACP-100 is preferable.
3. Types of AC Recharge Kits
AC recharge kits will come in different types, from simple refrigerant cans to more comprehensive kits that include everything from hoses and pumps to the refrigerant and gauges.
Refrigerant
Refrigerants come in cans under pressure to ensure all you need to do is connect to the AC system using a hose, and the refrigerant will flow in to replenish the empty tank.
Even if you opt to buy the refrigerant cans only, it is essential to note that they are available in two main types, the R-12 and R-134A, which have different kinds of refrigerants.
R-12 refrigerants are the older type, and you can get them in vehicles made before 1994, but it is no longer legal to use in most cars, meaning it is super hard to find them. R-134A is what you will typically find in vehicles made after 1994, and it is a more environment-friendly refrigerant.
Canister with Gauge
A canister with a gauge will be more convenient than just a pressurized can. The gauge makes it easy to tell when you have the right amount of refrigerant in the system.
These recharge kits use a fitting or connector and a hose to connect to your AC system. They are the simplest type to use, but before buying one, make sure you know your vehicle's correct type.
Comprehensive Kit
A comprehensive AC recharge kit includes everything you need to diagnose, repair, and recharge the AC system. These kits are what most professionals prefer to use, and so if you have more experience repairing AC systems, it is the best choice for you.
The kit includes a pump to remove any remaining refrigerant in the AC system, gauges for monitoring the system pressure, adaptors for different connections, hoses for linking the kit to the AC, and most come with a nice carry case for storing everything.
Frequently asked questions
What is Freon?
A: Freon or refrigerant is a unique chemical that produces cold air in an AC system. This particular chemical compound undergoes evaporation over and over to create the cold air that is then circulated throughout the vehicle's AC system.
Are Refrigerants Toxic?
A: Yes, the different compounds that constitute refrigerants are toxic, making these products harmful to both the environment and the users. While modern refrigerants are much safer than the old R-12 types, it is still vital to wear protective clothing like gloves and safety glasses when handling them.
How Often Should I Recharge My AC System?
A: It depends on the particular vehicle model you have and hence the specific AC system and refrigerant it uses as there is no specific schedule here. Therefore, you need to look for indicators that your AC is low on refrigerant, such as cooling less than before. That said, in most instances, you need to recharge the AC once every 2 to 3 years.
Conclusion
When you have issues with your AC system, a recharge kit is always the best solution as it diagnoses, recharges, and even seals leaks in the system to restore it to peak performance.
With our review and guide above, finding the best AC recharge kit should be a breeze. To make your choice even more straightforward, the XtremepowerUS 71097 is our best overall option, as it is a more comprehensive and versatile kit.
However, for those shopping on a budget, the Mofeez Pro 03MF18004 is what we recommend as its price will suit almost any budget.