It's possible to convert just about any vehicle into a towing machine by installing a trailer hitch to it. Whether you need to haul your boat, RV or horse trailer, installing the right hitch is important, as well as very useful.
There are different types of trailer hitches and the exact type that you end up installing in your vehicle will determine to a great extent, what you can and what you can't tow.
In this trailer hitch review, you'll get a rundown of the best trailer hitches in the market, plus a guide with insights to help you make the right choice for your car.
Editors' Picks for Top Trailer Hitches of 2021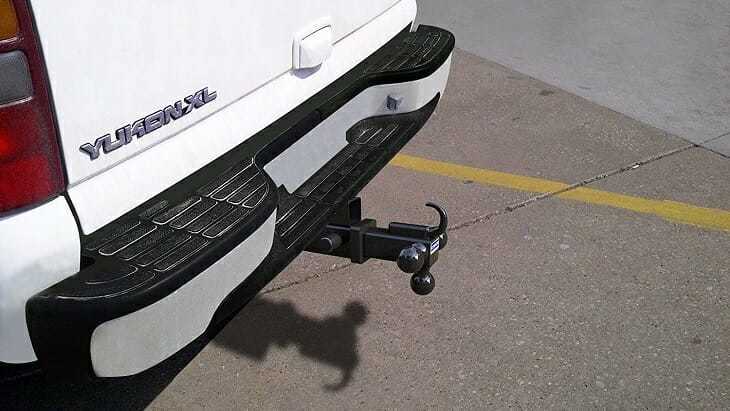 Summary of 7 Best Trailer Hitches
IMAGE
PRODUCT
FEATURES

1. Curt 13068 (Best Overall)

Dependable Curt quality trailer hitch
Available for different cars and models
Backed by a lifetime warranty

2. Connor 1625350

Offers you flexibility with different hitch couplers
Handles gross trailer weights up to 10,000 lbs
Connor backs it with a lifetime warranty

3. Connor 1623210

Heavy-duty Class III/IV ball mount
The ball offers a drop or a rise
Package includes a hitch pin and safety clip

4. Curt 13105

Class III hitch rated to 3,500 lbs
Meets SAE J684 safety standards
Guaranteed for life

5. Curt 13201

Custom designed for each vehicle
Offers a 4,000 Lbs GTW rating
Comes with Curt's lifetime warranty

6. Trimax TRZ8AL

Very stylish & lovely ball mount
Dual balls for flexibility
Adjustable ball rise and drop

7. Draw-Tite 75673

Custom designed hitch
Rated up to 4,000 lbs GTW
Solid design & welding for strength
1. Curt 13068 - Best Overall

Hitch Type: Class-III rear receiver
Gross Trailer Weight: 3,500 lbs
Tongue Weight: 350 lbs
Curt is one of the best trailer hitch brands, well-known for the high-quality and ruggedness of its hitches. This 13068 Class III rear receiver hitch is one of the best receiver hitches out there, designed for the average family with lightweight trailers up to 3,500 lbs heavy.
It's designed for different vehicles, to make installation easy and without needing to drill any hole. The main body's construction uses a sleek round tube and is then precisely welded to guarantee a Curt grade toughness.
Curt guarantees this hitch with a lifetime warranty, although its high-gloss black finish is only guaranteed for one year.
The Curt 13068 is a Class III trailer hitch with a 2x2-inch tube size. Class III hitches can handle up to 6,000 lbs, but the Curt 13068 only guarantees a 3,500-lb gross trailer weight, and this may turn out as a big disappointment if you've got a 5,000-lb trailer load.
It's also a relatively costly hitch, but if you want a Curt hitch, then you shouldn't shy away because of price.


---
2. Connor 1625350 Trailer Hitch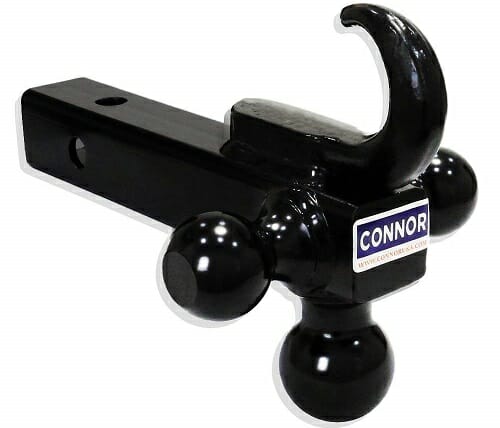 Hitch Type: Ball mount
Gross Trailer Weight: 10,000 lbs
Tongue Weight: 1,000 lbs
There's no distinct way for a ball mount to look and Connor proves this fact with its 1625350 hook ball mount. It features three balls of different diameters and weight capacities, ranging from 2,000 to 10,000 lbs.
Connor also adds a hook, which can easily function as a pintle hitch. This ball mount fits Class III and IV 2x2-inch receivers, plus it's coated with a black powder coat for durability.
The balls are also painted black, although Connor offers a 1625320 version with chrome-plated balls.
This ball mount makes it easy to adapt to different hitch couplers with its 1.87-inch ball with 2,000 lbs GTW and 200 lbs tongue weight, the 2-inch ball with 6,000 lbs GTW and 600 lbs tongue weight, and the 2.3-inch ball with 10,000 lbs GTW and 1,000 lbs tongue weight.
Everything is robotically welded for superior strength and tested to exceed the SAE J-684 specifications to produce one of the best tow hitches. Although the package doesn't include a hitch pin, Connor does back this best tow hitch with a lifetime warranty.

---
3. Connor 1623210 Trailer Hitch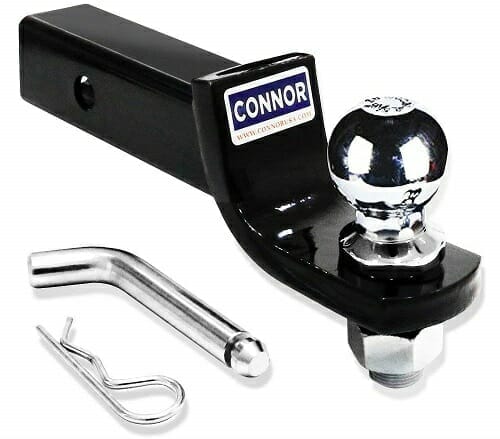 Hitch Type: Ball mount
Gross Trailer Weight: 6,000 lbs
Tongue Weight: 600 lbs
Here comes another product from Connor Towing and this time, it's a single ball mount with both a rise and drop. It offers a 2-inch drop in its original form, but you can turn the ball around to produce a 0.75-inch rise of the ball.
Connor rates it at 6,000-lb gross trailer weight with a 600-lb tongue weight. The ball is chrome plated while the rest of the mount is black powder coated.
Although it's the cheapest offer in this review, it also offers lower gross trailer and tongue weights.

It's a Class III/IV 2-inch hitch setup made from heavy-duty solid steel and Connor offers a lifetime warranty on it. The package comes with a hitch pin and a clip for safety.

---
4. Curt 13105 Trailer Hitch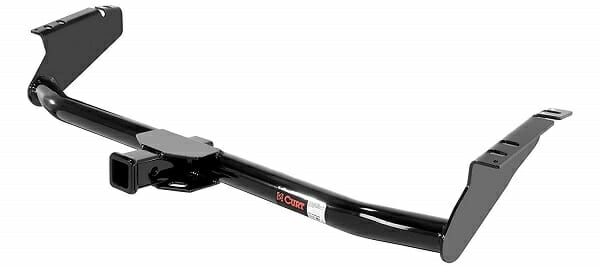 Hitch Type: Class-III receiver hitch
Gross Trailer Weight: 3,500 lbs
Tongue Weight: 500 lbs
Here's another Curt product to pay attention to if you're looking for a top-rated trailer hitch to install in your vehicle. Curt makes it like the rest of its hitches, which it customizes to fit specific vehicles.
It's rated to tow up to 3,500 lbs of GTW, which is okay but still below the Class-III weight limit of 6,000 to 8,000 lbs. With a trailer up to 3,500 lbs though, Curt guarantees you its ruggedness and dependability with a lifetime warranty.
You can use it together with a weight distribution hitch with up to 5,000 lbs if you wish.
Curt protects this hitch with a durable black powder finish and it's co-cured in a rust-resistant coating as well. It's tested to follow SAE J684 safety standards.

---
5. Curt 13201 Trailer Hitch

Hitch Type: Class-III trailer hitch
Gross Trailer Weight: 4,000 lbs
Tongue Weight: 400 lbs
The Curt 13201 receiver trailer hitch is ideal for those on the hunt for lightweight hitches. It's weight-wise, more efficient than the previous Curt hitches in this review because it weighs just 29 lbs but has a 4,000 lbs gross trailer weight rating.
As with the other Curt hitches, you don't need to drill any holes in your car, because this hitch is available for each vehicle make and model, making it one of the best trailer hitch offers.
You get the standard Curt curing for durability and rust resistance, the precision welding, the high gloss finish, and an SAE J684 safety standard certification.
Of course, Curt backs it up with a limited lifetime warranty, which includes 1-year guarantees for both the finish and for parts. The package includes all the needed installation hardware.

---
6. Trimax TRZ8AL Trailer Hitch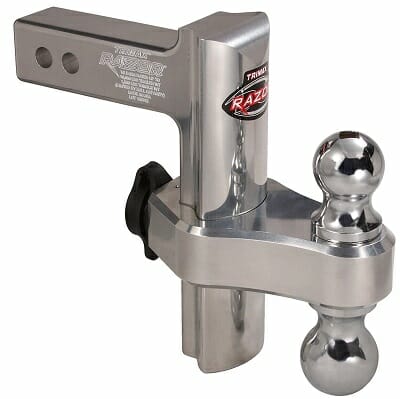 Hitch Type: Ball mount
Gross Trailer Weight: 10,000 lbs
Tongue Weight: 1,500 lbs
Featuring a 10,000-lb GTW rating and 1,500 lbs of tongue weight, this ball mount is additionally an artistic masterpiece, with its unique design and polished aluminum body.
You can adjust it in 1-inch increments up to 8 inches, enabling you to set it up with any trailer easily. In addition to that, you can also flip this mount to either offer a rise or a drop of up to 8 inches each.
Once you've set your desired height, you can then lock it in place with the included key. Trimax also includes its lockable T3 hitch pin for locking this mount to the receiver. It is as elegant as it is secure, and made from machine-forge chrome steel.
The balls are also easily flipped to either offer a 2-inch or a 2.3-inch chrome ball, as may be ideal for your needs. Trimax backs the TRZ8AL with a lifetime warranty.

---
7. Draw-Tite 75673 Trailer Hitch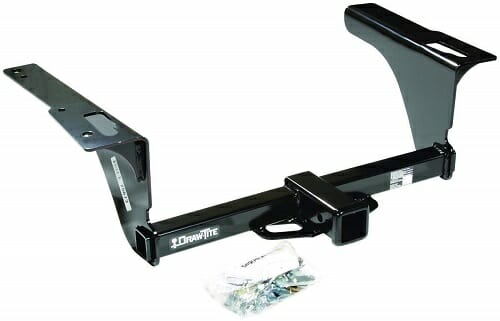 Hitch Type: Class-III receiver
Gross Trailer Weight: 4,000 lbs
Tongue Weight: 600 lbs
With this Draw-Tite 75673 hitch, you get a good trailer hitch for SUVs, trucks, vans, and any other vehicles from Subaru. The hitch is simple and straight to the point, with a 4,000-lb gross trailer weight and 600-lb tongue weight.
The entire frame comes welded together and is ready for installation using only bolts. Draw-Tite also combines an e-coat base with a powder coat finish to create a high rust protection level on this hitch.
On the flip side, Draw-Tite makes this hitch specifically for Subaru vehicles. It might fit any other vehicle though, but it's only guaranteed to work on nearly all Subaru vehicles, including their Outback crossovers and all Subaru sedans except the Sports sedan.

Types of Trailer Hitches
There are different types of trailer hitches out there, with their use depending on the type of vehicle, the types of trailer, and the manufacturer of the hitch.
Although it's impossible to know all the trailer hitch types available, there are about seven popular ones in common use and listed below.
1. Rear Receiver Hitch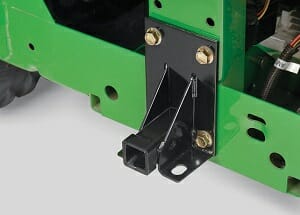 The rear receiver hitch is the most popular hitch you'll find in most private vehicles. It's characterized by a square tube into which you can insert a lot of stuff depending on the application, but for trailers, a ball-mount shank is usually installed.
It's this ball-mount shank which turns any standard rear receiver hitch into a trailer hitch, ready to accept the trailer coupler.
One nice thing about the rear receiver hitch is its division into 5 classes depending on how much weight it can carry. These classes range from Class I with its 2,000 lbs weight, up to Class V with 12,000 lbs of weight.
There are also three sizes of the receiver hitch square. Class I and II hitches measure 1.25x1.25 inches, while Class III and IV hitches measure 2x2 inches, with Class V hitches measuring 2.5x2.5 inches.
2. Fifth-Wheel Hitch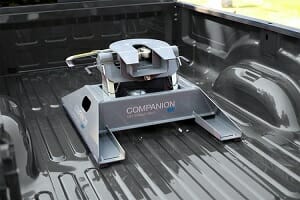 Rear receiver hitches have a load balancing problem, especially with heavy loads because the hitch does not rest directly on the vehicle's rear axle. With the fifth wheel hitch, part of the trailer's weight rests directly on the rear wheels.
This creates a very stable coupling that gets used in all weight categories, including heavy-duty tractors. For RV towing, you'll get fifth wheels up to 25,000 lbs towing capacity but you'll need a pickup truck so you can install the fifth wheel on its bed and directly over its rear axle.
3. Gooseneck Hitch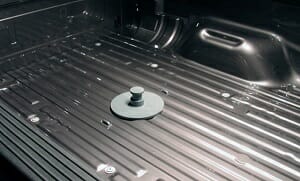 Installing a fifth wheel hitch in your truck's bed allows you to safely tow heavy trailers and recreational vehicles but it takes up space and stops you from fully utilizing your truck's bed, like for hauling cargo, for instance.
A gooseneck hitch solves this problem by turning everything around. The hitch gets placed on the trailer, while only the ball, which is easily removable, remains on the truck bed. This grants you full use of your truck's bed.
Gooseneck hitches are generally used for towing heavy trailers and RV homes reaching up to 30,000 lbs. They are so useful and make so much sense, that many manufacturers build their trailers exclusively for gooseneck towing.
4. Weight Distribution Hitch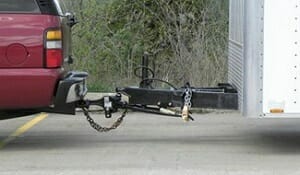 Fifth wheel hitches are only possible with a truck but if you need to use a different vehicle to tow a trailer with lots of tongue weight, then a weight distribution hitch might do the trick for you.
You'll need to attach it to your vehicle's rear receiver hitch and then set it up to share the trailer's tongue weight between its axle and the rear axle of the towing vehicle, giving you a leveled out trailer and tow vehicle combination.
5. Pintle Hitch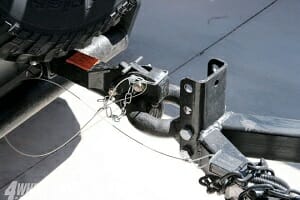 The Pintle hitch is found mainly in heavy-duty applications life agricultural and industrial equipment and trailers. They can easily handle trailer weights up to 60 lbs but they are noisier than ball and socket hitch designs.
Pintle hitches have a hook and a loop. The hook is the pintle and is usually attached to the towing tractor, while the loop is a lunette and is usually attached to the trailer.
6. Bumper Hitch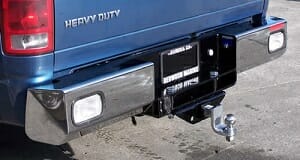 This kind of hitch looks like the receiver hitch but it's attached to the bumper of a vehicle. As you can imagine, it offers low towing weights because of its bumper attachment, but it can prove the perfect solution in certain situations with very light trailers.
How to Buy the Best Trailer Hitches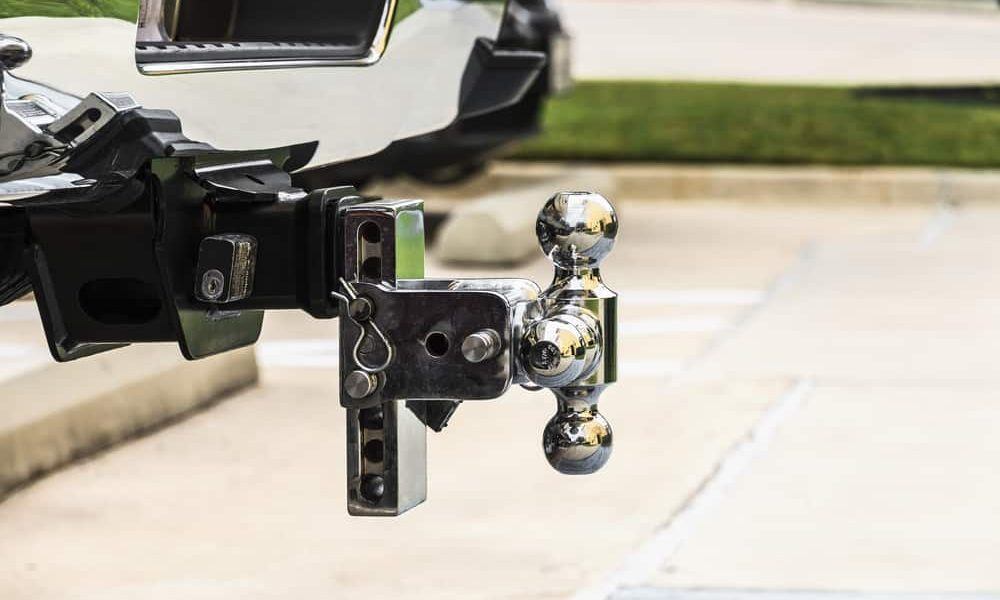 Trailer hitches have come a long way to become what they are today. For you to buy the right hitch for your vehicle, you'll need to understand the different aspects of a hitch that count.
Of course, you may have no choice in choosing a hitch if you've already got a trailer with a specific hitch. Still, understanding the following parts of the hitch system could prove helpful someday.
1. Maximum Towing Capacity
The maximum towing capacity of a hitch refers to how much weight that hitch can pull without problems. A hitch can have a weight capacity anywhere from just a few thousand pounds, all the way to 50,000 pounds and beyond.
Smaller vehicles have lighter hitches, while larger vehicles will have correspondingly heavier-duty hitches. To avoid any problems, you also need to make sure that the hitch's towing capacity does not exceed the towing capacity of the vehicle itself.
2. Gross Trailer Weight
Asides from the maximum towing capacity of your hitch, the next weight you'll want to keep an eye on is the gross trailer weight or GTW.
This weight refers to exactly how much the trailer weighs and it's given in pounds. It's the amount of weight that the hitch has to pull along, so your hitch's maximum towing capacity should either equal or exceed the trailer's gross weight.
3. Tongue Weight
The next weight to keep in mind is the tongue weight. This refers to the part of a trailer's weight that bears vertically down on the hitch.
Every hitch comes with a tongue weight rating, which lets you know how much weight it can comfortably carry. A trailer's tongue weight is often about 10% of its gross trailer weight.
4. Compatibility
Hitch compatibility is mostly an issue with receiver hitches because they need a design that fits into the frame of each vehicle they're getting mounted on.
Many online retailers, including Amazon.com, however, offer one form of matching tool or the other to help you find the right rear receiver hitch, which is specifically designed for your vehicle.
5. The Ball & Ball Mount
The ball is that part of the hitch that the socket and the rest of the hitch coupler rest on. Its shape makes towing easier by allowing independent movements of the trailer and tow vehicle in all directions. Only receiver and gooseneck hitches use a ball.
The ball mount is a special attachment for receiver hitches. It includes the ball, which it can either make higher or lower than its shank to help level out the trailer. This issue came about by the differences in the design of the different trailers and tow vehicles.
The height of the ball above the shank is known as the rise, while its depth below the shank is known as the drop. When choosing a ball mount, it's important to consider getting one that's very adjustable, because it makes it more flexible and valuable.
Curt and Hidden Hitch are two trailer hitch brands that are known for making excellent products. Curt makes rugged and reliable products, while products from Hidden Hitch can appear invisible when not in use. Both manufacturers offer a lifetime warranty.
Conclusion
We've come to the end of this best trailer hitch review and you've seen all the offers out there, as well as the necessary factors to consider before you buy the hitch of your dreams.
You can either decide on the popular Curt model that fits all kinds of vehicle, or you can go for a more exclusive offer, which is tailored specifically for your car.
Remember to consider your vehicle's limits and the exact weight of the trailer you need to tow, before making your choice.
Sources