Tires play a major role when it comes to a vehicle's aesthetics, as they can completely transform the way a car looks.
And besides buying the best tires and rims, you also need to keep them clean by investing in the best tire shine to ensure they maintain a pleasant appearance.
Tire shine is a specially formulated tire polishing agent that cleans, protects, and gives the tires a nice shine. But to get all this and more, you need to choose good quality ones.
To help make choosing one easier for you, here we review 7 top-rated tire shine products. And we also explain the most important factors to consider when shopping.
Editors' Picks for Top Tire Shine of 2021 Gel Spray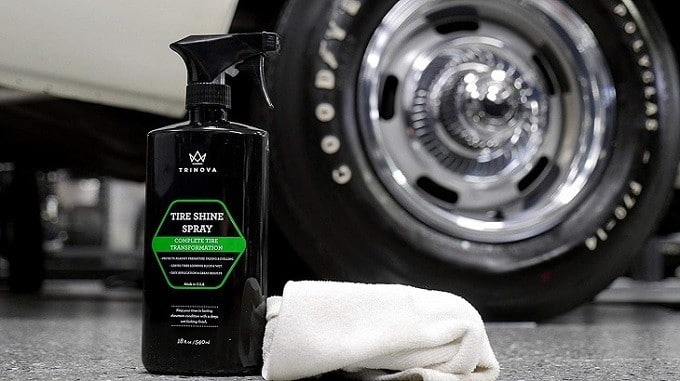 Summary of 7 Best Tire Shines
IMAGE
PRODUCT
FEATURES

1. CarGuys 5864129784 (Best Overall)

Highly-effective nano polymer formula
Protect against UV rays
Non-toxic & environment-friendly
Quick, easy & mess-free application

2. TriNova 33511 (Best Spray)

Easy spray-on application
Advanced coating & protection
Easy shine customization
Repels dirt & grime

3. Meguiar's G7516 (Best Gel)

High endurance tire gel
Allows for clean application
High-gloss finish
Provides UV protection

4. Black Magic 80002220 (Best Long-lasting)

Last up to 2 weeks
Cleans, shines & protects
Applicable on both wet & dry tires

Does not leave a white powdery residue

5. Chemical Guys TVD11316 (Best Budget)

Budget-friendly
Ideal for a variety of uses
Helps prevent future fading
Formulated with gloss enhancers & UV blockers

6. Chemical Guys TVD_107_16 (Best Brand)

Top brand tire shine
Deep penetrating formula
Repels dirt & water
Protects against fading

7. Carfidant Ultimate CARF-C307 (Best Water-Based)

Water-based nano-polymer coating technology
Controllable shine level
Slick & wet finish
Safe on all tires & non-toxic
1. Best Overall: CarGuys 5864129784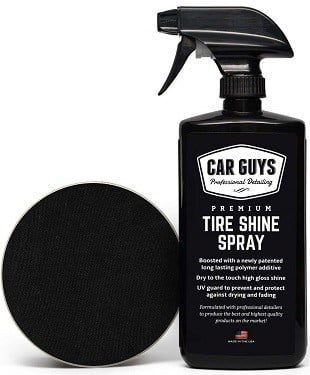 Finish: Satin
Size: 18 oz.
The CarGuys model 5864129784tire shine uses a more potent formula with patented polymer additives to make it easy to keep your tires in great shape. These additives enhance the longevity and performance of the product. And this is one of the key reasons this is our best overall option.
This tire shine will leave the tires with a deep wet black gloss and create a protective UV shield. It bonds with the tires and prevents run-offs during high speeds.
Moreover, it allows you to choose either a rich deep black shine or a wet-looking high gloss glaze. This product can also be used as a trim restorer.
This tire shine is non-toxic, more environment-friendly, and also safe to use on all tire types. When you buy it, you will also get a tire dressing applicator for quick and easy car detailing.
However, the included brush looks cheap and is not very durable, but the good news is that it still does a good enough job, and you can always order a better quality brush with the product.

---
2. Best Tire Shine Spray: TriNova 33511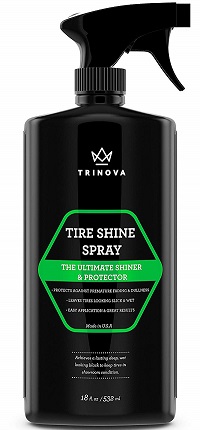 The TriNova 33511 tire shine comes in an excellent spray bottle that will make the application a breeze. Besides giving tires a nice gloss, it also forms a protective coating over the tires, thus protecting them from harmful UV rays and slowing down their aging.
This spray allows you to easily customize the shine that you want as you can choose whether to get a low, medium or high shine. And all you need to do is to alter the time you live it on the wheels. The longer you live it, the shinier the finish you get.
Furthermore, there is no need to apply the tire shine multiple times a week as one spray goes a long way. Because it repels dirt and grime, you are also assured of long-lasting protection for your tires.
Although the formula can be a little runny, you will hardly ever have to worry about it streaking your tires as long as you do not apply too much of it.

---
3. Best Tire Shine Gel: Meguiar's G7516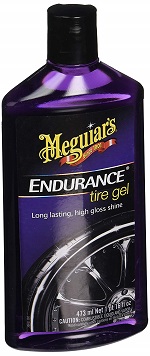 Finish: Glossy
Size: 16 oz.
Meguiar's G7516 is a high endurance tire gel that uses an advanced formulation. It can withstand both regular washing and rain, which ensures it provides a high level of protection.
This rich gel is relatively easy to apply, and you can do it evenly and cleanly with no overspray, drips, or runs. The results are fantastic as this product offers maximum protection against UV damage and browning, while also giving the tires a pleasant new look.
Moreover, it promises to maintain a rich black shine as its advanced polymers lend long-lasting protection. And your tires will maintain a rich black shade with a nice high gloss finish.
There are complaints about this tire shine slinging easily, but this is often a result of using too much of it.

---
4. Best Long-lasting Tire Shine: Black Magic 80002220

With the Black Magic 80002220, you get one of the longest-lasting tire shine as it will protect your tires and give them a fantastic shine for up to an impressive 2 weeks. What's more, it is made to enrich your tires by cleaning, shining, and protecting them.
This tire shine will come as a thick foam that sticks to the tire to break down the clinging debris, dust, mud, and road grime, which leaves you with cleaner tires. And the formula does not leave any white residue behind.
Plus, it comes with an easy to control spray that, besides ensuring easy application, provides excellent coverage. Better yet, you can apply this product on both wet and dry tire surfaces.
Many car owners always prefer more versatile products that they can use for several things. And while this product might not be ideal for other cleaning jobs, it still does a great job on your tires.

---
5. Best Budget Tire Shine: Chemical Guys TVD11316

Finish: Glossy
Size: 16 oz.
For those looking for a more budget-friendly tire shine from a leading brand, the Chemical Guys TVD11316 is a fantastic choice. This tire shine will ensure you do not have to spend a lot of money to enhance your tire's appearance.
You can use this product on a wide variety of surfaces as it is suitable for interior and exterior use. Better yet, it works for different materials like rubber, textured plastic, and vinyl parts. Also, it feels dry to the touch.
Moreover, this tire shine leaves a clear look when dried and doesn't attract dirt or dust. And it also has extra gloss enhancers and UV blockers to prevent harmful UV rays from damaging the tires.
While this tire shine seems to leave some surfaces with a runny look when rained on, a simple wipe down should fix this.

---
6. Best Tire Shine Brand: Chemical Guys TVD_107_16

Finish: Non-Greasy
Size: 16 oz.
Chemical Guys is a top vehicle accessory brand that has been making vehicle cleaning and maintenance items for a few decades. Hence, if you are looking for a top brand tire shine, their model TVD_107_16 protectantwill be a fantastic choice.
Besides being a top brand product, it is a refined tire shine that will penetrate deep into the tires to nourish and restore them. What's more, it works on both interior and exterior surfaces. This shine is also very effective at protecting them from fading.
Because it repels dirt and water, this tire shine ensures that you maintain clean tires for a long time. Furthermore, with its water-based and non-greasy formula, you get a long-lasting, deep wet look. Many motorists will also love that this tire car product remains dry to touch.
Although this product does not make your tires super shinny, it is still protective enough.

---
7. Best Water-Based Tire Shine: Carfidant Ultimate CARF-C307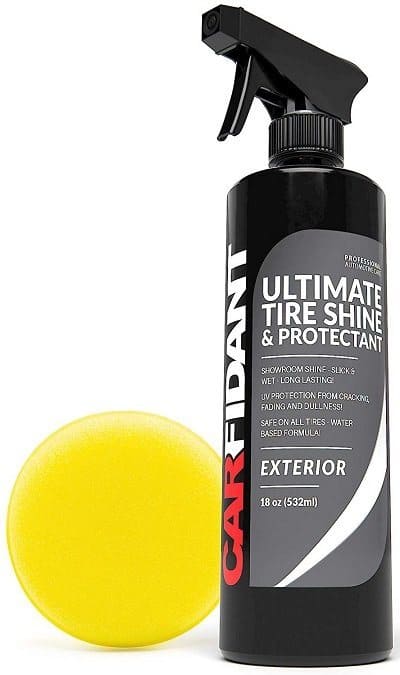 Finish: Slick and wet
Size: 18 oz.
The Carfidant Ultimate CARF-C307 uses a water-based formula that besides being more effective at cleaning and protecting the tires, will be safe for both the vehicle and the environment. This tire shine uses an advanced nano-polymer coating technology that is what makes it highly effective.
This product leaves the tires with a slick, wet finish that gives them a more showroom-like appearance and more long-lasting.
The spray's unique formula ensures that you can adjust the shine levels to suit your preferences. This product is ideal for use on all kinds of tires. Better yet, it will offer protection from UV rays and road grime.
The applicator that comes with this tire shine is not the best quality, but this should not be a deal-breaker as you can easily get a better quality one for a few bucks.

How to Buy the Best Tire Shine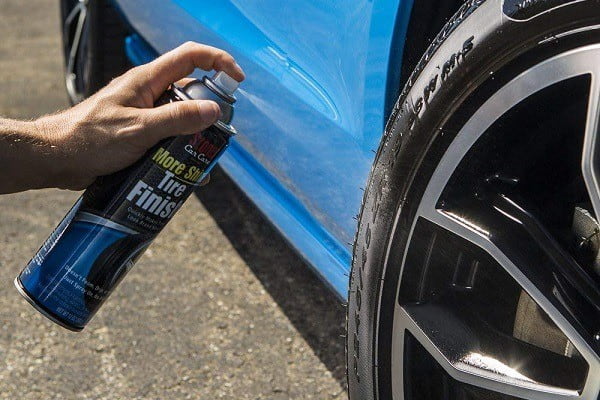 1. Water or Solvent Based
Water-based tire shine like the Carfidant Ultimate CARF-C307 contain polymers and natural oils, which are non-greasy and gives the tires a satin finish. It is also safer to use when compared to the solvent-based tire shine thanks to the natural ingredients.
On the other hand, solvent-based tire shines such as the Meguiar's G190315 leave a silicone oil layer over the tires, giving them a pleasant wet finish. These tire shines also last longer and give the tires a glossier look.
2. Gel or Spray Tire Shine
Tire shines will also come in either gel or spray options. Applying the gel-based tire shine is more time-consuming because you have to apply it using your hands. But gel-based shines like Meguiar's G7516 are a cheaper option when compared to the spray types.
The spray tire shine like TriNova 33511, on the other hand, comes in a spray bottle. This makes it much easier to apply, but this convenience comes at an extra cost as it tends to be more expensive.
You also have to be very careful while spraying as you do not get much control over how much product is sprayed. But, the gel types make it easy to determine how much product to use.
3. Shiny or Stain Finish
You will also need to decide the kind of finish that you want to get from your tire shine. Here most tires shines will give you either a shiny gloss or a satin finish.
Some products like the Meguiar's G190315 leave an insane shine on your tires. Such products will be perfect for those that want to show off their tires.
But, a satin finish like what you get with the CarGuys 5864129784 is perfect if you just want to protect your tires without too much gloss.
4. Ease of Application
The application should be easy and quick to save time and effort. As the tire shines are spray and gel-based, the ease of application varies.
The gel-based shine is a little slower but gives more control over the process, whereas the spray shine is easy to apply but offers less control.
If you like putting a lot of time and effort into giving the car your desired look, go for a gel tire shine. But, if you want something fast that will not require a lot of effort from you, go with the spray types.
5. UV protection
One of the key benefits of tire shine is UV protection. With this feature, the tires not only look better but also get a protective layer over them to prevent UV rays damage. A tire shine with UV protection will even be more important if you live in areas that get lots of sunlight.
6. Longevity
Tire shine products differ in types, price, and the brand. Also, each product has been designed to last for a particular time, and so the best one for you is one that can offer the longest service life.
You should be able to go longer between applications as you will not always have the time or resources to buy and apply the tire shine. Also, it must be able to withstand rain and dirt long enough.
How to Apply Tire Shine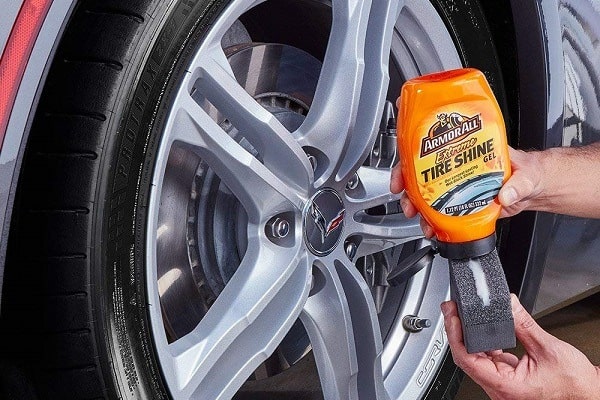 Applying tire shine is not big a deal as you only need to have an applicator or if the bottle has a sprayer, you are good to go.
Here are the simple steps to follow when applying a tire shine.
Step 1: Wash the tires
Start by washing the tires with water and a good soap. Washing helps remove all the dirt and grime to ensure you will get the best shine.
Step 2: Dry the tires
Once done with the washing, let the tires dry. Like dirt and grime, water can affect the effectiveness of the tire shine.
Step 3. Put tire shine on the applicator
Add tire shine to the applicator, and avoid overloading it with too much of the product. Try to use small portions at a go.
Step 4. Apply the tire shine
Next, you should spread the tires shine on the tires using the applicator. Do this in a gentle but steady back and forth motion.
If using a sprayer, start from one point of the tire and go all the way around. Once done, let the shine sit for 10-20 minutes to get the desired shine. Also, avoid driving off immediately.
Step 5. Wipe off the excess of the product
Once you are finished with the application, remove excess shine clinging to the tire using a cloth. The last step is to give the tire a nice rub until you get the satin, matte, or clear finish.
Conclusion
Tire shine products provide a simple but effective way of taking care of your vehicle's tires. However, this is only true if you choose the right ones from the many options.
With our review above for recommendations, finding the best tire shine should be a faster and more effortless task. That said, the CarGuys 5864129784takes our top spot thanks to the highly-effective nano-polymer formula.
However, for motorists looking for a more budget-friendly option, the Chemical Guys TVD11316 is a perfect model.