A GPS system is one of the most useful accessories that you can purchase for your RV. Simply input your destination, and it will automatically tell you the fastest and easiest route to take.
With it, you will reach your destination quickly and easily. Best, the GPS system not only display the route to take visually, but it also talks to you, so you don't have to look at the screen while driving all the time. It is perfectly safe to use in an RV.
If you are on the lookout for such an accessory, then we have a hand-picked selection of some of the best RV GPS systems on the market. Let's find out which GPS system you need to purchase for your RV right now!
Top RV GPS Systems of 2021 by Editors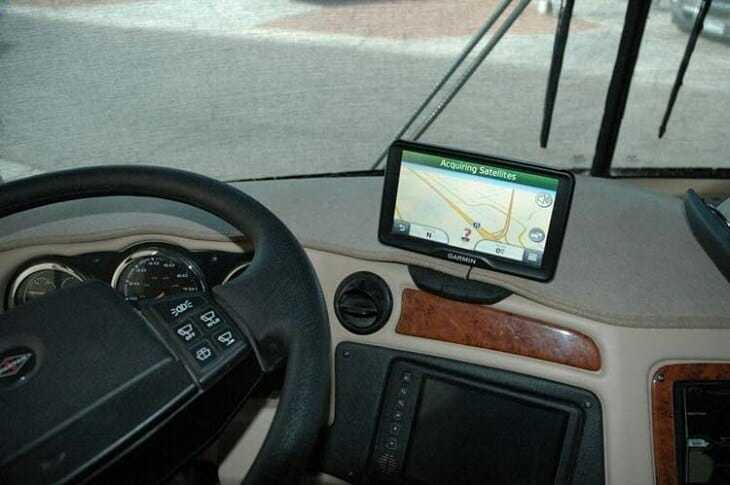 Summary of 6 Best RV GPS Systems
IMAGE
PRODUCT
FEATURES

1. Garmin RV 760LMT (Best Overall)

Superb build construction
Voice-activated GPS system
The large touch screen of 7 inches
Free lifetime map updates by the manufacturer

2. Garmin RV 770 NA LMT-S

High resolution of 1024 x 600. Image is crisp
Calculates the best route based on RV size and weight
Easy to use voice-activated GPS
Equipped with Bluetooth

3. Garmin dezl 770LMTHD

A compact system that is easy to use
Great build construction
Easy to install by beginners

4. TomTom Via 1625M

Excellent reliability and ease of use
Fairly affordable price
Free lifetime upgrades on the maps

5. TomTom Via 1535TM

3D maps are full-colored and detailed
Can be operated by voice
Competitive price

6. Rand McNally TND 740

Good performance and excellent price
The large screen size of 7 inches and high resolution. Image is detailed
Audio out for connecting to your RV sound system
1. Garmin RV 760LMT - Best Overall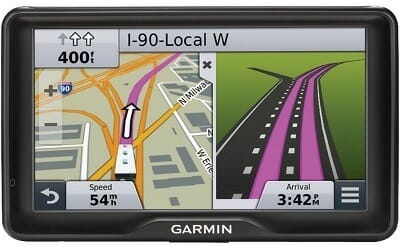 Screen Size: 7 inches
Resolution: 800 x 480
Garmin is a highly reputable brand in the vehicle GPS industry. In fact, this brand makes the best RV GPS navigation systems on the market. The Garmin RV 760LMT may not be the company's flagship GPS system, but it is built like a tank and will last a very long time.
At the heart of the GPS system, we find a 7 inches touch screen that is large and easy to see both during the day as well as at night. Since it is a touchscreen, it is extremely easy to make various adjustments as well as input your destination on it.
Also, this model is fully voice-activated, which means that you can send commands to it using your voice. What we also like about this GPS system for RV is that it comes with a lifetime map and traffic update from Garmin. You have absolutely nothing to lose by choosing this model.
The only caveat we note with this product is that the resolution is not the best we have seen at 800 x 480. Also, it is a little bit expensive, considering its low resolution. But, its build construction and ease-of-use easily make up for it.

---
2. Garmin RV 770 NA LMT-S Advanced Navigation Device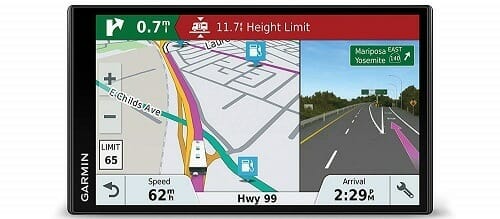 Screen Size: 7 inches
Resolution: 1024 x 600
The biggest advantage of the Garmin RV 770 is its large screen as well as high resolution of 1024 x 600. Clearly, this model is superior in terms of image quality when it comes to the Garmin model we have just reviewed above.
As always, this model is voice-activated so you can fully adjust it using only your voice. Furthermore, it has features like Bluetooth that allows you to connect various Bluetooth enabled devices to it.
But best, one of the most interesting features about this top-rated RV GPS system is that it automatically calculates the best GPS route for you depending on your vehicle weight and height. If there is a shallow bridge ahead on the road, then this GPS system will not recommend this route to you. Pretty neat!
All in all, RV 770 is an excellent choice for all owners of RVs who regularly drive for long hours. This accessory will be very useful to you.

---
3. Garmin dezl 770LMTHD Truck GPS Navigator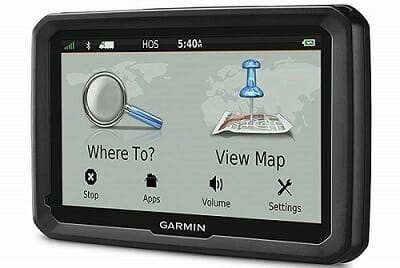 Screen Size: 7 inches
Resolution: 800 x 480
If you don't want to be bothered with advanced features and simply need a simple and compact GPS system for your RV, then the Garmin dezl 770LMTHD is the right choice for you.
Indeed, this model is quite compact, so it will not consume a lot of space on your RV dashboard. It is very easy to install and even easier to operate.
Even if the resolution is only 800 x 480, which means that it is not the clearest we have seen, it is still big enough at 7 inches to be clearly visible. The screen itself is visible in all directions, no problem.
Furthermore, you can customize this GPS system depending on the weight and size of your RV. It's not automatic but can easily be done. It also comes with a detailed user manual in case you're having trouble configuring it.
Indeed, few models in this RV GPS review can beat the simplicity and ease of use of this model. We recommend it for those who don't mind the small resolution and price and need a reliable and robust GPS system for their RV.

---
4. TomTom Via 1625M GPS Navigation Device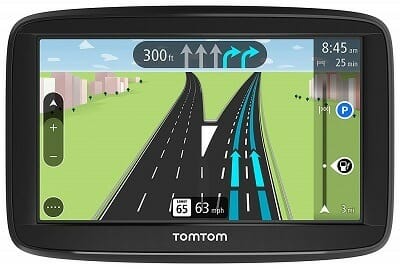 Screen Size: 6 inches
Resolution: 800 x 480
The TomTom Via 1625M may not be the fanciest looking GPS systems for RV, but it gets the job done. It is quite reliable, affordable, and extremely easy to use by anyone, even if you have never used a GPS system before.
This model has a 6 inches screen, an excellent build construction, and provides you with accurate routes all the time. We also like the fact that it has 3D graphics, which makes it easy to navigate with.
But what makes this model very dependable both in the short term as well as in the long term, is that it comes with a lifetime map. Indeed, TomTom is always improving the maps, and by simply connecting it to your PC, you will get new seasonal maps. Of course, it is free.
Bottom line, even if this product is not the best RV GPS on the market, it is close to it, especially considering its very affordable price. The only slight disadvantage we can note is that it does not have a voice activation system.

---
5. TomTom Via 1535TM Bluetooth GPS Navigator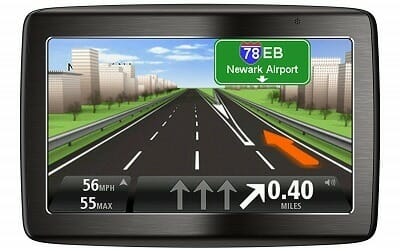 Screen Size: 5 inches
Resolution: 480 x 272
The TomTom Via 1535TM is a versatile and easy to use GPS system for RVs. What distinguishes this model from the rest of the competition is its strong Bluetooth and voice recognition functionalities.
With this GPS system, you don't have to touch the 5 inches touchscreen to use it. Instead, you can simply use your voice to set a destination. The routes are displayed as 3D and in full color. It is very easy to read both during the day as well as at night.
Also, the Bluetooth is quite robust and will not drop in connectivity. You can connect your smartphone, Bluetooth headsets, or any other Bluetooth accessories that you want.
The only shortcoming of this GPS system is its weak resolution of 480 x 272. Despite all this, this model remains one of the best GPS for RV travel because of the easy to read 3D routes, affordable price, and lifetime map updates.

---
6. Rand McNally TND 740 IntelliRoute Truck Navigation GPS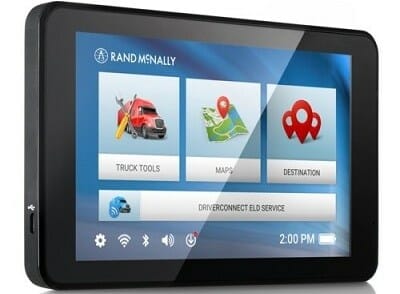 Screen Size: 7 inches
Resolution: 1024 x 600
The Rand McNally TND 740 focuses on 2 major areas. Its performance and price. Indeed, when compared to other models in this review, this unit has one of the best prices to performance ratio.
It is equipped with a large 7 inches screen as well as with a relatively high-resolution of 1024 x 600. This allows you to easily follow its directions as the image is crisp and vibrant.
Furthermore, you get free lifetime map updates with this product, which makes it an even better deal. The updates are quite easy to perform, and you can do it over the air without the need for connecting a USB wire to it.
Moreover, you have audio output in this GPS system, which will allow you to quickly and easily connect it to your RV or truck audio system. Pretty neat!
The only caveat we have with this model is that it uses a magnetic base which is weak, and the screen may come off, especially when using rough terrains.
Also, you need to be careful with this GPS system because it is not built for heavy-duty use and not the most durable model that we have seen.

How to Buy the Best RV GPS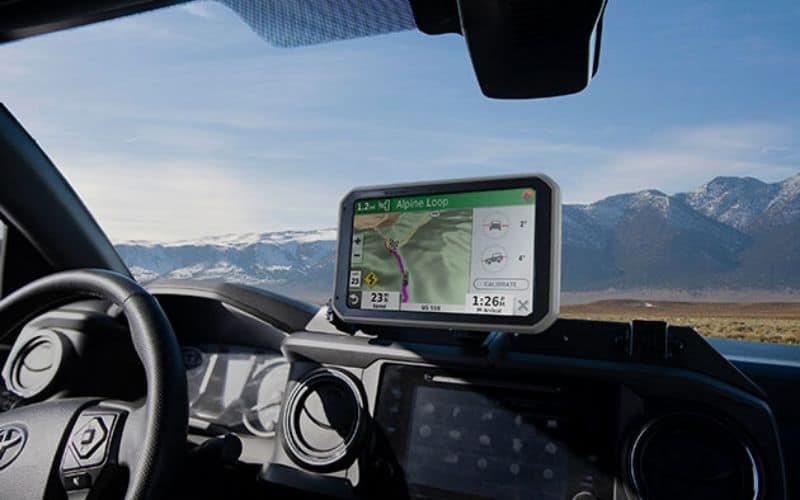 1. Types of RV GPS
There are 3 main types of GPS systems for RVs.
Handheld System: As its name suggests, the handheld system is portable, and you usually use it by holding it in your hands. It is by far the most flexible type of RV GPS systems.
However, the main disadvantage of this system is that it is usually smaller, with a small display that may make it difficult to read.
Wrist GPS Tracking: The wrist GPS tracking system is worn like a watch, on the wrist and is usually extremely lightweight and compact.
This type of GPS tracking system usually has limited functionalities and equipped with a very small screen.
However, its main advantage is that it is very easy to use and are quite practical, especially during hiking. Of course, this type of GPS is not suitable for driving.
Built-in GPS System: Most vehicles nowadays come with a built-in GPS system.
This GPS usually works hand-in-hand with your car audio system, and you can easily switch between one or the other.
The biggest advantage of the built-in GPS system is that it offers you a large screen that is easy to read both during the day as well as at night.
For driving long distances in an RV, the built-in GPS is generally the best RV GPS navigation system that you can purchase.
2. Screen Size
The screen of the GPS system is where everything is displayed. Therefore, it needs to be sufficiently big to be easily seen.
In most cases, a screen size of at least 5 inches will be easily readable by anyone at a normal driver's distance.
Furthermore, most modern-day GPS systems for RVs are usually touchscreen, which makes it much easier to use than older systems.
3. Resolution
In addition to the screen size, the resolution of the GPS system is also an important factor to consider. The higher the resolution, the crisper the image will be and hence, easier to read.
As far as possible, try to go with a model that offers a resolution of at least 800 x 480. Of course, the more, the better when it comes to the resolution.
4. Controls
The GPS system for RV offers you different types of controls. Most quality models are voice-activated, which means that they will respond to your voice without the need of having any physical interactions with the GPS.
In addition, the versatility of controls is important. So, you must also be able to adjust the GPS system, like inputting a new destination or changing the route by using the inbuilt button of the GPS.
5. Frequency of Your Trip
If you frequently make the same route, then your GPS system would have the possibility to save that destination. This will allow you to quickly and easily change your destination on demand.
Furthermore, if you want to visit a destination that you have never been before, then your GPS system must also be equipped with up-to-date maps.
In fact, most reputable manufacturers will provide you with free lifetime map updates for this very purpose.
6. Predictive Data Entry
A predictive data entry system in a GPS is simply the way that the GPS system adapts to your driving patterns.
For example, if you frequently travel to a specific destination, then a GPS system equipped with predictive data entry may start offering you a better alternative route to your destination.
7. Bluetooth
Many people drive an RV or truck with Bluetooth headsets. A big advantage of some GPS systems that are voice-activated is that they are equipped with Bluetooth.
This means that you can input your destination or change a route by simply using your voice.
And since you will be using a Bluetooth headset, your voice will be crystal clear, and the GPS system will have no problem understanding you.
This is especially important if you usually drive in noisy environments with traffic noise or music in the background.
8. Ease to Install
As with most RV accessories, the GPS system must be very easy to install. Most quality models come with a detailed user manual that will not only show you how to use it properly but also install it appropriately.
Conclusion
As we have seen, the GPS system is vital if you have an RV. Since you will be traveling a lot, you will never get lost while driving with the GPS system.
Also, it is perfectly safe and fully legal to install in an RV. Not to mention that it is extremely easy to use. If you have never used a GPS system before, then don't worry as it is an extremely beginner-friendly device.
If you have read our RV GPS review above, and still not decided on which GPS system to purchase, then read the review again. If you have, then we wish you good luck on your travels.