During the winter, it can be difficult to stay inside the RV because of the cold. Unfortunately, the heater system of most RVs is not powerful enough to heat the whole RV to a comfortable temperature.

This is where the electric heater for RV comes into action. Indeed, this dedicated heater is made specifically for RVs that will quickly and easily heat up your RV space in a matter of minutes.

If you are fresh on the market for a quality model, our electric heater for RV review below should help you find a decent model for the money. Let's get to it!
Editors' Picks: Top Electric Heaters for Rv Infrared and Ceramic Heaters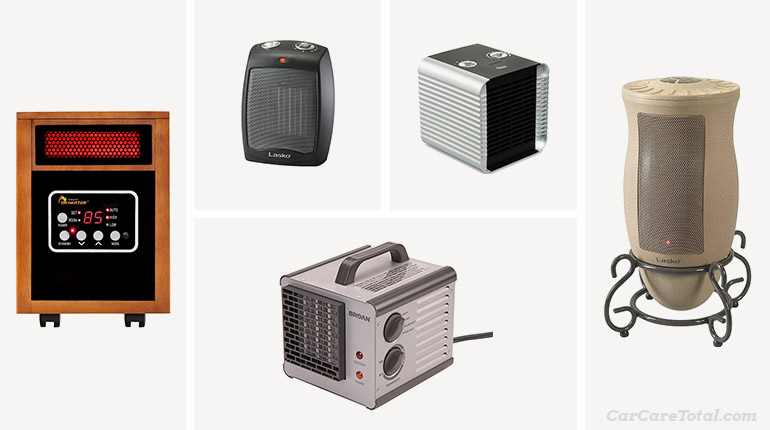 Summary of 5 Best Electric Heaters for RV
IMAGE
PRODUCT
FEATURES

1. Dr Infrared DR968 (Best Overall)

Powerful heater of 1,500 W and can heat up the room fast
Ability to send heat in only one direction
Informative LCD display at the front
Quiet operation at 39 dB

2. Lasko 6435 (Excellent Price to Performance Ratio)

Competitive price and value for money
Provided stand makes this heater for RV quite stable
Automatic power off after 7 hours
You get a remote control

3. Lasko CD09250 (Compact & Lightweight)

Small, compact, and lightweight
Very affordable RV heater
LED indicator

4. Broan NuTone 6201 (Superior Build Constitution)

Durable and long-lasting build construction
Auto-power shut-off security feature
Status indicator lights at the front

5. Arcon 64409 (Best Portable)

Lightweight at 3.4 lbs. Very portable
Highly efficient model
Good performance despite its small size
1. Dr Infrared DR968 - Best Overall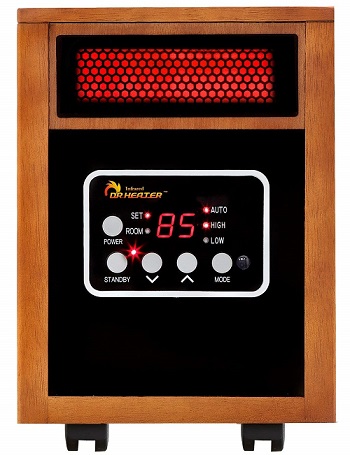 Power: 1,500 W
Heat up: 1,000 square feet
Weight: 19 lbs
One of the things that make this Dr infrared electric heater for RV unique is its high performance. Indeed, this heavy-duty electric heater will quickly heat up to 1,000 square feet in a matter of minutes. This model uses an infrared system that unlike a ceramic convection model is much faster in distributing the heat around.
Moreover, with its rated power of 1,500 W, it will have no problem spreading the heat around in a consistent and yet powerful way. The only caveat we have with this electric heater RV is its weight. At 19 lbs, it is significantly heavier when compared to other models that are usually less than 10 lbs in weight.
However, if you do not need to frequently move your electric heater around and price is not an issue, then this model is certainly one of the best electric heaters for travel trailer on the market. Best is the fact that this model is able to heat up a large space very quickly due to its rated power of 1,500 W.

---
2. Lasko 6435 - Excellent Price to Performance Ratio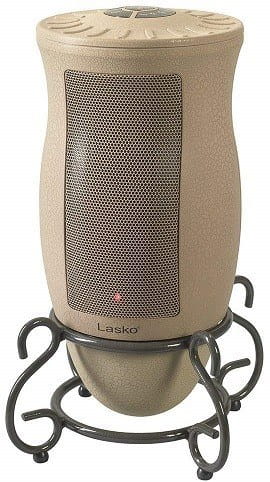 Power: 1,500 W
Heat up: 100 square feet
Weight: 7.9 lbs
The Lasko 6435 is a top-rated rated electric heater for RV that uses a ceramic coil that allows it to heat up to 100 square feet fairly quickly. This model has probably the best price to performance ratio in this review. With its weight of 7.9 lbs, it is not the lightest electric heater for RV around but still remains quite portable.
In addition, the design of this heater is quite efficient and would prevent it from overheating while allowing it to spread the heat around in a consistent manner. Moreover, this model has a metal stand at the bottom so as to provide more stability. It also makes it good-looking, and it even looks like a decorative lamp.
One of the good things about this electric heater for RV is that it has an overprotection system that will prevent it from overheating and thus catching fire. In addition, this model also has a timer that will automatically switch off the heater often 7 hours. Therefore, it is a safe electric heater for RV.
All in all, this Lasko model is a good electric heater for RV as it looks nice and performs very efficiently as well.
The only problem we can point out with this model is that it is only ideal to heat up a small room as it can effectively heat up only 100 square feet. It also cannot be wall mounted due to its shape.
Only effective in a small surface area


---
3. Lasko CD09250 - Compact and Lightweight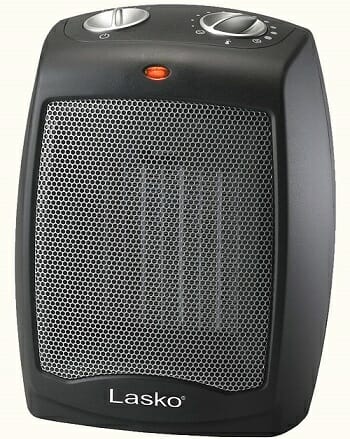 Power: 1,500 W
Weight: 3.5 lbs
Again we meet another Lasko ceramic heater. But this time, it is a smaller model and lighter one that weighs only 3.5 lbs. Since this model is more compact and lighter, it is also more portable. In addition, it contains all security features like a heat overprotection we have found in the previous model.
Moreover, with its rated 1,500 W of power, and its small size, this unit is definitely one of the best portable electric heaters for RV especially considering its excellent size to performance ratio. In order to adjust the temperature and provide you with more control over the heat generated, there are easy to use knobs at the top of the device.
Furthermore, the red LED light at the front will tell you in a quick manner if the heater is working or not. But one of the best things that we like about this unit is definitely its price. In fact, this heater is the most affordably priced model in our review.
The only caveat we note with this heater is that it is made entirely from plastic and not very durable when compared to other solutions in this review.

---
4. Broan NuTone 6201 - Superior Build Constitution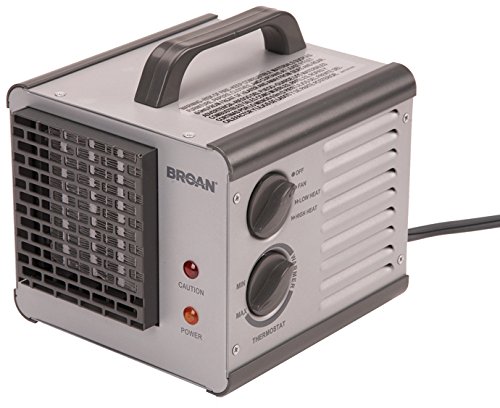 Power: 1,500 W
Weight: 4.59 lbs
If there is one department where the Broan NuTone 6201 absolutely shines, then it is definitely in its build construction quality. Indeed, this model is literally built like a tank which shows that it is very durable and long-lasting. Moreover, it employs a nice mixture of rubber, plastic, and steel that makes it aesthetically pleasing as well.
When it comes to power, this unit is rated at 1,500 W, so that it definitely has the power to heater small room fairly quickly. One of the good things about this model is its LED indicators that will show you if the power is on. Moreover, there is another caution light that will light on when the heater is overheating.
Furthermore, this model contains a fan that will help ventilate and keep this electric heater at a safe temperature. You can also use a special fan-only mode that will not engage the ceramic heater and will turn only the fan for some cool and fresh air in your RV.
But keep in mind that this model is a little bit noisier than others. Not by much, but it is noticeable.
As for installation, it can be easier as all you have to do is connect it to your electric power supply and you're good to go. This makes this model one of the best electric heater for RV on the market when it comes to installation and ease of use.

---
5. Arcon 64409 - Best Portable Electric Heater for RV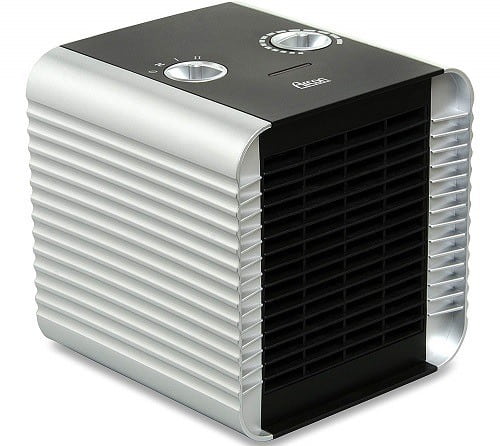 Power: 1,500 W
Weight: 3.4 lbs
Many people who have used the Arcon 64409 regarded as one of the best portable electric heaters for RV on the market. This model is quite small, lightweight at 3.4 lbs and very portable which means that you can easily carry it anywhere you want with ease.
Moreover, since it uses a ceramic coil, the Arcon is able to heat up a small to medium-size room with ease despite its small and compact form factor. Also, it is quite powerful with a maximum rated power of 1,500 W and a minimum of 750 W which shows that it has good efficiency.
In addition, the aluminum build construction of this electric heater for RV will guarantee that you are getting a quality model that is built to last a long time.
There are various adjustments of the top of this heater that will allow you to adjust the temperature as well as the speed of the fan for more precise temperature control.
The only cons with this product is that the price is a little bit too high and the fans are a bit noisy. But other than that, this is an excellent heater to consider.

How to Buy the Best Electric Heater for RV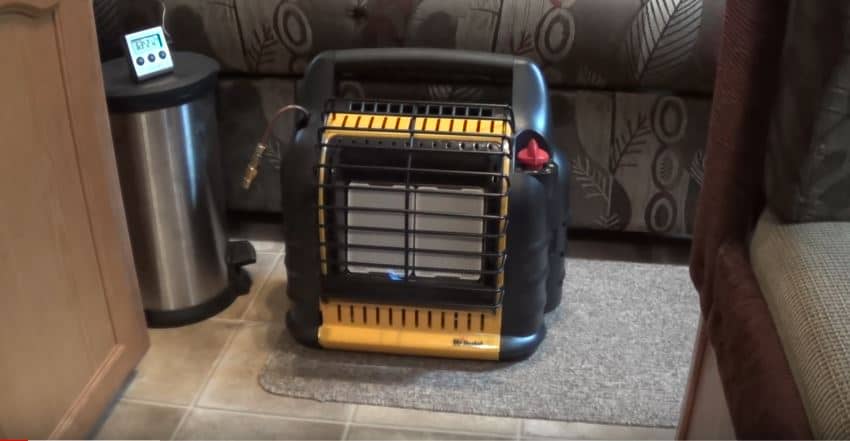 1. Infrared or Ceramic Convection Heater for RV
There are basically 2 types of electric heaters for RV. The infrared and the ceramic heater.
Infrared heaters: As the name suggests, the infrared heater outputs an infrared wave that does not require any coil for heating. It also does not depend on the air in the room and can be made to target a specific region with heat.
On the downside, the infrared heater has a limited range and is most effective only for small rooms. If you have a small RV or need to heater small closed room, the infrared heater is an excellent choice.
Ceramic convection heater: Unlike the infrared heater that outputs an infrared wave, the ceramic heater uses a ceramic coil that heats up. In turn, the hot ceramic heats up the air around it which then by air currents moves around and heats up the whole room.
It is slower to heat up a room when compared to the infrared heater. However, the ceramic convection heater is more effective for big rooms.
2. Voltage
Since the electric heater requires electricity, it will depend on the type of voltage that your RV has to run. In most cases, the electric heater either runs on a 12 V DC or on a 110 V AC for more heavy-duty models. You must make sure that your RV is able to output the voltage necessary to power your electric heater.
Furthermore, you can always use an inverter or a generator to provide the necessary voltage in case your RV is not able to directly do so.
3. Efficiency
The efficiency of the electric heater for RV is an important factor to consider. This is because you do not want the heater to consume excessive power like electricity which is sometimes limited in an RV.
Furthermore, an inefficient heater for RV will generate a lot of noise which can equally become annoying in addition to wasting energy.
This is especially important if you are planning to connect your electric heater directly to your RV batteries. In addition, some camping sites will charge you for the amount of electricity that you use on the camping ground.
Therefore, it is important that you use the least amount of electricity so as to limit your electricity cost.
4. Spec sheet
For better ease-of-use, ensure that your electric heater for RV comes with a spec sheet. The more detailed the spec sheet, the better. This can prove to be important in case you want to check on the efficiency, or space necessary to install your electric heater.
Most of the time, the manufacturer either lists a detailed spec sheet on their website or you should find it in your instructions manual as well.
5. Noise level
Most good electric heaters for RV have an inbuilt fan that helps reduce the temperature inside the heater. It may sound counterintuitive, but this is an important feature of the electric heater that will help prevent damage from occurring to the electronic parts of the heater due to internal heat buildup.
In addition, the noise level is directly linked to the efficiency of the electric heater. In fact, the more efficient the heater, the less noise it will generally create because it produces less internal heat which in turn requires a lower fan speed to cool down.
If you want low noise levels, ensure that the manufacturer says something about noise levels as well as check if your heater contains a fan or not. Not all electric heaters for RVs do.
Moreover, not everybody prefers to go with a heater that makes a lot of noise. If this is the case for you, then it is probably best to go with an electric heater that does not contain any fan at all. Just make sure that it is a high-efficiency electric heater and you are good to go.
6. Safety
One of the worst things that you want to happen is an electric heater overheating and causing a fire in your RV. In order to prevent this from happening, ensure that there are safety measures employed in your electric heater.
For one, your electric heater must-have and overvoltage protection that will prevent it from short-circuiting and closing a potential fire.
In addition, your electric heater must also have an automatic shutdown feature after a set period of time. You do not want your heater running 24/7 in your RV as it may cause overheating issues.
Moreover, always check your wattage, voltage and the electric connections to ensure that you are good to run an electric heater in your RV in the safest way possible. Many times, it is the little things that lead to an accident especially when using the electric heater.
7. Price
In general, the electric heater for RV is not a very expensive RV accessory. However, as with any other purchase that you make online, you must first draw out a budget and then stick to that budget.
This is because even if this electric heater is not very expensive, there are some models that will quickly go above your budget if you're not careful.
Most of the time, you should be able to get a top-rated electric heater for RV for less than $100. This is an excellent value.
Conclusion
As we have seen, the electric heater for RV is an absolute must-have tool, especially if you use your RV during the cold winter. Most models found in our electric heater for RV review above are efficient, safe and make little to no noise when operating.
Best of all, they consume little energy and can easily heat up a small to medium size RV room in a matter of minutes. Additionally, installation is very easy. Most of the time, all you have to do is simply connect it to your RV inverter power supply and you are good to go.
Therefore, if you often travel in your RV during the winter time, you need to invest in a good electric RV heater right away.