Whether you are taking that long overdue RV road trip across the country or even planning to start living on your RV permanently, you need to make sure that you are still as comfortable as possible.
And having the best RV toilet is one of the fundamental things that will ensure you still enjoy the comforts of a home even when taking your road trips.
If you are buying a new RV, the chances are that it will come with a toilet, but these factory installed ones are not always the best quality, and so you many need to replace them with something better.
Understanding the different types of RV toilets and the crucial elements to look for when picking one will make it easy to find something comfortable enough for you. And in this piece, we make things even easier for you by also reviewing 7 top-rated RV toilets.
Editors' Picks: Top RV Toilets of 2022
Summary of 7 Best RV Toilets
IMAGE
PRODUCT
FEATURES

1. Camco 41545 (Best Overall)

Weight - 11.5 pounds
Easily removable and firm-sealing holding tank
High effective pump flush action
Durable ABS resin construction

2. Thetford 31672 (Best for the Money)

Weight - 9.8 pounds
More comfortable eat height
Efficient and complete bowl coverage flash
Easy to install and use

3. Nature's Head NH-SPH (Best Full-Size)

Weight - 28 pounds
Durable stainless steel hardware
Comfortable full size elongated seat
Super quick disassembly for emptying

4. Thetford 42170 (Best Brand)

Weight - 10 pounds
Stylish and comfortable
100% bowl coverage flush
Antimicrobial seat

5. Dometic 302310071 (Dometic 310 Series Standard Height Toilet)

Weight - 24 pounds
Larger and more ergonomic seat
360-degree flush coverage
Sleek and attention-grabbing finish

6. Porta Potti 92360 (Built for Portability)

Weight - 10 pounds
Highly portable design
Leak-proof and odorless
Easy use and cleaning

7. Palm Springs Outdoor BM300 (Inexpensive & Versatile)

Weight - 9.75 pounds
Leak-proof and odor-free
Sturdy and comfortable full-size seat
Comes fully-assembled
Top 7 Best RV Toilets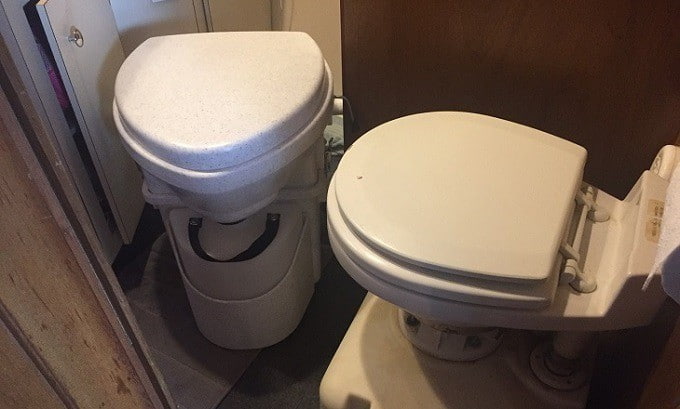 1. Camco 41545 - Best Overall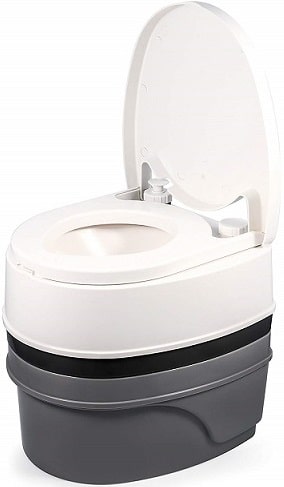 With the 3.75-gallon freshwater tank and 5.3-gallon wastewater tank capacity, this RV toilet should be enough for one person or a small family.
And you do not have to worry about bad odor and leaks as it is designed with a sliding gate valve to seal them in. Also, the slick ABS interior helps to ensure odors do not cling and also makes cleaning easy.
The pumping flush action helps to keep the bowl clean after every use, and there is also a swivel dumping elbow to make the waste tank easier to empty.
With this toilet, you also have the freedom to keep the lid on for easy transportation or remove it completely to make cleaning easier.
The larger holding tank capacity means that this RV toilet can be quite heavy when full and hence harder to carry. But this is an easy problem to fix by ensuring you do not wait for the tank to fill up completely before emptying.
Special valve seals in odor and prevents leaks
Easy waste removal
ABS interior for easy cleaning
Relatively affordable
Easy to use and empty

---
2. Thetford 31672 - Best for the Money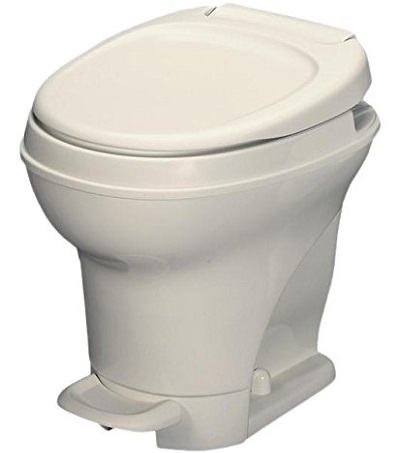 Thetford is a reputable RV toilet brand and they have various models on the market to cater to the needs of different users. Their Aqua Magic V is designed for individuals that are looking for something full size but still relatively affordable.
It comes in a taller seating height to ensure that you always get an experience that is as close as what you would get at home as possible.
For the flush system, it uses a single-pedal system that is designed to trigger the addition of water to the tank and flushing to ensure complete bowl coverage flush.
This RV toilet also comes with a textured lid designed to shed water and also resist scuff for good and long-lasting service. And given its relatively affordable price tag it is the best you can get for the money.
Also, for such a large toilet, it is relatively lightweight, but what many users will love most is just how straightforward it is to install and use.
A deeper bowl is always welcomed but for such an affordable RV toilet, what you get on this one is still acceptable.
Taller and more comfortable seat height
Complete bowl coverage flush
Easy installation and use
Textured lid design
Bowl seems a little shallow
Relatively flimsier

---
3. Nature's Head NH-SPH - Best Full-Size RV Toilet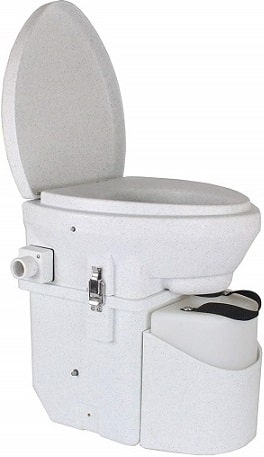 According to the manufacturer, this self-contained RV toilet was originally designed for marine use, and this should give you some confidence that it is rugged enough for long-term service.
The toilet is made of genuine stainless steel hardware to ensure that it will be a long time before you need to replace anything
Another fact that makes this one of the best composting RV toilets not only on our list but also on the market is the full-size elongated seat. With this seat, you will always get comfortable toilet times.
The toilet will disassemble fast and easy to make emptying it a breeze for you, and it comes with both the vent hose and fan to make odor management easier and more effective.
While this RV toilet seat is quite pricey when compared to other models on our list for a well-built, highly durable and one of the best elongated RV toilets, it is worth it.
Highly durable stainless steel hardware
Comfortable full-size seat
Fast disassembly when emptying
Includes both vent hose and fan
Quite an expensive toilet
Heavier and not very portable

---
4. Thetford 42170 - Best Brand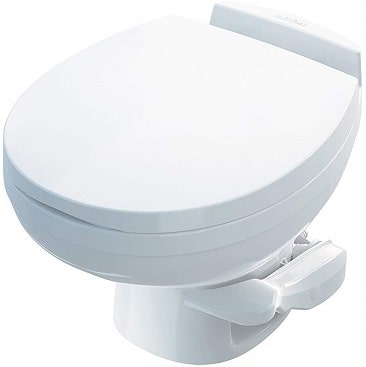 Here is another Thetford RV toilet that will not disappoint you because it will not only work for almost any RV but is also quite efficient.
It is one of the lightest options on our RV toilet review, and it is also quite comfortable and with a stylish look that will look fantastic in your RV.
The toilet seat uses an efficient single pedal system that is designed to ensure that you always get complete bowl coverage when flushing.
Also, it comes with an antimicrobial seat that will help to inhibit mold and the odor-causing bacteria for a hygienic and odor-free toilet.
The full-size residential seat is also easily customizable and you can also install an optional water-saving hand sprayer for hand rinse wash down.
All plastic construction might not be the most pleasant for an RV toilet, but it is still quite heavy duty and also helps to make this toilet more lightweight and portable.
Works for all RV types
Efficient single pedal system
Antimicrobial seat
Customizable full-size seat
Stylish and comfortable design

---
5. Dometic 302310071 - Best under $200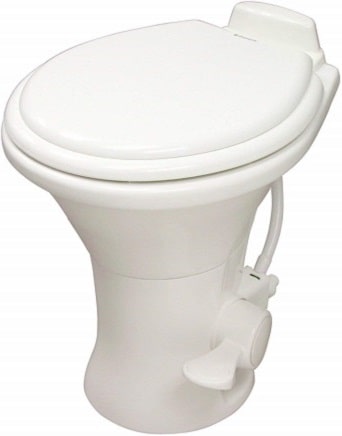 With the 100% vitreous ceramic bowl, large and ergonomic design, elegant look and relatively affordable price tag, this is the best RV toilet for the money on our list.
Although there are a few that still have better material and construction, all are way much more expensive than this. This makes this one of the best porcelain RV toilets out there as you will need to spend much more to get a better quality.
The Dometic RV toilet has a comfortable and ergonomic 18-inch seating height to ensure you get an experience similar to what your home's toilet would provide.
Although the flush mechanism is all plastic, this toilet still flushes well. It uses a 360-degree vortex flush pattern for a powerful and thorough cleaning action. And the RV toilet also has a hand sprayer option.
Finally, the plastic flush mechanism seems a little easy to break but with some extra precaution it should last long enough.
Large and ergonomic seat
Elegant and attention-grabbing finish
100% ceramic bowl
360-degree vortex flush
Hand sprayer option included
Plastic flush mechanism
Seat quality is a little wanting

---
6. Porta Potti 92360 - Built for Portability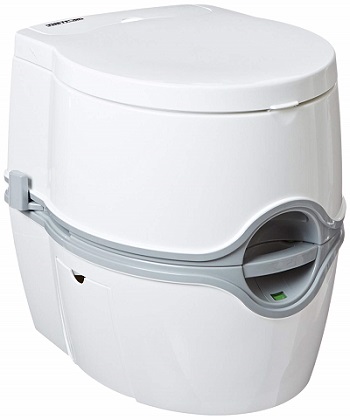 Portable RV toilets are always a great choice, and this is more so if you have a high-quality one like the Thetford 92360550E as you can use them from anywhere in your RV or even outside.
Besides use in your RV, this portable toilet can also be handy on boats, trucks and also when camping. And it is also designed to be completely leak-proof and odorless.
The relatively high freshwater capacity of 4 gallons and 5.5-gallon wastewater capacity mean that this RV toilet will work for up to five people and hence making it great for a family.
It comes in a sleek and modern look to ensure that it will look good anywhere you place it, and it also comes with several great additional features such as an ergonomic carry handle and integrated toilet paper.
There is almost no shortcoming with this portable RV toilet besides the fact that it can be a little awkward to sit on for some tall people, but this only takes some getting used to.
Odorless and leak-proof
Sleek and modern look
Ergonomic carry handle
Integrated toilet paper holder
Easy to use and clean
Can be a little awkward to sit on for tall people

---
7. Palm Springs Outdoor BM300 - Inexpensive and Versatile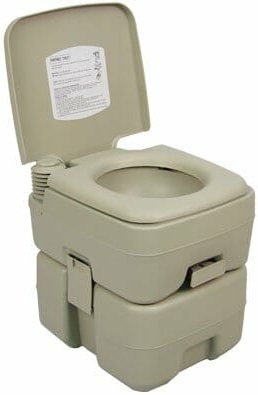 This portable and full-size RV toilet is highly versatile as you can also use it on your boat or when out camping.
Its sturdy and comfortable full-size seat is designed to ensure that you get a great toilet time or at least the same as you would get in a residential toilet.
The toilet has a 3-gallon fresh water tank and 5-gallon waste tank which might not be the largest but it should still be enough for use by at least a couple of people.
This RV toilet is also quite lightweight and relatively compact to make it easy to handle or carry when you need to clean or empty the tank.
Also, this is the cheapest item on our review and comes in a one-piece design with a high-density polyethylene leak-proof tank.
When new, the flush button on this RV toilet can feel a little hard to push but it should become easier as you use it more.
Sturdy and comfortable full-size seat
High-density leak-proof tank
Relatively lightweight and compact
Highly affordable
Flush button can be a little hard to push
A little top heavy

Types of RV Toilet
One of the things that many first time RV owners do not seem to understand is that RV toilets are available in several types and each one has both pros and cons which you need to understand to make the right pick.
The 6 most common types of RV toilets are gravity flush, portable, composting, cassette, macerating flush, and vacuum flush.
1. Gravity Flush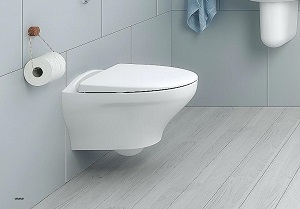 Gravity Flush
The gravity flush toilets are the traditional and most common type of RV toilets. They have been in use for many decades, and so there is enough evidence out there of their effectiveness.
Gravity flush RV toilets will resemble the regular home toilet which is a good feature as it will make you feel more at home even when on the road and going to the toilet is also more comfortable.
However, these types of toilets have to be installed directly over the waste holding tank for them to work well which can be a significant shortcoming in some situations.
Simple flushing method
Reliable and straightforward performance
Does not use a lot of water
Inexpensive
Require direct installation over the waste holding tank
Odor can sometimes be an issue
2. Portable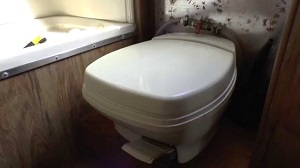 Portable RV Toilet
For those that use relatively small RV's or have a lot of things on the vehicles and hence space is limited, portable RV toilets are the best pick.
These toilets are designed to take up almost no space on the RV, and they come with a small waste tank attached.
If you want to avoid the bad odor, you can also use the portable toilet outside the RV which can be quite convenient when out in the wild.
Highly durable materials
Takes up little space
Lightweight
Usable outside RV
Small waste tank capacity
3. Composting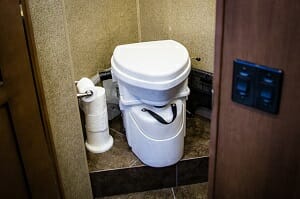 Composting RV Toilets
Composting RV toilets are self-contained which means they do not make use of water for flushing. And so they will be a good option where water supply and dumps are a big issue.
But, what makes this an excellent choice of RV toilet is that it has an ability to separate solid and liquid waste. The solids then turn into compost which explains where they get their name.
It is also possible to use composting toilets outside the RV which adds to their convenience. Also, the design means that these toilets will almost never clog.
Saves a lot of water
Usable outside the RV
Does not produce odor if used properly
Never clogs
Urine tank require more frequent emptying
Relatively expensive
4. Cassette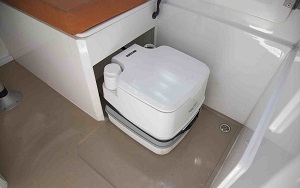 Cassette RV Toilets
Cassette RV toilets are similar to the portable types but the main difference between the two is that they are fixed in place. The waste storage tank is also accessible from outside the RV using a special access door.
With cassette toilets, the type and size of tank that you will get will depend on the toilet type. Like the portable toilets, you will need to get up close with the waste when dumping and cleaning. For many people, this can be quite gross.
These toile types are typically found in smaller RVs such as campervans and caravans.
Takes up little space
Uses relatively less water
Removable waste tank for easy cleaning
Relatively smaller waste tank
Emptying the tank can be quite gross
5. Macerating Flush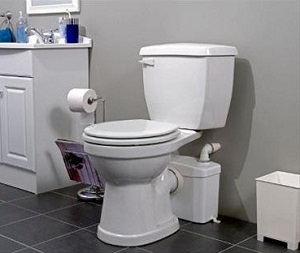 Macerating Flush
RVs with this system will use a rotating blade to mince the waste into a slushy substance before it can proceed to the waste holding tank.
With the macerating toilet system, it is possible to have the holding tank far away from the toilet. And because of the maceration process, the effluent is more fluid to reduce mounding. Reduced mounding means that it will be easier to discharge the waste, and you can do it more thoroughly.
Another advantage of these toilets is that it is much easier to deal with odors because you can have the tanks far away from the toilet. But, some can be quite expensive.
Allows for toilet and tank to be apart
Easier and thorough discharge
No odors
Relatively more expensive
6. Vacuum Flush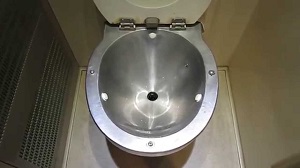 Vacuum Flush
Vacuum flush RV toilets use a vacuum to pull the effluent from the toilet through a stored vacuum vessel and then to the macerating vacuum pump before ending up in the holding tank.
Just like with the macerating flush toilets, the vacuum flush types also make it possible to have the holding tank far from the toilet. And so you can have the toilet virtually anywhere on your RV.
The fact that the mechanism relies mostly on vacuum power, these toilets will generally use little water, and just like the macerating types, managing odor is easier.
Convenient to use
Uses little water
Allows for placement of toilet anywhere
Setup can be a little complicated
Buying Advice: If you prefer something more traditional and water supply and dump sites are not a problem for you, the more affordable gravity toilets should be enough. But if you want something that you can also use outside the RV, portable and composting RV toilets are the best pick.
Vacuum and macerating toilets, on the other hand, are a good buy if you are shopping for something that will not require a lot of water, and will allow you to have the toilet anywhere in the RV that you find most appropriate and convenient.
How to Buy the Best RV Toilets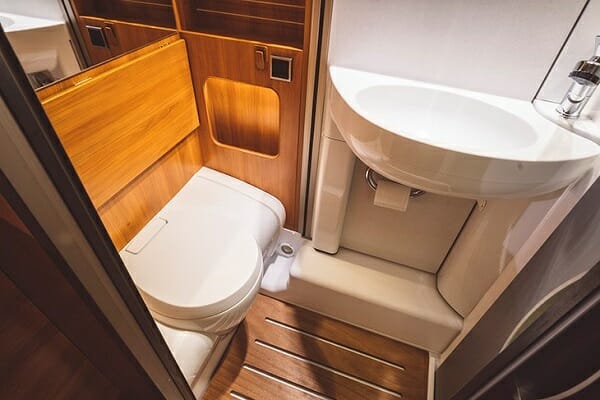 RV toilets are an essential part of your motorhome and they are one of those things that you cannot do without.
However, finding the best one and something that suits your particular situation is even more important. But, this should not be hard as you only need to consider the following vital points.
1. Hygiene
Hygiene should always be the first and most important factor to consider when choosing any type of toilet including the RV toilets.
There are many factors to consider to determine whether a toilet is hygienic enough or not, and key among them is the flushing system.
A good RV toilet should flush well without leaving anything behind or causing accidental spills. In addition to this, a hygienic toilet is one that will not leak and spread bacteria all over the RV.
2. Comfort
Toilet time should be as comfortable as possible, and your choice of RV toilet has a huge effect on this.
The high-profile toilet types are the most comfortable and many users love them because they are easier to stand up from after finishing your business. However, with the best low-profile RV toilets you still get the advantage of easy portability.
Some modern ones will also come with hand sprayers for improved hygiene and comfort while some will have remote flushing to make them easier to use in the dark.
The type of material used to make the seat also determines the level of comfort. While plastic is the most common option, you can also get some cozy wood and ceramic seats that are often more comfortable.
3. Size
It can be disappointing to buy an expensive toilet seat only for it not fit the space that you have on your RV. And so it is always important to consider the size of the toilet before you buy it.
Size becomes an even more important factor for those that use small campervans and other smaller recreational vehicles.
When it comes to size you should know the amount of space that you have and choose an appropriate toilet. Also, make sure that you do not end up with a bowl that is too small and hence uncomfortable to use.
4. Ease of Installation and Use
You need to make sure that the RV toilet you choose is easy to install on your specific model of RV as you do not want to incur an extra cost paying someone to do it for you.
Also, make sure that the toilet is easy to remove in case you want to repair a malfunction or do some thorough cleaning. The easiest RV toilets to install are those that will come with all the necessary hardware and detailed instructions.
The toilet should also be easy to use in the confined RV space. A well-placed flush handle if the toilet uses one is a good way to ensure ease of use. Also, the speed and effort it takes to empty the tank will also affect ease of use and convenience.
5. Additional Features
There are certain features that you will not find in all RV toilets and they might not be very necessary, but are still great and convenient to have in yours.
Features like auto flushing, odor-reducing seals, built-in air freshener and wastewater tank level indicators can be very useful to have in your RV toilet.
6. Price
Different types of RV toilets will come in different price ranges. And the price will differ between different types and brands.
While price is still an important factor to consider when buying an RV toilet, it should always be your last consideration after taking the above factors into account as they are more crucial in determining the experience you get.
Although you do not have to go for the pricey and luxurious toilets, you should avoid the overly cheap ones as they are often made from low-quality materials.
Buy on Walmart
Dometic 320 Series Standard Height Toilet w/Hand Spray, White - Walmart Link
Alpcour Portable Toilet - Compact Indoor & Outdoor Commode w/Travel Bag for Camping, RV, - Walmart Link
Nature's Head Self Contained Composting Toilet with Close Quarters Spider Handle Design - Walmart Link
Aqua-Magic V RV Toilet Pedal Flush / High Profile / White - Thetford 31671 - Walmart Link
Aqua-Magic Bravura RV Toilet with Hand Sprayer / High Profile / White - Thetford 31100 - Walmart Link
Thetford Aqua-Magic V RV Toilet Hand Flush/Low Profile/Parchment 31647 - Walmart Link
Buy on eBay
Dometic 320 Series Standard Height Toilet w/Hand Spray, White - eBay Link
Alpcour Portable Toilet - Compact Indoor & Outdoor Commode w/Travel Bag for Camping, RV, - eBay Link
Nature's Head Self Contained Composting Toilet with Close Quarters Spider Handle Design - eBay Link
Aqua-Magic V RV Toilet Pedal Flush / High Profile / White - Thetford 31671 - eBay Link
Aqua-Magic Bravura RV Toilet with Hand Sprayer / High Profile / White - Thetford 31100 - eBay Link
Thetford Aqua-Magic V RV Toilet Hand Flush/Low Profile/Parchment 31647 - eBay Link
Conclusion for RV Toilet Buyers

RVs are a home away from home, and whether you live in one permanently or use it for your summer road trips, you need to make sure that you have the best RV toilet.
For this to be so, you need to understand the different types and both their pros and cons and consider the important factors highlighted in our buying guide below.
As for recommendations, you can be confident of finding at least one model that will work well for your recreational vehicle from our review above.
RV Toilet Sources
RV Toilet Buying Guide - Dometic
Everything You Need to Know about RV Toilets - The Dyrt