Life on the road can be very exciting, especially if you own an RV. However, at some point, you must take care of some chores such as cleaning your clothes. You might do this manually through hand washing or you may go through the easier option, which is by using a washer dryer.
That said, there is a large variety of these washer dryers and thus, getting a proper one might be somewhat challenging.
This article looks at some of the best RV washer dryers, explaining their features in detail so that you can have an easier time settling down on the perfect one to suit your cleaning needs.
Editors' Picks for Top Rv Washer Dryers of 2021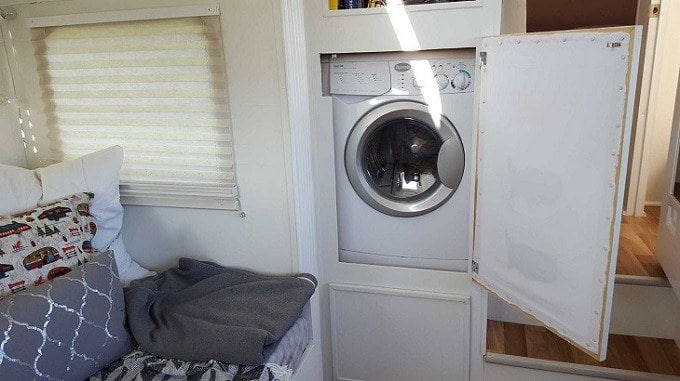 Summary of 7 Best RV Washer Dryers
IMAGE
PRODUCT
FEATURES

1. Della 048-GM-48215 (Best Overall)

Lightweight and portable top load washer dryer
Twin tub with dual function feature
Operates very quietly

2. Giantex EP20313 (Versatile)

Top load twin tub washer dryer
Semi-automatic with adjustable wash and spin times
Large spin capacity poundage

3. Best Choice Products SKY2767 (Fast Spin)

Top load mini twin-tub washer dryer
Fast drying 1300 RPM spin cycle
Quiet motor

4. XtremepowerUS 99801 (Good)

Twin tub top load washer dryer
No plumbing is required before use
Energy efficient wash and drying cycles

5. KUPPET 1040602500#kuus (Best Portable)

Affordable top load washer dryer
Very compact
Clear lid for easy monitoring of the cleaning process

6. LG WM3997HWA (Best Ventless)

Ventless frontload washer dryer combo
Fully automatic with 14 wash programs
Large washing/drying tub

7. Splendide 1316.0992 (Best Vented)

Vented frontload washer dryer combo
13 automatic programs (10 wash and 3 dry)
Bi-directional drum rotation for effective washing and drying
1. Della 048-GM-48215 - Best Overall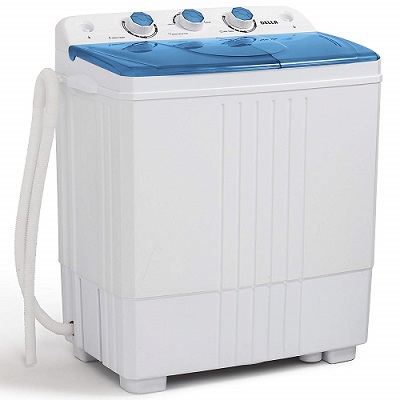 Wash Capacity: 11 pounds
Spin Capacity: 3.3 pounds
Spin Speed: 5-minute spin
Dimensions: 23.5 x 15 x 27 inches
Portability is a key issue when it comes to RVs and Della's 048-GM-48215 takes the best overall spot because it incorporates the concept of portability heavily in its design.
For starters, it is very lightweight. This makes it easy to move from one place to another. It is also averagely sized and thus, does not occupy a lot of space, whether in storage or when in use.
Apart from this, the washer is easy to use because it simply requires to be loaded with clothes, filled with water, set the wash timer then begin washing.
The product has a twin tub with a dual function feature, which means that it can spin wash and spin dry at the same time. It has a transparent lid that enables you to monitor all these from the top, all the while operating quietly on small loads of delicate clothes such as T-shirts and undergarments.
Not good for heavy clothing such as denim trousers and jackets

---
2. Giantex EP20313 - Versatile RV Washer Dryer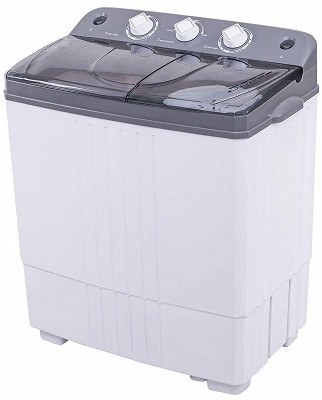 Wash Capacity: 11 pounds
Spin Capacity: 6.6 pounds
Spin Speed: 5-minute spin
Dimensions: 24.8 × 15 × 28.5 inches
Even though automatic washer dryers do everything for you, they might not be flexible enough because everything is preset.
Giantex's portable mini washer dryer is a top load twin tub machine that is not fully automatic and thus, enables you to run some of its functions manually, which makes it very versatile.
For instance, when filling in the water, you have to manually turn off the supply once the washer fills up. This enables you to add the precise amount of water that you prefer washing your clothes in.
This appliance also has a wash and a spin timer that enable you to set your preferred wash time (up to 15 minutes) and spin time (up to 5 minutes), making it more flexible as compared to appliances that have preprogrammed wash and dry modes.
However, it has no drain pump which means that it has to be placed on a high surface so that the dirty water drains outside by gravity.
Might have leakage problems after some time
Lacks a drain pump

---
3. Best Choice Products SKY2767 - Fast Spin RV Washer Dryer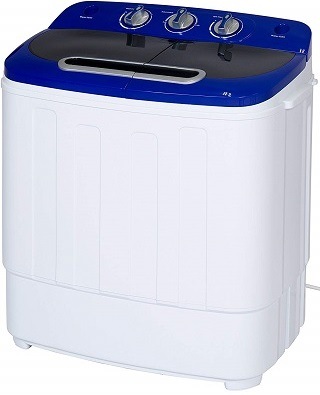 Wash Capacity: 8 pounds
Spin Capacity: 5 pounds
Spin Speed: 1300 RPM
Dimensions: 23 x 13.5 x 26 inches
The strength of this RV washer dryer lies in its drying capability, in which it has a powerful motor that runs at a max speed of 1300 RPM, giving the spin cycle that extra power to clear as much water from your clothes as possible. This motor runs quietly and thus, the machine operates silently throughout.
Just like the two washer-dryers above, this one does not have preprogrammed wash and spin times. This gives you the flexibility to use your own settings, which include setting the wash time (up to 15 minutes) and the spin time (up to 5 minutes).
Other features include a compact and lightweight design, but this also means that it can accommodate fewer clothes in both its wash and spin tubs, which are 8 pounds and 5 pounds respectively.

Can only accommodate a small poundage of clothes on both the wash and spin cycles

---
4. XtremepowerUS 99801 - Good RV Washer Dryer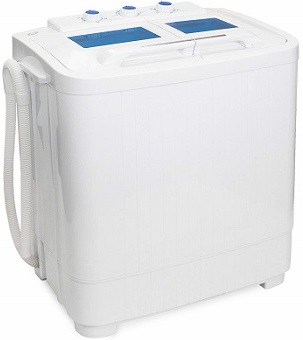 Wash Capacity: 8.8 pounds
Spin Capacity: 4.4 pounds
Spin Speed: 5 minutes spin
Dimensions: 31 x 25 x 16 inches
The XtremepowerUS compact washer dryer has top load twin tubs, with an 8.8-pound washer and a 4.4-pound dryer. In terms of power, the motor is rated at 300 Watts for the washer and 150 Watts for the dryer.
These numbers show that, although the dryer works on half the poundage of clothes, the motor consumes half the power as compared to when it's spinning the washing tub.
This essentially means that cleaning and drying use the same amount of electricity in both cycles, making the process very energy efficient.
The machine has inlet and outlet hoses for bringing in the water supply and removing the dirty water after washing and drying. This makes it easy to use because there's no need for plumbing before installation.
Additionally, it only has 3 clearly labeled knobs on its control panel, making it easy to set and consequently, easy to use.
However, it is meant for washing delicate clothing such as T-shirts and towel and thus, you might have to find another way to clean your denim trousers.

---
5. KUPPET 1040602500#kuus - Best Portable RV Washer Dryer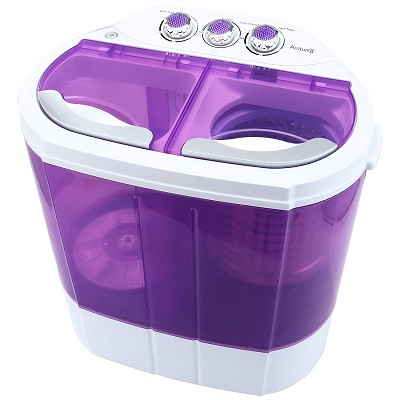 Wash Capacity: 7 pounds
Spin Capacity: 3.3 pounds
Spin Speed: 5-minute spin
Dimensions: 13.8 x 13.4 x 21.5 inches
Kuppet's mini p.w dryer combo is the cheapest as well as the smallest RV washer dryer on our list but that does not mean it is a low-quality product. It is constructed using a high-strength plastic material that makes it very durable.
The plastic is purple in color around the washer dryer's drums and is almost transparent, enabling you to view the washing and drying spinning processes as they occur. The lid is also the same purple-transparent color and this makes it possible to monitor the cleaning and drying process from multiple angles.
This machine has a 240-watt rating for its 10-minute washing cycle and a 120-watt rating for its 5-minute drying cycle. This gives it a total power rating of 360 Watts, which means that it is very energy efficient, though it works on a small poundage of clothes at a time.
Apart from this, the machine is compact and lightweight and can be used in many places, which include dorm rooms, apartments and of course, on RVs.

---
6. LG WM3997HWA - Best Ventless RV Washer Dryer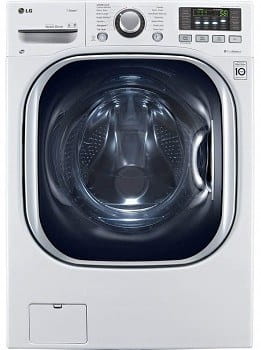 Wash Capacity: 17.2 pounds
Spin Capacity: 8.6 pounds
Spin Speed: 1300 RPM
Dimensions: 27 x 29.75 x 39.75 inches
This LG washer dryer combo is very expensive ventless RV washer dryer that features and an internal heating element with an NSF certified sanitary cycle for drying your clothes in the most sanitary way possible.
With this price though, you get very sophisticated features such as 14 wash programs that completely eliminate the need to carry out some functions manually.
These can all be easily selected from its upfront control panel while the results are displayed on its LED screen, located right next to the selector dial.
The machine has a front loading mechanism and features a 4.3 cubic foot washer tub that also doubles up as the dryer. This can accommodate roughly 17.2 pounds of clothes during both cleaning and drying cycles.
However, it is recommended to half the amount of clothes when drying so that the machine can operate effectively.
It also features a 1300 RPM motor and a TruBalance anti-vibration system that neutralizes the effects of rapid vibrations caused by these fast speeds.

---
7. Splendide 1316.0992 - Best Vented RV Washer Dryer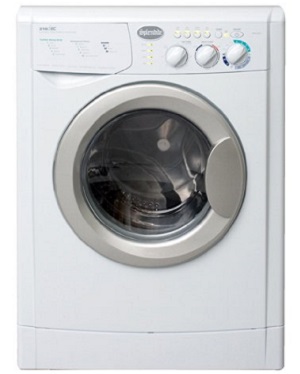 Wash Capacity: 15 pounds
Spin Capacity: 11 pounds
Spin Speed: 1200 RPM
Dimensions: 33.1 x 23.5 x 22.6 inches
The WD2100XC is also very expensive and requires a proper ventilation system to be installed in your RV before use because it utilizes a vented drying system.
However, it is the top-rated RV washer dryer and in terms of operations, it is probably the best-vented washer dryer because of its fully automatic operation, but with several customization options.
Basically, the unit has 10 wash programs, 3 drying programs, and a dry time selector to help you set your preferred wash and dry settings. Additionally, you can also set other options such as low spin, low water temperature, and extra rise so as to fully customize the washing and drying cycle.
The machine features a brushless AC motor that performs super silently while reaching speeds of up to 1200 RPM. This high speed is especially good for drying heavy cotton clothing because they lose more moisture during the spin, enabling them to dry up 20% faster.
The product is designed to work on most types of fabrics and has a bi-directional drum rotation to help improve the washing and drying results while reducing on wrinkling.

Types of RV Washer Dryer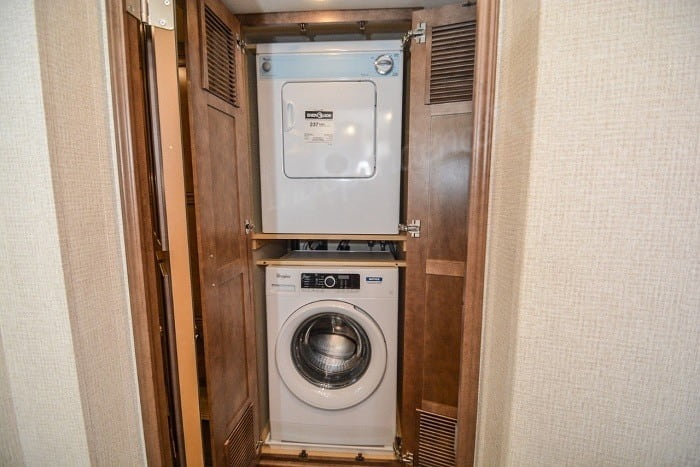 1. RV stackable washer dryer
As the name suggests, this setup includes a dryer stacked on top of a washer, just like you would find in homes.
The problem with this is that they occupy a lot of space and might use up a lot of water and power as compared to combined washer dryer units because they are separate and work independently.
However, they can work on bigger wash and dry loads, and can run simultaneously, saving you more time when doing your laundry.
2. RV washer dryer combo
RV washer dryer combos are very popular because they only have one front-load drum to do both the washing and drying with the help of wash programs.
They can do both operations without requiring your input and are small in size because they are 2-in-1 units. Additionally, such machines are available in both vented and non-vented models, enabling you to pick the one you prefer most.
On the downside, they take longer to wash and dry the same amount of clothes because the operations are done one after the other.
3. Portable RV washer dryer
This type of washer dryer is usually mini sized, which enables it to fit in the tightest of spaces inside your RV.
They usually lack wash programs and are much less sophisticated than washer dryer combos. Their small size also means that they can wash and dry a smaller amount of clothes.
However, they are much cheaper than the combos and some can run both tubs concurrently, enabling you to finish doing your laundry in a shorter time.
How to Buy the Best RV Washer Dryer
z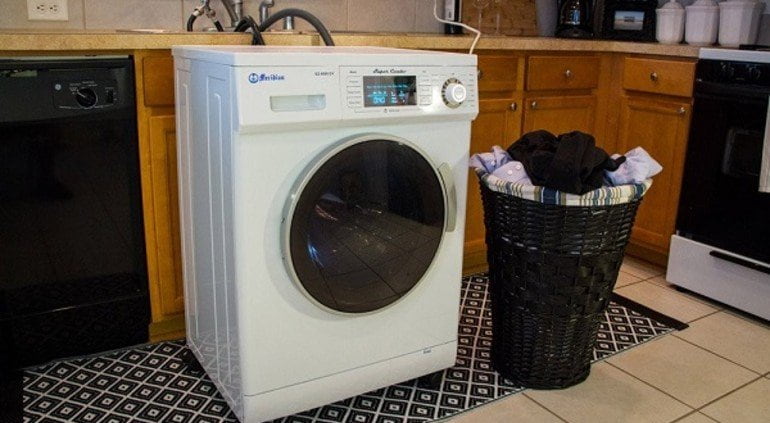 1. Vented or Ventless
Vented washer dryers suck in air from the room, warms it, uses it to dry your clothes then puffs out the moist-filled air as exhaust. This means that before installation, you must build a vent system in your RV to take this moist exhaust outside safely.
Ventless washer dryers recirculate the hot air inside the dryer and thus, do not require an air intake or a vent system to get rid of the moist exhaust.
Generally, ventless dryers take a longer time to dry your clothes as compared to vented dryers but they are more efficient and require less maintenance.
Buying Advice : If you like doing your laundry in as a little time as possible and don't mind installing a vent system in your RV, a vented dryer is the best for you.
However, if you prefer efficiency in terms of low power consumption and low maintenance, go for the ventless dryer.
2. Size
The size of a washer dryer is very important to consider because the appliance should fit inside your RV. Therefore, if you own a small RV (class C), the best one to buy would be a small, portable washer dryer.
However, if you own a bigger class A or class B RV, then you should buy the best stackable RV washer dryer or even the larger washer dryer combos because of their superior cleaning capabilities.
3. Load capacity
Most washer dryers have bigger wash capacities than spin capacities. The combined load capacity (usually given in pounds) means the weight of the clothes that the machine can work on during every cleaning cycle.
Ideally, it is better to buy a machine with a large load capacity because it will wash and dry more clothes during each cycle, which then reduces the number of cycles that you have to run in order to clean all your clothes. This will save on time.
4. Drum
Some machines have top load drums while others have front load drums.
Even though they are expensive, it is recommended to buy washer dryers with front load drums because they are better at cleaning. The tossing and tumbling action that they create by rotating the clothes makes them more effective at removing dirt, including from heavy fabrics.
Top load drums usually clean using an agitator-like mechanism and thus, are best for cleaning light to medium fabrics.
5. Noise level
There is no argument here. Silent washer dryers are better than noisy machines. You should check for features such as a brushless AC motor before buying because such things mean that it operates more silently than other machines.
6. Water and Energy Efficiency
Efficiency is also a big factor to consider. Ideally, a power-and-water efficient appliance is the best one to buy, though it might be difficult to find one that is efficient in both.
However, it is better to buy a water efficient machine because water might be scarce on the road but electricity won't be a big issue once you are plugged into a power pedestal.
7. Wash programs
Wash programs are meant to automate the washing and drying process and thus, require no human input from the beginning of washing to the end of drying.
There are some people who prefer doing things manually and thus, they should buy machines with wash and drying timers instead of wash programs.
However, if you prefer automatic systems, you should buy a machine with multiple wash programs and additional customization settings so that you can set everything at the start and come back once the process is done.
Conclusion
You won't enjoy a trip in your RV that much if dirty clothes continue piling up day after day. The best RV washer dryer helps you save a lot of time and effort by doing the cleaning for you.
In order to get the best one, this listing of the best performing RV washer dryers will certainly go a long way in helping you find the most suitable one for your cleaning needs.