Recreational vehicles or RVs, offer you the freedom of traveling and living in your very own private space but it doesn't guarantee safe drinking water along the way, so an RV water filter becomes a necessity.
RV water filters are specially designed for compactness and efficiency, unlike standard under sink water filters, where space is usually not a problem.
There are also different types of water filters, from sediment removers to odor and taste filters. You can also install water softeners that improve hard-water by reducing the water's mineral levels.
In this RV water filters review, you get a list of the top filters in the market for your reference, plus a helpful buying guide to help you make the right choice.
Top Rv Water Filters of 2021 by Editors' Picks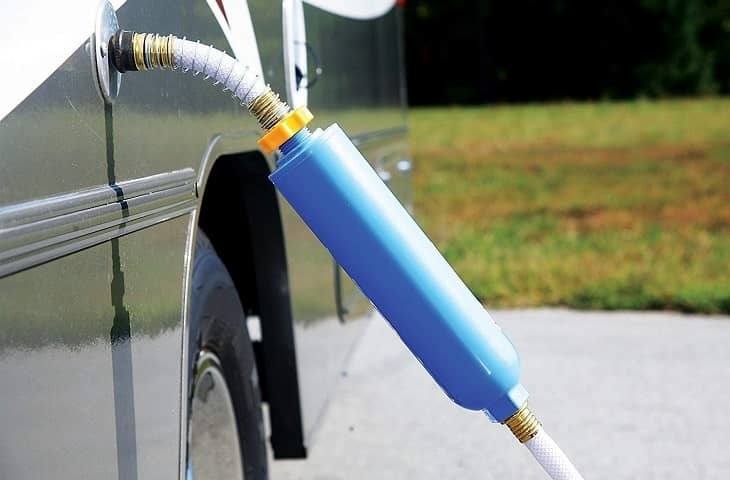 Summary of 7 Best RV Water Filters
IMAGE
PRODUCT
FEATURES

1. Camco 40045 TastePURE (Best Overall)

High flow rate RV water filter
Uses KDF and carbon filtering
Removes metals, fungus, odor, & bacteria

2. Camco 40631 EVO

RV water filter with polypropylene cartridge
5-Micron barrier with KDF and carbon granules
Package includes connecting hose & filter replacement

3. Culligan RVF-10

Compact RV water filter with replaceable cartridge
D-15 replacement cartridges rated at 250 gallons
Backed by a 5-year warranty

4. Clearsource Filter

2-stage premium filter delivers pristine water
Each stage features a 5-Micron filter
Comes with a metal chassis
Delivers an impressive 6.5 gallons per minute

5. Culligan RV-800

KDF and carbon filter with anti-bacterial
Rated to last up to 2,000 gallons
The package includes a 12-inch hose

6. Aqua Crest AQU-RV2

In-line RV water filter is easy to install
Removes Arsenic, Chlorine, Fluoride, & heavy metals
Offer is for a pack of 2 filters

7. Hydro Life HL-200

Exterior filter kit for RVs, boats, and trailers
Uses granular activated charcoal (GAC)
Includes KDF for bacteria control
1. Camco 40045 TastePURE - Best Overall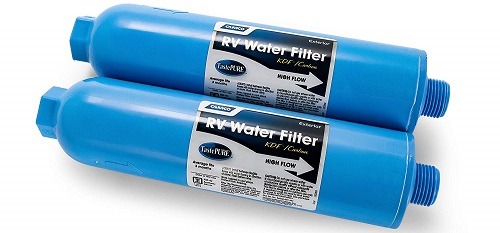 Micron Rating: 20 Microns
Material: KDF and carbon
Camco is a popular RV parts brand because it makes good products, so if you're looking for the best RV exterior water filter you can lay your hands on, then here's an offer to check out.
The in-line design offers a high flow rate with its 20-Micron rating. It removes an extensive range of contaminants including bacteria, sediments, chlorine, Aluminum, heavy metals, and lots more, thanks to its KDF and carbon filtering technology.
For its downsides, Camco offers different packages. So, you can either get a package of 1 filter and a hose or 2 filters without a hose. It's also a temporary filter, so it comes with a 3-month average lifespan.
On the brighter side though, it delivers a high volume of clean drinking water from any conventional tap and if you're not satisfied with the flow rate, you can always opt for the extra-large filter.

---
2. Camco 40631 EVO RV Water Filter

Micron Rating: 5 Microns
Material: Polypropylene, KDF, carbon
Here's another Camco RV water filter but this one features a replaceable cartridge, making it a longer-term filter than the other 3-month temporary filter.
You'll still need to change the cartridge though, and they come at a cost, but you get a more stable filter with this offer, which is especially great if you want to install it permanently in a particular place.
For downsides, this filter costs more than the temporary models, plus it's rated 5 Microns, which means it has a slower flow rate than the 20-Micron models.
Camco includes an extension hose and an extra cartridge in this offer, although you'll need to buy the mounting brackets separately if you need it. This filter easily attaches to any standard tap or hose connection.

---
3. Culligan RVF-10 RV Water Filter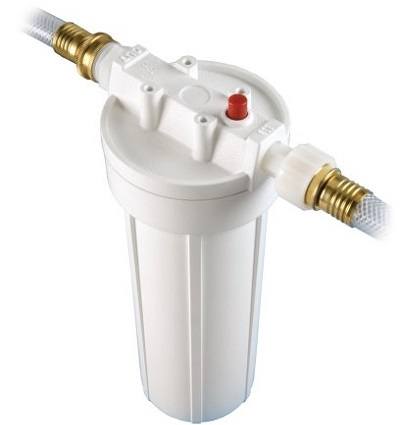 Micron Rating: 5 Microns
Material: Carbon
Culligan also makes one of the best RV in-line water filters with this RVF-10 offer. The filter uses a replaceable cartridge to filter out contaminants and deliver safe drinking water.
It will remove sediments, odor, tastes, and Chlorine from the water using its carbon-impregnated 5-Micron cartridge filter. You should keep in mind, however, that 5 Microns means a slower flow rate.
Another con is that this filter lacks other filtering agents, so it won't filter many metals and chemicals, and you'll need to remove the cartridge when not in use, to dry it and prevent bacterial growth.
The package also includes a hose installation kit, but without a hose. Its D-15 cartridge has a 250 gallons or three months rating, and Culligan backs the package with a 5-year warranty.

---
4. Clearsource Water Filter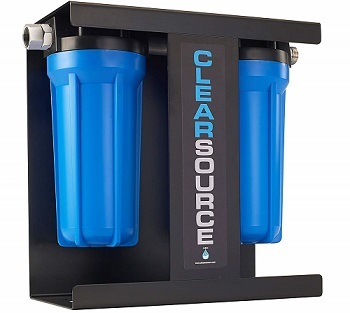 Micron Rating: 5 Microns
Material: Carbon and sediment filters
For those times when money and space are not a problem, one might decide to simply get the best RV water filtration system in the market, and you're looking at it right here.
It comes with a dual-stage filtration system that passes the water first through a 5-Micron sediment filter membrane before passing it through a second activated carbon membrane.
In the end, you get pristine drinking water that's free of cysts, Chlorine, giardia and lots more contaminants at an impressively fast rate of 6.5 gallons per minute.
The only problems are the high price of the unit and the larger space that it takes up, but if you want the best, then you've got to pay.

---
5. Culligan RV-800 Carbon Filter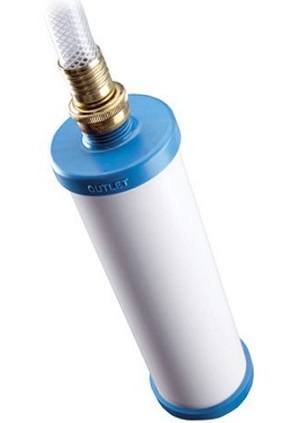 The Culligan RV-800 is another top-rated and permanent water filter that uses replaceable cartridges. It features KDF and Carbon filtration to cut down on an extensive range of contaminants.
It reduces chlorine taste, water odor, and sediments, plus it's also anti-bacterial, which means it hinders bacterial growth and doesn't need you to dry the cartridge when not in use.
You can easily fit it into standard hose fittings and the cartridge has an impressively long 2,000-gallon lifespan, making it one of the best RV water filters out there. It's NSF certified and Culligan backs it with a 5-year warranty.

---
6. Aqua Crest AQU-RV2 Water Filter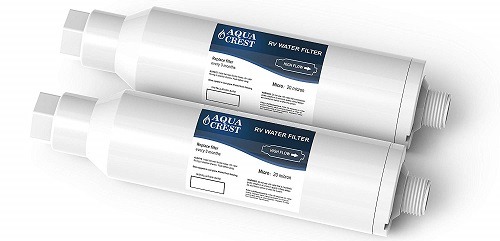 Micron Rating: 20 microns
Material: GAC & KDF
This Aqua Crest AQU-RV2 offer features a set of two multi-stage filters designed to produce the best drinking water possible. Both filters are in-line and easy to install, and this allows them for other uses like gardening and car washing.
You get a blend of different filtrations materials, including GAF, KDF, and others. They then combine to remove an extensive range of contaminants, including heavy metals, Chlorine, Fluoride, and Arsenic.
The downside is that each filter comes rated to last at most about three months, but that's more on the lighter use side. With heavier use, they'll surely last way less than that. There's also no included accessory in the package.
On a brighter side though, it's a top-rated RV water filter that's offered at an affordable price, plus it interchanges easily with Camco's 40045 TastePURE filters.

---
7. Hydro Life HL-200 RV Water Filter Kit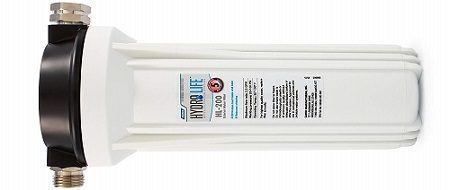 The Hydro Life HL-200 is also one of the best RV water filters in the market, with its unique feature being designed for exterior use and this includes permanent installation.
In addition to that, the filter features GAC (granular activated carbon) to offer a superior level of filtration beyond what standard carbon filters can offer.
You also get KDF media to give the filter an extensive range of contaminant removal, including bacteria, odor, bad water taste, heavy metals, and lots of chemicals. This makes the HL-200 one of the best RV water filters available.
For cons, it has a low flow rate of just 2.5 gallons per minute and it costs more than regular RV water filters, but if want the high-quality water produced by GAC, then it's probably worth it.

How to Buy the Best RV Water Filter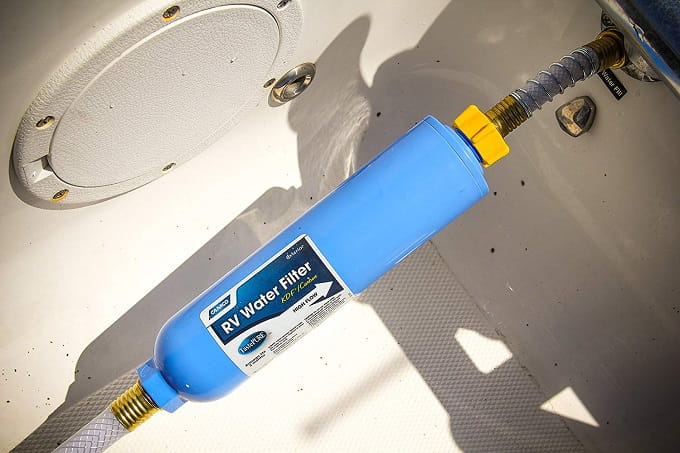 RV water filters are special devices, so you'll need to understand their specific systems and technologies, to make an informed decision when making your choice.
There are different RV water filter types and they also use different filtration methods. There are also many similar technologies and specific terms that you'll need to understand.
All these important factors are below for your convenience.
1. Types of RV Water Filters
The first thing you should understand when it comes to RV water filters is the different filtration types available. These different types come as a result of the different materials used in producing the filters and the natural properties of these materials.
RV water filters come under three groups, namely sediment filters, activated charcoal filters, and ceramic water filters. Here's a look at each type of filter.
Sediment Water Filters. This is the oldest and most basic filtration system you'll find. It simply needs water to flow through a series of small particles that get stacked together and thereby rid the water of its impurities in the process.

If all you need is a simple filtration of your RV water, then a sediment filter can do the job, but as you can imagine, their success depends on the size of the sediments, as well as the depth of the sedimentation.

Activated Carbon Water Filters. This type of water filter also filters water using the same principle as sediment filters, but they do much more than that.

With an activated carbon filter, you'll additionally get rid of bad tastes and smells in your water, thereby improving its overall quality. They also filter lots of heavy and harmful metals, as well as volatile organic compounds that are often found in low-quality water.

Ceramic Water Filters. This type of filters use very fine ceramic as their filtration barrier and are very good at removing sediments and micro-organisms like bacteria.

Where ceramic filters fail is when it comes to chemical contaminants like chlorine and lead. They can't handle these chemicals that activated charcoal filters handle very well, so you'll often see a hybrid ceramic and activated charcoal filter that does the job perfectly.
2. The Water You Want to Filter
Also worth consideration is the water that you plan on filtering. You need to consider the amount of water that you need to get filtered and then plan on a capable filter system.
You'll also need to consider the type of water that you're filtering, as well as how clean you want the clean water. If you're filtering dirty water with sediments, for instance, then you may want to invest in a sediment filter that filters all the water in your RV.
If you want only the best drinking water on the other hand, then you'll want to consider a filter that removes biological and chemical contaminants as well.
Another possibility is installing a general filter for the entire RV and then a specific filter for high-quality drinking and cooking water. The final decision here, however, is all yours.
3. Micron Rating
Most of the RV water filters that you'll find come with a micron rating and it's important that you understand what it means. A micron is a micrometer and equal to a millionth of a meter.
A filters micron rating tells you how small its holes are and this is important because smaller holes filter more contaminants, although they may work slower than filters with larger holes.
4. Size
This one is on an individual basis because you need a filter that fits the water needs of your RV. Remember that a larger filter produces more water flow, while a smaller filter produces less water.
There's no single answer here, except that you should get the largest filters that can fit into your rig because the water flow slows down with time due to sedimentation. You'll need to clean out the filter or replace it at one point.
5. Ease of Installation & Use
You'll be changing your water filter after about 3 months, so you need to consider getting a water filter that's both easy to install and to use, for your convenience.
6. Brand & Price
Top brand products may seem to cost more but they often offer better value than cheaper products. Here, it's left for you to find your balance between brand, price, and quality.
Read More: 10 Best RV Water Pumps
Conclusion
We've reached the end of this RV water filters review and you've seen the interesting offers out there, from the affordable in-line water filters to the premium dual-stage ones.
As stated earlier, the turn is now yours to choose a water filter that both fits into your rig and your budget.