Whether you use your RV for family road trips over the summer or you are part of the ever-increasing population of permanent RV residents, you need to take good care of your motorhome. And one of the best ways to do this is by buying the best RV wax.
RV wax is designed to not only improve the look of the RV and give it a shine but also to prevent oxidation, offer UV protection and minimize the accumulation of dirt and debris.
However, before you go out to buy one for your vehicle, it is important to note that they come in different types and not all will be ideal for your motorhome.
Below we highlight the important things that you need to consider when choosing RV wax. But first, check out our review of 7 top-rated RV waxes.
Editors' Picks: Top Rv Waxes of 2021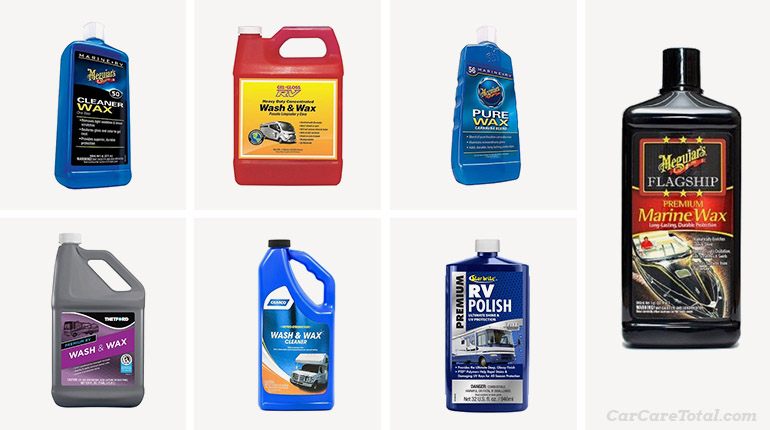 Summary of 7 Best RV Waxes
IMAGE
PRODUCT
FEATURES

1. Meguiar's M6332 (Best Overall)

Quantity - 32 fluid ounces
Enriches the color and shine
Removes light oxidation
Ideal for a variety of uses

2. Meguiar's M5032

Quantity - 32 fluid ounces
Non-abrasive formulation
Removes scratches and oxidation
Easy one-step application

3. TR Industries WW-128

Quantity - 128 fluid ounces
Safe and easy to apply
Does not remove previous wax application
pH balanced and biodegradable

4. Meguiar's M5616

Quantity - 16 fluid ounces
Long-lasting UV protection
Applicable by both hand and machine
Fantastic gloss

5. Thetford 32517

Quantity - 128 fluid ounces
Ideal for a variety of uses
Non-abrasive and biodegradable
Pleasant and protective shine

6. Camco 40493

Quantity - 32 fluid ounces
Waterproof beading action
No buffing required
Highly affordable

7. Star Brite 75732

Quantity - 32 fluid ounces
Highly resistant to fading and stain
Applicable over old wax/polish
Superior shine and UV protection
1. Meguiar's M6332 - Best Overall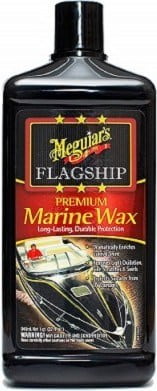 Versatility is what makes Meguiar's M6332 stand out as you can use it to clean and polish a variety of things from your RV and car to fiberglass boats.
The formulation of this easy to use wax will offer long-lasting protection to your vehicle and a deep gloss for various kinds of surfaces.
Also, it will offer maximum UV protection and also slows down paint job wear significantly. Provided you apply it well and use sufficient product, you can be confident of getting an enriched color and shine.
It is also quite convenient to apply because you can use either a polisher or hand pads depending on what you find most convenient for you. And although removing it takes some extra elbow grease it is still easy enough.
Takes a little more effort to remove

---
2. Meguiar's M5032 Wax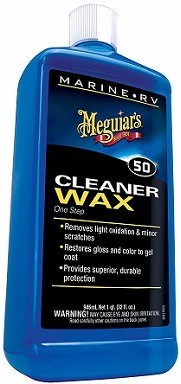 Meguiar's M5032 is a top-rated RV wax that many users will always be happy with the results they get when using it.
While you can use it on various surfaces, it is our best RV wax for fiberglass as it is non-abrasive and will clean the surfaces quickly and offer long-lasting protection.
The RV wax will remove light defects like oxidation and minor scratches and swirls. And it also restores your recreational vehicle's color while also giving it an appealing gloss.
With the superior and long-lasting protection that this RV wax offers, you will not have to worry about leaving it out in the sun for extended periods.
Besides being one of the best RV waxes with UV protection, its application is also safe and versatile as you can use your hands, polisher or even the rotary buffer.
If you have decals on your RV's body, this wax might not work very well, but for other body sections it does an excellent job. And while it might not have as much shine as others on our list, that is not what it is meant for.

---
3. TR Industries WW-128 Wax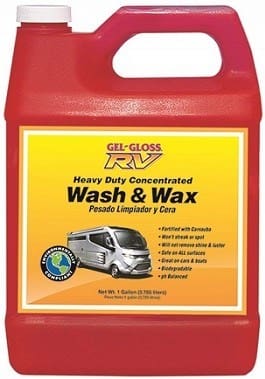 The Gel-Gloss RV wax is designed to clean and wax your recreational vehicle in just one step, and so you will not need to waste a lot of time trying to clean your motorhome.
It is designed not to remove any wax that you might have applied before, and it is also formulated with carnauba wax for an even greater protection.
With this wax, you will never have to worry about leaving your RV with water spots or annoying streak that is often the case with many other wax types.
For a gallon of wax, it is also quite economical and also a great buy for those that have larger motorhome as there will be more than enough product in the container to ensure great value for money.
For the environment-conscious RV owners, this is a good pick as it is biodegradable and pH balanced. Also, this is generally easy to apply and a safe product.
Removing black streak from your motorhome might be a little hard with this RV wax but with a little patience and elbow grease you should at least remove most of them.

---
4. Meguiar's M5616 Pure Wax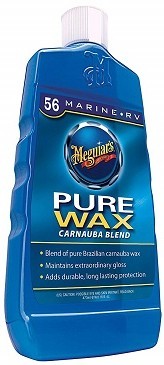 The blend of carnauba wax and polymers is what makes the Meguiar's M5616 a top notch quality RV wax as it will always leave the vehicle with an impressive gloss and offer long-lasting protection.
It also offers maximum UV protection thanks to the choice of ingredients, and so you will not have to worry about leaving your RV out in the elements.
The application is straightforward and you can do it with either your hands or using a machine. And it is designed to be safe and effective on fiberglass, gel coat, and various other surfaces.
This wax will work on almost any RV but it seems to produce the best results when used on dark colors and clear coated metal.
Wiping off this wax could be easier but it is also not that hard and will not take a lot of effort or too much of your time.

---
5. Thetford 32517 Wax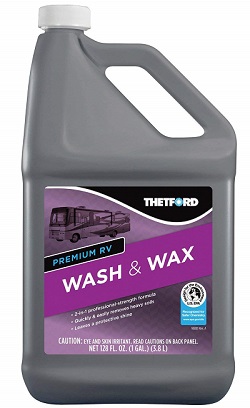 Thetford Premium wax offers one of the best values in our RV wax review as it is a 1-gallon product that comes at a decent price tag.
It is a versatile RV wash and wax designed for use on various surfaces and will be handy for everything from cars to boats.
Because it is a non-abrasive product, you will also never have to worry about scratching your RV's surface and it is biodegradable to make it even safer.
Also, the finish that you get is very pleasant as it will be non-oily, anti-static and water repellent. And you will always end up with a pleasant shine after every application.
If you have an RV with an expensive paint job, decals or clear paint, this wax should offer more than enough protection.
Black streaks also seem to give this wax a hard time like most others out there but it will do a much better job at removing them than most others out there.

---
6. Camco 40493 Wax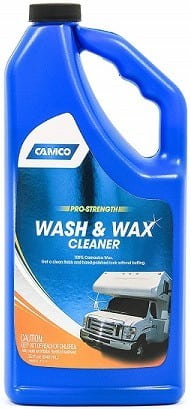 A high-quality wash and wax like the Camco 40493 is always very convenient as it will help with both cleaning and waxing the vehicle.
This RV wax is designed to ensure that you will not need to do any buffing and it will always leave your vehicle with a clean and shiny look.
Another element that many users will love is that it can work for and is safe on almost any vehicle finish, and you will never have to worry about scratches as it is not abrasive.
With this wax, you will also get the water-repellent beading action that you get from the tedious hand waxing jobs. And while it might struggle with tough stains, for regular cleaning and polishing jobs it works amazingly well.

---
7. Star Brite 75732 RV Polish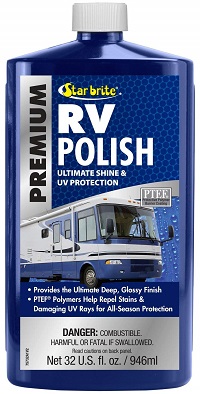 For a 32 ounce bottle, this Star Brite wax is a little pricey when compared with other options in the market, but it is worth it as it will also be a highly useful polishing agent.
The formulation makes it highly resistant to staining, and this is thanks to the polymers that will bond to the surface to keep out dirt, grime, and the annoying greasy stains. By doing these the polymers help to make cleaning faster and easier.
This RV wax also repels the harmful UV rays and is also applicable over your old wax or polishing which can be a very convenient property.
When compared to many other wax types out there, it will deliver some more long-lasting and superior results. And it is also relatively easy to apply both by hand and buffer.
For a 32-ounce bottle it is just a little pricier and this is more so when compared to others on our RV wax review. However, its quality and the results that it produces make it worth the extra bucks.

How to Buy the Best RV Wax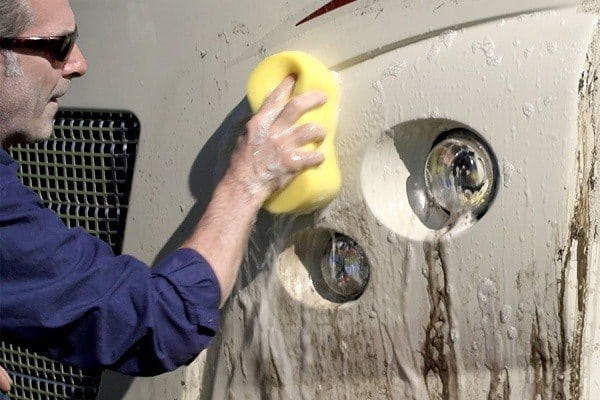 The many brands and types of RV wax out there can overwhelm even RVers that have been using these products for ages.
And to make things even more confusing, more products are always coming into the market with all manufacturers claiming that their waxes will offer the most benefits.
However, to pick the right product for your recreational vehicle, you need to consider the following things.
1. RV Material
RVs are made from different materials, and so the right RV wax for you will depend on the particular material that you want to maintain.
The most common materials are fiberglass, gel coat, corrugated aluminum, and bare/coated aluminum.
Whether you are looking for the best wax for aluminum siding or fiberglass roof, it is important to note that each of these materials has different properties, and so using the wrong wax can cause damages.
And so it is important to understand what your motorhome is made of and choose the appropriate product.
2. Abrasion
Most waxing products are abrasive which means they contain small particles that can scratch surfaces. But what matters is the degree of abrasiveness.
Dark-colored RVs often show scratches easily, and so if you have one you should be very careful with the abrasiveness of the wax that you buy.
Luckily, it is easy to tell just how abrasive a wax is before you buy it by looking at its hazing and scratch scores which many manufacturers will indicate on the package or on their website.
Low scores mean that the wax is more abrasive, and so more prone to scratching your clear finishes and coating.
3. Durability
While it is important to take good care of your recreational vehicle and do it regularly, you will not always have time or resources to wax it every other weekend.
And so when buying an RV wax you should make sure that it will last long enough on your vehicle. Manufacturers that are confident with the quality of their wax will even indicate the durability that you should expect.
If there is not enough information from the manufacturer on the durability, you can use customer reviews to determine whether the wax will last long or not.
4. UV Protection
An RV spends almost all its life outside where it is at the mercy of the elements. Sun rays can cause serious damages to the exterior surface over time, and so your wax should offer some UV protection.
When buying wax you should make sure that it can offer high-quality UV protection as this will help your vehicle maintain its natural color for long. And this is more so if you have a fiberglass exterior as it does not do very well under the sun.
5. Ease of Application
Even if you own the smallest RV type, there is still a lot of surface area to wax, and so the product that you choose should be straightforward to apply.
Spray wax types are the easiest to apply but they also do not last very long and will not provide very good results for old RVs.
The types that come in a container, on the other hand, take a more hands-on approach, but they can also be easy to apply with a little practice and if you follow the manufacturer's directions.
6. Versatility
Driving an RV means that you will be visiting different places with different climates, and so your choice of wax needs to be versatile enough to withstand the different conditions.
Although you still need to use special products to protect your RV during winter or summer, it would still be great to have wax that is versatile enough for use in any season.
Versatility can also mean that you can use the wax on any type of RV or vehicle surface which can be quite convenient for individuals that would like to be able to use the products on their other vehicles or boats.
7. Safety
A good RV wax is one that is safe for your recreational vehicle's surface. Besides not being overly abrasive and causing scratches, it should also not cause discoloration.
The wax that you choose should also not contain other harsh chemicals that might be detrimental to your health when you inhale them or affect your skin in case you touch them when waxing.
And you can also not overlook the environmental impact of the wax that you buy, and so it is always good to go for something environmentally friendly.
Conclusion
Waxing provides one of the best ways to clean and polish your RV so that it always looks neat and to maintain its paint job for long.
There are also many benefits of waxing such as UV protection and stain removal, and to get them you need to choose the right wax by considering factors like your RV material and ease of application.
And you do not need to look far and wide as our review above provide some great recommendations.
Lastly, also keep in mind that waxing is not a cure for a worn out or faded paint job, but it can help you maintain your RVs sheen and glow.