There are different types of waxes you can use to coat your car, and carnauba wax is just one. Carnauba wax comes from the fronds of a Brazilian palm tree, and it offers many advantages over others when using it for car detailing.
With the best carnauba wax, your vehicle gets a deep, wet look, with an attention-grabbing gloss that any motorist will love. What's more, it protects the vehicle surface from surface scratches, humidity, UV rays, and other contaminants.
However, carnauba wax is available in different forms and formulas, making things a little confusing for the first-time buyer. But, in this carnauba wax review, we provide a list of the top offers in the market and a buying guide to help you make the right choice.
Editors' Picks for Top Carnauba Waxes of 2021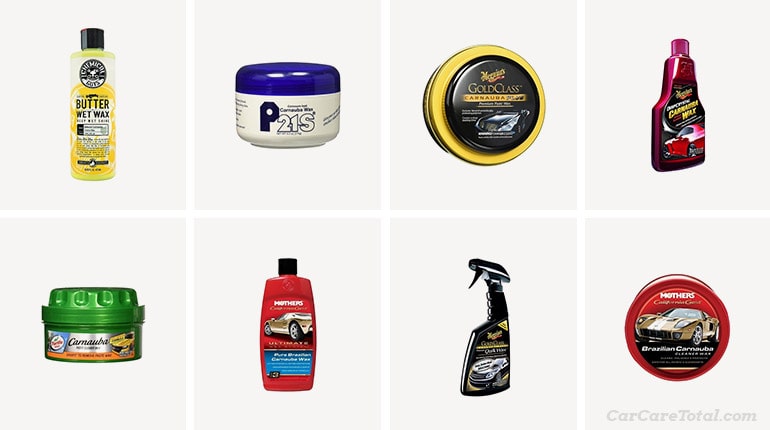 Summary of 7 Best Carnauba Waxes
IMAGE
PRODUCT
FEATURES

1. Chemical Guys WAC_201_16 (Best Overall)

100% carnauba based wax
Leaves a deep wet shine
Superior UVA & UVB protection
Easy on & off

2. P21S 12700W (Best for the Money)

Good value for a paste wax
Deep & impressive shine
No powdering when rubbing
Contains no additives, dyes, or preservatives

3. Meguiar's Gold G7014J (Best Paste)

Paste wax leaves a high shine
Offers long-lasting protection
Clear-coat safe

Versatile & easy to use

4. Meguiar's A2216 (Easiest to Use)

Quick & easy to apply
Uses top-grade carnauba wax
Brilliant gloss & shine

5. Turtle Wax T-5A (Best with Tropical Scent)

Pleasant tropical scent
Effective micro-polishing agents
Provides durable & water-repellent finish

6. Mothers 05750 (Best Liquid)

Pure liquid Brazilian carnauba wax
Non-abrasive formula
Leaves no stains or residue

Deep shine & long-lasting protection

7. Meguiar's G7716 (Best Spray)

Easy-to-use spray bottle
Clear coat & sun-safe formula
Does not leave any wax residue
1. Best Overall: Chemical Guys WAC_201_16

Size: 16 fluid ounces
Type: Liquid Wax
With the 100% carnauba-based formula, the Chemical Guys WAC_201_16 is our best overall product as it provides a superior quality wax coating that cleans and protects the surface more effectively. The wax also allows for easy on/off to ensure the application is more effortless.
This improved blend includes resins and polymers that will leave a deep wet look that keeps your car looking fresh and just-washed.
You can use this carnauba wax on other vehicle parts as well, including glass, chrome bumpers, exhaust tips, and painted wheels.
Other features include protection from both UVA and UVB sun rays. Therefore, it helps prolong the service life of the car's paint job.
For the downsides, it does not seem to do an excellent repelling rain, but for other elements like the sun, it does an amazing job. While this wax could be more long-lasting, applying another coat takes less time and effort, hence not a big deal.

---
2. Best for the Money: P21S 12700W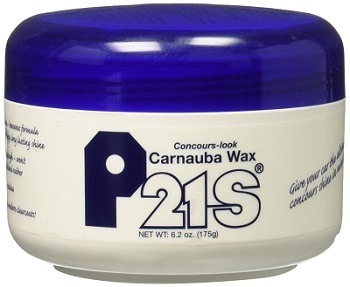 Size: 6 fluid ounces
Type: Paste Wax
If you are looking for the best carnauba paste wax but want to be sure you will get good value for your money, the P21S 12700W is an unbeatable choice. For its price, it offers fantastic results and also lasts quite long.
The P21S 12700W is a mix of carnauba wax and beeswax that has a lot to offer. Key among its impressive attributes include that it does not streak when buffing and will not leave white stains on the rubber or plastic parts.
Once applied, this carnauba wax provides a very impressive and deep enough shine that makes the vehicle surface look all new. Other impressive traits are that it does not include additives, dyes, or perfume.
While this carnauba wax can be a little greasy, this is an easy problem to fix with a little buffing and should not be a deal-breaker.

---
3. Best Paste: Meguiar's Gold G7014J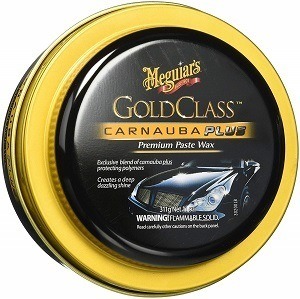 Size: 11 fluid ounces
Type: Wax Paste
Meguiar's Gold G7014J is a fantastic paste wax for car detailing that will ensure you get a more impressive shine. The luxurious blend that incorporates carnauba wax and various polymers will provide long-lasting protection for the vehicle surface.
You can apply this wax paste on various surfaces as besides being versatile, it is safe for different finishes, including clear coats.
The wax is additionally smooth-gliding and easier to use than most conventional wax pastes. You can apply it either by hand or orbital polisher, which makes it even more convenient. Better yet, it comes ready to use with a soft foam applicator.
Downsides include its relatively higher price tag, and the inclusion of petroleum distillates in the formula. However, the price reflects its superior quality, while the distillates should not be a big concern if you use the product responsibly.

---
4. Easiest to Use: Meguiar's A2216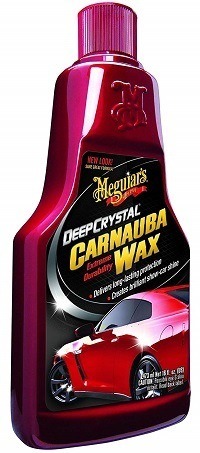 Size: 16 fluid ounces
Type: Liquid Wax
If the Meguiar's paste waxoffer above is a bit old-school for you and you want something easier to use but maintains the same high level of show-car shine, the Meguiar's A2216 liquid wax is a perfect buy.
The liquid form makes this one of the easiest carnauba waxes to apply on our list, but there is still much more to it than this. It uses the deep crystal carnauba wax formula that ensures it offers long-lasting protection and an impressive showroom-quality gloss.
This Meguiar's A2216 carnauba wax also offers your paint-job protection from the sun's damaging effects, and the smell is much pleasant when compared to others out there.
Unlike the pure wax pastes, liquid formulas offer a less effective cleaning action, but this should still do a good enough job. There are also no accessories in the package, but this is hardly a significant concern given the price.

---
5. Best with Tropical Scent: Turtle Wax T-5A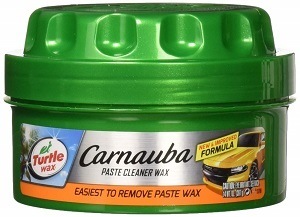 Size: 14 fluid ounces
Type: Wax Paste
The Turtle Wax T-5Aoffers a highly pleasant tropical scent that will leave the vehicle surface smelling amazing long after waxing.
Besides the pleasant scent, the formula also includes micro-polishing agents that help remove scratches, scuffs, and swirls to leave the surface looking even more appealing. Better yet, it provides UV protection to help maximize your vehicle paint job's lifespan.
The finish you get when using this wax is long-lasting to minimize the reapplication frequency and is water-repellent to ensure you can drive in any condition with no worries.
You should note that you need a little elbow grease to apply this wax and that it's not recommended for use on wood, vinyl, and flat paints. But, these minor concerns should not be the deal-breakers.

---
6. Best Liquid: Mothers 05750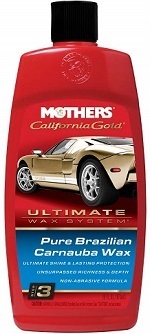 Size: 16 fluid ounces
Type: Liquid Wax
If you prefer the convenience of liquid carnauba wax, the Mothers 05750is the ideal product for you. What makes it such a special product is that besides being easy to apply, it is made with Brazilian yellow carnauba to ensure you get superior results.
It features a completely non-abrasive formula, which means you can use as much as you like without worrying about scratching or wearing out your paint-job.
The formula will deliver an impressive shine and last long enough to eliminate the need to keep waxing your vehicle now and then. When using this wax, you will never have to worry about stains or unsightly residue as it does not leave any.
The smell is perhaps the most significant drawback for this carnauba wax, but it should not be a big deal since this does not affect the effectiveness. Also, it dissipates quickly enough after application.

---
7. Best Spray: Meguiar's G7716

Size: 16 fluid ounces
Type: Spray Wax
The convenience of the Meguiar's G7716 is unbeatable as it comes in a spray bottle that makes application a breeze. This bottle is designed to provide an easy grasp for a more comfortable application. Also, the spray bottle makes it easy to control the amount you use.
Meguiar's G7716 has a clear coat friendly formula and will be safe on all glossy paint surfaces. Because the formula is sun-safe, the wax is ideal for black cars as it makes the color look even darker.
This formula leaves no wax residues. Better still, if you buff well, you never have to worry about leaving unsightly streaks behind.
While this product seems a little hard to remove compared to others on our list, you should still be able to remove most with a little extra muscle grease. It will also not give you the same protection level as paste wax, but it makes up for this with quick and easy application.

How to Buy the Best Carnauba Wax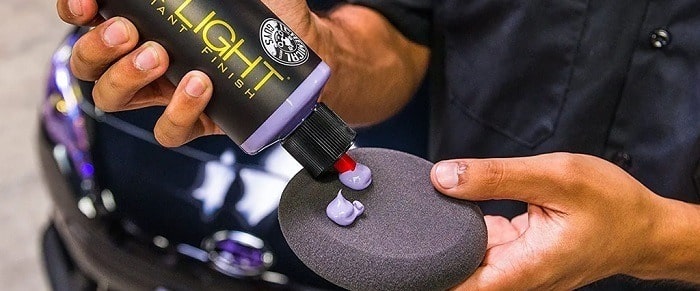 1. Compatibility
There are two major considerations when it comes to carnauba wax's compatibility with your vehicle. The first consideration is the car's color, and the second is the surface type.
Beginning with your car's color, you should note that some carnauba formulations work better on lighter colors like white and yellow, while others work better for darker colors like purple and black.
When it comes to the surface, you need to consider whether you will apply the wax on painted surfaces, fiberglass, gel coat, or clear coat as some are for specific surfaces only.
It is important to match the wax to the surface, but if you are not sure, go for something that suits multiple surfaces like Mothers 05500.
2. Type of Carnauba Wax
You can divide carnauba wax types into three major types.
Spray Carnauba Wax. As the name suggests, this wax comes in a bottle with a spray head, making it easy and convenient to apply. Given its nature, however, it offers the thinnest possible coating among the three types.

Spray carnauba wax like the Meguiar's G7716 is ideal for new vehicles that still have their finishes in top condition. A quick spray is all you need to leave the surface looking shiny and fresh.

Liquid Carnauba Wax. This type of wax needs more work to apply than the spray type, but it also offers better durability, protection, shine, and gloss.

Compared to paste wax, however, liquid carnauba wax offers less shine and gloss. Liquid waxes such as the Mothers 05750 are great for most cars older than 2 years but less ideal for old-timers and other vehicles with older paint-jobs.

Paste Carnauba Wax. Paste wax is the oldest type among these three, and it has the highest amount of wax as well.

What this means is that it's better suited to making older paint-jobs shine better than with spray or liquid wax because its texture smooths out most imperfections on the paint much better.

Paste wax like Meguiar's Gold G7014J also cleans and maintains a paint-job better because using more elbow grease to apply it rubs out more of the top and old paint particles than with liquid waxes.
3. Durability
The durability of any wax coating depends on the type and method of application. Spray carnauba waxes are the least durable, with paste wax being the most durable.
If you don't have time to retouch your car's wax from time to time, consider using a long-lasting carnauba wax like the 303 Products 30217.
4. Ease of Application
You can judge each product's ease of use based on the formula, type, and packaging. If you want the easiest-to-apply wax, stick with spray wax.
On the other hand, if you do not mind some extra work provided you get good results, paste wax is fantastic.
With that in mind, ease of application also varies from one brand to the other. Some brands will provide detailed directions and the necessary accessories to ensure an easy application.
Frequently asked questions
Is Carnauba Wax Good for Your Car?
A: Yes, it will be very useful for protecting your paint job. Most carnauba wax types create a hydrophobic and UV-resistant coating to ensure neither water nor sun rays will damage the paint. Furthermore, they also help enhance the aesthetic appeal with a nice shine.
Is Carnauba Wax Better than Synthetic Wax?
A: Yes, carnauba wax will provide a better shine than synthetic wax and has more superior hydrophobic properties. However, synthetic wax tends to be the more affordable of the two wax types.
Read More: The Best Car Waxes
What is the Best Way to Apply Carnauba Wax?
A: This depends on the particular type you are using. But, in most instances, the best way to do it is by spraying the wax directly on the car's surface and then rubbing off with a microfiber cloth.
How often Should I Apply Carnauba Wax?
A: You will need to apply carnauba wax every 6 to 8 weeks. However, some brands make some more long-lasting types that can last up to 3 months, which means you will only need to apply them 4 times a year.
Conclusion
Each carnauba wax formula is unique in its own way. Hence, the best carnauba wax for you mostly depends on your specific needs. But, you can be sure there is something that will serve you well in our list above.
From this list, the Chemical Guys WAC_201_16 is our top overall product. Besides being 100% carnauba wax, it is easy to apply and leaves a pleasant deep wet look.
However, the P21S 12700W is the best for the money because the quality and results that it provides are unbeatable without spending more cash.