One of the most important factors when it comes to a car subwoofer is size and enclosure depth. Most powerful subwoofers tend to be big and require a big enclosure. For small cars, this can be a big problem.
One way around this issue is installing shallow mount subwoofers. Those are special types of woofers that have a low-profile and require a shallow enclosure for installation.
Very little modification is required to install a shallow mount woofer, and they are more aesthetically pleasing as they sit flush to the surface.
If you are on the market for a shallow mount car subwoofer, keep reading. We have exactly what you need below!
Editors' Picks: Top Shallow Mount Subwoofers of 2021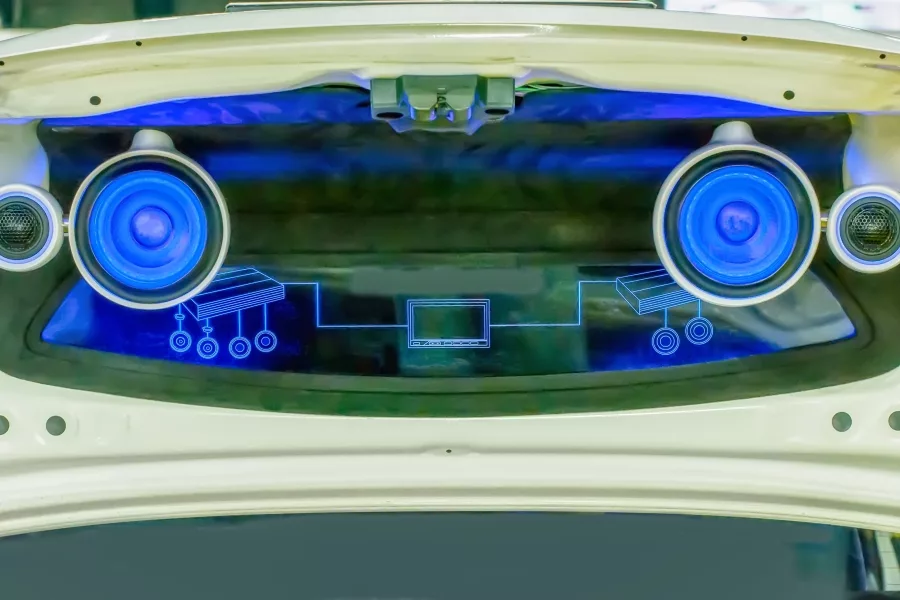 Summary of 5 Best Shallow Mount Car Subwoofers
IMAGE
PRODUCT
FEATURES

Pioneer TS-SW3002S4

1. Pioneer TS-SW3002S4 (High-quality & Durable)

Quality subwoofer. Durable and long-lasting
Great performance and can play loud
The sound does not distort even at high volumes
Superior sensitivity of 93 dB makes it energy efficient

Pioneer TS-SW2002D2

2. Pioneer TS-SW2002D2 (Small & Ultra-compact)

Small and compact
Superior build quality
Rich and deep bass
Low impedance so thin wires can be used

Rockford Fosgate R2 Ultra

3. Rockford Fosgate R2 (Clear Sound without Distortion)

Produces a clear sound
Durable and long-lasting
Energy-efficient design

Skar Audio EV-10

4. Skar Audio EV-10 (Superior Factory Subwoofer Replacement)

Quality build construction
Does not require a very deep enclosure to install
Will not overheat even during heavy-duty use

Alpine SWR-t10

5. Alpine SWR-T10 (Premium Model with Excellent Response Times)

Premium and a high-quality model
Cones can resist high vibrations. Excellent response times
Bass is powerful and punchy
1. Pioneer TS-SW3002S4 - High-quality and Durable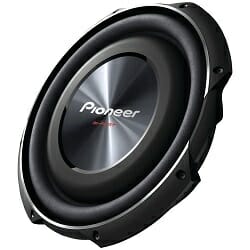 Power Handling: 1,500 Watts
Impedance: 4 Ohms
Sensitivity: 93 dB
Pioneer is no stranger to car woofers. They make some of the world's best car audio components. The Pioneer TS-SW3002S4 is a good example of Pioneer's know-how and care for detail. It is a very high-quality shallow mount subwoofer that is durable and long-lasting.
Further, this model is a 12-inch car subwoofer that comes with many technologies that allow it to sound the best it possibly can. For one, it has a big power handling of 1,500 Watts that will produce a deep and powerful bass when paired with an amplifier.
The cone is made from a polypropylene material that is tough and resistant to vibrations. Best, it offers excellent frequency responses that provide better clarity.
The voice coil in this woofer is sufficiently large to dissipate heat fast and easily. All this is in place so that this woofer can be used for an extended period without overheating and losing performance.
But what we like the most about this woofer is definitely its high sensitivity of 93 dB. Since its sensitivity is so high, it requires less power from the amplifier to play. Therefore, when compared to other subwoofers in this review, this model is much more power efficient.
All in all, the Pioneer TS-SW3002S4 is a slim and compact 12-inch car subwoofer that justifies its price really well. It has an excellent build construction, low-profile and terrific performance.
Also, keep in mind that this subwoofer is a little bit bigger than 12 inches, and it is more or less compatible with most 13 inches enclosures. If you have an enclosure that measures exactly 12 inches in diameter, you may need to perform some DIY tasks to make it fit.
A little more expensive compared to other woofers


---
2. Pioneer TS-SW2002D2 - Small and Ultra-compact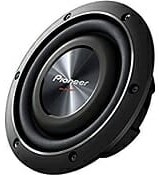 Power Handling: 600 Watts
Impedance: 2 Ohms
Sensitivity: 86 dB
While the TS-SW2002D2 is a smaller 8-inch version of the 12-inch TS-SW3002S4, it still boasts the same build quality. Being smaller, this small car woofer is even more discreet and requires a smaller enclosure.
Despite being only 600 Watts, the performance and bass clarity is pretty good. This is mostly because all the technologies and material used in the Pioneer TS-SW3002S4 is still found in this model. It is just smaller.
The cone has been constructed from polypropylene to withstand high volume playback and render fast response times. Installation is easy and this unit is pretty straightforward to operate.
Moreover, one thing that makes this model versatile is its low impedance. At only 2 Ohms, the user has the versatility of using thin audio wires when installing this woofer. Since this model is flush and low-profile, thin wires can make the whole installation very discreet and professional looking.
The sensitivity level of this woofer is not too shabby either. At 86 dB, it is still high enough to be energy efficient.
If you have a small enclosure space and need a deep and punchy bass in your car, there are very few options on the market that can beat the Pioneer TS-SW2002D2 both in terms of aesthetics and performance.
The only caveat we have with this model is that the cones are 8 inches, which is slightly on the small side, so the bass is not as rumbling and powerful compared to others. Also, this is not the preferred subwoofer for playing at very high volumes. You will notice some sound distortions when played at high volumes, especially when it is paired with a power.
However, the sound quality itself is truly remarkable considering how compact and low-profile this subwoofer is, especially if you plan to play this subwoofer at normal volumes.
Small 8 inches cone. Not the most powerful car subwoofer


---
3. Rockford Fosgate R2 - Clear Sound without Distortion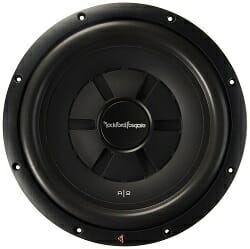 Power Handling: 400 Watts
Impedance: 4 Ohms
Sensitivity: 83 dB
The Rockford Fosgate R2 Ultra is a popular 10-inch shallow mount car subwoofer. It has a good build quality and employs a number of technologies to make it sound great.
For one, the spider venting system and anodized voice coil further help limit distortions and promote durability and bass clarity, especially if it will be used in scenarios where it is played for long hours without pause.
Since this is a shallow mount woofer, it sits flush to the enclosure when installed, and the installation itself is not hard. The cone is made from a mica injected polypropylene material for durability and good response times.
Despite being only a 400 Watts woofer, which means that it is not as powerful when compared to other models, it still delivers a powerful and punchy bass, especially when paired with an amp of at least 400 Watts. The sensitivity of 83 dB is not the best we have seen, but still quite good allowing this woofer to be efficient with no distortions.
Not the most powerful bass when compared to other models

---
4. Skar Audio EV-10 - Superior Factory Subwoofer Replacement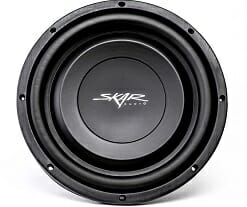 Power Handling: 400 Watts
Impedance: 4 Ohms
Sensitivity: 85.2 dB
The Skar Audio EV-10 has long been a reference when it comes to clear and powerful bass. It is a 10-inch car subwoofer that sports a low-profile. It is an excellent replacement for your factory-fitted subwoofer because it offers a few advantages over the latter.
The construction quality of this woofer is excellent and installation is pretty straightforward. It does not require a deep enclosure to get started and should fit most 10-inch factory fitted enclosures without modifications.
While the bass quality should be standard for a 10-inch woofer with a 400 Watts power handling, we think that this unit offers excellent value for money. Its polypropylene cone can withstand heavy vibrations and displaces a lot of air in a way to produce a deep and punchy bass.
Moreover, the 2-inch voice coil is sufficiently big to dissipate heat uniformly and not overheat. This woofer can definitely be played for an extended period. And while its sensitivity of 85.2 dB is not the best we've seen, it is still acceptable and makes this woofer energy efficient.
The only disadvantage of this model is that its power handling is only 400 Watts. So, it is not the most powerful model in this review but for casual use, it is definitely superior when compared to a factory-fitted subwoofer.


---
5. Alpine SWR-T10 - Premium Model with Excellent Response Times
Power Handling: 1,800 Watts
Impedance: 4 Ohms
The Alpine SWR-t10 is by far the best car subwoofer solution in the review. It certainly isn't the cheapest model, but if you need only the best shallow mount subwoofer then here it is. As with any premium audio component, this model too has its own share of unique features.
The cone can resist high vibrations without tearing and has excellent frequency responses. Additionally, it has a molded Santoprene rubber surround for even better responses and sound clarity.
If you are an audio enthusiast, this is one of the rare models that have a High-Amplitude Multi-Roll (HAMR) suspension resulting in one of the best SPL outputs out there.
The big power handling of 1,800 Watts and efficient spider design shows that this unit can accept a lot of power, thus play loud and clear for an extended period.
In fact, most of the technologies that work under the hood of the Alpine SWR-T10 is to promote music quality. This is a model that will definitely provide you with a clear, powerful and punchy bass. The only problem remains its price, which is quite high and prohibitive. However, if this is not an issue then this Alpine model is simply a class above.

How to Buy the Best Shallow Mount Woofer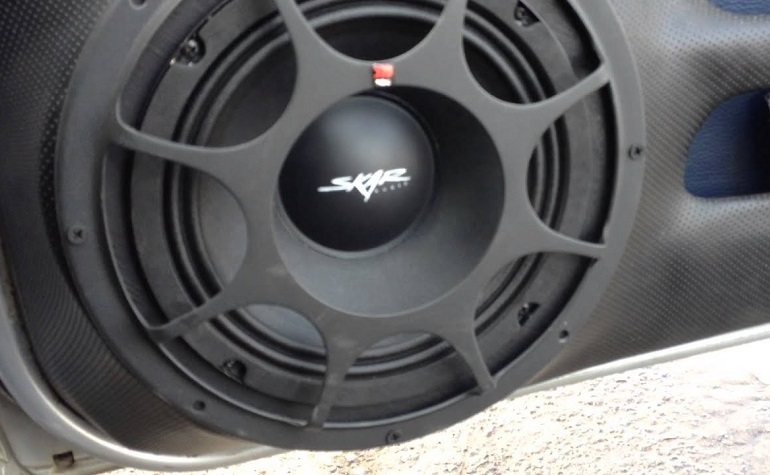 Before choosing the right shallow mount car subwoofer, here are some important things to keep in mind.
Woofer Size
With a shallow mount woofer, depth is not really important since most of them have a very low-profile. However, the dimensions of the woofer are what you need to consider since this is what will fit the enclosure. Measure the enclosure diameter in your car and get an appropriate woofer size.
Power Handling
In general, the power handling is a good indication of the performance of the woofer. The higher the power handling, the more you can assume the loudness of the woofer to be.
Sensitivity
The sensitivity value is what makes a subwoofer efficient. The higher the value, the more efficient the woofer is since it uses less energy to produce the same sound when compared to other less efficient woofers. Choose a high value for the sensitivity whenever you can.
Impedance
Since by design, a shallow mount woofer is meant to be a discreet woofer, the impedance is important. As this will tell you what size of wire you can use. The lower the impedance of the woofer, the thinner the wire that can be used.
Brand
Always go with a reputable brand when it comes to shallow mount subwoofers. Since they are so compact, a lot of technologies and design know-how needs to go in the woofer to provide the best sound possible without overheating or distortions. Quality brands sit behind their woofers and vouch for them.
Conclusion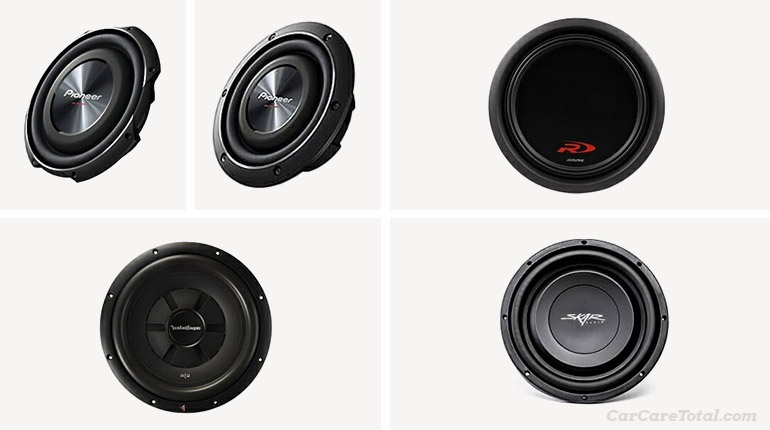 As we've seen, a shallow mount subwoofer sit flush to the surface and are aesthetically pleasing. Additionally, no modification is required for the installation so even absolute beginners can do it with little effort.
Moreover, if you have a small car with a small enclosure, a shallow mount subwoofer is exactly what you need. Shallow mount subwoofers do not sacrifice any performance despite their compact size and still rival their standard-sized subwoofer counterparts.
As a final note. We recommend you measure your enclosure and choose a woofer size from our review above. You will not regret it!