Spray-in bed liners are for protecting your truck's bed from damages by forming a seamless coat over the metal surface. This layer forms a barrier against the elements, UV rays, scratches, and rust.
However, these products come in several types, which differ due to the chemical compounds used to make them. Therefore, you need to pick something that will work best for your truck bed.
In this article, we review 5 best spray-in bedliners in the market. Read through, then pick the one that suits your truck.
Editors' Picks: Top Sprayin Bedliners of 2021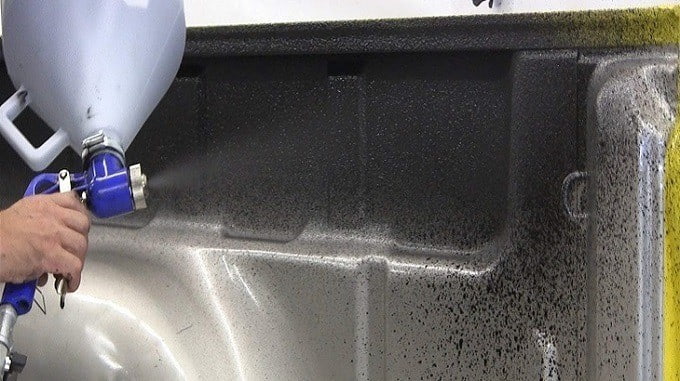 Summary of 5 Best Spray-In Bedliners
IMAGE
PRODUCT
FEATURES

1. U-Pol UP0820 (Best Overall)


Easy to use with a free spray gun
UV, water, stain & scratch resistant

Deadens sound & vibrations

2. Custom Coat 5864267669 (Best Professional)


Spray gun with a regulator
Wide coverage (up to 130 sq. ft.)
Excellent adhesion

3. Linerxtreeme AA1 (Best for the Money)


Long lasting semi-gloss finish
Protects against UV damage.
Wide coverage (up to 100 sq. ft.)


4. Speedokote SMR-1000-K4 (Universally-Compliant)


Safe & compliant in all 50 states
Excellent adhesion
UV & chemical resistant

5. Al's Liner ALS-BL (High-Solid Formulation)


3-part high-solid formulation
Forms a tough coat at any thickness
Non-fading & UV-stable
1. Best Overall: U-Pol UP0820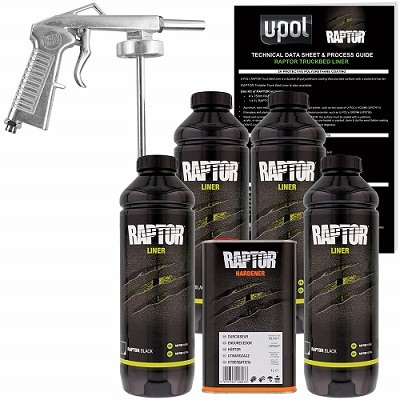 Color: Black
Quantity: 1 gallon
U-Pol's Raptor is the best overall spray-in bedliner on our list because it is easy to use, dries quickly, and offers all-round protection.
The kit includes 3 liters of a black bedliner base in 750 ml bottles and a liter of hardener. These are easy to use because they should be mixed in the ratio of 3:1, then sprayed. That said, a free application gun is included for this job.
Once applied, the bedliner dries very quickly to form a hard UV-resistant coat that does not fade. In addition to this, it makes the truck bed water, stain & scratch resistant, and helps to dampen sound & vibrations when carrying loose items.
Although the included spray gun might need a special adapter to work with some air compressor types and models, this should not be a deal-breaker. These adapters are cheap and easy to get in your local hardware store. Also, the 4-liter quantity (about a gallon) might not be enough for large trucks.

---
2. Best Professional: Custom Coat 5864267669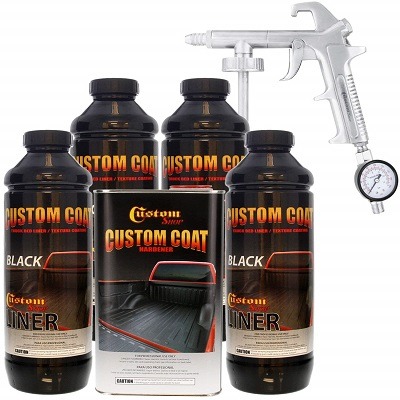 Color: Black
Quantity: 1 gallon
Apart from having a high-quality formulation, you need the right tools for professional bed-liner application. Custom Coat's 5864267669 gives you this in the form of a spray gun with a regulator. This enables you to check and control the air pressure in the gun for perfect adhesion.
That said, the kit includes four 24-oz. cans of the black liner base, four 8-oz. cans of the hardener, and a technical data sheet & user manual to explain how to mix and apply the solution. Overall, you get a gallon of bedliner that can cover up to 130 square feet.
Besides using the spray gun, it is also possible to apply this bedliner using a brush or roller if you prefer a different texture.
Once applied, the coat protects from rust, corrosion, and scratches. It also adheres to the surface firmly for maximum durability, forming a soft layer that deadens sounds and vibrations. While doing so, it remains waterproof, heat, and UV resistant.
On the downside, the product forms a thin layer if sprayed to cover 130 square feet. As such, it might not be highly protective as compared to a thick coat.

---
3. Best for the Money: Linerxtreeme AA1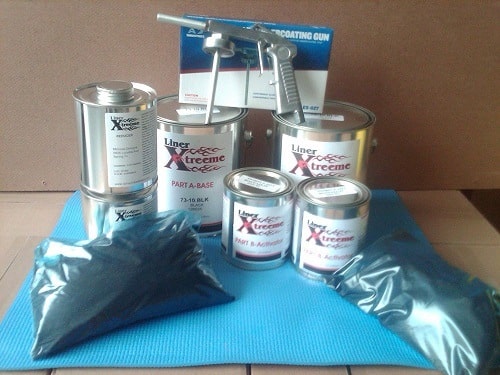 Color: Black
Quantity: 3 gallons
Linerxtreeme's AA1 is designed to give you a beautiful, long-lasting semi-gloss finish on your truck bed that is worth the money.
With only a few coats of this bedliner, you get a hard and tough surface that provides maximum protection from UV damage, scratches, stains, and corrosion.
You also get enough quantity (3 gallons) to cover two short bed trucks or one 8-foot truck bed. In actual numbers, it can cover up to 100 square feet.
Application is relatively quick and easy as the manufacturer provides a free spray gun, plus precise & easy-to-follow instructions.
As for quality, you can bank on the brand's 20 years in business, as well as thousands of repeat customers. The only downside is that the product lacks a regulator to check the air pressure when spraying.

---
4. Universally-Compliant: Speedokote SMR-1000-K4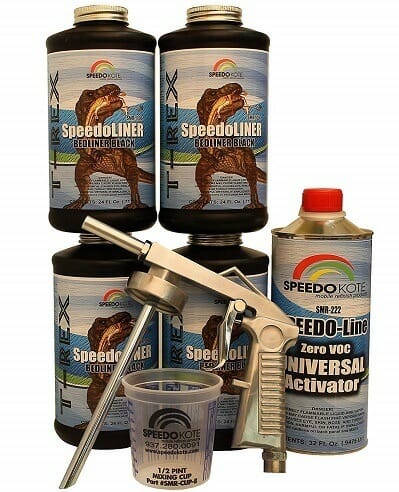 Color: Black
Quantity: 1.7 gallons
Speedokote's SMR-1000-K4 is the only 50-state compliant spray-in bedliner because it is within the safe emission zone of 1.7 lbs. of VOC/gallon. Despite this, it still is a true 2K urethane that offers excellent adhesion to steel and sanded paint.
That said, the product withstands the same atmospheric conditions as a high-quality, single-stage urethane topcoat, and dries quickly to form a UV & chemical resistant finish. The coat is also waterproof and flexible, which helps in dampening sound and vibrations.
Applying the bedliner is easy as the manufacturer provides a free spray gun and detailed instructions. And all you need to do is add in the hardener, shake the mixture, then spray it on a clean truck bed.
However, the product does not provide enough anti-skid properties, which is important for transporting loose, slippery goods.

---
5. High-Solids Spray-In Bedliner: Al's Liner ALS-BL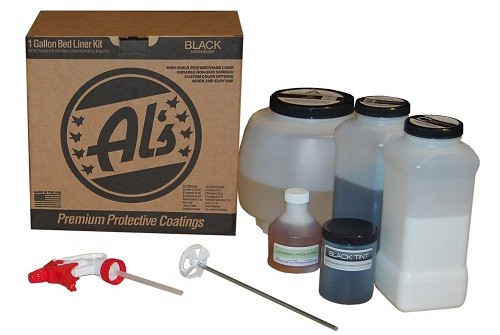 Color: Black
Quantity: 1 gallon
With its 3-part blended formulation, the ALS-BL contains a high concentration of solids that give a tough and durable coat at any thickness. As such, you can use this 1-gallon pack to cover a full truck bed of any size.

Once applied, the formula creates a non-fading, UV-stable black coat that protects the truck bed from rust. It also protects against corrosion by resisting chemicals, gasoline, oil, and solvents.
That said, you can use the solution to coat other materials like wood and fiberglass, which expands your application areas.

A free sprayer, adhesion promoter, and mix paddle are inclusive, but you don't get a measuring cup. This makes it a bit difficult to prepare smaller solution quantities from the three liquid components.

How to Buy the Best Spray-In Bedliners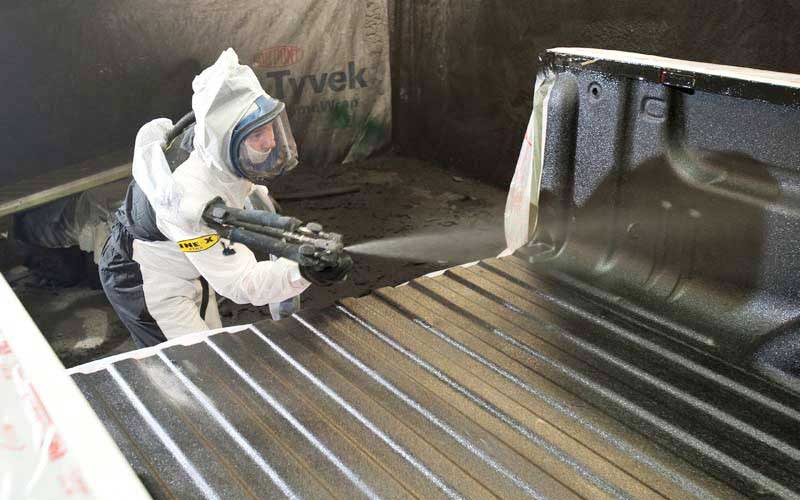 1. Type
Aliphatic
Most aliphatic types of bedliners are polyurethane-based. They are made from materials that have better pigments, which should explain their relatively longer-lasting protection.
Aromatic
These are more affordable than aliphatic bedliners, but they fade relatively fast. Therefore, if you pick them, you should be ready to re-apply a new coat once in a while to restore the new look.
2. Bedliner Color
Before you decide on the spray-in bedliner to buy, you should consider its color and make sure it is appropriate for your truck.
Black is the most common spray-in bedliner color, and many people will prefer it because darker colors hide dirt and debris better than lighter ones.
However, a tintable color is also great for those who do not want to stick with black truck beds. This gives you more flexibility, and we recommend U-Pol's 821.
3. Ease of Use
Applying bedliner on your truck makes a good weekend DIY project. With that in mind, you do not want a product that takes a lot of time or effort to prepare.
Most important, though, make sure the liner comes with all the tools you need for easy use. These include a spray gun, measuring cups, etc.
Read More: The Best DIY Bedliner
4. Quantity
It is very inconvenient to run out of the application formula midway through your truck bed. Therefore, you should pick the right quantity, and for this, check the product's coverage, which is given in square feet.
That said, you should also avoid buying too much because the remaining formula will probably not be effective by the time you want to renew the coat.
5. Durability
For these products, durability means no fading and resistance to the elements, scratched, stains, etc. Also, a long-lasting spray-in bedliner is one that can resist peeling and cracking. For instance, USC's 18002 has better bare-metal adhesion and chemical resistance, which makes it better at resisting peeling and cracking.
6. What is In the Box?
What you get in the box matters because it determines the value you get for your money. Apart from the liner base and hardener, look for application rollers, brushes, spray guns, measuring cups, mixing paddles, and more. The best product should come with everything you need for the application process.
7. Environment-Friendly
Most of these bedliners are made from the same materials, but some brands pay more attention to their formulations to reduce pollution. VOCs are the most common pollutants, and these should be kept as low as possible.
With that in mind, Speedokote's SMR-1000-K4 is the most environmentally-friendly product and is compliant in all of the 50 US states.
8. UV Protection
The truck bed is exposed to the sun most of the time, and thus, you should ensure the bedliner you buy is UV stable. This will make it more durable and resist fading.
Conclusion
As we wrap it up, we recommend U-Pol's Raptor as the best of the best due to its ease of use, quick-drying and all-round protection properties. The product forms a hard UV-stable coat that is water, stain, and scratch-resistant.
You can also check out Custom Coat's 5864267669 if you want a spray-in bedliner for professional use. It comes with a regulated spray gun and can cover up to 130 square feet.
For maximum durability though, you should consider the USC 18002. Though expensive, the product has better bare-metal adhesion and chemical resistance as compared to urethane-based compounds.