Any truck owner on a budget but still wants a high-quality roll-on bedliner will love the Rust-Oleum 248915. Besides the smaller price tag, this bedliner leaves a nice textured finish that also has an elegant overall appearance.
The bedliner will not require any primer and will cover the entire surface more evenly. And with the fast-drying formulation, this will also be the perfect choice for anyone that does not want to sit around for many hours waiting for the first coat to dry.
Rust-Oleum 248915 Review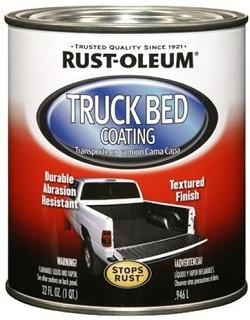 Key Features of Rust-Oleum 248915
Stop rust formula for truck bed protection
Textured finish for skid prevention
Faster 4-hour dry time
Smooth and elegant finish for enhanced truck appearance
Applicable by roller, brush or spray for versatility
Faster 3 step application
Bottom Line
A good quality bedliner that comes at a more affordable price tag and will also allow for various application methods and dries much faster than others.

Detailed Review for Rust-Oleum 248915 from an Expert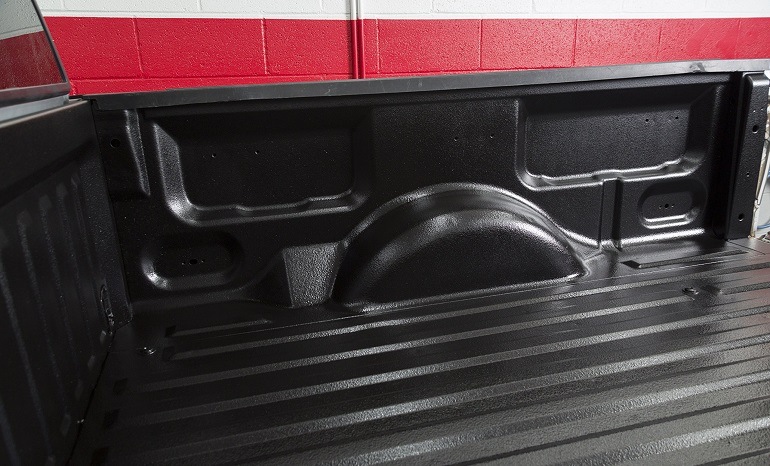 Coverage: Good enough for the price
Despite the Rust-Oleum 248915 being a relatively more affordable bedliner, it will still provide excellent coverage. The 32-ounce container will cover between 40 and 35 square feet, which is quite impressive.
Besides the good coverage, truck owners will also appreciate that this bedliner leaves a more even coverage and does not have any thick or thinner spots. This means that the truck will end up with a more attractive look.
Because the coverage and also the finish that you get will be highly dependent on how you apply the bedliner, the company makes this one for versatility when it comes to the application. You can apply it with a roller, brush, or even spray it on, which gives you the freedom to apply it just how you like.
The only catch here is that the coat that you get when using this bedliner seems a little on the thinner side, which means you will need to apply several of them. But given the more affordable price tag, you can buy several containers if you need to. Also, the faster 4-hour cure time means you do not have to wait very long between coats.
Surface: Smooth and elegant but non-skid
The surface that you end up with is one of the key elements that will define a bedliner. But, this should hardly be an issue with this one as it will always leave a smooth and elegant finish that will enhance the overall appearance of the truck and also its value.
Also, the finish is textured and will conform to the contours on the truck bed. Besides allowing for a more natural look, this surface will also be very useful at preventing luggage from skidding around. Hence, your luggage is easier to secure and will also not damage the truck bed surface.
With the stop rust formula, the surface that you get will also be very effective at preventing rust on the truck bed. This bedliner will seal your truck bed and prevent water and moisture from getting to the metal, and hence keeping rust in check.
One more thing that truck owners will love about the surface created by this bedliner is that it does not chip, flake, or peel easily, and so it will be a long time before you need to reapply the bedliner.
Ease of Use: Quick and easy application
The application is as straightforward as it can get with this bedliner. And this is because as mentioned earlier on, you get the freedom to choose whether you want to roll it on, brush or spray it with a sprayer.
The application only entails 3 simple steps, which are cleaning and sanding the surface, covering the vehicle to ensure you do not get the product where you do not want to, and then applying it using your preferred application method.
The thinner consistency of this product is an advantage when it comes to the application because, besides allowing for a spray-on application, it also does not take a lot of effort to spread and adheres easily to the surface.
For the best results when it comes to the use, you should apply between 3 and 4 coats and make sure you allow enough time in between for proper drying. Once you have all the coats, you should give the truck bed up to 24 hours to dry adequately.
Also, for rolling and brushing application, a truck bed applicator will make your work easier and ensure you get neater outcomes, which is just what you want.
Weather Resistance: Can withstand any weather
It is always a good idea to give your truck bed more protection from the elements both when in use and storage using a tonneau cover. But, with this bedliner, you will get even more superior protection from the weather, and so you will not have to worry a lot about the elements.
Rust-Oleum understands that water from the rain is one of the biggest threats to your truck bed cover as it can result in rusting. Hence, they use a special stop rust formula that will provide superior protection from rainwater.
You can also be confident that this bedliner can withstand other elements like the sun and snow. Its formulation is very effective against the harmful UV rays that often lead to fading and will not peel off or get damaged even under heavy snow or ice. Hence, you can be confident you have all year round protection with this bedliner.
Price: More budget-friendly
Although it is a 32-ounce container, the Rust-Oleum 248915 is still quite budget-friendly, and it will be perfect for a budget shopper. If you have a standard truck bed, this should still be enough for a few coats, which means you will not need to spend more cash.
That said, even if you have to buy several of these containers to achieve your desired bedliner thickness, you will still not pay as much as you would when buying from most other top-end bedliner manufacturers.
The only regrettable thing here is that you will need to buy the roller or brush separately as this product does not include them in the package. But, they are inexpensive and widely available, and this does not affect the value that you get from this bedliner significantly.

Conclusion on Rust-Oleum 248915
A budget-friendly bedliner that provides decent coverage, is highly protective and also dries relatively faster.
Rust-Oleum makes their model 248915 bedliner for truck owners looking for something inexpensive but still high-quality. It takes just 4 hours to dry and is easy to apply in 3 steps. Also, it has a stop rust formula and will leave the truck bed with a more pleasant and smooth finish.