If you are one of the many truck owners that want to get a high-quality and durable truck bed coating but without spending a lot of cash, you need to shop for the best roll-on bedliners.
The roll-on or brush-on bedliners will come in a can which means that you need a roller or brush to apply them, and this explains where they get their name.
And despite being one of the most affordable bedliner options, they are still quite tough for long-lasting protection from everything from the weather to spills and scratches.
Finding a good roll-on bedliner should be easy as there are many options out there. Here we review 5 top-rated ones and provide a buying guide to help you choose the best one for your truck.
Top Rollon Bedliners of 2021 by Editors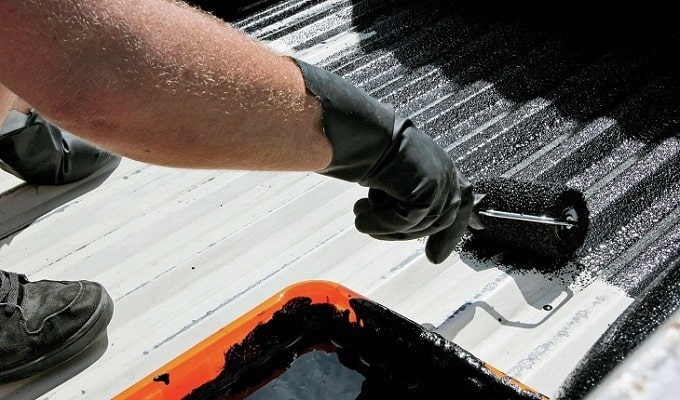 Summary of 5 Best Roll-On Bedliners
IMAGE
PRODUCT
FEATURES

1. Herculiner HCL1B8 (Best Overall)

Dependable top brand product

5 times thicker

Applicable on various surfaces

Creates skid-resistant surface

2. Rust-Oleum 248915 (Most Affordable)

More budget-friendly

Stop-rust formula

Elegant, textured finish

Variety of application methods

3. Dupli-Color TRG252 (Lots of Product for Large Truck Beds)

Lots of products for a large truck bed

Water-based polyurethane coating

Durable, rubberized finish

Ideal for use on different surfaces

4. Speedokote SMR-1000WROLL-K1 (Complete Kit)

Complete kit with everything you need to use

Superior UV light stability

Fast drying formula

Effective rust and corrosion protection

5. RTG 2599-K (Beginner-Friendly)

Easy DIY application even for beginners

Textured, anti-slip coating

Fast drying and with low odor

Adheres strongly to truck bed
1. Herculiner HCL1B8 - Best Overall
Color: Black
Size: 32 fluid ounces
Herculiner is one of the most popular roll-on bedliner brands in the market. And so their HCL1B8 does not make the top spot on our roll-on truck bedliners review by chance. Another element that makes it our best overall is that it is 5 times thicker than most others in its class.
This roll-on bedliner creates a tough polyurethane and rubber granule coating on your truck bed. And you can apply in on different surfaces such as, metal wood and concrete.
With the coating that it creates, you will never have to worry about the elements as it will bond to the truck bed and seal the surface to keep water out and prevent rust.
Another factor that makes this one of the best roll-on truck bedliners, is that it will create a skid-resistant surface that helps to keep your cargo in place.
Also, it will not scratch, peel or flake for a long time, and the coating is up to an impressive five times thicker than the typical roll-on bedliners.
When compared to others on our list, the drying time that you get with this bedliner is relatively longer. However, you will hardly even notice the difference as it still dries relatively fast. Also, the included brush is not the best quality, but if it does not work for you, brushes are cheap and easy to get.
More Detailed: Herculiner HCL1B8 Review

---
2. Rust-Oleum 248915 - Most Affordable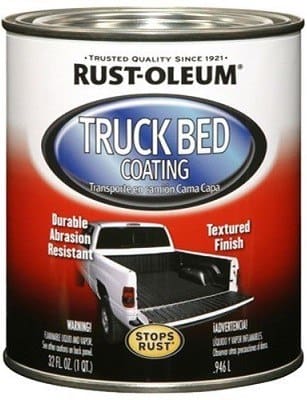 Color: Black
Size: 32 fluid ounces
This Rust-Oleum bedliner is a more affordable option for motorists shopping on a budget. And it is formulated to not only give you a protective coating, but also to ensure that your truck bed has an elegant and smooth finish.
It has a special formulation to stop rust, and it is also effective at protecting the track bed from the weather and scratches.
The textured finishing that you get with this roll-on bedliner is a great addition as it will help you deal with common issues like skidding, and also enhances the overall appearance.
You can apply this bedliner with either a roller or brush, and it will always provide an even coat provided you apply it correctly. And if the two are still not viable options for you, it is possible to spray it on.
It is also relatively fast drying when compared to many others out there, and so you will not have to wait for long before applying the next coat.
But because this bedliner applies a little thinner, you will need several coats. But, this should no be a big deal as there is lots of it in the can, and it is also the cheapest roll-on bedliner on our list. Also, the scent should dissipate after a few days.
More Detailed: Rust Oleum 248915 Review

---
3. Dupli-Color TRG252 - Lots of Product for Large Truck Beds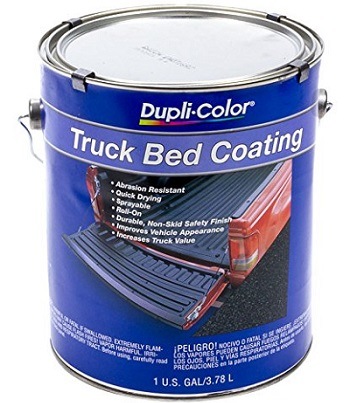 Color: Black
Size: 128 fluid ounces
For a one gallon container, there will be more than enough product for most truck beds on the Dupli-Color TRG252 no matter their size.
The water-based polyurethane coating makes it one of the best DIY roll-on bedliner on our list as it is not only easier to apply, but also has low odor to make things comfortable for any use
Application is also quite versatile as you can use a roller, brush, aerosol or even a spray gun, which makes things a lot easy for DIYers.
This quick-drying bedliner is non-abrasive, and it will always leave your truck bed with a durable, rubberized and non-skid finish, which is great for hauling different types of cargo.
Also, it is formulated to be a multipurpose coating that you can use on other parts of the truck such as tailgates, inner fenders, and bedrails, and it will be ideal for different surfaces including wood and concrete.
This roll-on bedliner gets everything correct except the UV protection as it is not as protective as other on our list. But, this should not be a deal breaker as it is a small con compared to the many benefits that it offers.

---
4. Speedokote SMR-1000WROLL-K1 - Complete Roll-On Bedliner Kit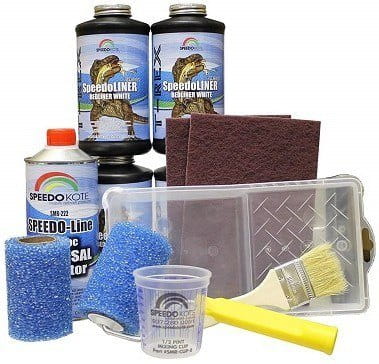 Color: White
Size: 128 fluid ounces
Besides also providing a lot of product, the manufacturer also ensures that there is everything you need on the Speedokote SMR-1000WROLL-K1 kit for immediate use. The included items range from the rollers and brush to the mixing cup and rolling pan.
This top-rated roll-on bedliner is also made to offer protection from UV light, and so it will take longer to fade than most others. It also provides stain and abrasion resistance for a long time.
The application should also be straightforward for most people as all you need to do is to add the hardener, mix everything well and roll it on your truck bed. Drying is also relatively fast to ensure you do not have to wait for many hours before applying another coat.
Even for a 128-fluid ounce container, this bedliner is still relatively pricier, but its top-notch quality will ensure you still get the best value for cash.

---
5. RTG 2599-K - Beginner-Friendly Roll-On Bedliner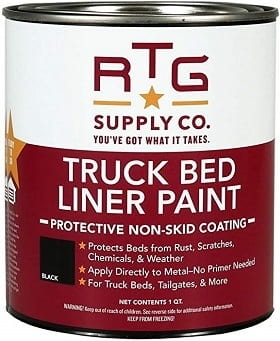 Color: Black
Size: 32 fluid ounces
RTG 2599-K is one of the best DIY roll-on truck bedliner out there as it will be straightforward to apply even for the first-timers. But the best thing about it is that it offers maximum protection from UV and rust.
With this bedliner, you will also get a textured and non-slip surface that will be handy in preventing slips or falls and also ensuring the cargo does not keep shifting.
This fast drying bedliner paint is also low-odor and low on VOC. And thanks to its water-based polyurethane formulation, you can be confident of getting an excellent finish whether you are using a brush or roller.
No primer will be needed when using this roll-on bedliner, and once you have it in your truck, cleanup is also straightforward with soap and water.
Provided you apply the right amount of bedliner, it will adhere strongly on the truck bed. The tough and abrasion-resistant coating will not peel, crack or chip for a long time.
Although the package does not include applicators like brush or roller, this should not be a deal breaker as they are cheap and widely available.

Roll-On vs. Spray-In Bedliners
For many truck owners, picking a bedliner will often come down to making a choice between the spray-in and roll-on types.
While both can still protect your truck from the elements and prevent scratches, each type has pros and cons which you need to know to make a more informed choice.
1. Roll-On Bedliners
Roll On Bedliners
The roll-on bedliners are a solid polyurethane-like mixture that is designed to offer your truck bed maximum resistance from scratching, corrosion and skidding.
These are also relatively more affordable bedliners when compared to the spray-in types, and they come in plenty of color options to make it easy to find something perfect for your vehicle.
With the roll-on bedliner, you will always get a more stress-free life as you will not have to worry about scratching or dinging your truck bed when loading or offloading it. And because there are two layers of the coating, cleaning is also much simpler.
2. Spray-In Bedliners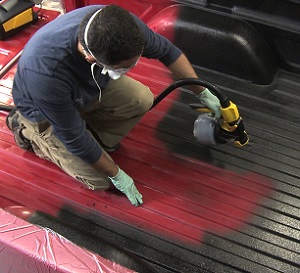 Spray-In Bedliners
Spray-in or spray-on bedliners are the types that need to be sprayed directly on the truck bed using a spray gun, and they can work for any truck regardless of the size or model.
They are famous for giving the truck bed a stunning look if sprayed correctly and are also moisture-resistant to ensure they do not split like the drop-in bedliners.
Also, they will require relatively less maintenance when compared to other types, but they are often pricier than the roll-on bedliners.
Buying Advice: While both bedliners are very useful in protecting your truck's surfaces, the roll-on types are a better option when looking for something tough and highly durable.
Spray-in bedliners, on the other hand, are the ideal choice for those that want something that will look fantastic on your truck and do not mind spending a few extra bucks.
How to Buy the Best Roll-On Bedliners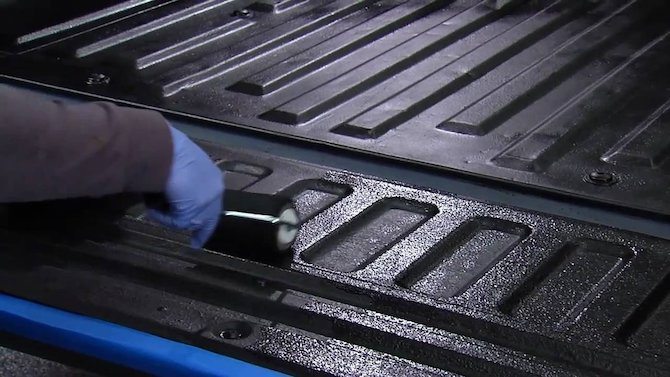 Whether you are buying your first can of roll-on bedliner or not, you should always consider the following vital things.
1. Surface
The surface texture of the bedliner matters a lot, and so you should never overlook it. Different roll-on bedliners are available in various surface textures, and so you need to decide the most appropriate one for your truck.
Some truck owners will prefer a smooth surface so that they can be able to slide heavy loads in an out of the truck with little effort.
For others, a more rigid surface that is able to keep cargo in place or is skid-resistant like what the Herculiner HCL1B8 provides is the best option. What you intend to use your truck to haul should help you in deciding the ideal bedliner for you.
2. Vehicle Compatibility
Compatibility is not often a big issue with roll-on bedliners, but it is still an important factor to consider when shopping.
The main issue here is the amount of product on the container and the truck bed size that it can cover. Make sure that you go for something that is meant for use on your particular truck size so that you will not have to buy several cans as this can be more expensive.
Other things like the color can help you determine whether the bedliner is compatible with your particular truck or not.
3. Ease of Use
You can always take your truck to the auto shop for the professionals there to apply the roll-on bedliner for you. However, this is not only more expensive but can also take longer as you might have to wait your turn.
The best alternative is to buy a roll-on bedliner that is easy to apply as a DIY weekend project.
Luckily, most manufacturers will make their products with this in mind, and so they will provide everything that you need for the applications including the rollers and brushes.
Those that come with some detailed instructions and more beginner friendly like RTG 2599-K will make things even easier for you.
4. Durability
Any roll-on bedliner that you buy should be easy to apply because you will not always have the time to apply a new coat and leave your vehicle to dry for several hours.
Look at the material used to make the bedliner to determine just how durable it is. Also, a warranty and manufacturer assurances can be a good indication of just how durable the roll-on bedliner will be on your truck.
5. Weather Resistance
Your truck's bed is one of those parts that will be at the mercy of the elements most of the time. A good roll-on bedliner is one that can offer some weather protection.
Always go for something that can withstand the extremes of cold and hot temperatures and is also resistant to moisture to prevent rust and corrosion.
UV protection is also a must because the sun rays are often very damaging to the truck bed and they cause the bedliner to fade and hence making it less durable.
Conclusion
If you are on the hunt for roll-on bedliner for your truck, you can be confident that there is something that will work well for you from our review above.
When it comes to choosing the ideal one for your truck, the Herculiner HCL1B8 is our best overall option as it is a dependable product from a highly reputable brand.
But, if like many truck owners you are always looking to save a few bucks, the more affordable Rust-Oleum 248915 will please you.
Sources
Spray Liners vs. Roll-on Bedliner Paint - The NewsWheel