If you've acquired a truck recently and its bed is bare without any form of protection, then it's wise to invest in a liner for it.
Liners are essential for truck beds because of their proven protective capabilities. They will protect beds from abrasive wear, corrosion, rust, extreme temperature, and many more harsh conditions.
Some liners are also great at reducing the sounds and vibrations generated by loaded truck beds.
In our truck bed liner review, we explore these accessories in detail while helping you choose the most ideal one for your truck.
Top Truck Bed Liners of 2021 by Editors' Picks
Summary of 7 Best Truck Bed Liners
IMAGE
PRODUCT
FEATURES
1. Herculiner HCL1B8 (Best Roll-On)

Strong protective capacity
Peel, flake & chip resistant
Versatile multi-surface liner

2. U-Pol Raptor UP0820 (Best Spray-On)

Rust, corrosion & heat resistant
Simplified mixing & application
Waterproof & flexible

3. Custom Coat 5864267669 (Most Durable)

Durable & waterproof
Flexible for abrasion resistance
Versatile multi-surface coating

4. Speedokote SMR-1000WROLL-K1 (Best Inexpensive)

Inexpensive & durable
Reliable UV/stain/rust resistance
Easy application & fast drying

5. Dupli-Color BAK2010 (Best DIY)

Simplified mixing & application
Heavy-duty Kevlar formulation
No working pot life

6. U-Pol Raptor 821 (With Fast Curing Time)

Fast 1-hour curing time
Reliable rust & UV protection
Minimal truck bed preparation

7. Raptor Black 820 (Tough & Rugged)

Enhanced 10 times toughness
Interior & exterior surface liner
Easy & fast application
1. Best Roll-On: Herculiner HCL1B8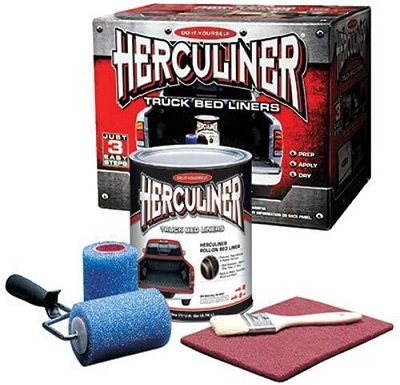 The strength, extra-thickness, and performance versatility of Herculiner HCL1B8 make it the best roll-on bed liner on our list.
This liner is made using tough, textured polyurethane, which provides your bed with a strong protective coating. The resultant surface is skid-resistant, enhancing grip on your loads. Also, the surface won't peel, flake, or chip.
Superior thickness is another feature setting this liner apart from the rest. It claims to be 5 times thicker than your average liner. This thickness boosts HCL1B8's protective capabilities.
You'll be pleased to know that the liner comes as a kit, which includes 1 gallon of protective coating, 2 rollers, and an application brush. Applying it is easy and hassle-free.
Finally, the HCL1B8 is built for versatility. You can apply it on metal, concrete, wood, and other surface types. What remains from your truck can be used on other surfaces that need protection.
The only significant issue we noted with the Herculiner HCL1B8 is that it requires thorough bed preparation before application. This maytake a bit of your effort and time. Also, it leaves a shiny finish.
More Detailed: Click here

---
2. Best Spray-On: U-Pol Raptor UP0820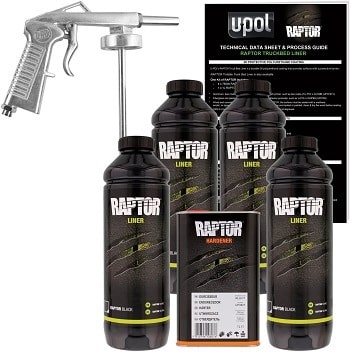 With the U-Pol Raptor UP0820 liner, which resists stains and abrasion, you can spray and respray your truck bed to achieve the best possible protection for it.
The liner excels at protecting your truck's bed against corrosion, rust, extreme temperatures, and salt dumps. Besides, it is reliable in resisting stains, and abrasion, which keeps the bed and walls intact, across different operating conditions.
This liner comes in an easy-to-use kit. You simply add the hardener, shake the mixture, then proceed to spray. There's enough to spray multiple times, even on spacious truck beds.
Another feature that boosts this liner's performance is its waterproof capacity. You can rest assured your truck's protected even in damp operating conditions. It also does a good job of deadening sound & vibration, thus enhancing the quietness of your truck.
It's worth mentioning that the U-Pol Raptor UP0820's cure time is 5 - 7 days. While it's recommended that you allow the entire duration for total curing, some may find it long.

---
3. Most Durable: Custom Coat 5864267669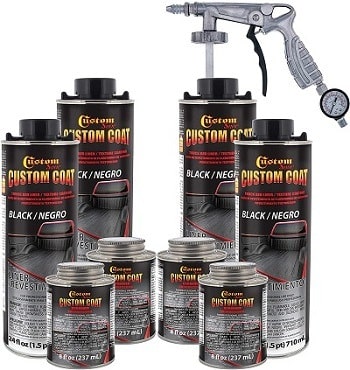 The Custom Coat 5864267669 truck bed liner was built for long-lasting bed protection. It can withstand the harshness of weather elements and other operating conditions.
This premium liner is textured and can withstand extreme climatic conditions including high heat and UV radiation. It is also waterproof and offers reliable protection against rust and corrosion. The liner works great to dampen bed vibrations and sounds.
Comprising of a 2-part urethane coating, the liner is optimized for flexibility, which boosts resistance against chipping, impact, and abrasion damage.
It's worth recognizing the liner's versatility. You can use it for multiple applications including truck beds, vehicle exteriors, and equipment coating. At home, it can be applied to a wide range of floor types to achieve non-skid coatings.
While this liner kit's 1-gallon quantity is great for a standard 6-foot truck bed, you will need to buy more if the area you're coating is larger. Also, it produces a strong smell during application.

---
4. Best Inexpensive: Speedokote SMR-1000WROLL-K1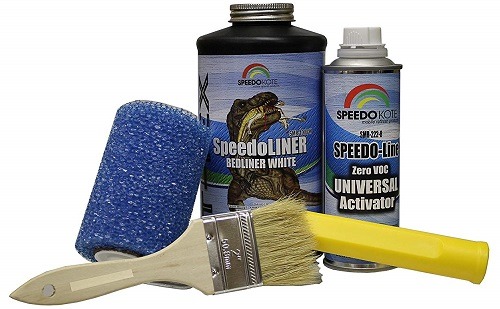 Speedokote SMR-1000WROLL-K1 is an inexpensive truck bed liner that reliable protection against wear-causing elements such as UV, abrasion, and rust.
For less than $40, you're getting an excellent exterior shield against harsh UV light, thanks to the liner's true 2K urethane composition.
Besides UV, the liner is also reliable in rust, dampness, corrosion slats, and extreme temperature protection, alongside stain and abrasion resistance.
You'll enjoy using this liner because it's easy to apply. Simply add the hardener, shake, then roll. Drying is also notably fast.
On the downside, the Speedokote SMR-1000WROLL-K1 comes in a 1-quart kit, which may not be enough to achieve the desired coating thickness for your truck bed.
Another issue with this liner is that it comes in white color only, leaving out those who desire dark coatings.

---
5. Best DIY: Dupli-Color BAK2010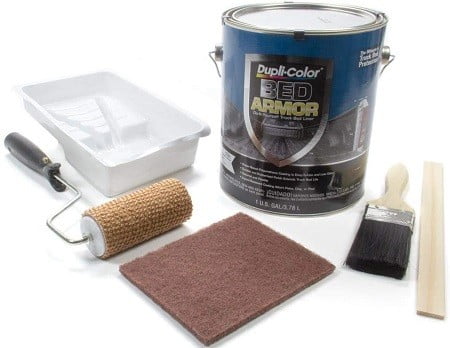 If you enjoy working on your truck at home, then consider getting the Dupli-Color BAK2010 a DIY pickup truck bed liner that's easy to apply, and offers reliable bed protection.
Since the product is water-based, applying it is easy. Simply clean with soap and water, before leaving it to dry. Also, the product is impressively low-odor, which makes the application process even more pleasant.
This liner is formulated with Kevlar, which makes it resistant to automotive chemicals, and gasoline. The resultant coating is capable of resisting the impact generated by sizeable truck loads.
Its superior adhesive capacity supports firm attachment on the truck bed, combining well with the resultant flexibility to help reduce the effects of constant and occasionally hard impacts.
You'll also love the fact that the liner has no working pot life. It can be stored and reused in other similar projects.
On the downside, however, a lot of surface preparation is needed before you can apply the Dupli-Color BAK2010. This process takes time and effort. Its drying time is also notably long.

---
6. Truck Bed Liner with Fast Curing Time: U-Pol Raptor 821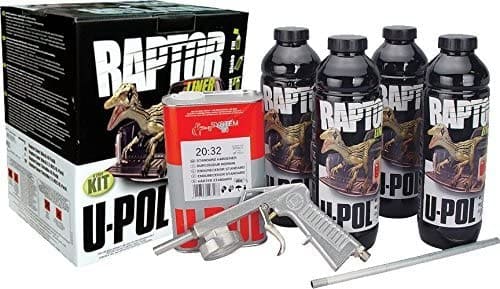 The U-Pol Raptor 821 truck bed liner saves you precious time, thanks to its fast-curing formulation, and minimal preparation demands.
Its touch-dry cure time is about 1 hour, provided the film builds up flawlessly. For light-duty truck use, allow about 2 to 5 days for complete curing and strong adhesion.
Even though the liner dries rapidly, it's reliable in resisting stains, abrasion, rust, corrosion, and UV damage. Extreme temperature won't affect it either. Besides, it does a good job of deadening bed sounds and vibrations.
You also don't have to worry about tedious bed preparation because the 2K urethane formulation is designed for direct application on most original vehicle finishes, or self-etching primer surfaces.
The kit comes with everything you need to achieve a complete and thorough liner application job. Even the required spray gun has been included.
Because of its fast-drying capacity, the U-Pol Raptor 821 liner has a limited pot life of 60 minutes. Beyond that point, the liner compound becomes unusable.

---
7. Tough & Rugged Truck Bed Liner: Raptor Black 820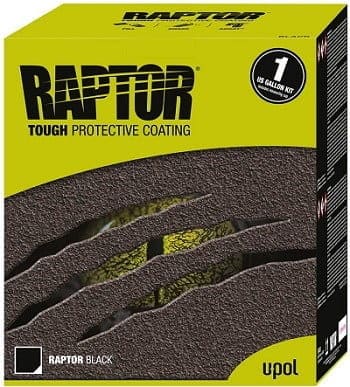 The toughness and versatility of Raptor Black 820 make it a great liner for truck beds and other surfaces including plastic, wood, metal, and concrete.
This liner has demonstrated superior toughness of up to 10 times that of ordinary bed liners. When you apply it on your truck's bed, rest assured it will protect against all types of intensive usage, for a long time. It delivers the same reliability to other surface types.
Applying the liner is very easy. Simply fill up the application gun, shake to mix, then shoot out the compound. You can also use a roller or brush if you're trying to achieve different textures. Drying time is rapid.
As for protection, expect the liner to resists stains, rust, dampness, corrosion, and high temperatures.
Disappointingly, however, the Schutz gun required for effective spraying on this liner is not included. You need to buy it separately.

How to Buy the Best Truck Bed Liner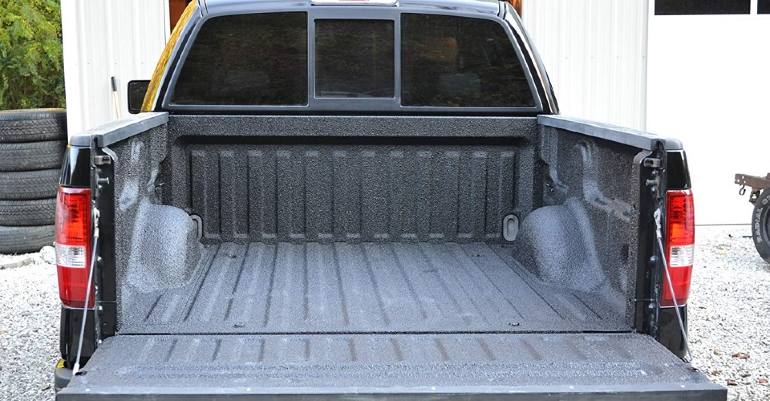 1. Types of Truck Bed Liner
Spray-In: These are permanent liner achieved by spraying a compound, often some form of urethane, directly onto the truck's bed.
The ideal mode of application is through a low-pressure Schutz gun, which is driven by an air compressor. They provide the truck bed with excellent abrasion, corrosion, UV, and weather protection.
These liners are durable and some may be textured to prevent load slipping. They are, however, pricey. Also, they demand thorough surface preparation.
Read More: The Best Spray-in Bedliners
Brush-On: Similar to spay-in liners, but differ slightly in the mode of application. These require a brush for application.
If you don't have access to a brush, a roller may work, but make the exercise tedious and time-consuming.
Read More: The Best Roll on Bedliners
Drop-In: Typically made from plastic sheets, these liners are placed directly in a truck bed, and then secured in place using bolts. They are affordable and easy to install. You may find loading on them fairly easy.
Drop-in liners may, however, allow for water to get trapped between them and the truck bed, which can be destructive if left unchecked.
2. Coverage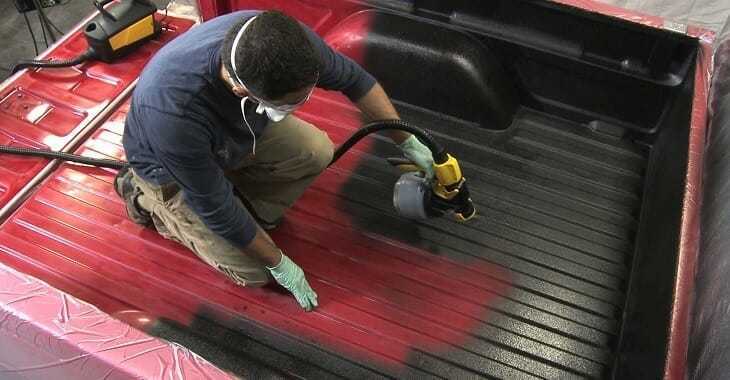 When choosing a truck bed liner, it's imperative to consider the area it will cover in your vehicle. You want to get a liner that covers the entire bed, without needing more units.
Trucks have varying bed sizes. The standard truck bed is 6 feet in length, but some go up to 8 feet and beyond. Coverage may also extend to the car's exterior or other surfaces if they are compatible with the liner.
Most single-gallon liners are enough for 6-foot truck beds, but in case you need more coverage for a larger bed, consider options such as Rust-Oleum 323529, which is ideal for 8-foot trucks.
3. Protection and Durability
The primary purpose of a truck bed liner is protection. You can look out for features that boost liners' protective capacity and durability.
UV protection is a major protective feature because most truck beds are constantly exposed to direct sunlight. This feature is great for preventing fading. Liners should also have high adhesive levels to prevent peeling.
The resistance is a liner to chemicals, gasoline, salt water, and solvents if a huge durability booster, especially if your vehicle is involved in some marine applications.
It's also great for a truck bed liner to have a stain-resistance capacity so that it simplifies cleaning of the enclosure.
4. Ease of Application
Liner application is, in most cases, a detailed process that demands a significant degree of thoroughness.
To make this process easy, most liners come as a kit that includes everything you need to get the job done. The most detailed kits include a liner, roller/brush, sanding sponge, and application guns (in some models).
Even with complete kits, the ultimate component for simplifying the application is a detailed user guide. If you follow it step, by step, the guide should help you achieve the desired results.
Read More: The Best DIY Bedliners
Conclusion
From our review, it's clear that truck bed liners are essential protective enhancements necessary for this vehicle type.
If you want the best roll-on bed liner for your truck, go with our top pick, the Herculiner HCL1B8. It is very tough, offers superior protective thickness, and works on multiple surfaces.
If you're on a tight budget, the Speedokote SMR-1000WROLL-K1 liner offers reliable truck bed protection at an affordable price.
And if you have a large 8-foot-bed truck, Rust-Oleum 323529 is the liner to get, for its superior coverage.