Bedliners are one of the most useful aftermarket upgrades for your truck. They protect against corrosion, UV light, and other external elements, while also preventing scratches and dents.
However, installing and maintaining them can be quite expensive, especially if you pay a professional to do the job. Luckily, there is another more economical option, which is finding the best DIY bedliner.
DIY bedliners are the kinds that you can install on your own easily. They come in various types, but the most common ones are the spray-in, roll-on, and drop-in bedliners.
This piece reviews some top-rated DIY bedliners and provides a buying guide to make shopping for one a less tedious task for you.
Editors' Picks for Top DIY Bedliners of 2021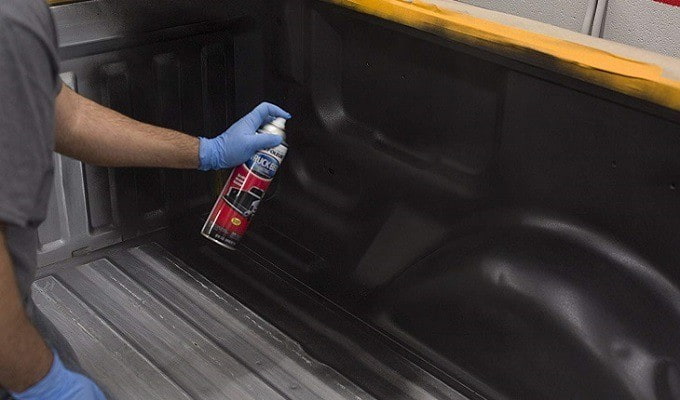 Summary of 5 Best DIY Truck Bedliners
IMAGE
PRODUCT
FEATURES

1. U-Pol Raptor 0822-4 (Best Overall)

Excellent adhesion & texture
Easy spray-on application
Dampens sound & vibrations
Fast drying

2. Herculiner HCL1B7 (Best Roll-On)

Tough, textured polyurethane coating
Forms a non-skid surface
Ideal for a variety of surfaces
Rust preventing formulation

3. U-Pol 0820V-Gun (Best Kit for the Money)

Great value for money
UV-resistant & fade-free
Deadens sound & vibrations
Scratch & stain resistant

4. Custom Coat BBL-4-GUN (Best Premium)

Premium long-lasting coating
High stain & abrasion resistance
Variety of application modes
Resists chipping & provides impact protection

5. Rust-Oleum 248914 (Best Spray-on)

Quick & simple spray-on
Dries to touch in just 1 hour
Conforms to exact truck bed shape
Textured non-skid finish
1. Best Overall DIY Bedliner: U-Pol Raptor 0822-4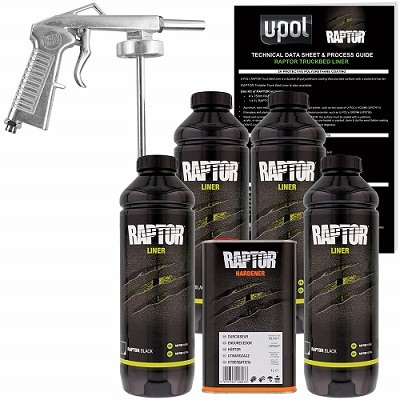 Color: Black
Size: 135 ounces
The U-Pol Raptor 0822-4 is our best overall product as it provides excellent adhesion to ensure your truck bed gets maximum protection. What's more, it leaves a fantastic texture on the bed that is hard to match with any other product.
There is a total of 135 ounces of product, which means it should be more than enough for at least a couple of coats for most truck bed sizes. Also, applying it is straightforward. You only need to add the hardener, give it a nice shake, and spray.
Because this is fast drying bedliner, you will not have to wait long before applying the second coat. You can have the second coat on in as little as one hour, which is quite convenient.
This DIY bedliner is stain, scratch, and UV resistant to ensure it maintains a pleasant look that does not fade. It will also help deaden vibrations and sound.
When you buy this kit, you get a free spray gun to ensure it is ready for immediate application.
When compared to others on our list, the U-Pol Raptor 0822-4 is relatively pricier. However, given its top-notch quality, you will still get value for every buck. There is also more product on the container.

---
2. Best Roll-On DIY Bedliner: Herculiner HCL1B7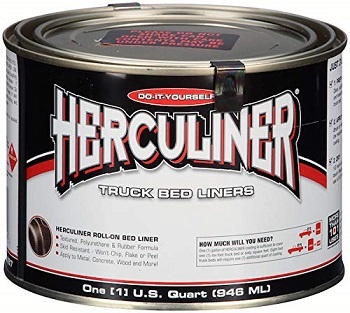 Color: Black
Size: 32 ounces
If you are looking for a good roll on bedliner, you can never go wrong with Herculiner as they are one of the most reputable brands that manufacture these bedliner types.
Their model HCL1B7comes in a 32-ounce container, and it creates a tough, textured polyurethane coating that can withstand the elements for long, which makes it our best roll on bedliner.
The formulation helps prevent rust, and the coating that you get is up to five times thicker when you compare it with regular DIY roll-on bedliners. This surface is also skid-resistant to help keep your luggage in place.
While the included brush is not very good quality, it still gets the job done. Furthermore, it is easy to get a better one without spending much. Drying time could also be shorter, but a longer dry time should still not be the deal-breaker.

---
3. Best DIY Bedliner Kit for the Money: U-Pol 0820V-Gun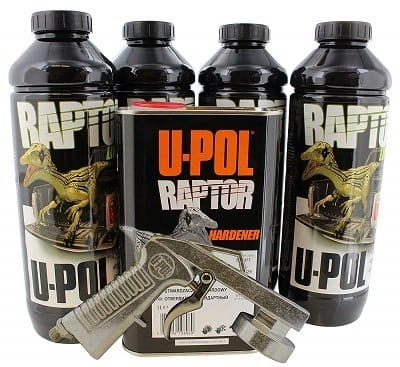 Color: Black
Size: 135 ounces
U-Pol 0820Vcomes in a 135-ounce container, which means that there is enough product to give your 6.5-foot or smaller truck bed several coats. The fact that it is also relatively more affordable ensures you get great value for money.
Because this bedliner deadens sound and vibrations, loading and off-loading your truck should be a less noisy process.
The waterproof coating helps prevent rusting and corrosion, as water does not seep into the truck bed. Also, the bed cover is resistant to both stains and scratches.
With this product, you get UV protection for the truck bed, and so it will not fade fast. Because it comes with a free spray gun, it is ready for immediate use. Also, this saves you money as you do not have to buy one separately.
Because the gun does not seem to reach the bottle's bottom, some of the product is not pumped out. However, only a negligible quantity remains in the bottle. The bedliner might not be enough to cover the large truck beds with a thick enough coat, but it is still adequate for at least a couple of coats.

---
4. Best Premium DIY Bedliner: Custom Coat BBL-4-GUN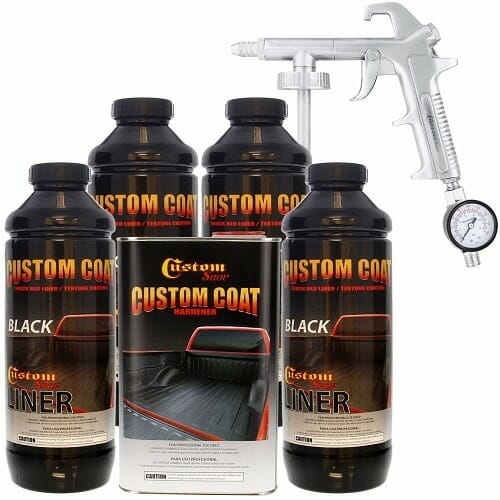 Color: Black
Size: 135 ounces
With this urethane coating by Custom Coat, you get a premium-quality product that will give your truck bed a long-lasting and highly protective coating.
The application is straightforward as you just need to add the hardener, shake it, and spray the mixture on your truck bed.
Also, the 135 ounces is enough for at least two coats for a large truck bed. After the application, you do not need to wax the surfaces as it is abrasion and stain-resistant. Better yet, it will resist chipping and provide impact protection.
This DIY bedliner offers adequate protection against common truck bed problems like rusting and extreme temperatures. Because it is a waterproof and flexible coating, it helps dampen sounds and vibrations. Plus, it provides excellent adhesion to different surfaces.
Although this bedliner comes with a free spray gun, it still allows for various other application modes as you can roll or brush it on.
On the downside, this bedliner spreads a little thin. Therefore, several coats are required to get a suitable thickness. However, it dries quite fast, and so applying multiple coats should not be a problem.

---
5. Best Spray-on DIY Bedliner: Rust-Oleum 248914

Color: Black
Size: 15 ounces
While all the products in our DIY bedliner review are fairly simple to use, the Rust-Oleum 248914 is the best choice for those shopping for a quick and easy to apply spray-on option.
This bedliner provides a smooth and elegant finish that will leave your truck bed looking fantastic. Also, it conforms to the truck bed's exact shape to create an even-looking cover, and it is instrumental in preventing rust.
The coating will offer protection from impacts, weather, and fading, which are common issues that the truck bed has to face. And it also reduces road noise when hauling cargo. Plus, the textured surface you get is more resistant to the elements and scratches.
There is not much product on the bottle, so this bedliner might not be ideal for covering larger areas. However, you can always buy several bottles as it is quite affordable.

How to Buy the Best DIY Bedliners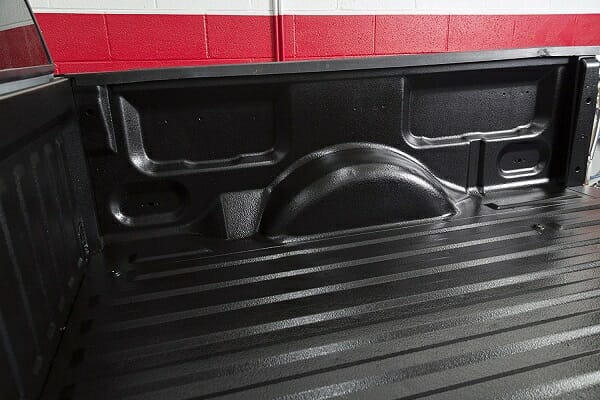 1. Types of DIY Bedliners
One of the first and most crucial factors to consider as you shop for a DIY bedliner is the type. Here you need to choose from spray-in, roll-on, and drop-in.
Spray-In Bedliners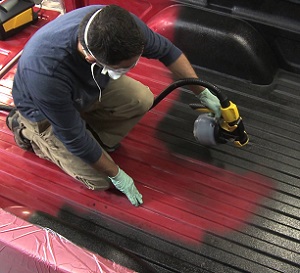 Spray-In Bedliners
Spray-in bedliners like the Rust-Oleum 248914 are some of the most popular types. This popularity stems from the fact that they offer long-lasting protection and require minimal maintenance.
They are applied with a spray gun and typically give the truck bed a rough texture that prevents cargo from sliding all over.
Roll-On Bedliners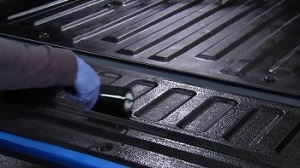 Roll On Bedliners
If you are a motorist looking for the performance of a spray-in bedliner, but without the cost that comes with it, the roll-on bedliner like the Herculiner HCL1B7 is your best bet.
These bedliners come in a large can like house paints, and are applied using either a roller or brush. But, some manufacturers are now making some sprayable ones.
Getting an even coat with this bedliner depends on your skills and keenness. They will also take a relatively longer to dry. But once dry, they create a highly durable and damage proof coating.
Drop-In Bedliners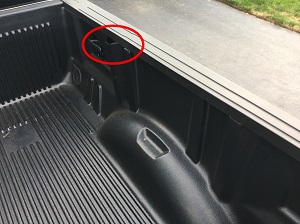 Drop-in Bedliners
Like the roll-on bedliners, the drop-in bedliners are quite cost-effective. They come as a single piece of plastic that is molded to fit a particular truck bed size.
With these bedliners, you only need to drop the plastic piece into your truck bed to cover it and provide the protection you want.
While drop-in bedliners are straightforward to install, a section can break off and leave the truck bed exposed in that part. Also, water can seep in between the bedliner and truck bed, which leads to corrosion.
Buying Advice: If you prefer something cost-effective but still highly durable and protective, go for the roll-on bedliners. Spray-in bedliners, on the other hand, offer the most appealing look, but they are pricier. Lastly, drop-in bedliners are an excellent option when you do not want something permanent.
2. Purpose
What you want the bedliner to do for the truck bed should be on your mind when choosing one because different types can serve varying purposes.
For example, if you want something that can help prevent cargo from sliding all over, an option with rough texture is ideal. On the other hand, some motorists might want a sleek one that allows heavy cargo to slide in and out of the truck.
Also, consider whether you want something to prevent fading by offering UV protection or keep scratches and rust in check.
3. Mode of Application
There are different methods of applying DIY bedliners. Therefore, it is essential to choose what you find the most convenient for you.
The most common modes of applications are spraying, rolling, and brushing. Spraying is probably the easiest for most DIYers as it does not take a lot of effort to get an even coat, but not all bedliners are sprayable.
The type of bedliner that you want to apply determines the best mode of application. And this is because it might not be possible to use a roller to install a spray-in bedliner.
Also, note that the type of finish you want will determine the ideal mode of application. Spraying provides a more textured finish while rollers give a smooth and even finish.
4. Color
Black is the most common bedliner color. However, it is not the only option as there are many others like white, such as Speedokote SMR-1000WROLL-K1, or tintable options like Al's Liner ALS-BL.
The color of your truck bed will often determine the right color to use. That said, it is still possible to apply a black roll-on bedliner on beds with bright colors like red and yellow. The color choice will often boil down to a motorist's preferences and the desired look.
5. Ease of Use
Because you want to do everything on your own, the DIY bedliner needs to be easy to install. The easiest ones to use are those that come with everything you need and detailed directions on what to do.
Fast-drying bedliners are more straightforward and convenient to use, as you will not need to wait for a long time before applying the next coat.
6. Durability
Your truck bed has to face a lot of abuse during its typical service life. This ranges from the pressure and scratches that come with hauling all kinds of cargo to being exposed to the elements.
What all this means is that you need to have a high-quality bedliner made to withstand all this for a long time.
Something that comes with durability assurances from the manufacturer and a lengthy warranty is often the most durable one. But, also keep in mind that you need to apply it correctly to ensure maximum durability.
7. Resistance
Resistance determines how durable your DIY bedliner will be, and there are a few things that you need to watch out for here.
Consider whether the bedliner is resistant to UV rays, scratches, stain, and chemicals. These are the typical things your truck bed will have to face every other day.
A skid-resistant truck bedliner is also essential as you do not want something that gets super slippery when wet.
Conclusion
With a DIY bedliner, you will not need to spend a fortune to give your truck bed the protection it needs. With our best DIY bedliner review above, you now know some of the top models and brands to buy.
To help you narrow down your choices, the U-Pol Raptor 0822-4 takes our top overall spot. This bedliner provides excellent adhesion, has a fantastic texture, and is easy to apply.
If you are looking for something that gives the best value for the money, the U-Pol 0820V is our recommendation.