Wheel bearing grease is a semi-solid lubricant that protects wheel bearings from their two biggest enemies: water and heat. With the best wheel bearing grease, you will cut down on the amount of heat produced by friction, thus prolonging the bearing's life.
While you'll find lots of sealed wheel bearings with lifelong lubrication, most are not sealed. And therefore need the occasional servicing and greasing, which you can easily handle by yourself, by the way, provided you have the right grease.
In this wheel bearing greases review, we help you find the perfect product for your wheels. Here we provide a list of top-rated wheel bearing grease options plus a guide on how to pick the best for you among them.
Editors' Picks: Top Wheel Bearing Greases of 2021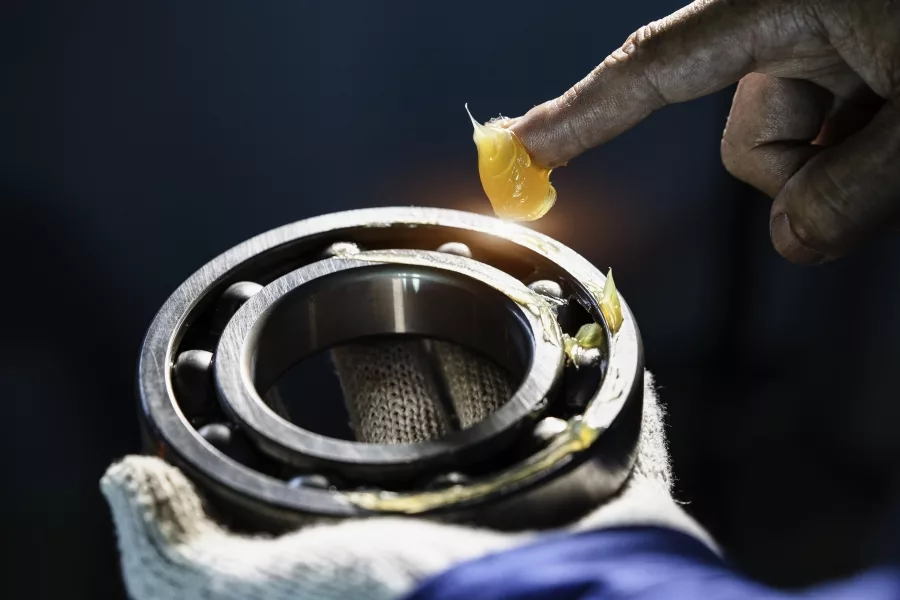 Summary of 7 Best Wheel Bearing Greases - Review
IMAGE
PRODUCT
FEATURES

Timken GR224C Wheel Bearing Grease

1. Timken GR224C (Best Overall)

Lithium complex high-temp grease

Multipurpose EP grease
Corrosion & anti-wear agents
NLGI #2 and GC-LB certified

Lucas Oil 10301 14.5-Oz Heavy-Duty Wheel Bearing Grease

2. Lucas Oil 10301 (Best Budget)

Budget-friendly
Lasts up to 4 times longer
560°F tolerance
Perfect for irregular maintenance schedules

Allstar Timken ALL78241 16-Oz Red Wheel Bearing Grease

3. Allstar Timken ALL78241 (Best for High Temp)

Wide temperature tolerance to 300°F
Anti-wear and corrosion additives
Perfect grease for challenging environments

NLGI GC-LB Certified

Valvoline SynPower Automotive Wheel Bearing Grease

4. Valvoline VV985 (Best Synthetic)

Full synthetic formula
Moly-fortified
-60 to 425°F temperature tolerance
Multi-purpose for all types of cars

Valvoline VV986 SynPower 1-Lb Synthetic Wheel Bearing Grease

5. Valvoline VV986 (Best for Japanese & European Vehicles)

Great for Japanese and European cars
Moly-fortified grease

Rust and oxidation inhibiting
Extreme pressure additives

Lucas Oil 10320 Multi-purpose Marine Wheel Bearing Grease

6. Lucas Oil 10320 (Best Multipurpose)

Multipurpose use grease
Highly-insoluble marine grease
GC-LB certified
Anti-wear and corrosion agents

Mag 1 High-Temp Wheel Bearing Grease

7. Mag 1 720 (Excellent Water Washout Resistance)

Superior washout resistance
High pressure tolerance
Anti-corrosion and wear additives

Good pumpability
1. Timken GR224C - Best Overall

Size: 14 ounces
Ingredients: Lithium complex
The Timken GR224C is our best overall option thanks to a special high-temperature formulation. This multipurpose grease is one of the best wheel bearing grease for trailers, cars, and agricultural vehicles.
This grease is specially formulated for disc and drum applications with its high heat tolerance, anti-wear, and anti-corrosion additives, as well as its acceptable level of water resistance.
It features a lithium complex thickener for stability in demanding applications, and it's NLGI GC-LB certified for use on vehicle wheel bearings and chassis.
This grease is not ideal for marine use, which means that it will not work for boats despite being multipurpose. But this is hardly a deal breaker as it does an amazing job on wheels, which is its primary purpose.

---
2. Lucas Oil 10301 - Best Budget

Size: 14.5 ounces
Ingredients: Polyurea base
Lucas Oil 10301 is a more budget-friendly oil that will ensure you get a reliable product for greasing your wheels without having to spend a lot of money.
With its 560 degrees Fahrenheit dropping point, here's one of the best heavy-duty wheel bearing greases that's designed to withstand high pressures at top speeds.
You can use it on heavy-duty trucks, including farming and construction equipment. Because of its long-lasting formula, this grease also helps to maximize component lives and reduce maintenance.
This heavy-duty wheel bearing grease comes in a grease gun cartridge, ready for immediate use. It has a green color, has an NLGI grade 2 rating, and it's plastic safe, as well.
This grease has a special formulation which makes it last up to 4 times longer than conventional products. Additionally, it's very water-resistant, but not enough to make it a marine grade grease.
Note: Besides this 14.5-ounce option, this product is also available in two other sizes, which are the 16-ounce Lucas Oil 10330 and the 10 pack Lucas X-Tra Lithium Grease.

---
3. Allstar Timken ALL78241 - Best High Temp
Size: 16 ounces
Ingredients: Lithium complex
While the Timken ALL78241 might not have the highest temperature tolerance on our list, it is still our best high temperature wheel bearing grease as it has a wider temperature tolerance.
The grease is colored red and has a temperature tolerance ranging from -40° Fahrenheit up to 300° Fahrenheit. It also has other additives like corrosion inhibitors, water resistance, and anti-wear additives.
This grease is specifically formulated to give the best lubrication and protection for both disc and drum wheel bearing applications. It will be ideal for dry land vehicles, including many cars, trucks, RVs, trailers, and agricultural machines.
It's rated NLGI #2 and is also NLGI GC-LB certified, guaranteeing its good performance as both chassis and wheel bearing grease. Allstar Timken gives it a 55-lb load-carrying rating and additionally backs it with a 90-day warranty.
While this grease could be a little thicker the thinner consistency still does not affect the overall performance and is hence not a big concern.

---
4. Valvoline VV985 - Best Synthetic

Size: 14.1 ounces
Ingredients: Lithium complex & molybdenum disulfide
Valvoline presents a high-temperature wheel bearing grease that's fully synthetic, multi-purpose, and heavy-duty. It's made using lithium complex, which got thickened in synthetic oil and has molybdenum disulfide added to it.
With moly's help, this grease gets fortified enough to withstand high pressures, and it can also handle a wide temperature range from as low as -40 up to 425 degrees Fahrenheit.
These unique features make this Valvoline grease ideal for both heavy-duty industrial applications and multi-purpose automotive applications, including chassis, U-joints, suspensions, and of course, disc brake wheel bearings.
It has an NLGI #2 rating, placing its consistency at that of peanut butter, and you can equally use it on Japanese, American, and European cars. Valvoline packages it in a grease gun cartridge for easy use.
This synthetic oil seems to separate rather quickly when compared to others, but this is an easy problem to avoid by storing it properly.

---
5. Valvoline VV986 - Best for Japanese & European Vehicles
Size: 16 ounces
Ingredients: Molybdenum disulfide and Lithium complex
The Valvoline VV986 has one of the best lithium wheel-bearing grease formulas that you can find in the automotive world, and it is designed specifically for the Japanese and European vehicles.
This wheel bearing grease boasts a high temperature and heat tolerance of -60 to 425 degrees Fahrenheit, making it ideal for use on disc brakes.
Valvoline makes SynPower grease by thickening lithium complex in a synthetic oil base. They also added some molybdenum to the lithium complex to increase the film strength and create an EP (Extreme Pressure) grease.
This makes it one of the best synthetic wheel bearing greases and capable of withstanding the high pressures of heavy-duty machinery and other applications. The grease is given NLGI's #2, meaning it's easy to apply, and it's also NLGI CG-LB certified for use on both chassis and bearings.
You can use this grease for lots of other general greasing applications as well. It's harmless against rubber because it's made from fully synthetic compounds, which also accounts for its high heat tolerance.
This grease does not come in a cartridge that can make the application a little hectic, but you should still figure it out.

---
6. Lucas Oil 10320 - Best Multipurpose

Size: 14 ounces
Ingredients: Lithium complex
Designed for heavy-duty applications with extreme pressure, this Lucas Oil 10320 is another great option when you're on the search for a good waterproof wheel bearing grease. It will also stay in place, having a good water wash-out, even in extreme weather, and this makes it one of the best wheel bearing greases for multi-purpose marine use.
It's made using lithium complex and has unique polymers and anti-wear agents to make it resistant to rust and oxidation.
Also, important is its extreme pressure capacity, with a weld point of 500 kg, which is over 300 kg stronger than the industry standard.
Besides marine applications, you can also use this grease for various standard greasing jobs, such as wheel bearing and chassis lubrication in automobiles.
For brake wheel bearing, this is not a very ideal product, and it is also a little too thick for other uses. But, overall, this is still a fine quality bearing grease.

---
7. Mag 1 720 - Excellent Water Washout Resistance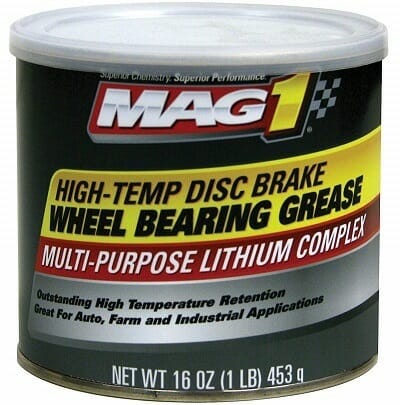 Size: 16 ounces
Ingredients: Lithium complex
This red grease from Mag 1 also offers you excellent water washout resistance, and it will withstand the most extreme and harsh conditions in both hot and cold climates.
It can handle the high heat output from disc brakes up to 325° Fahrenheit. It also works well in low temperatures down to -40 degrees.
This grease has an impressive pressure tolerance, enabling it to work under extreme pressures plus the high heat. Then there are extra additives to make it more resistant to corrosion and wear.
The Mag 1 high-temp grease can also be used in general lubrication applications, plus it offers you longer equipment life and lower maintenance costs, making it a great investment that works in many ways.
This grease still does not have what it takes for very heavy-duty use, but for regular wheel greasing jobs, it still does a fantastic job.

How to Buy the Best Wheel Bearing Grease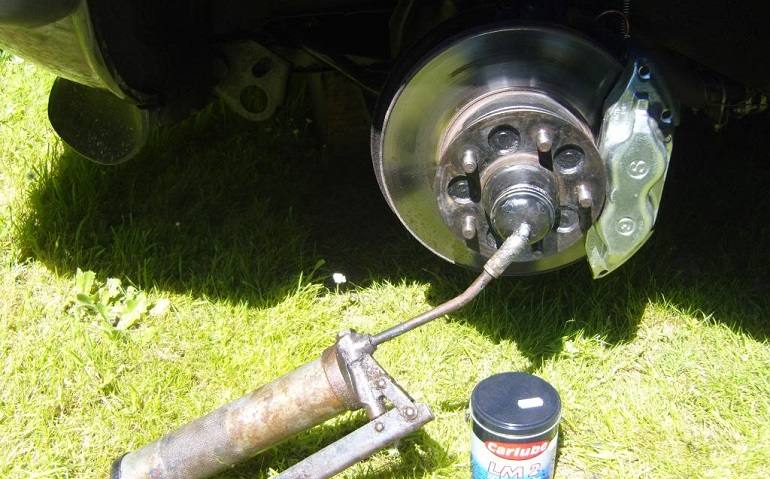 1. Types of Wheel Bearing Grease
You should know the different types of wheel bearing grease that's available. They are the multi-purpose grease, white lithium grease, disc and marine grease.
Multi-Purpose Grease
A multi-purpose grease has the properties of over one specialized grease, making it ideal for application in different places. Multi-purpose greases are quite popular with home and hobby users.
Lithium Grease
Lithium-based greases are the most popular types of greases worldwide, with a market share of over 70%. They are available with different additives, which makes them ideal for specific applications.
White-lithium is one such variant of lithium grease. It's ideal for applications needing metal to metal contact. It prevents corrosion by blocking moisture, provides long-lasting lubrication, and is a multi-purpose grease.
Disc/Drum Wheel Bearing Grease
This is a kind of grease that's formulated to lubricate high-speed wheel bearings. It's also extremely tolerant of the large amounts of heat generated by a vehicle's brakes.
As the name suggests, this grease works great on vehicles with either disc or drum brakes. But, it will also work great as a general-purpose grease for lubricating random stuff.
Moly EP Grease
Moly or Moly EP grease is manufactured using molybdenum disulfide, which is often referred to as just moly. And the EP abbreviation in the name stands for Extreme pressure.
This grease offers better performance than general-purpose greases when under high pressures. Also, moly-fortified grease like Valvoline VV986 is ideal for general use, as well as in U-joints, ball joints, and anywhere with sliding motions and high pressure.
Marine Wheel Bearing Grease
This grease is specifically formulated for wheel bearings and with added water resistance. This makes it perfect for use on boats or on anything that gets exposed to water a lot.
Besides lubricating wheel bearings, you can also use marine grease such as the Star Brite 026014 on winches, steering cables, swivel hinges, anchor chain reels e.t.c.
2. Temperature Tolerance
This is a grease's ability to withstand high temperatures while maintaining its physical properties. Lithium greases are generally better in this regard than calcium or sodium-based types.
3. Pressure Tolerance
Some wheel bearing grease models like Mag 1 720 are specially formulated to work well in high-pressure applications. This includes Moly EP greases and brands like LMX Red Lithium grease.
4. Water Resistance
This is a grease's ability to form a protective sheet against water on the material that it's applied on. This feature usually comes from the oil content of the grease.
Being water-resistant is important because it helps to protect metal parts, which are often subject to corrosion. It, therefore, helps your wheel bearing to last longer.
5. Grease Viscosity
There are two major ingredients in grease: A lubricant to fight friction, and a thickener to give the grease a consistency that keeps it around the moving parts, instead of lubricating oil that'll just leak or flow away.
You'll get great in a range of viscosity or thicknesses, with each type assigned a number from 0 to 6. A 0-rated grease is nearly liquid, while a 6-rated one is very hard. Most greases you'll find usually have a 2 rating with a peanut butter consistency.
Frequently asked questions
What Happens if I don't Grease Bearings?
A: They will wear out super fast as they will rub against each other more. Also, bearings will overheat and corrode or rust within a shorter time.
Should I Replace Wheel Bearing in Pairs?
A: Yes, it is always recommended replacing the bearings in pairs to ensure maximum performance. Replacing them in tandem ensures you will have a good maintenance baseline. Furthermore, when one wheel bearing is worn out, it is a good indication that the other is also not far away from wearing out, and it will hence be cheaper to replace both.
How often Should I Grease Bearing?
A: It depends on how you use your vehicle. Frequently used vehicles will require greasing more often than the occasionally used ones. However, on average, you will need to grease at least once a year or every 5,000 to 10,000 miles, depending on which comes first.
How many Greases Should I Put in a Bearing?
A: A typical wheel bearing will need around 8 grams of grease, but this varies from one vehicle model to the other. Hence, your mechanic or vehicle manufacture should provide more accurate information.
Can I Mix Wheel Bearing Grease?
A: If they are the same type, there is no problem mixing them. For example, you should be able to mix most lithium complex based grease with no issues.
Do I Need to Grease New Wheel Bearing?
A: Yes, you will in most instances still need to grease your new wheel bearings unless you buy the bearing and hub already pre-assembled as this means the bearing is already greased.
Conclusion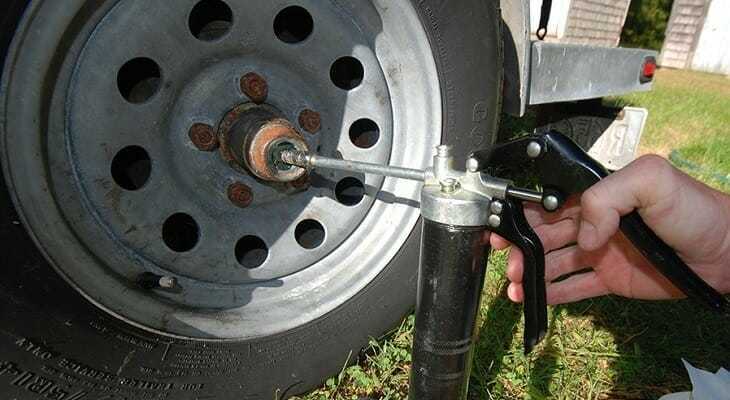 From standard multi-purpose greases to the moly and disc/drum wheel bearing types, each specific grease has its advantages and disadvantages. And you can now pick what works best for you from our list above.
With that in mind, the Timken GR224C takes our best overall spot as it is a high-quality wheel bearing grease with high temperature tolerance and superior anti-corrosion properties.
But, if you prefer something more affordable, the Lucas Oil 10301 will be good for you. And the good news is that it still works well and has a high enough temperature tolerance of up to 560 degrees Fahrenheit.