Taking good care of your car involves scratch removal from time to time and that's a job best done with the best car scratch removers.
Different manufacturers offer different solutions for removing car scratches, including those that only provide a temporary cover and offer a more permanent scratch removal.
Many manufacturers also offer their products as a kit containing all the tools you will need from sandpaper and microfiber pads to different repair compounds and polishes for user convenience.
Because you need to make up your mind on which car scratch remover will give you the best service, here we help get you started with a comprehensive review of best car scratch removers and a buying guide.
Editor's Recommendation: Top Car Scratch Removers of 2021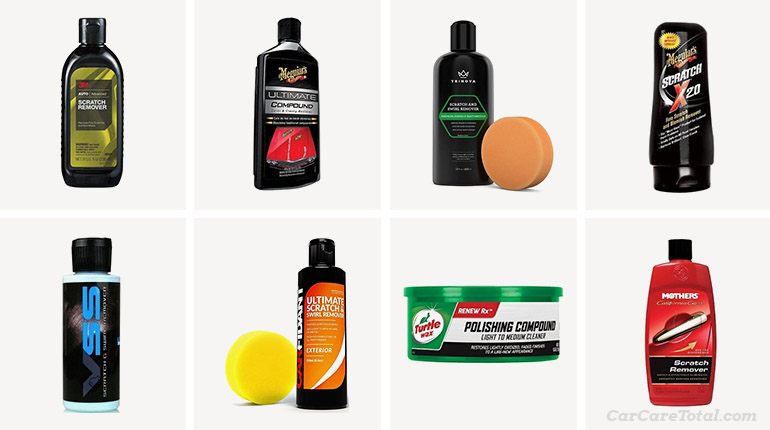 Summary of 7 Best Car Scratch Removers
IMAGE
PRODUCT
FEATURES

1. 3M 39044 (Best Overall)

Wax-free formulation

Versatile machine or hand application

Removes both scratches and swirl marks

Fine finishing

2. Meguiar's G17216 (Quick Scratch Removal)

Formulated for fast scratch removal

Stunning like-new finish

Clear coat safe and effective

Also good for removing water spots and other blemishes

Does not leave swirl marks behind

3. TriNova 33320 (Best Abrasive Compound for Car Scartch)

Advanced abrasive formulation

Applicable by hand or machine

Safe for use on all paint surfaces

Eco-friendly product

Buffer pad included

4. Meguiar's G10307 (Ideal for Isolated Paint Scratch)

Perfect for isolated paint imperfections

Safe on any paint finish

Leaves a brilliant high gloss finish

Can be applied by hand or DA polisher



5. Chemical Guys COM_129_16 (One Step Scratch Removal Formula)

Simple one-step use

3-in-1 function

No wax, silicone or fillers used

Works with both machine and hand

Great for all paint finishes and colors

6. Carfidant CARF-C305 (Safe & Easy to Apply)

Easy hand or DA polisher application

Safe on all paint surfaces and colors

Restores gloss and shine

Buffer pad included

Also removes swirls, oxidation and water marks

7. Turtle Wax T-241A (Heavy-duty from Top Brand)

Versatile top brand scratch remove

Easy to handle paste

Restores faded finishes

Relatively more affordable
1. 3M 39044 - Best Overall

Type of Blemish: Clearcoat scratches
Volume: 8 ounces
This car scratch remover from 3M gets the job done quickly and permanently by actually polishing the scratches on your car out and not just filling them up with wax. It is this high effectiveness that makes it our best overall product.
It works on everything, including scuffs, car wash scratches, and different stains and blemishes. 3M mixes fine abrasive and finishing compounds to produce this easy to use and all-in-one compound.
And besides removing all scratches and other imperfections, this car scratch remover will give the surface a fine finish.
Also, you are free to apply it either by hand or using a power tool. Hence, a microfiber cloth or foam applicator are the only other things you will need.
Because this compound does not contain any wax, you may still need to do some waxing to give the surface extra protection. However, this is not a dealbreaker.
Also, check out the 3M 39071 if you want something simple and effective for removing scuffs and light paint scratches. And if you are very keen at enhancing the vehicle's overall appearance, their 3M 39087kit is perfect.

---
2. Meguiar's G17216 - Quick Scratch Removal

Type of Blemish: Clearcoat and basecoat blemishes
Volume: 16 ounces
Meguiar's G17216 is one of the best compound car scratch removers if you are looking for something that will save you tome by getting the job done much faster. The safe clear coat formulation cuts down the time it takes to restore the car paint significantly.
While it cuts fast like a harsh abrasive and brings you quick results, it will do this without any damage to your paint-job or top-coat.
Developed in a professional body shop, this compound combines a micro-abrasive and a polishing technology into one ultimate compound that makes car detailing a breeze.
This compound also adds gloss to your car and all in one step. And it is usable by hand for small areas and with dual action polishers for larger areas.
The finish that you end up is as close to new paint as it can get. Also, this car scratch remover will be effective for removing water spots and will never leave any swirl marks.
Lack of accessories can be a significant concern for some users, but most of the things you need like microfiber cloth are widely available and inexpensive. Chances are that you already have most of the accessories at home.

---
3. TriNova 33320 - Best Abrasive Compound for Car Scratch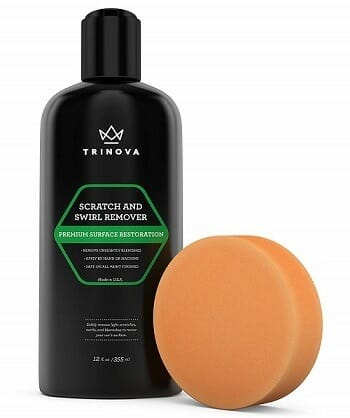 Type of Blemish: Clearcoat
Volume: 12 ounces
The more abrasive formulation is what makes the TriNova 33320 one of the best car scratch remover. With its abrasive compounds, this scratch remover will be more effective at removing scratches, swirls, water spots and oxidation.
Also, the car scratch remover has a more eco-friendly formulation, and it will not include any harsh chemicals that will harm you or your vehicle's paint. Hence, it will be ideal for use on any paint surface.
This package additionally includes a buffer pad for applying the compound to your car. You can also use an orbital polisher for the application if you like, but the buffer pad makes it unnecessary for small jobs.
For deep scratches, this compound is not very effective. However, this is typical of most car scratch removers. Also, was would have been a good addition for its price, but since it still does a good job, this is not a big concern.

---
4. Meguiar's G10307 - Ideal for Isolated Paint Scratch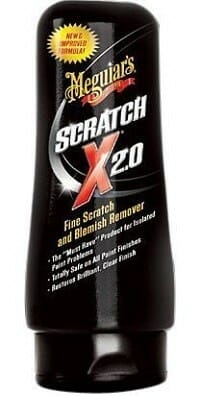 Type of Blemish: Clearcoat scratches
Volume: 8 ounces
After the success of Meguiar's Scratch X for nearly a decade, the company decided to make some updates and came out with this Scratch X 2.0. It is another top-rated car scratch remover that does an amazing job on the isolated scratches.
This car scratch remover makes use of micro-abrasive systems that will ensure you get results faster. Also, this system makes it gentler on paint surface to ensure it can be used on all paint finishes.
With this car scratch remover, you will also end up with a high gloss finish that enhances the vehicles overall appearance.
And to make it even more convenient for users, it can be applied both by hand and with a DA polisher.
For medium and deeper scratches, this car scratch remover does not seem abrasive enough but for light, isolated ones it is unbeatable.

---

Type of Blemish: Clearcoat scratches
Volume: 16 oz
The Chemical Guys COM_129_16 is a 1-step polisher to restore your car's paint-job back to its glory. All you need is one polishing step to remove scratches and swirls, leaving your car with a mirror finish.
It does not use wax or fillers and works using diminishing abrasive technology, which means it includes an abrasive which gets finer over time, removing the need for compounding and then polishing.
You can use this car scratch remover safely and effectively on both single stage and clear coat paint. And because it does not contain any fillers or silicone, it will be safe for these different surfaces.
This product works with any rotary machine and can also get hand rubbed. It makes it easy and fast to work on a car with only minor blemishes, since it includes a light abrasive, but you'll need something else for heavier scratches.

---
6. Carfidant CARF-C305 - Safe & Easy to Apply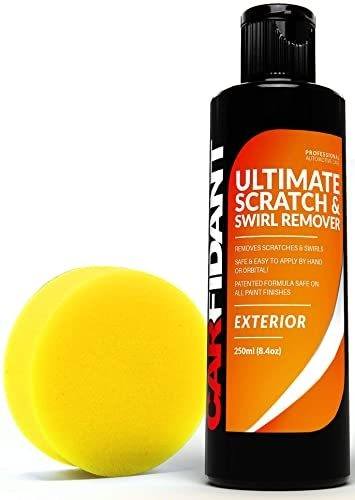 Type of Blemish: Clearcoat
Volume: 8.4 ounces
Scratch removal does not have to be a tedious task because, with a super easy to use product like Carfidant CARF-C305, you can have your vehicle looking all new in just a few minutes.
The inclusion if a buffer pad further makes the process even easier. And besides hand polishing, you can also remove the scratches with a DA polisher.
This product is gentle on all paint surfaces and colors, and it will never leave the vehicle with unsightly marks.
Better yet, once you finish applying the car scratch remover you are left with a nice gloss and shine.
Some scratches appear to come back when you wash your vehicle. However, this is only so for the deeper ones, but this should not be a drawback as this product is not meant for deep scratches.

---
7. Turtle Wax T-241A - Heavy-Duty Top Brand Polish and Scratch Remover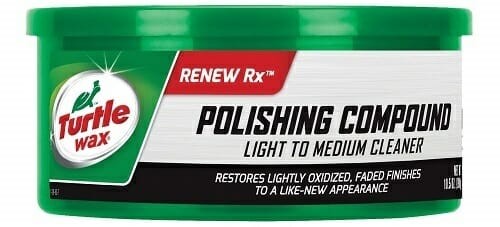 Type of Blemish: Clearcoat & basecoat blemishes
Volume: 10.5 ounces
Turtle Wax is one of the most popular and oldest brands when it comes to car detailing and so many car owners depend on the brand. And besides being a top brand product, this particular paste is made for versatility as it is useful for both scratch removal and polishing.
This Turtle Wax is a light to a medium-strength cleaner that quickly cleans out any dull and oxidized finish, including painted metal and chrome finishes.
It is highly effective at restoring faded surfaces, and it will work on any paint finish and color.
On the flip side, this car scratch remover is a paste and not very easily removed after use. It's also meant for hand use, while other products are okay for both hand rubbing and rotary tool application. Its low price though makes it all worth it.

How to Buy the Best Car Scratch Remover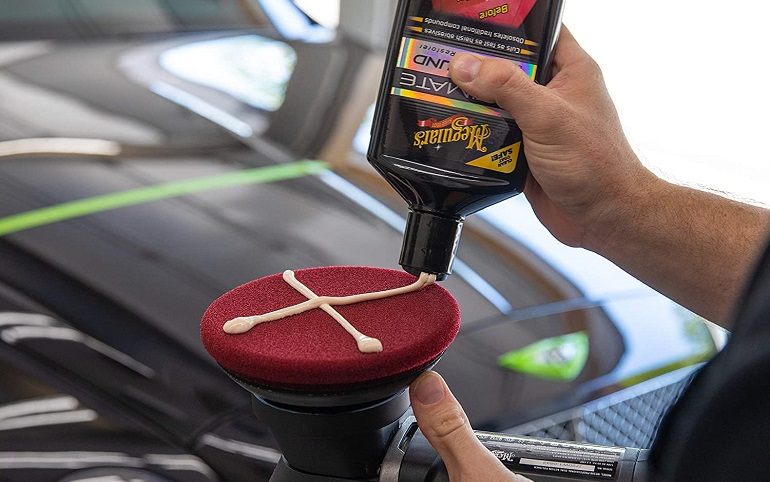 Below is a breakdown of the key aspects you should consider when picking up a car scratch remover.
1. Kits or Not
You'll need to ask yourself if all you need is just a car scratch remover or if you'd like a complete kit like Quixx 00070-US with everything you need to use the product.
For those who already have some items like sandpaper and polish cloth in their shop, a car scratch remover compound alone is often the way to go.
Else, you'll get kits with all sorts of accessories, including sandpaper or sanding blocks, microfiber pads, polish, rubbing compound, etc.
2. Abrasives
Asides from the polish, abrasives are the next most important items to consider. You get to choose from many kinds of abrasives, depending on the manufacturer or on the package.
An abrasive can either be a physical one like a sanding block or sandpaper, or it can also be a rubbing compound in paste form, which either comes alone or mixed into a car scratch remover compound.
3. Polish
Just as with abrasive compounds above, polish can come on its own like what you get with Quixx 00070-US or already mixed into the car scratch remover compound like Turtle Wax T-241A.
The choice here between the two options is yours, and it also depends on the other items that the package in question offers.
4. Ease of Use
Some scratch removal kits are easier to use than others, coming with better directions or a user guide, while others are not well documented.
You'll also find versatile car scratch removers that can either be applied by machine or hand. It's necessary to make sure that you're getting something you know how to use and with clear instructions.
How to Remove a Scratch from a Car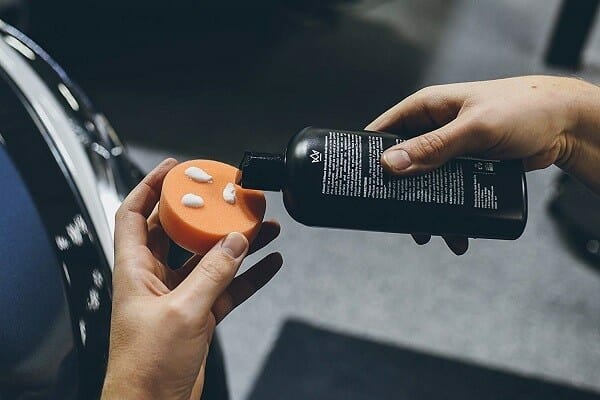 Here are the steps to follow to remove scratches from vehicle surface.
1. Assess the Problem
The first step is assessing the problem. You need to take a closer look at the scratch or scratches and figure out just how serious they are.
The truth is that you can easily handle light scratches with a scratch removal system, but deeper scratches will need a different approach.
Every car has 3 levels of paint coat. The deepest is the primer, then comes the basecoat, and then the top coat, which has the job to protect the basecoat and make it durable.
If the scratch is white, then it's probably a light scratch on the clearcoat and can easily get removed. Scratches to the basecoat can also get removed if they're small. For deeper scratches, you'll need to apply some paint or get professional attention to get the job done.
2. Clean & Dry
Once you've determined that you can handle the damage, the second step is to clean and dry the area. You should wash it with soap if possible and get it free from all kinds of dirt.
3. Remove Scratches
Light Scratches : Apply Car Scratch Remover
If the scratches are light, then you'll just need to apply the car scratch remover with a pad or hand towel and rub it in. Else, if they're deeper, then you'll need to do a little more work.
Most car scratches are light anyway and are just on the clear coat, making deep treatments unnecessary. You'll find lots of car scratch removers designed exactly for this. They come with the right amount of abrasive and polish combination.
You can also apply certain car scratch removers that just cover up the scratches. Do note though, that these offers only a temporary solution and that the scratches will become visible again with time. The only permanent scratch removal method is abrasion.
Deeper Scratches: Sand and Apply Car Scratch Remover
For deeper scratches, sanding of the area will be necessary. You can do this using either a sanding block, sandpaper, or a rubbing compound.
Gently sand the area with very light pressure until the scratch has disappeared and the area looks dull.
Once this is done, you can now apply the car scratch remover to cover up the scratches.
4. Polishing
A polish removes the roughness of rubbing compounds, to create a smother and glossier surface. So, even the best rubbing compound for car scratches is no good without a polish.
Your repair compound can contain a polishing compound as well, in which case you'll be done after applying the repair compound. Else, now will be the time to apply the polish under the manufacturer's directions.
Read More: The Best Chrome Polishes
5. Waxing
Some polishing applications can include some sort of wax and other will not, so it's necessary that you go through its instructions. If your polish has no wax, then you should consider applying some wax.
What waxing does is to seal in your hard work and offer a protective layer over it, which makes your polish to last longer, and your paint-job to look cleaner and glossier for a longer period.
Read More: The Best Car Waxes
Frequently asked questions
Does Car Scratch Remover Really Work?
A: Yes, it is very effective when dealing with light to medium scratches and also other things like scuff marks, swirls and oxidation.
What is the Main Difference Between Car Scratch Remover and Scratch Eraser?
A: Scratch eraser will work by removing a thin layer of the paint's clear coat as it contains some abrasive compounds, while the car scratch remover is non-abrasive and only polishes out the scratches. Also, scratch eraser contains some filler while car scratch remover does not.
Can Car Scratch Remover Use for Black Car?
A: Yes, most are formulated to work with any car gloss and color. However, it is important to check firsts before using the product as some can only be used on lighter colors.
Read More: The Best Car Waxes for Black Car
Conclusion
You do not always need to spend a lot of money to get car scratches fixed. With a good car scratch remover, you can easily deal with the problem at home without spending much.
With this guide to help you out, finding the perfect car scratch remover should be super easy now. And from our review, the 3M 39044 is our best overall product thanks to the wax-free formulation, versatility and high effectiveness.
But, if you are looking for super-fast scratch removal, the Meguiar's G17216 is unbeatable.