You will hardly ever go wrong with your car seat cushion selection if you stick with top brands like ComfiLife. This 100% memory foam cushion is enough proof of this. Besides the super comfortable memory foam, it also has a soft and removable cover.
The U-shape and contoured ergonomic design also provide adequate support and ensure you maintain a proper posture. And to make it an even better buy, it is lightweight and highly portable.
Comfilife SYNCHKG080643 Review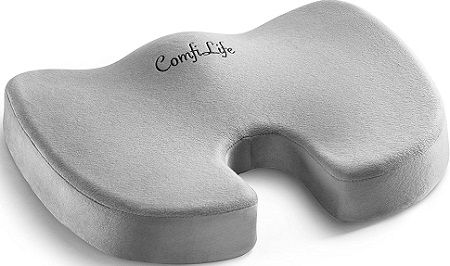 Features
100% memory foam for maximum comfort and durability
Carry handle ensures easy portability
Ideal for use on different chairs
Non-slip bottom keeps it in place
Zippered cover ensures easy cleanup
Ergonomic contour promotes healthy posture
What We Like
Bottom Line
A top brand car seat cushion made with a durable memory foam material and an ergonomically contoured design, and it will work for various situations.

Detailed Review for Comfilife SYNCHKG080643 Review by an Expert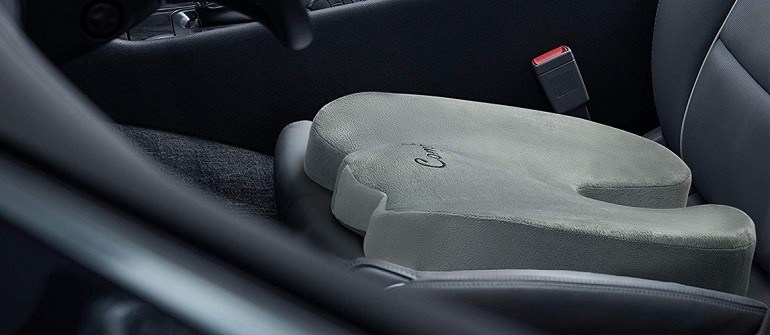 Immediate Pain Relief: Contoured for proper posture
One of the main reasons you need to add a car seat cushion to your seat when driving is to get instant pain relief and this ComfiLife cushion is made just for that.
It is an ergonomically designed cushion with a contoured surface and the distinctive U-shape that is characteristic of many pain-relieving car seat cushions. These different design elements combine to ensure you get fast pain relief when driving.
By encouraging proper posture and proper spinal alignment, this cushion will be highly effective at getting rid of typical issues like back pain and sciatica.
According to the manufacturer, "This cushion supports recovery from lower back problems, helps with most sitting pain due to sciatica, herniated discs, tailbone injuries, pregnancy, hip pain, and hemorrhoids."
That said, it will still not be the magic bullet that solves all kinds of body pain. The manufacturer admits, "Our seat cushion is designed to help relieve pain while sitting however it may not work for all conditions or eliminate all pain symptoms."
Universal Comfort: Smaller but still fits most adults
Despite being a little smaller than many others out there, this 17.5-inch long car seat cushion is still spacious enough to accommodate most adults. Hence, you can be sure it will still provide universal comfort.
Better yet, it has been designed to allow you to use it in different places besides the car seat. This car seat cushion will provide the comfort you need when seating on the office chair, couch at home, when commuting in a train or plane, and even for use in a wheelchair.
Because the material is pure memory foam, it will conform perfectly to your bottom. Hence, besides being super-comfortable, it will also offer a more customized fit to suit every individual user.
However, to ensure optimal support when using this Comfilfe car seat cushion, the maximum recommended weight is 225 pounds.
Design: All-in-one U-shaped cushion
The all-in-one design of the Comfilife SYNCHKG080643 is one of its key highlights and also what seems to give it an edge. This car seat cushion will provide everything you need for a comfortable seating posture when driving from.
One of the key aspects of the design that every user will love is the U-shape. The U-shaped cut out helps to promote a healthy posture while also allowing for enhanced air circulation to ensure maximum breathability, and hence enhancing the overall comfort.
Also, the design will include a non-slip rubber bottom that will ensure the cushion stays in place when driving to minimize the need to keep adjusting it, which can often be quite annoying.
Portability: Built-in handle for easy carry
At some point, you will need to carry your car seat cushion from one point to the other. And this is more so if it is a multifunctional type like this one that is meant for use in various other places besides the car seat. Hence, it is important to make sure what you buy is easy to carry.
The relatively smaller size of this one makes it super easy to carry around, and also allows you to easily pack it when you want to. But, perhaps its most impressive attribute when it comes to portability is the inclusion of a comfortable carry handle.
Another element that will ensure maximum portability for this car seat cushion is that it weighs only 1.35 pounds, which is relatively lighter when you compared it to similar ones from other brands.
Ease to Clean: Simple with a removable cover
The more often you use your car seat cushion, the more often you will need to clean it up. Hence, if you are a regular commuter or driver that requires it every other day, chances are you have to clean it once or a few times every week. But, with this one, this should be quite easy.
The soft outer cover that makes it highly pleasant to sit on is also what makes cleaning it a breeze. This cover is removable and machine washable, which means there is little that you have to do when it comes to cleaning.
Also, the fabric used to make the cover seems to dry relatively faster, and this means you should have the cushion clean and ready to use in just a few hours.
Price: Quite reasonable given what you get
This car seat cushion is quite fairly priced given what you get. While not the cheapest out there, for a pure memory foam cushion, it will be hard to get anything with the same or better quality without spending much more money.
Also when you compare this cushion to others in the same class such as the Aylio 0L-9ULV-QXNJ, which is almost identical to it, you will see the value that it will provide. When compared side by side, the two have the same features and come in almost the same size, but the Comfilife cushion will cost more than $10 less than the Aylio cushion.
And given that this memory foam is built to offer a long service life provided you take good care of it, you can be confident that you will get excellent value for your cash.

Conclusion on Comfilife SYNCHKG080643
Sturdy and super comfortable 100% memory foam car seat cushion which will provide maximum support, encourage proper seating posture and is also highly portable.
Anyone looking to make drives more comfortable will love this Comfilife cushion as the memory foam and soft case make it super comfortable. Also, it is very effective at relieving different kinds of pain, and it will give you an easier time when cleaning and carrying it around