You cannot go wrong with a highly compact car lift like this one as you can easily pack and carry it. Better yet, it also has a low profile design that allows you to use even for the smallest vehicles.
Also, if you are looking for a safe and durable car lift, it is a perfect choice as it has safety locks and a durable mainframe. And to make this lift even more amazing, it will have the car hoisted in under a minute.
QuickJack BL-5000SLX Review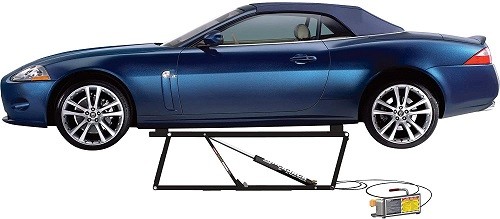 QuickJack BL-5000SLX

Specs
Product Name:

QuickJack BL-5000SLX

Product Brand:

QuickJack

Maximum Lift Capacity:

5,000 pounds

Height Range:

3 to 17.6 inches

Lift Time:

under 60 seconds

Warranty:

12 months part and labor warranty
Features of QuickJack BL-5000SLX
Reinforced steel ensures maximum durability
Low-profile design for easy portability
Compact style takes up less room
2-position safety locks for extra safety
Universal jack points make it ideal for use with any vehicle
Remote handheld pendant control ensures easy operation
Bottom Line
With a low profile and more portable design, QuickJack BL-5000SLX is built for use with any vehicle and from almost anywhere.

Detailed Review for QuickJack BL-5000SLX from an Expert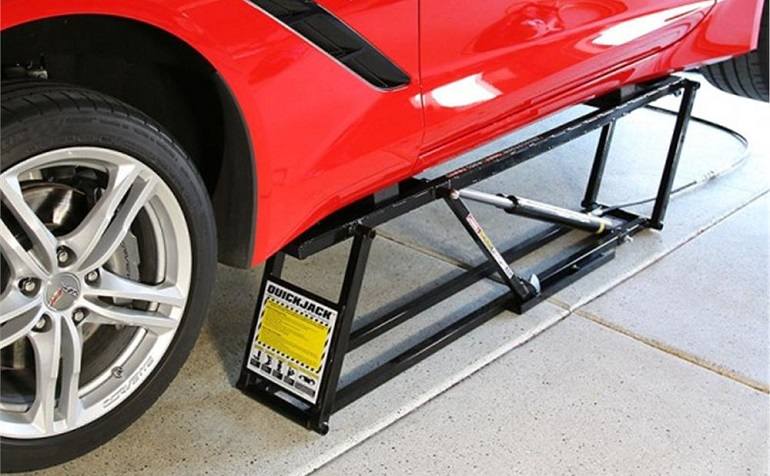 Lifting Capacity: Good enough for most cars
It is important to first make it clear that this car lift is built for regular car lifts in the garage or track, and not for heavy-duty use in a professional establishment. Hence, its 5,000-pound lifting capacity is still quite impressive for the intended use.
Given that the average car in the road will hardly weigh anything above 4,000 pounds, this car lift has enough lifting capacity to handle most cars on the road. While it might not be the best for use with the 3-ton (6,000 pounds) trucks, this lift is still sturdy enough to hold them, but it is not recommended.
While still at the lifting capacity, this car lift has a height range of 3 to 17.6 inches, which means it will easily hoist the car up to 2 feet off the ground. This means that there will be quite adequate space for working on the vehicle. And with stacked rubber block, you can get up to a 21-inch lift.
On the lower end of the lift, this car lift will provide a minimum lift point of 3 inches, and this means it will be able to lift smaller cars like Porsche effortlessly.
Durability: Well-built with welded steel frames
With the welded steel frame and powder-coated finish, this car lift has been made to provide a long service life. The 14-gauge steel frame is almost indestructible and provides superior stability when hoisting the vehicle.
And with a powder-coated finish, you can be confident it will not corrode or rust for a long time even when using it under damp conditions that are characteristic of many garages.
Another element that makes this car lift highly durable is that it seems to have fewer welds on the frame, and hence reducing the weak points. Other components things like the rubber blocks and hydraulic cylinder are also made from high-quality materials for increased durability.
Dimensions: Compact and low-profile
Overall, the BL-5000SLX is a compact and low-profile car lift that will take up almost insignificant space in the workshop.
It is only 3-inches high, which makes it one of the lowest but high weight capacity car lifts that you can get out there. This low-profile design is also what allows it to accommodate smaller vehicles and lift them effectively.
The space-saving car lift frame is also just 70-inches long and 11 inches wide. Hence, even when in use, it will not take up a lot of room in your garage, which is a huge advantage for those with limited garage space.
Also, the smaller and more compact design makes this car lift easy to carry around. You can easily pack it on your truck bed or trunk, and it will even fit the back seat on almost any vehicle. And to crown it all up, this car lift only weighs 78 pounds despite being able to lift to 5,000 pounds, which is quite impressive.
Safety Features: Dual-position locking system
Your car is probably at one of its most dangerous positions when hoisted from the ground, and so you need to make sure that the lift you are using provides adequate safety features. The BL-5000SLX does not seem to disappoint here.
This car lift comes with a dual-position system that will engage the locks automatically as you lift the vehicle. By doing this, it will ensure that the car does not come tumbling down in case power is lost as you are lifting it.
These safety locks are at the mid-level and full-rise positions to allow you to hold the lift in different heights for increased versatility. They will glide in place as the frame rises and will remain in place securely to avoid unwanted descends.
For descending, you will only need to flip the block bar to disengage the lock, and the frame will descend smoothly. Besides being smooth and safe, the descent will also be faster as the power-assists canisters help to increase the lowering speed significantly.
Another element that makes this car lift even safer to use is the remote pendant control, which has a 13-foot long cord to allow you to operate the lift from a safe distance. Also, this control allows for one-handed operation and hence frees up the other hand to give you even better control for safe operation.
Price: Quite fairly priced
When compared to other car lifts with the same lifting capacity and build quality, QuickJack BL-5000SLX quite fairly priced. And you can be sure that it will give you the best value for your money.
This car lift costs less than half of what you would pay for a 4 post car lift. Also, you will pay hundreds of dollars less than what you would spend on a basic 2-post model like APlusLift HW-10KBP despite having equally good features and a solid build.
And to make sure that you will get even better value for your bucks, the package will include everything you need to use it from lift blocks to thread tape and fittings for the setup. Hence, you will only need to spend cash on a few inexpensive things like the automatic transmission fluid.

Conclusion on QuickJack BL-5000SLX Review
A portable and low-profile car lift that is easy to carry around and will be handy for lifting even the smallest cars.
Everything about the QuickJack BL-5000SLX is made with the end-user in mind as it is safe and easy to use, and it will work for all cars thanks to its low profile and universal jack points. Also, it has a decent weight capacity and a highly efficient hydraulic system for smooth lifts.
Find Other Options: The Best Car Lifts