Whether you are looking for an easy way to stack your vehicles or something to lift the car as you service it, the Triumph NSS-8 is a good buy. It has a heavy-duty steel frame that takes a lot of weight and allows for a wide height range from 5 to 84 inches for increased versatility.
The time-tested design of this car lift has been in use for more than 2 decades, and so you can be confident you are buying a car lift that has been proven to be highly effective and efficient. What's more, it is also more versatile and safer to use.
Triumph NSS-8 Review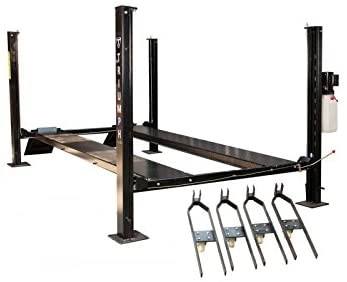 Triumph NSS-8

Specs
Product Name:

Triumph NSS-8

Product Brand:

Triumph

Type:

4-post car lift

Maximum Lift Capacity:

8,000 pounds

Height Range:

5 to 84 inches

Lift Time:

40 seconds

Warranty:

1-year parts warranty
NSS-8

Features
Heavy-duty steel build for increased durability
Wider 5 to 84 inches height range
Higher 8,000-pound lift capacity accommodates most vehicles
Fast 40-second lift time speeds up the job
Drip tray ensures fluid does not drip to bottom vehicle
Caster kit makes the lift easy to move around the garage
10-position locking for safety
What We Like
Bottom Line
A solid steel 4-post frame that can support up to 8,000 pounds makes the Triumph NSS-8 the perfect car lift for any home garage.

Detailed Review for Triumph NSS-8 Review by an Expert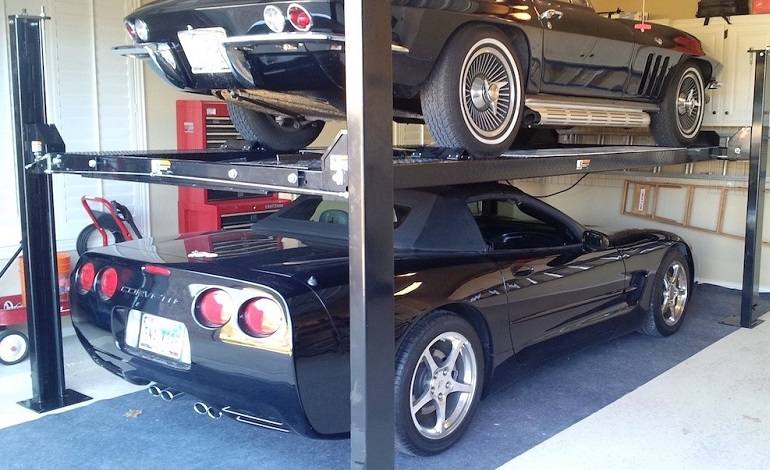 Lifting Capacity: Relatively higher
Because the lift capacity will determine the kinds of vehicles you will be able to lift and work on with your car lift, it is always an important element that defines a good one. The good news is that the Triumph NSS-8 does not disappoint here.
This car lift has an 8,000-pound lift capacity, which is relatively higher than typical car lifts for home garage use. Most other car lifts and this is more so the 2-post and other types will provide between 3,000 and 5,000-pound lift capacity.
Although it will still not lift as much as the professional-grade models that will often handle anything upwards of 9,000 pounds, it is still more than enough. 8,000-pound capacity means this car lift will comfortably hoist even the largest trucks out there.
Durability: Solid build with a heavy-duty frame
Besides being able to handle a lot of weight, this car lift is also built to ensure it will be sturdy enough to take it without collapsing or breaking apart. And one of the main elements that will ensure this is its solid steel build.
Triumph NSS-8 has a heavy-gauge steel frame that will make it super sturdy and also ensures it will give you many years of service. This steel frame is almost indestructible, and there is hardly anything you can do to it in the workshop to take damage it. Better yet, it also has a powder-coated finish that will keep rust and corrosion in check.
Another element that makes this a highly durable car lift is that it also has equally durable components that can take a lot of abuse for a long time.
Everything from the jack and drip trays to the approach ramps and caster kit is made from heavy-duty materials to offer a long service life. And because it comes with the most important components already assembled, there is also little possibility of affecting the durability with improper setup.
According to the manufacturer, "If you need to store your car this is the lift for you. A time tested design that has been used for over 20 years." Hence, when buying this lift you can be confident that it has been time tested to be effective and highly durable.
Dimensions: Takes up a little more room
Since this is a 4-post car lift, one can rightfully expect it to take up relatively more space when compared to the 2-post types. Also, this car lift has a higher weight capacity, which means that it needs to be wider to ensure more stability by distributing the weight over a wide area.
Its overall length is 175 inches, and it is around 106 inches wide, which means it is will have a relatively larger footprint. Hence, for smaller garages, it might not be the best choice given that you will still need to leave enough room on the sides for working on your car.
That said, the relatively larger footprint also means that you will get more drive-through width, which is always much welcomed. This car lift provides a 93-inch drive-through width, which should be more than enough no matter the vehicle types and models you have around.
But, the good news is that this car lift has a higher lift height (up to 84 inches) to allow you to stack vehicles. Hence, its dimensions might mean it will take up more room, but it will also ensure better utilization of the space.
Better yet, this car lift will also come with a caster kit that will allow you easily move it out of the way when not in use. Consequently, you will still be able to use your garage space for other things.
Safety Features: More stable and generally safer to use
Lifting your vehicle for storage or servicing comes with its fair share of risks and dangers. But, the Triumph NSS-8 is a generally safer car lift to use as it uses a combination of several safety features to ensure maximum safety for the motorists and vehicles.
One of the key safety elements that many motorists will appreciate is how solid and stable this car lift looks and feels. Everything from the lift mechanism to the different connecting points for the 4 posts is designed for stability. Provided you do not exceed the recommended weight limit, the structure will never give in to the car's weight.
Also, the car lift has an automatic locking mechanism that will engage at 10 different points as you lift the car. This locking mechanism helps to prevent the lift from coming down even when it loses power when hoisting the vehicle. And the best part here is that you will not have to engage the locks manually.
Another safety element that is easy to overlook is the faster lift speed. This lift will have the car lifted in just 40 seconds, which means it spends less time lifting, and hence minimizing the likelihood of anything going wrong.
Price: Worth every buck
A good car lift is not always the cheapest but rather one that will give you the best value for your bucks like the Trump NSS-8. It is by far not the most affordable 4-post car lift out there, but you can be confident that it is well worth every buck as it will give great value.
There are relatively cheaper models out there like the QuickJack BL-5000SLX, but this car lift will not give you the same maximum weight capacity and lift height.
For a car lift model that will allow you to stuck up your vehicle and also has all it takes to be used commercially by professional mechanics, the price is still quite reasonable.

Conclusion on Triumph NSS-8
A high capacity car lift made from a heavy-duty steel material that comes in an effective and time-tested design.
If you want a reliable car lift for storing and servicing your vehicles, Triumph NSS-8 has all it takes. Besides a higher 8,000-pound capacity and solid steel build, it also provides up to 84-inch lift and comes complete with approach ramp, drip tray, jack tray, and caster kit.