Of all the LED light bars available, the 32-inch models are the most common. The popularity of these light bars stems from the fact that they seem to fit most vehicles perfectly.
With the best 32-inch LED light bar, you will also get a more compact light source that will not clutter your vehicle or take up to much room. And despite the smaller size of this light, it still provides excellent illumination for the road ahead.
That said, if you are on the lookout for one, here we review some of the best 32-inch LED light bars and explain what to consider when buying one.
Top 32inch LED Light Bars of 2021 by Editors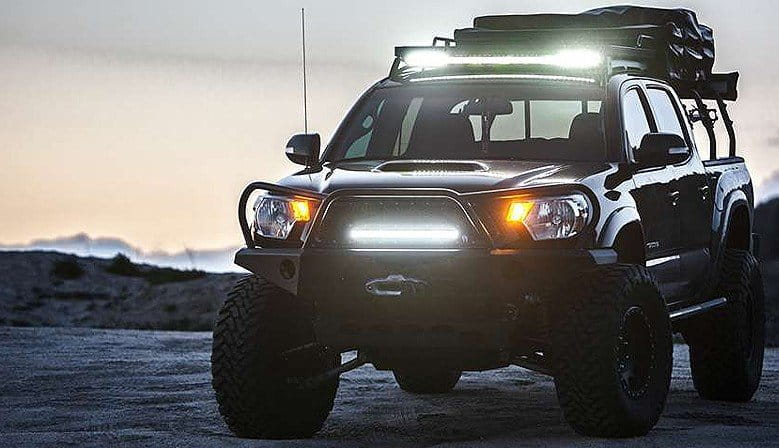 Summary of 7 Best 32-inch LED Light Bars
IMAGE
PRODUCT
FEATURES

1. Nilight 70004C-A (Best Overall)

Durable diecast aluminum & stainless steel materials
Appropriate spot & flood beam combo
More natural 6,000-6,500K color temperature
Adjustable side mounting bracket

2. Autosaver88 B180-4D (Best Budget)

Budget-friendly
Water & dustproof with IP68 rating
Spot & flood combo beam
Long lifespan of up to 50,000 hours

3. Mictuning 3B239C (Best Curved Design)

Convenient curved design

Perfect beam pattern
Die-cast aluminum housing
Efficient 10-piece cooling fins

4. Auxbeam 70018980 (Best with Combo Beam)

Wide-angle 30° spot & 50° flood combo beam
Furthest light projection with 5D optic design
Oversized grooved heatsink fins
Long lifespan - 50,000 hours

5.DWVO BG1601D002 (High-Performance)

IP68 waterproof rated for high performance
Higher light output - 48,000 lumens
Efficient heat dissipation design
Wide compatibility

6.Mictuning MIC-BC2180 (Best Brand)

Reliable light bar from a top brand
Crystal white light

Excellent heat dissipation
Flexible & easy to install

7.Nilight 18017C-A (Super-Brightness)

Super bright beam
Broad reflective plate
Easy to install & adjustable
Efficient cooling
1. Best Overall: Nilight 70004C-A

Power: 180 watts
Material: Aluminum
Lifespan: 30,000 hours
The Nilight 70004C-Ais our best overall model, as it will feature a more durable diecast aluminum profile and a sturdy stainless steel bracket. On top of this, it has a water and dustproof construction with an IP67 rating, so you can be sure it will keep the elements out.
The light quality you get is also highly impressive as this LED will provide a more natural-looking output with a color temperature of 6,000-6,500K. Because it has an appropriate combination of spot and flood beams, it provides both widespread and long-distance illumination.
This light bar also has a more effective heat dissipation mechanism, including cooling fins and a conductive silicone gel. Combined, these provide superior cooling power for extended LED durability.
You will also get an adjustable side mounting bracket for adjusting the lighting angle and direction. This bracket also makes the light easier to install, and its screws design ensures you get a tight connection.
However, the bar has a relatively short lifespan. But for its price, the 30,000 hours service life is still highly impressive.

---
2. Best Budget: Autosaver88 B180-4D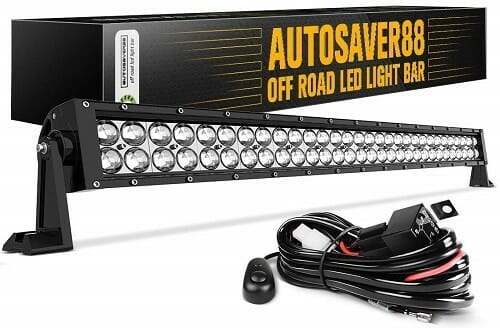 Lumens: 30,000
Power: 300 watts
Material: Aluminum
Lifespan: 50,000 hours
This Autosaver88 light bar stands out as it is a more budget-friendly model. It will be a perfect choice for motorists looking for a top-quality 32-inch LED light bar but do not want to spend much.
With a 30,000-lumen output, this light bar should be bright enough for most motorists. What's more, it also has a spot and flood optic system. Hence, it creates a high-intensity beam that spreads out over the road ahead for clear nighttime visibility.
This light bar eliminates heat via an aluminum heat sink with cooling fins, making the LEDs dissipate heat faster and last relatively longer.
Additionally, the aluminum housing is tough enough to protect the circuitry inside, and with an IP68 rating, it is entirely water and dustproof to protect the internal components.
Other features include an adjustable mounting bracket, 4D fish eye lens, a long 50,000-hour lifespan, and a 10-60V DC operating range.
However, it consumes a lot of power (rated at 300 watts) and might drain your battery quickly if used with the engine being off. But, the brightness and service that it provides make it worth it.

---
3. Best Curved: Mictuning 3B239C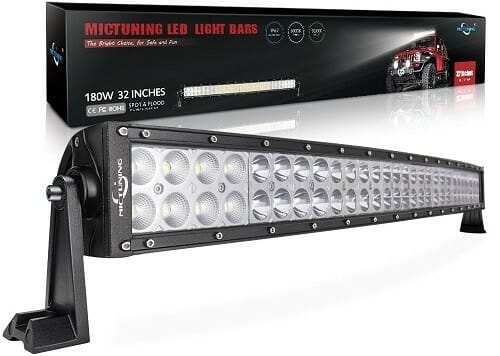 Power: 180 watts
Material: Aluminum
Lifespan: 30000 hours
The curved design of the Mictuning 3B239C will fit more snugly over your car as it is molded to suit a real car arc. This curved body is also convenient because it will allow you to see all obstacles by spreading the light to a wide area.
This light bar will deliver a perfect beam pattern thanks to the unique reflector cup cover. The light output combines the spot and flood beams to provide long-distance irradiation, while also making the view angle wider.
Instead of 8 cooling fins like what you get with most other light bars, this one uses 10 pieces. With the extra fins, the LEDs will get relatively faster heat dissipation.
Additionally, the aluminum housing is IP67 waterproof and has a heavy-duty powder coating for rust and corrosion prevention. Also, adjustable mounting brackets enable you to set the beam at the ideal illuminating position.
With this light bar, you also get a cool white 6,000K color temperature for a more natural-looking light. And with the spot and flood beam combo, it will illuminate broad areas.
While this model seems to have a relatively low lifespan when you compare it to others on our list, 30,000 hours is still a decent service life, and should not be a big concern.

---
4. Combo Beam: Auxbeam 70018980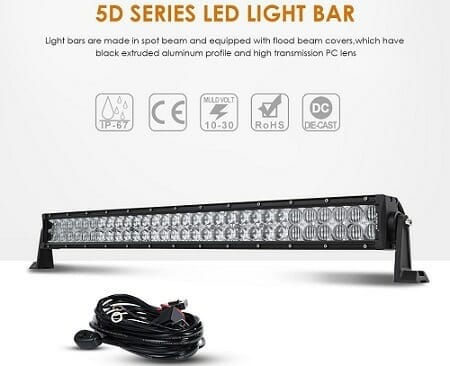 Lumens: 18,000
Power: 180 watts
Material: Aluminum
Lifespan: 50,000 hours
Auxbeam's 70018980 offers a perfect beam combo as it includes a 30-degree spot and 50-degree flood to ensure you get the best light beam for excellent visibility.
This 32-inch LED light bar will feature an innovative 5D optic design. The 5D optic combines a fisheye lens and a reflector to ensure the light is projected to extreme distances, while still maintaining a bright surround lighting.
The Auxbeam's 70018980 produces a total lumen output of 18,000, which is not very high but is still quite bright. And with a 6,500K color temperature, you can be sure of the best light quality for maximum visibility.
An aluminum construction protects the circuitry inside from dust and water because it is rated IP67. There are also oversized grooved heat sink fins that ensure faster and more efficient heat dissipation.
More features include an adjustable mounting bracket that allows you to change the beam angle and direction and a handy 2.5-meter wiring harness.
While this might be a more expensive LED light bar, it also has a lot more to offer to ensure great value for your cash.

---
5. High-Performance: DWVO BG1601D002

Lumens: 48,000
Power: 390 watts
Material: Aluminum alloy
Lifespan: 50,000 hours
The DWVO BG1601D002 is a high-performing 32-inch LED light bar that features an IP68 rating. This high rating ensures you never have to worry about the elements, allowing motorists to use the light bar in any weather.
This light bar also has a super high output as it will provide up to 48,000 lumens to ensure you have one of the brightest lights illuminating the road for you. Despite the brighter light, you will never have to worry about the LEDs overheating as this light uses a fan-shaped design and aluminum alloy fan to ensure fast heat dissipation.
When you buy this light bar, you get a sturdy mounting bracket. The mount allows for more secure installation and versatility as you can mount the light in various places.
What's more, this light bar is multifunctional as you can use it for a variety of vehicle types, from jeeps and SUVs to motorcycles.
Because this light bar is more of a spotlight, it will not cover an extensive area. However, it is still a super bright light that illuminates the road ahead of you adequately. And even with the little directions, you should figure out how to install this light bar.

---
6. Best Brand: Mictuning MIC-BC2180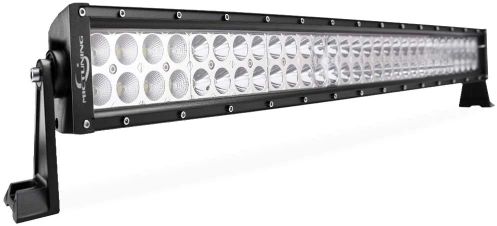 Lumens: 13,200
Power: 180 watts
Material: Diecast aluminum
Lifespan: 30,000 hours
Being a product from one of the most reputable LED light bars manufacturers, you can be sure the Mictuning MIC-BC2180 will give you an exceptional service. Mictuning has been making these light bars for many years, and they always stand behind their product. Hence, you can be confident that you are making a sound investment with this model.
With this light bar, you will get 6,000 to 6,200K output of natural and clear white light to ensure excellent visibility. The light illuminates further and wider, unlike regular halogen lamps.
There are also 10 pieces of premium quality fins on this light bar for faster heat dissipation. The Mictuning MIC-BC2180 will be an ideal light bar for use in any weather as it has an improved sealing to help keep the elements out. And it is easy to install even for absolute beginners.
While the reflectors on this light bar look relatively cheap, they still make a good reflection and should not be a big concern. The shorter wiring tail should also not be a big concern as it is still okay when installing the light bar in most vehicles.

---
7. Super-Brightness: Nilight 18017C-A

Lumens: 37,800
Power: 378 watts
Material: Diecast aluminum alloy
Lifespan: 30,000 hours
If you are looking for a 32-inch LED light bar that provides superior brightness, the Nilight 18017C-A is a great pick. This light bar uses a combo beam with a triple row and nest reflector cap at its center to ensure extra lighting efficiency.
There are also broad reflective plates on both sides of the bar to allow for multi-angle refraction and ensure more ambient illumination. And with the IP67 waterproof rating, you never have to worry about dust or water getting into the light. What's more, this is a quakeproof light bar.
Motorists will also love that the light bar has more efficient cooling. The cooling system uses 10-piece cooling fins and thermal grease for improving heat dissipation.
The mounting brackets on this 32-inch LED light bar feel a little thin and flimsy, but they are surprisingly still quite durable.

How to Buy the Best 32-Inch LED Light Bar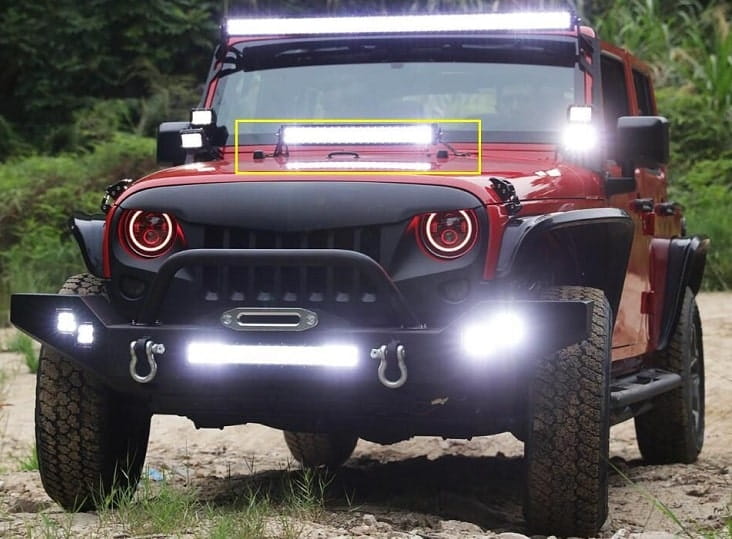 1. Brightness
The first thing to check before buying any LED light bar should be its brightness. Brightness is measured in lumens. The higher the number of lumens, the brighter your light bar will be, and hence it illuminates the road better.
For instance, the DWVO BG1601D002 provides up to 48,000 lumens, which makes it super-bright. With the high output, this light can illuminate the road much better and often covers broad areas.
But sometimes you do not need all that brightness. Even a 13,200 lumens model like the Mictuning MIC-BC2180 can still be good enough for some motorists. Therefore, you have to decide what works best for your vehicle.
2. Beam Type
As you can see in the review section above, there are two beam types that you can find in light bars, and these are spot or flood.
Flood beams are broader and are ideal for viewing the general layout of the area. On the other hand, spot beams are more focused and are suitable for lighting up a particular area.
Ideally, you should by a light bar that has a combination of both beams. These models provide the benefits of both, which is usually a high-intensity beam that illuminates a wide area ahead.
3. Beam Angle
Having the beam fixed at a particular angle is not ideal. As you drive off-road through the different terrains, you will find it necessary to adjust the beam angle to suit the varying driving conditions.
With this in mind, the best 32-inch LED light bar should have an adjustable mounting bracket to help make the adjustment possible.
4. Material
This refers to the material used to build the light bar's housing. Most units have an aluminum housing, and this is because it comes with many benefits.
These benefits include the fact that aluminum is lightweight. Also, aluminum is an excellent heat conductor, which means the housing will act as a heat sink to dissipate most of the heat produced by the LEDs, making them last longer and perform better.
Lastly, aluminum is a solid material that will protect the circuitry inside from damages due to collisions and external shocks.
5. Resistance
The LED light bars are mostly for use in off-road driving. Because these conditions are very rough and challenging, the model you buy should withstand them.
Ideally, the best light bar should be dust and waterproof. You can check this using the IP (Ingress Protection) rating. The higher the IP number, the better because this shows the unit can withstand the elements.
Most of these bars have an IP67 rating, which means they are resistant to water up to about 3 feet in depth and dust. But, a rating of IP68 like what you get with The DWVO BG1601D002 is even better as it has stronger resistance to these elements.
Conclusion
32-inch LED light bars are very convenient to have when driving in the dark because they add to your headlight's output to improve your nighttime visibility. Finding a good model should now be hassle-free with our review and buying guide above to help you out.
That said, the Nilight 70004C-A is our best overall thanks to its highly durable and waterproof construction and the fantastic 6,500K color temperature.
However, if you are shopping on a budget, the more affordable Autosaver88 B180-4D will be an ideal choice.