If you like exploring or driving off-road, once darkness sets in, a 50-inch LED light bar will be very useful for you.
The 50-inch LED light bars are designed to boost your headlights in a major way, providing a strong beam that will improve your nighttime driving experience. They are larger than other common sizes like the 32-inch light bars and provide more light to illuminate larger areas.
If you are looking for the best 50-inch LED light bars, in this piece, we review some top-rated models and explain what to look for when shopping.
Editors' Picks for Top 50inch Led Light Bars of 2021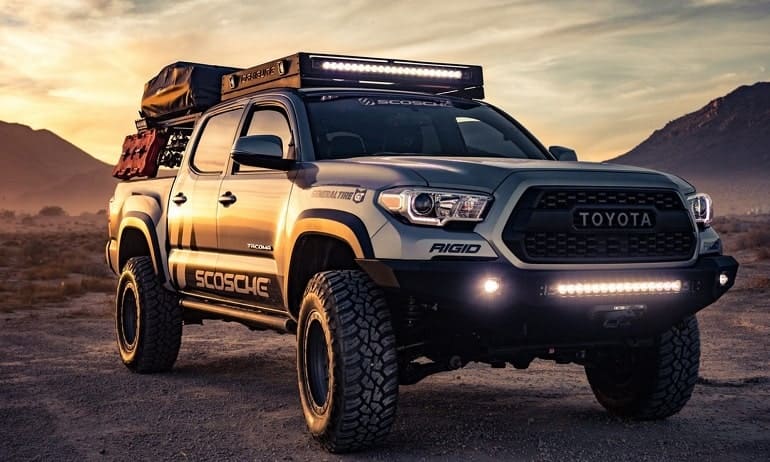 Summary of 7 Best 50-inch LED Light Bars
IMAGE
PRODUCT
FEATURES

1. Nilight 71015C-A (Best Overall)

Super bright spot/flood combo beam
Efficient die-cast aluminum alloy heat sinks
Premium-quality construction
Sturdy mounting brackets

2. Mictuning 3B439C (Best Premium)

High-quality LEDs & construction
10 aluminum cooling fins
Perfect beam pattern
Curved design for a snug fit

3. Yitamotor B288 (Best for the Money)

Great value for money
Integrated thermal management
Lasts more than 50,000 hours
Mounting brackets & wiring harness included

4. Autosaver88 Trile Row (Best Curved Design)

Provides snug fit
Tri-row LED optic system
Versatile for wide application
Combo beam pattern

5. Xprite WL-C6-240SS-CR (Best Compact)

Ultra-thin design
High-performance cree chip
Optical 4D lens design
Stainless steel mount hardware

6. Senlips 288A-C3EP (Best Combo Beam)

Spot & flood beam combo
Efficient heat resistance
360˚ adjustable mounting brackets
High transmission polycarbonate lens

7. Autosaver88 4D (Wide Application)

Suitable for various application
Super-bright 4D Fish-eye Lens
Heat sink design
IP68 waterproof rated
1. Best Overall: Nilight 71015C-A

Lumens: 18,560
Power: 288 watts
Lifespan: 30,000 hours
Starting us off is the Nilight NI07-312W light bar, which offers superior illumination by combining a bright flood beam and a more focused spot beam. This light combo gives you a wider illumination range and further irradiation distance, making it our best overall product.
What's more, this light bar has a curved design that fits more snugly over the car's body by matching its contours perfectly.
The LEDs are housed in a die-cast aluminum housing, which doubles up as a heat sink, and has cooling fins at the back for efficient heat dissipation. These LEDs will provide up to 18,560 lumens, and they last up to 30,000 hours.
Besides the aluminum housing, this unit has an impact-resistant PC lens for additional durability, while an outer protective cover, silicone sealing grip, and waterproof rubber pad give it a waterproof design with an IP67 rating.
The provided rivets are not very good and might complicate installation a little. But, you can always use different screws to tighten the light bar on your vehicle.

---
2. Best Premium: Mictuning 3B439C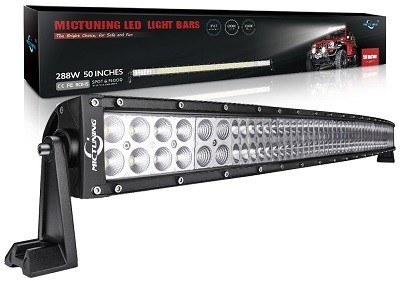 Power: 288 watts
Lifespan: 30,000 hours
Mictuning's 3B439C is a top-quality 50-inch LED light bar that uses some premium quality LEDs and features a highly durable diecast aluminum construction.
This light bar is fitted with 10 pieces of aluminum cooling fins that provide faster heat dissipation for efficient, noise-free cooling without the use of fans.
On the inside, the unit is fitted with spot and flood LEDs in two rows, which provide a powerful combo beam to cover a wider area and long distances. Also, it outputs a crystal white 6000K color temperature.
Other features include having a close-fitted curved design that is molded to fit a real car's arc, and this also helps project the beam over a wider angle.
For the drawbacks, the light bar has a relatively short 30,000-hour lifespan, and a wiring harness is not included. However, the wiring harness is easy to get online or at your local store and is also quite affordable.

---
3. Best for the Money: Yitamotor B288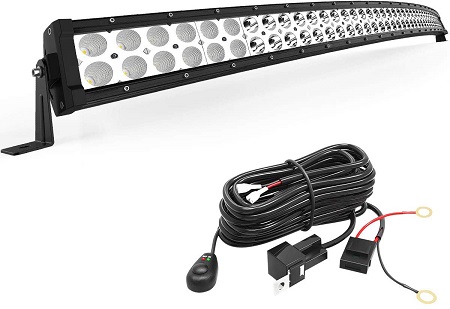 Lumens: 27,000
Power: 288 watts
Lifespan: 50,000 hours
The Yitamotor B288 is all about giving you great value for your money. This 50-inch LED light bar offers great functionality and some fantastic features that will ensure you get value for every buck you spend.
Key among its most impressive features is that it is designed to give you a longer service life as its LEDs will last more than 50,000 hours. And the lighting is by 2 rows of 96 LEDs, providing a 27,000-lumen output at a color temperature of 6000K.
An integrated thermal management and over-and-under voltage protection will make it easier to manage the lighting; while also ensuring the LEDs do not burn our prematurely.
The light bar has a curved design that fits snugly over the car's body surface, and the entire structure is made of durable die-cast aluminum, which also acts as a heat sink for heat dissipation.
Aside from the main product, which is the 50-inch light bar, this set comes with a 12-volt wiring harness. Better yet, there is a pair of L mounting brackets that will make it possible to adjust the beam's direction to suit your driving needs.
While this unit does draw a lot of power, if you have a good battery and ensure you never leave it on when the engine is not running, this should not be a big concern.

---
4. Best Curved: Autosaver88 Trile Row

Lumens: 64,800
Power: 648 watts
Lifespan: 50,000 hours
The curved design is one of the highlight features of the Autosaver88 Trile Row. Besides ensuring the light bar matches a vehicle's curve for a perfect fit, this curved design will help ensure better light distribution.
Apart from the curved design, this 50-inch LED light bar makes use of a tri-row LED optic system that will cut through the dark to project light further out. Better yet, this light combines both spot and flood beams to provide the perfect balance of lighting distance and coverage.
Versatility is also at the heart of the design as you can use it for various situations, from off-road lighting to fog lights and even as a camping light. And this is also a well-built light with diecast aluminum housing that is completely water and dustproof.
While this LED light requires a wire harness and there is none in the package, this should not be a deal-breaker as they are easy to get and inexpensive. What's more, you can still run your own wiring. Although the curve does not match some vehicles, you can still mount it if you have the right brackets.

---
5. Best Compact: Xprite WL-C6-240SS-CR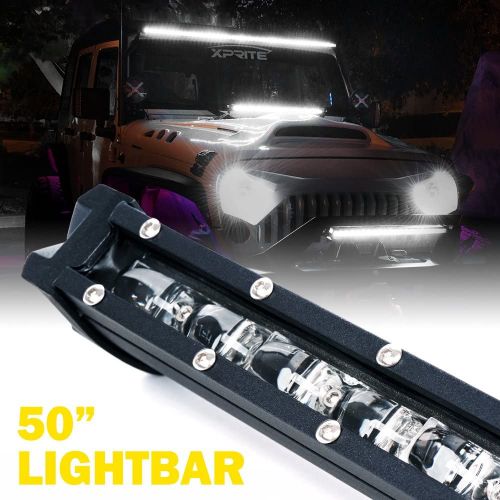 Lumens: 24,000
Power: 240 watts
Lifespan: 50,000 hours
With the ultra-thin design of the Xprite WL-C6-240SS-CR, you get a more compact light bar that does not take up a lot of space on your vehicle. The size allows for more flexible installation and will ensure the light bar produces less wind noise.
This 50-inch light bar uses some high performing and powerful LED chips and optical 4D lens design to improve the quality of light that you get.
You never have to worry about the light overheating as its diecast aluminum alloy heat sink has a unique ribbed design to ensure quick and more efficient heat dissipation. With the stainless steel mounting hardware and a top-quality alloy bracket, mounting will be more effortless.
Although relatively longer brackets would have been better, you can always use spacers to give them the extra height if you need it. Also, the cord is still quite easy to extend if you need more length.

---
6. Best Combo Beam: Senlips 288A-C3EP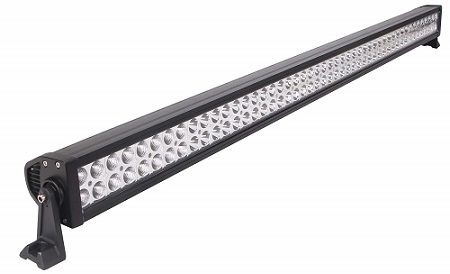 Lumens: 19,200
Power: 288 watts
Lifespan: 30,000 hours
Senlips 288A-C3EP is a well-equipped 50-inch LED light bar that offers a perfect combination of spot and flood beams at 30˚ and 60˚ respectively, which provide a long irradiation distance plus a broad view.
These beams are produced by a total of 96 LEDs arranged in two rows, and they provide a total of 19,200 lumens at a cool white 6000K color temperature, which closely resembles natural light for effective illumination.
This light bar has a 360-degree adjustable mounting bracket that will allow you to direct the light just where you want it. Also, the high transmission polycarbonate lens will help improve the light quality greatly, while the effective heat resistance ensures the LEDs never overheat.
However, the unit has a straight design, which does not fit very snugly over the car's body, but if installed correctly, the fit is still okay. Also, it has a relatively short lifespan of 30,000 hours, but this is still acceptable for its price.

---
7. Wide Application: Autosaver88 4D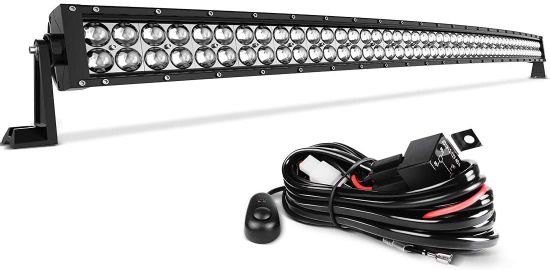 Lumens: 40,000
Power: 400 watts
Lifespan: 30,000 hours
The Autosaver88 4D is a multifunctional 50-inch LED light bar that will be very useful for various applications from illuminating roads when off-roading to use in boats and as a work light for your bulldozer.
This light uses a 4D fish-eye lens to deliver super bright light that does not dazzle and is safer on the eye. The lens is also made from tempered glass for maximum durability and to ensure it does not scratch.
With the IP68 rating, this LED light bar is completely water and dustproof for use in any weather. Overall, this light bar has more efficient heat dissipation to ensure your LEDs will not overheat and burnout.
The mounting brackets that come with this LED light bar need some improvement as the metal is quite thin, but they should still hold up well. Although they also whistle a bit in the wind, this is a little annoying but not enough to be a deal-breaker.

How to Buy the Best 50-Inch LED Light Bar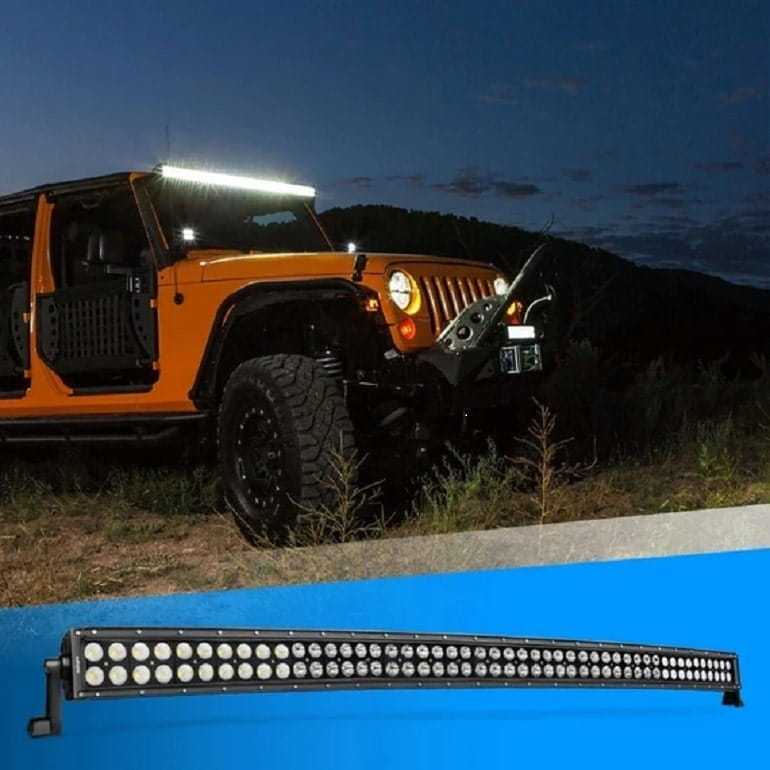 1. Curved or Straight LED Light Bar
Curved LED Light Bar
A curved light bar fits better on cars since it conforms to the curved body surface at the top or front of the car where its mostly installed. This will give a more natural look as if it was built for that car as opposed to being an additional component.
Additionally, the curved design helps in projecting light over a wider angle horizontally for better coverage. Holding other factors constant, most curved light bars seem to draw relatively less power than the straight ones. However, they also tend to be relatively pricier.
Straight LED Light Bar
Straight 50-inch LED light bars cost relatively less when compared to the curved types. These are often the best to turn to when you want to concentrate the light further out to a single point.
However, the straight design will not fit vehicles very well as it does not conform to their natural arc. Given the shape, these light bars do not spread the light as wide as the curved types, which in some instances can be a huge shortcoming.
Buying Advice: The curved light bar is generally the better of the two types as it has more advantages. But, the straight light bar can still work for you if you want something that concentrates the light to a particular point, or you have a "squarer" vehicle like a Jeep as it seems to provide an excellent fit in such instances.
2. Brightness
Another crucial thing to check is the brightness level. Measured in lumens, this value shows how bright the light bar is, and the higher the value, the better.
Ideally, a lumen output of around 20,000 is okay for a 50-inch light bar, but anything above 25,000 is even better. And if you are looking for a super-bright light, something that delivers up to 64,000 lumens like the Autosaver88 Trile Row will be a fantastic choice.
3. Beam Type
There are two main beam types in these light bars. These are the spot and flood beams. Spot beams project light to a small, specific area while flood beams cover a much wider area and are ideal for viewing the general layout of an area.
Each beam on its own is not very ideal, and therefore, you should consider the units with a combination of both so that you get all these benefits in one.
4. Resistance
Most people consider light bars for off-road driving, and if you are such a person, you need to ensure it is built to withstand the rough handling associated with off-roading.
Features to look for include a dustproof and waterproof design (preferably with at least an IP67 rating), scratch-proof polycarbonate lens, and sturdy construction that is corrosion-resistant.
5. Price
Lastly, you need to consider the cost of the light bar. The best one is not necessarily the most expensive, and at the same time, the cheapest one is not necessarily of poor quality.
Ideally, you should consider the features first and after narrowing it down to the ones that meet all your requirements, pick the most affordable piece for you. For example, the Yitamotor B288 is all about giving you good value for money with great functionality and features.
Conclusion
50-inch LED light bars are handy for off-road nighttime driving as they will provide a bright enough light that covers a wider area and reaches further out.
From our list of products, the Nilight NI07-312W light bar takes our top overall spot as offer superior lighting with a combo beam and snug fit thanks to its curved design.
But, if you are looking for something that will give you great value for your money, the Yitamotor B288 is a perfect choice.