The tailgate light bars are strips of light that go on the back of a truck, usually between the tailgate and rear bumper.
Once installed, these lights help enhance the visibility of the taillights and rear turn signals. They provide various functionalities as they can work as turn lights, brake lights, or even reverse lights.
Better still, the light bars can be used for general visibility and to give your car a more aesthetically appealing look while also making it more visible by the motorists behind you.
In this post, we look at some of the best tailgate light bars in the market and give you a buying guide to help you choose the ideal one for your vehicle.
Top Tailgate Light Bars of 2021 by Editors' Picks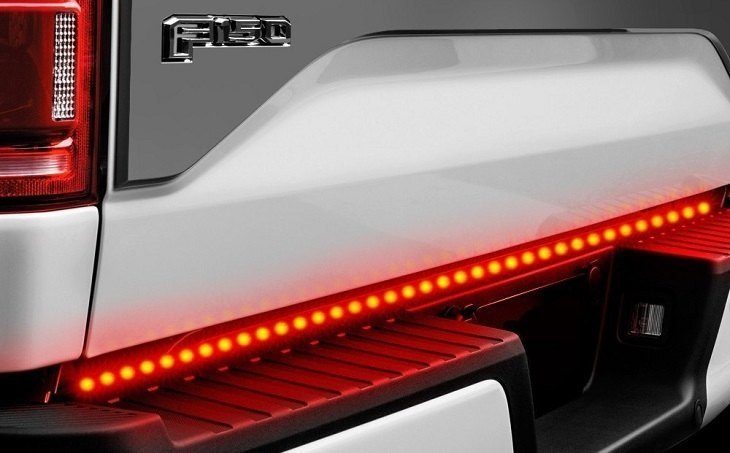 Summary of 7 Best Tailgate Light Bars
IMAGE
PRODUCT
FEATURES

1. OPT7 Redline Triple LED (Best Overall)

More powerful with 1,200 LEDs
Multifunctional with white, red & amber lighting
Sequential turn signal lighting
Simple drill-free installation

2. Mictuning 2-Row (Longest Lifespan)

Long 100,000-hour lifespan
Universal vehicle fitment

Full function design

3. Nilight LED Strip (Best Budget)

More budget-friendly
Weather-sealed & flexible silicone housing
Provides multifunction lighting
Drill-free installation

4. Putco 91009 (Best Waterproof)

IP69K-rated housing
Over 2,000 high power LEDs
Slim 3/8-inch wide design

5. Auzkin 60 Inches (Easiest to Install)

Drill-free plug & play installation

Super bright double row strip
Full function design

6. OPT7 Tricore LED (Most Rugged)

Rugged & rigid aluminum frame
Cold weather capable
Simple universal installation

7. Ambother 3528 (Widely Compatible)

Compatible with 10 to 16V systems
High-quality rubber material
Full 5-function design
Drill-free mounting
1. Best Overall: OPT7 Redline Triple LED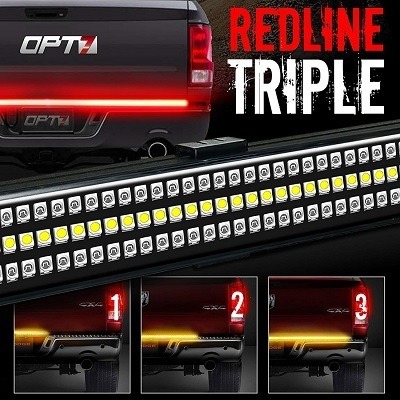 Length: 60 inches
Number of LEDs: 1,200
Lifespan: 50,000 hours
Color: Red, white, amber
OPT7's Redline Triple LEDtakes our top overall spot as it is a powerful and multipurpose 60-inch tailgate light bar. It includes some 1,200 LEDs in 3 rows to provide a solid and powerful beam that forms a smooth redline.
The light bar is ideal for multipurpose use, including acting as running and brake lights in red color, reverse lighting in white, and a sequential 1-2-3 amber-colored turn signal. Better still, the light bar's charming look gives your truck or RV a distinctively sporty look.
Installation is simple with the use of a heavy-duty, 25-pound rated adhesive, which sticks very firmly to the car's body surface throughout its lifespan. By using the adhesive, the manufacturer ensures you will not need any drilling to install the light bar.
Additionally, the light bar has a rust-resistant and -20°F rated aluminum backbone. Better still, it has an IP67 water-and-dustproof coating that protects the LEDs from the elements.
Although this unit is relatively expensive, it is a premium quality product that provides powerful and multipurpose lighting, making it worth every buck.

---
2. Longest Lifespan: Mictuning 2-Row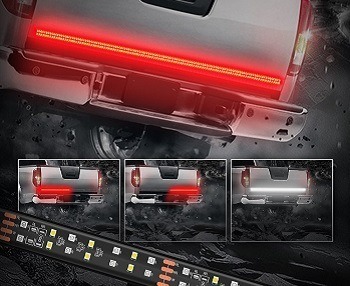 Length: 60 inches
Number of LEDs: 180
Lifespan: 100,000 hours
Color: Red and white
The Mictuning 2-Rowlight bar offers the longest lifespan on our list to ensure it will be a long time before you need a replacement. It is a rugged and highly durable light bar with top-quality LEDs that deliver a service life of up to 100,000 hours.
Different factors contribute to the long service life. They include an in-line fuse for short circuit protection and rugged housing that is water and dustproof to ensure it holds up well against the elements.
Another thing that makes this light bar fantastic is it has universal fitment. The tailgate light works with the 12-volt system, making it perfect for use on most trucks, RVs, and SUVs.
What's more, it is a full-function model that you can use as a brake, running, reverse, and turn signal light. Things are also fairly straightforward for the installation as it uses self-adhesive tape, which you can easily tape on any smooth surface.
This light bar is only available in a 60-inch length and lights up only in red and white colors. Luckily, this size is often what many motorists prefer, and the two colors should be enough for all 5 functionalities.

---
3. Best Budget: Nilight LED Strip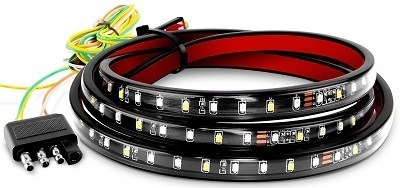 Length: 60 inches
Number of LEDs: 108
Lifespan: 30000 hours
Color: Red and white
Tailgate light bars are not usually expensive, but if you are on a very tight budget, Nilight LED Strip has got you covered as it is an even more budget-friendly model that suits most motorists.
Despite being affordable, quality is still maintained, with a flexible and durable silicone housing rated IP67, which means it protects the LEDs inside from snow, raindrops, dirt, and sand as you drive.
The LEDs also perform multiple functions, including running light, braking light, turn signal (all 3 in red), and reversing lighting (in white).
Installation is relatively easy because no drilling is required. Instead, it uses an adhesive enhancer with 5 times the strength of normal adhesive stickers. You only need to clean up the car's surface and align the bar properly, which you can do easily as a DIY project.
Although there are only 108 LEDs, they are 35% brighter than regular LED chips. Therefore, in most instances, the LEDs should still be enough. Also, the wiring connections location near the ends might not impress many motorists, but this is just a minor concern.

---
4. Best Waterproof: Putco 91009

Length: 48-60 inches
Number of LEDs: 2000
Color: Red, white, and amber
For motorists that drive their trucks and SUVs in harsh weather and extreme environments a lot, the Putco 91009 will be a fantastic buy. With an IP69K rated fully encapsulated housing, it provides maximum protection from all the elements.
The top-rated tailgate light bar includes a whopping 2000+ high power COB LEDs in a single-row 60-inch bar to ensure you get one of the most brilliant light outputs on our tailgate light bar review.
In addition to the brilliant, solid beam lighting, these LEDs are multifunctional. They provide reverse lighting in white, running and brake lighting in red, and left/right turn signal in amber.
Installation is more straightforward as you do not need to do any drilling and the light bar includes a 4-prong harness to make hooking up to the receiver easier. Better still, the tailgate light bar has an extremely slim body that is 3/8 inch wide to ensure you get a perfect fit.
Although it does not have a sequential turn signal and seems a little expensive, these shortcomings do not take anything away from the fact that this is a fantastic tailgate light bar.

---
5. Easiest to Install: Auzkin 60 Inches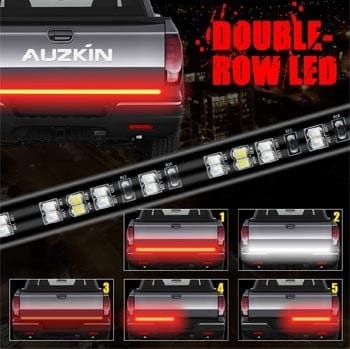 Length: 60 inches
Number of LEDs: 258
Lifespan: 50,000 hours
Color: Red and white
With the plug and play design of the Auzkin 60 Inches, you can be sure it will give you an easy time whether you are installing a tailgate light bar for the first time or not. This light bar does not require any drilling, and you can mount it easily using the special automotive adhesive.
Besides ease of installation, many motorists love the superior brightness. The super-bright design stems from the double-row of top quality LED chips. These LEDs are up to an impressive 200% brighter than single-row ones.
Because this is a full-function light bar, it works with all your rear lights from the running light to brake and reverse lights. And with the universal design that works with DC 10 to 16-volt systems, you can use the light bar on almost any vehicle.
The included instructions seem to be quite a disappointment as many motorists do not find them very helpful. However, this should not be a deal-breaker as you hardly need them.

---
6. Most Rugged: OPT7 Tricore LED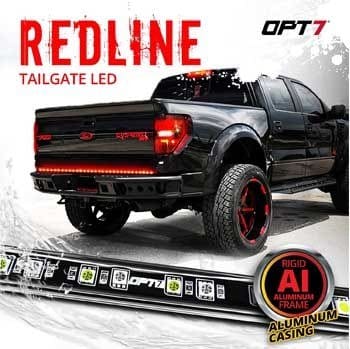 Length: 60 inches
Number of LEDs: 90
Lifespan: 30,000 hours
Color: Red and white
With the rugged aluminum frame on the OPT7 Tricore LED, you can be sure it is a tough light bar that can handle a lot of abuse when off-roading to ensure long service life.
This light bar uses 90 triple-core alpha LEDs to deliver a bright light output. What's more, it is a full feature upgrade that syncs well with all your rear lights to maximize lighting for safe driving.
You can use this light bar well in any condition, including cold weather, as it maintains good functionality in temperatures as low as -20 degrees Fahrenheit. When it comes to installation, it gives you an easy time as you can mount it on a wide variety of vehicles using an adhesive with no drilling required.
Many motorists do not like that the entire light blinks when using the turn signal, but this is hardly noticeable and should not be a big concern. Another drawback is that the wires are quite a thin gauge, but the good news is they are still tough.

---
7. Widely Compatible: Ambother 3528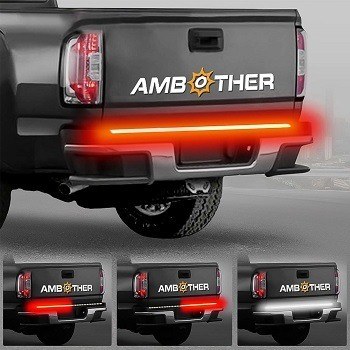 Length: 48-49 inches
Number of LEDs: 72
Color: Red and white
If you are not sure about the amount of voltage running through your car's electrical system, you should buy the Ambother 3528tailgate light bar. The light bar has a working voltage of 10-16 volts DC, which covers a vast chunk of cars, if not all.
There are 72 LED chips in the single-row strip, and these are divided into 48 red and 24 white. Combined, these LEDs provide 5 functions, which are left/right turn signals using red chips, brake and running lights using the same red chips, and reverse lighting using the white LEDs.
The build quality will not disappoint as the light bar has a flexible clear rubber build that is highly durable and resistant to both dust and water. Other features include a 44-inch power cable with a 4-pin connector and a high-quality adhesive enhancer for easy installation.
While some amber LEDs would have been great, their absence should not be the deal-breaker as it does not affect the light's functionality.

How to Buy the Best Tailgate Light Bar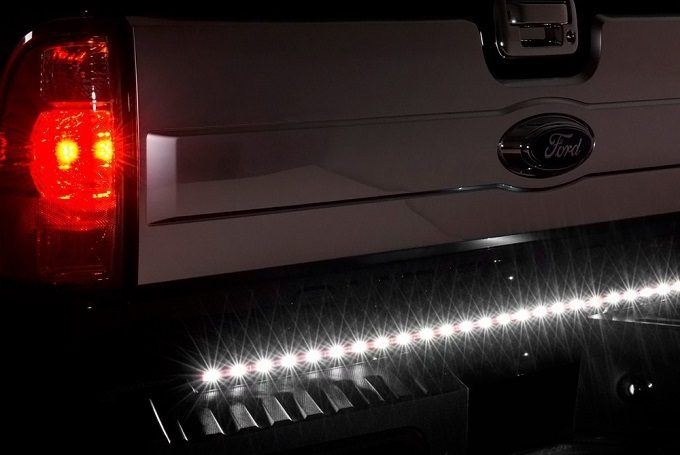 1. Compatibility
The tailgate light bar you choose can only be useful if it fits your vehicle. Fitment or compatibility usually has to do with the electrical system because different cars feature different wiring systems that run on either 10, 12, 14.5, or 16 volts.
In case you are not sure what your vehicle supports, you are better off with a wide compatibility model like the Ambother 3528that works with any system between 10 and 16V.
2. Number of LED Rows
One-Row
One-row light bars might not be as bright as the ones with multiple rows, but the actual output depends on the exact number of LEDs. More LEDs mean you get a brighter light bar.
However, the benefit you get with these bars is that they are thinner and more compact. Because the chips are in a narrower space, one-row models like Recon's 26416 provide a more solid beam.
Two-Row
Two-row light bars like the Auzkin 60 Inches are wider than the one-row types as they have two rows of LEDs. They pack the LEDs on a larger area, creating a brighter beam that is visible from far.
Three-Row
This type is the widest, and it creates a beam that is visible even in heavy traffic. The other advantage is that the higher number of LEDs on triple row models like OPT7's Redline Triple LED allows them to include amber lighting.
3. Color
Besides the number of LEDs on the tailgate light bar, the colors also matter as they determine the light's visibility in different environments.
The best ones include at least red and white to accommodate different rear lights. For example, red is ideal for running, signal, and brake light, while white is often for reverse. Some models include amber for the signal lights.
4. Length
Most tailgate light bars have a length between 48 and 60 inches, which ensures there is something to fit most vehicles.
But, before settling on any length, you need to check the space you have on the vehicle. Keep in mind that the area in consideration is the space between the tailgate and rear bumper.
Read More: 10 Best Bumper Guards
5. Ease of Installation
The ease of installation is also a crucial factor to consider as you do not want to have to pay someone to install something as simple as a tailgate light bar. How much effort and time the light bar takes to install largely depends on the installation method.
Adhesive Strips: The adhesive strip method is the most common and what many motorists seem to prefer. It is a fast and easy method that only requires you to remove the adhesive cover and stick the light bar on the vehicle with no drilling.
Glue: With this method, you need to apply glue to the light bar or on the vehicle's surface when mounting. It is not as easy to install as using adhesive strips as you need to wait for the glue to dry and can also be quite messy, but it is easier than using screws as you do not need to drill.
Clips and Screws: Clips and screws might require drilling, making the process more labor-intensive. However, this installation method creates a very secure connection between the strip and the vehicle.
6. Durability
A durable product is always better when it comes to these light bars, given they will be more exposed to the elements.
The first thing to check is the lifespan of the LED chips, and most manufacturers clearly indicate the number of hours they can last. For most models, the service life is between 30,000 and 50,000 hours.
The other thing to check is the construction. A tailgate light bar should have a sturdy and durable structure that can withstand rough handling from bumpy roads. Those that include a durable aluminum frame or the more flexible silicone or rubber housing are the most durable.
7. Weatherproof
In addition to being durable, the product should be weatherproof to ensure it can withstand different elements.
The best LED tailgate light bar should have at least an IP67 rated construction to keep dust, water, and snow out. But, something with an IP69K rating like the Putco 91009 is even better.
Conclusion
Tailgate light bars are a functional and aesthetically appealing addition to your vehicle. Like any vehicle accessory, you still need to get the best ones for good service, which should be a breeze with our review.
With its 1,200 bright LEDs and an efficient multipurpose design, OPT7's Redline Triple LED is our best overall model and top recommendation.
The Mictuning 2-Row, on the other hand, is our recommendation if you want something with super-long service life, while the Nilight LED Strip is perfect for those shopping for a budget-friendly model.