While your ATV headlights will be ideal when driving on-road and during the day, you need something better when going off-road or driving on dark roads. Here nothing beats having the best ATV LED light bars.
With the LED light bars on your ATV, you can be sure of getting superior visibility when driving on the darkest roads as they illuminate the road ahead fully.
These light bars deliver a higher light output than stock ATV headlights and provide a better color temperature for excellent illumination. Other advantages of these lights include that they are more energy-efficient and have a longer service life.
This post provides a review of 7 top-rated ATV LED light bars and explains how to choose the right one.
Editor's Recommendation: Top Atv Led Light Bars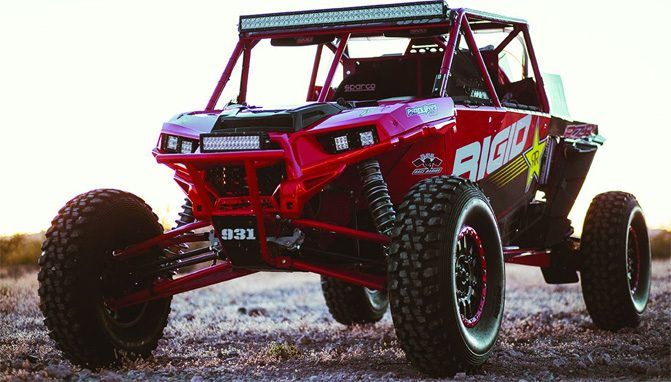 Summary of 7 Best ATV LED Light Bars
IMAGE
PRODUCT
FEATURES

1. Auxbeam 77718286AX (Best Overall)

Long working life - 50,000 hours
18-watt low current draw
Excellent heat dissipation
Durable stainless steel bracket

2. Auxbeam 70018980 (Best for the Money)

Good value for 18,000 lumens lights
Innovative 5D optic design
Perfect flood & spot beam combo
Angle adjustable mounting brackets

3. Nilight 71015C-A (Best Curved)

Curved design enhances visibility
Die-cast aluminum alloy housing
High-quality LED chips

4. Auxbeam 77707207AX (Best 12-Inch)

12-inch for a super broad view area
Rugged full aluminum housing
Oversized grooved heat sink
Convenient bottom mounting brackets

5. Mictuning MIC-BC2180 (Best Brand)

Top brand light bars
Natural white color temperature
Military die-cast aluminum housing
Improved sealing design

6. Rigidhorse DM01B (Best Light Beam)

Perfect beam pattern
Super high light output - 30,000 lumens
Shatterproof lens
Universal mounting brackets

7. Eyourlife WWX001 (Best Waterproof)

IP68 waterproof rating
Curved for a broad view
Durable quartz lens
1. Best Overall: Auxbeam 77718286AX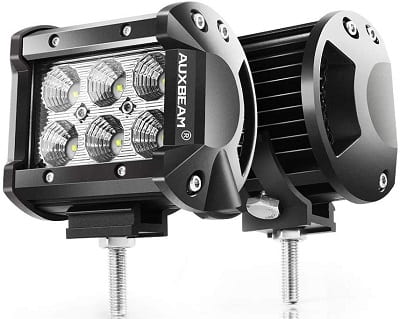 Power: 18W
Lumens: 1,800
Color Temperature: 6,000K
Lifespan: 50,000 hours
The Auxbeam 77718286AX takes our top overall spot as it is a pair of some fantastic quality LED lights that will draw only 18 watts, making them highly energy-efficient. What's more, they deliver a long service life as they can last up to 50,000 hours.
These 4-inch LED bars provide more efficient heat dissipation thanks to the die-cast aluminum cooling fins. And you can use them in any weather with no issues as they are dust, water and shockproof.
With these light bars, you also get some durable stainless steel mounting brackets to make them easy to secure on your ATV. Better yet, they are quite versatile light bars that you can mount on various other vehicles and equipment, such as boats or farming tractors besides ATVs.
When you compare these light bars to others on our list, the 1,800 lumens output seems relatively low. However, for most ATVs, this is more than enough light, especially given the fantastic natural daylight color temperature.

---
2. Best for the Money: Auxbeam 70018980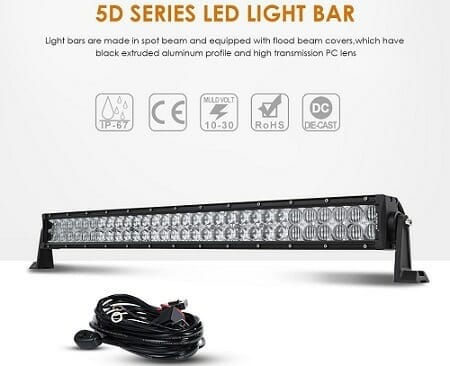 Power: 190W
Lumens: 18,000
Color Temperature: 6,500K
Lifespan: 50,000 hours
For those looking to get the best value for their money when shopping for an ATV LED light bars, the Auxbeam 70018980 will be a fantastic choice. Despite being an 18,000-lumen light bar with a 50,000 hours service life, it comes at a great price tag to ensure good cash value.
On top of being one of the best cheap ATV LED light bar, it offers a perfect flood and spot beam combo. It also has an innovative 5D optic design to ensure the light you get illuminates far and wide enough.
Additionally, Auxbeam 70018980 will come with some nice mounting brackets that allow you to adjust the angle up to 45 degrees, ensuring you have an easy time changing the light beam's direction.
As the lenses on this light bar age, they seem to start fogging a little, but the good news is that this does not seem to affect the light output significantly. The surface appears to scratch a little too quickly, but this should also not be a big concern as it only affects the aesthetics.

---
3. Best Curved: Nilight 71015C-A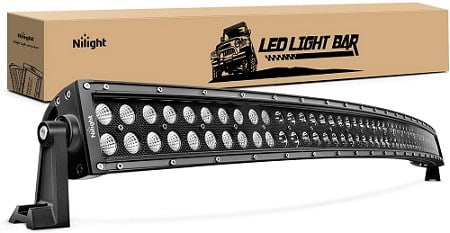 Power: 288W
Lumens: 18,560
Color Temperature: 6,000K - 6,500K
Lifespan: 30,000 hours
With the curved design of the Nilight 71015C-A, you get a super bright light output. When you combine this shape with the combo beam pattern, you can be sure of maintaining excellent visibility even when driving in the darkest off-roads.
This ATV LED light bar will also give you a long service life as it has some high-quality LED chips and durable die-cast aluminum housing. What's more, the advanced die-cast aluminum heat sinks will deliver more efficient cooling.
When it comes to mounting, you can be sure that you will have an easy time and get a secure mount thanks to the sturdy mounting brackets. These brackets are also adjustable to allow you to change the direction of the beam.
While there is no harness in the package, this should not be a big deal as you can buy it separately without spending much. Quality of mounting hardware is also wanting, but it still gets the job done.

---
4. Best 12-Inch: Auxbeam 77707207AX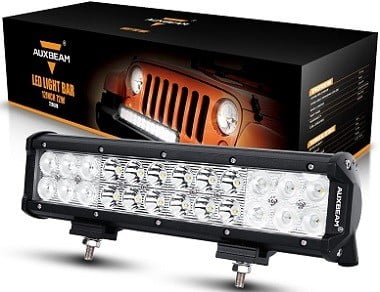 Power: 18W
Lumens: 7,200
Color Temperature: 6,000K
Lifespan: 30,000 hours
With the 12-inch dual row of LED chips, the Auxbeam 77707207AX will give you a super broad viewing area to ensure you can illuminate a much wider area for even better visibility. Better yet, it has a 30-degree spot and 60-degree flood beam combo to ensure even better light quality.
Another thing that makes this one the best ATV LED light bars is that it has a more efficient cooling system that uses oversized heat sink fins with some unique grooves to dissipate heat much faster.
It comes with some fantastic bottom-mounting brackets that will make the installation easy and convenient as they allow you to mount the light anywhere. This is also a well-built full aluminum light bar that can withstand harsh weather.
Despite the light bar having an IP67 rating, it does not seem completely moisture resistant. However, you will hardly ever get any significant condensation building up inside.

---
5. Best Brand: Mictuning MIC-BC2180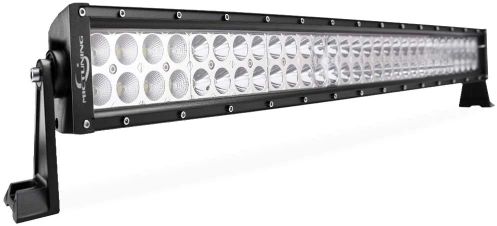 Power: 180W
Lumens: 13,200
Color Temperature: 6,000K - 6,200K
Lifespan: 30,000 hours
Mictuning is a leading light bar manufacturer famous for high-quality and more cost-effective ATV lights like the MIC-BC2180. But besides being from a top brand, this product still has a lot to offer.
These are well-built lights with a military die-cast aluminum housing and an improved sealing design to keep the elements out. Also, it makes use of 10 pieces of premium-quality cooling fins that will ensure faster heat dissipation.
With the 6,000K to 6,200K color temperature, you can be sure of getting a more natural white color. The package will include some sturdier mounting brackets that are easy to install and flexible to make it easy to adjust the beam angle.
The electric insulation on these light bars is not very good as the sheath feels relatively thin but provided you do not expose it to external heat, it should hold up well. Some of the wires also look short, but for most ATVs, the length is still okay.

---
6. Best Light Beam: Rigidhorse DM01B

Power: 310W
Lumens: 30,000
Color Temperature: 6,000K
Lifespan: 50,000 hours
The perfect flood and spot beam combo is the highlight of the Rigidhorse DM01B and what makes it such a special light bar. It combines 170-degree flood and 30-degree spot beams to ensure you get far and wide illumination.
This light also offers the highest output on our ATV LED light bar review as you get up to an impressive 30,000 lumens. Better yet, you can be sure of maximum durability as it lasts up to 50,000 hours.
Because this light bar comes with some nice universal mounts, it will fit most ATVs and mount easily on standard base mounts. One more thing that users love is that it has some good heat sinks to ensure more efficient cooling.
With the 310-watt draw, this light bar draws much more power than all others on our list. But, provided you have a good battery and do not leave the light on when not in use, you should not have any drain issues.

---
7. Best Waterproof ATV LED Light Bar: Eyourlife WWX001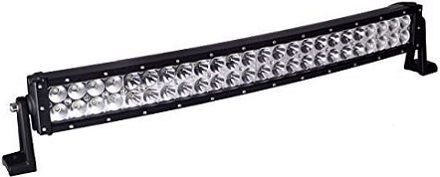 Power: 144W
Lumens: 10,080
Color Temperature: 6,000K
Lifespan: 50,000 hours
The IP68 waterproof rating not only makes the Eyourlife WWX001 completely waterproof but also ensures it keeps other things like dirt and dust out to ensure maximum durability. The LEDs last up to 50,000 hours.
Because this is a curved light bar, it gives you a broader illumination area. The combo beam is also perfect, and you can be sure of getting excellent visibility even on the darkest roads when off-roading.
The build quality is quite impressive as the light bar includes a tough quartz lens and aluminum housing. This housing has some large and efficient heat sinks to ensure faster heat dissipation. You can use this light bar for various other applications besides mounting it on your ATV.
While this light bar will not come with a wire harness, the manufacturer recommends the best ones to use, and so you should not have any issues finding it.

How to Buy the Best ATV LED Light Bars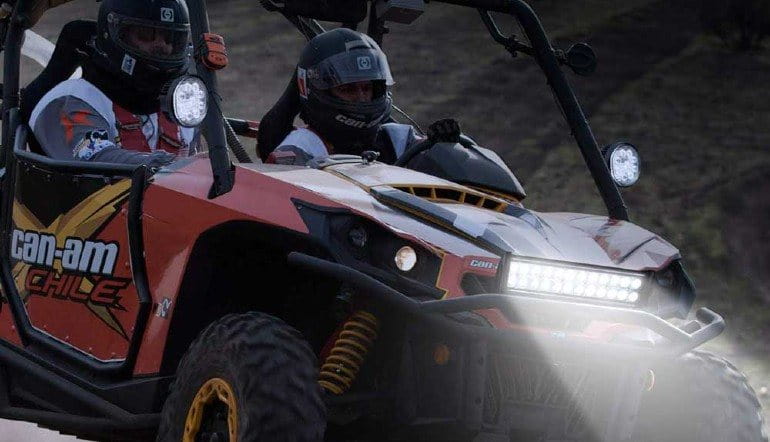 1. Compatibility
Before anything else, you need to make sure that the LED light bar you choose is compatible with your ATV; otherwise, it will not work for you even if it delivers the best light quality.
Here you need to consider both the size and compatibility with your vehicle's electrical system. Some run on a 12-volt system while others run on 24-volts, so you need to check what works for your ATV.
The good news is that most manufacturers allow you to check the light bar's fitment by entering your vehicle model and the year before buying.
2. Brightness
When looking for a light bar, you also need to consider the brightness as it determines how effective it will be at illuminating the road ahead. Here you need to consider both the light output and the color temperature.
You need to consider the number of lumens you get from the light for the light output. These light bars have anything from 1,000 to 30,000 lumens or even more. Therefore, it is up to you to decide how much light you need.
But, when it comes to the color temperature, the best LED light bar for four-wheelers is one that delivers a more natural daylight light for maximum visibility, meaning it should give you around 6,000K. But, the 6,500K models like the Auxbeam 70018980 are also fantastic.
3. Beam Patterns
When it comes to the beam pattern, there are two main options: spot and flood beams. Spot beams will illuminate further out, but they cover a narrow area, while the flood beams do not illuminate very far but will cover a wider area.
A good ATV LED light bar is one that provides a combo beam pattern that includes both spot and flood beams to ensure you get both far out and broad illumination.
Besides getting a good combo beam pattern, you will also need to make sure that the beam angles for both are ideal. Something that gives you a 30-degree spot beam angle and 60-degree flood beam like the Auxbeam 77707207AX should be perfect.
4. Construction
LED light bars for four-wheelers need to be well-built and highly durable, given the typical uses of these vehicles. In many instances, you will drive your ATV through harsh environments and terrains, and if the lights bars are not well-built, they can get damaged.
Look for something that has aluminum housing to ensure it can take a lot of abuse. Also, a water, shock, and dustproof light bar will be more appropriate as it gives you a long service life.
For an even longer service life, make sure the lens is a high-quality glass that does not shatter easily and is resistant to scratches.
5. Heat Sink
While LED lights will not produce as much heat as others like halogen bulbs, they still produce a significant amount of heat, mostly when you use them for extended periods.
Hence, to ensure heat does not damage the bulbs, the light bar you chose should have an efficient heat dissipation method. Here, most models use some type of heat sinks.
Heat sinks with a more conductive metal and large ridges will be more effective at cooling down the light bar.
6. Weather Protection
Since you will be using the ATV light bars in different weather, you need to ensure they have adequate protection so that the elements do not damage them.
A good light bar should have at least an IP67 weatherproof rating, but something with IP68 like the Eyourlife WWX001 will be better as it can keep out water, dirt, and dust more effectively. UV-coating is also very useful for those that drive under the hot sun a lot.
Conclusion
With the best ATV light bar, you can be confident of getting excellent visibility when driving at night, both on and off-road. With our comprehensive review and guide, finding the perfect one should take little effort.
To help you narrow down your choices further, the Auxbeam 77718286AX is our best overall as it consumes less energy, last for more than 50,000 hours, and offer great value for cash.
But, if you just want something that gives you the best value for money, the Auxbeam 70018980 is an ideal choice.