When standard factory lights do not just cut for you, it is time to invest in the best LED light bars. These light bars provide much better illumination than factory lights, given their higher lumen output, hence ensuring superior visibility.
With LED light bars, you get a better light beam pattern as most provide a combo beam that has both spot and flood beams. These lights are also more energy-efficient and versatile as they allow for more setup options.
If you are looking to add an LED light bar to your vehicle, here we review some top-rated models and give you a buying guide to help make it easier to choose one.
Top Led Light Bars of 2021 by Editors' Picks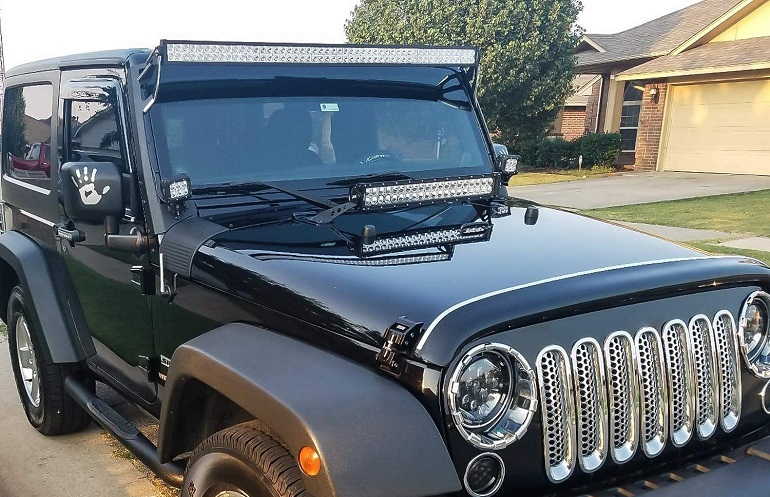 Summary of 7 Best LED Light Bar
IMAGE
PRODUCT
FEATURES

1. Auxbeam 77718286AX (Best for ATV)

Perfect size & design for ATVs
Better heat dissipation
Low 18-watt current draw

2. Nilight 70004C-A (Best 32-Inch)

Effective heat dissipation
High-quality components
Combo beam provides a clear view
Sturdy side mounting bracket

3. Yitamotor 4333219797 (Best 24-Inch)

Durable die-cast aluminum body
Lighter & wider with a combo beam
Wider 12 to 24V DC operating range
Wiring harness included

4. Nilight 71015C-A (Best 50-Inch)

Curved for superior illumination area
Premium-quality construction
Efficient heat dissipation

5. DWVO BG1601D002 (Most Resistant)

IP68 waterproof rating
Delivers up to 48,000 lumens
Multi-bulb design

6. AutoFeel 8542100664 (Best for the Money)

Great value for cash
Adjustable lighting angle
IP68 waterproof rating
Universal fit for wide applications

7. Nilight 70003C-A (Best 22-Inch)

Super compact design
Solid aluminum house & advanced PC lens
High-performance design
1. Best for ATV: Auxbeam 77718286AX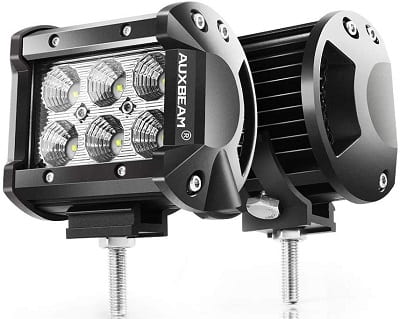 Size: 4-inch
Lumens: 18,000
Color Temperature: 6,000K
Lifespan: 50,000 hours
The size and design of the Auxbeam 77718286AX make it the perfect choice for those looking for good lights for their ATV. These 4-inch light bars are still quite versatile and should work well for other vehicles like 4x4s and all kinds of trucks.
You never have to worry about draining your battery with these lights as they have a relatively low draw of just 18 watts.
These LED light bars are designed to run relatively cooler than most others out there as they use a more efficient heat dissipation system. The system relies on die-cast aluminum alloy fins that are more effective at dissipating heat and highly durable.
Motorists also love that these light bars come with anti-corrosive and rust proof accessories which hold up well in any weather to ensure maximum durability.
Although this light bar provides a 60-degree flood beam only, for most ATV and UTV owners, this is what they need most as it ensures broad illumination for off-road drives. Despite the mount's quality not being the best, it should still support the lights reasonably well.

---
2. Best 32-Inch: Nilight 70004C-A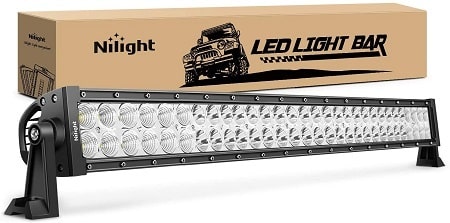 Size: 32-inch
Color Temperature: 6,000K to 6,500K
Lifespan: 30,000 hours
The 32-inch Nilight 70004C-A is the perfect size for most vehicles as it is compact enough to fit without taking up a lot of room but still large enough to deliver a good light output.
This LED light bar provides a highly effective heat dissipation system using 10 pieces of cooling fins that are designed to be relatively large to ensure more efficient dissipation of heat. And with the high-quality LED chips and clear PC lens, the light bar is designed to offer a long service life.
There are also some super sturdy side-mounting brackets that make the light bar easy to install and ensure it remains secure.
When it comes to the actual lighting, you get a perfect combo beam that ensures a clear view for you. What's more, the light bar provides a more natural white color temperature of between 6,000 and 6,500K.
This light bar does not come with a wiring kit, which makes the installation a little complicated. However, you can always buy one separately.
Read More: The Best 32-inch LED Light Bar

---
3. Best 24-Inch: Yitamotor 4333219797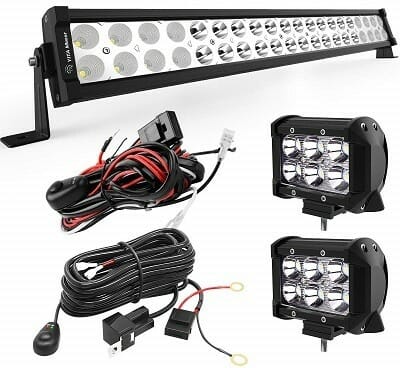 Size: 24-inch
Lumens: 11,800
Color Temperature: 6,000K
Lifespan: 50,000 hours
With a die-cast aluminum body, the Yitamotor 4333219797 is a highly durable light bar that is guaranteed to give you many years of great service. This 24-inch light bar offers lighter and wider illumination as it has a combo beam with 60-degree flood and 30-degree spot beams.
This light bar is more versatile for use on a wide variety of vehicles as it has a wider operating range of between 12 and 24 volts DC. Hence, you can use it on ATVs, 4x4s, Jeeps, and all kinds of trucks.
Installation is more straightforward as the light bar comes with adjustable mounting brackets and a wiring harness.
The on/off switch seems made from cheap material, but it is still highly useful. The light does not appear wholly condensation-proof, but you hardly ever get any massive buildup that can affect the performance.
Read More: The Best 24-inch LED Light Bar

---
4. Best 50-Inch: Nilight 71015C-A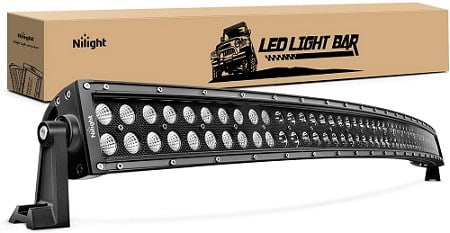 Size: 50-inch
Lumens: 18,560
Color Temperature: 6,000K
Lifespan: 30,000 hours
For those that drive larger vehicles like jeeps and trucks or just prefer to use bigger LED bars, the 50-inch Nilight 71015C-A should make a good buy. Besides being larger, this light bar also provides a combo beam pattern.
The perfect light beam combines beam a curved design to ensure you get superior brightness for safe driving even on the darkest roads.
You can be confident that this light bar will hold up well regardless of the driving conditions, thanks to the durable die-cast aluminum housing and the sturdy mounting brackets. Better still, the die-cast aluminum alloy housing helps ensure more efficient heat dissipation.
The wiring harness is not included in the package, and because this is a 288-watt light bar, it consumes quite a lot of power. However, the harness is easy to get and relatively cheap, while the superior light output makes up for high power consumption.
Read More: The Best 50-inch LED Light Bar

---
5. Most Resistant: DWVO BG1601D002

Size: 32-inch
Lumens: 48,000
Color Temperature: 6,000K
Lifespan: 50,000 hours
The DWVO BG1601D002 is a fantastic 32-inch LED light bar with an IP68 waterproof rating to ensure it is ideal for use in any weather as it effectively keeps water, fog, and dust out.
Better still, it is one of the brightest LED light bars on our list as it delivers up to 48,000 lumens. The high light output is thanks to the innovative triple row and multi-bulb design. This design also ensures low heating and long-distance irradiation.
With this light bar, you get adjustable and non-restrictive mounting brackets that make it possible to mount in different locations. You can also use the light for a wide variety of applications as it can work on various vehicle types.
While there are no installation instructions, you hardly need them as this is a straightforward light bar to install, and all you need is some common sense. It does not illuminate very wide, but there is still more than enough light for safe driving.

---
6. Best for the Money: AutoFeel 8542100664
Size: 52-inch & 22-inch
Lumens: 32,000
Color Temperature: 6,000K
Lifespan: 50,000 hours
For a pack of 6 LED light bars, the AutoFeel 8542100664 are the best LED light bars for the money on our list. You would need to spend way much more cash to get a better deal than this one.
Because the light bars have an IP68 waterproof rating, you can be sure they will be completely water and dustproof. Also, you get better electrical conductivity and superior high temperature and melting resistance.
The LED light bars have a spot and flood combo beam that ensures you get a bright and broad view for excellent illumination. Furthermore, the illumination angle is adjustable to make it easy to focus the light in different directions. And this is a wide application light bar that suits various vehicles.
Although some extra switches and more wiring could have been better to give you additional mounting options, what you get is still enough for a good setup on most vehicles.

---
7. Best 22-Inch: Nilight 70003C-A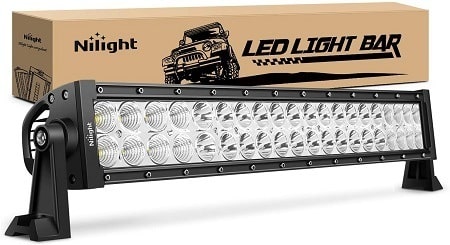 Size: 22-inch
Color Temperature: 6,000K to 6,500K
Lifespan: 50,000 hours
Nilight 70003C-A is a more compact and space-saving light bar that still provides excellent illumination by combining spot and flood beams with the perfect angles despite not taking up a lot of room.
The light bar is super sturdy and highly durable with an advanced PC lens and an aluminum alloy housing. And you can be sure of getting a high performance as this light bar includes 40 powerful LED chips and some upgrades reflector cups that allow for multi-angle refraction.
When it comes to the installation, the manufacturer provides some adjustable and durable mounting brackets that ensure you have an easy time with the installation.
There are complaints about the formation of condensation inside the light bar, but this is an easy issue to fix as you only need to make sure the stainless steel screws are tight enough.

How to Buy the Best LED Light Bar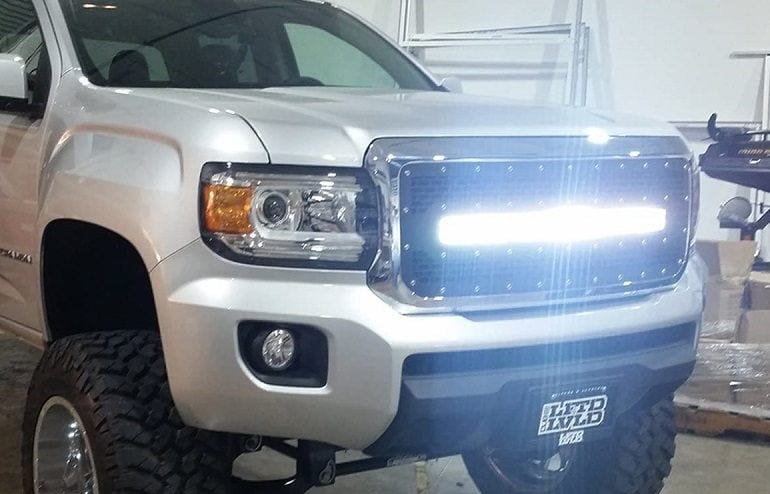 1. Size
LED light bars come in various size options, from the smaller 4-inch ones like Auxbeam 77718286AX to larger ones like the 52-inch long AutoFeel 8542100664. Hence, before settling for any model, you need to make sure it can fit your vehicle.
An excellent way to decide on your vehicle's right size is to measure the area where you want to mount the light bar and choose something appropriate. While there is no problem with having a shorter light bar, long ones can be a hazard to other road users and unsightly.
2. Brightness
Because illuminating the road ahead and your surroundings are the main reasons for buying LED light bars, its brightness is crucial.
Most of these lights will provide anything from 10,000 to 100,000 lumens depending on the size and the number of LEDs. Hence, you can be sure that there is something for you no matter how much brightness you want.
However, it is essential to note that in most instances, the brighter the light, the pricier it tends to be, and sometimes you might not need a super-bright light.
3. Color Temperature
Besides being bright enough, the quality of the light you get is also vital when choosing the best LED light bar.
When it comes to light quality, you want something that provides a color temperature which is as natural as possible. Anything between 6,000K and 6,500K should be good enough because, at this range, you get more natural daylight output.
4. Beam Pattern
Like most other lights, the LED light bars offer different kinds of beam patterns, and because this affects the overall illumination significantly, you cannot afford to overlook it.
Here you can get light that provides flood or spot beams, but many modern models have both. With a combo beam, you get the wide illumination area of a flood beam and far-out illumination if a spot beam, all in one light.
Still, on the beam pattern, the beams have different illumination angles. Something with a 30-degrees spot and 60-degree flood beam like the AutoFeel 8542100664 offers an excellent illumination angle.
5. Straight or Curved
Straight bars are flat in design and offer a high light output that shines straight forward. These bars are ideal for use as spotlights when off-roading. However, they typically do not cover extensive areas.
Curved LED light bars are perfect when you want to illuminate a wide area, as the curved design will distribute the light over a broader space. But, this sacrifices distance as they do not irradiate as far as the straight tones.
6. Single or Multiple Rows
LED light bars have either one or multiple rows of LEDs. Single row light bars have the LEDs arranged in just one row, allowing them to be more compact for mounting on vehicles that do not have a lot of room to spare.
Multiple row models with two or more rows of LEDs provide higher light output. However, they tend to be larger to accommodate the higher number of bulbs, which means they take up more room on the vehicle.
7. Resistance
Like most other vehicle parts, LED light bars are exposed to all kinds of elements, and so when choosing one, you need to make sure it is designed with enough resistance.
The light bars need to be dust and waterproof, given that these are the typical elements they are exposed to when on and off-roading. They should also be resistant to other things like shock and fogging to ensure they maintain outstanding performance regardless of the driving conditions.
8. Mounting Options
You need to be able to attach the light bar to your vehicle for it to be of any use. Hence, when deciding on the model to buy, you should check the mounting options and ensure they are suitable for your vehicle.
When it comes to mounting, the right LED light bar is one that not only allows you to mount it in various positions on the vehicle but also comes with necessary mounting accessories.
Conclusion
With the best LED light bar, you get one of the most cost-effective, versatile, and brightest ways of illuminating the road ahead, whether you are on or off-road. And with this piece to guide you, finding the perfect one for your truck, ATV, jeep, or any other vehicle should be easy.
That said, for those looking for a light bar for their ATV, the Auxbeam 77718286AX is our recommendation as the bars are just the right size and with the perfect light output.
But, if you are looking for something that will give you the best value for your cash, the AutoFeel 8542100664 is what we recommend.