If your car has limited space to accommodate aftermarket lights or does not want to clutter the vehicle with massive lights, it is always a great idea to go for something more compact. Here the 24-inch and 25-inch light bars are some of the best options.
With the best 24-inch LED light bar, you get an even more energy-efficient light as most have fewer LEDs to ensure even less power draw.
That said, these lighting fixtures still perform well, working hand in hand with your car's headlights to illuminate the dark, dusty and foggy paths ahead of you.
However, you need a good quality light bar if you are to get these benefits, and here we help you find it with a review of some top-rated models and a buying guide.
Editor's Recommendation: Top 24inch Led Light Bars of 2021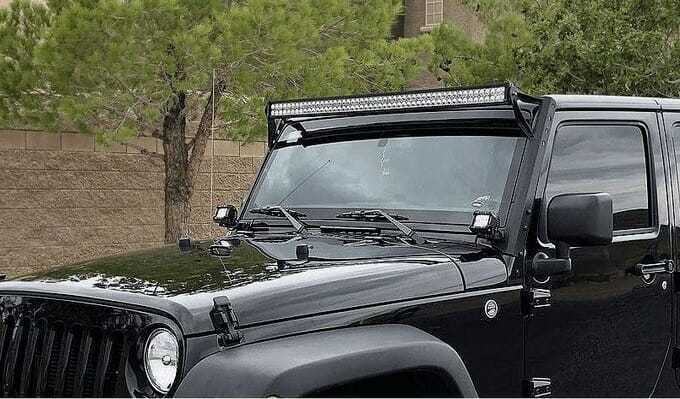 Summary of 5 Best 24-inch LED Light Bars
IMAGE
PRODUCT
FEATURES

1. Yitamotor 4333219797 (Best Overall)

50,000-hour lifespan
Flood & spot beam combo
Suitable for wide application

Harsh weather resistant

2. Willpower 4332995189 (Brightest)

Super bright 12,000-lumen output
IP68 waterproof rating
Spot & flood combo beam
Adjustable mounting brackets

3. Primeprolight 1 (Best Inexpensive)

More affordable
Curved for a snug fit
Low power consumption

4. Blazer CWL524S (Best Brand)

Top brand product that exceeds SAE/DOT standards
High-impact polycarbonate lens
Durable die-cast aluminum housing
Efficient vent fins

5. Nilight 60007C-A (Most Versatile)

Versatile & multifunctional design
Improved waterproof build
Adjustable mounting bracket
Efficient die-cast aluminum alloy heat sinks
1. Best Overall: Yitamotor 4333219797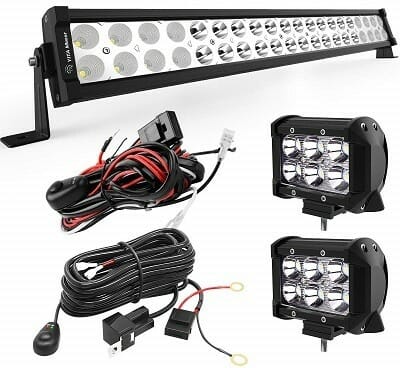 Lumens: 11,800
Power: 120 watts
Material: Aluminum
Lifespan: 50,000 hours
Yitamotor 4333219797 24-inch LED light bar is our best overall model. The light bar is more long-lasting, provides a perfect combo beam, and the package includes three light bars to give you great value for cash.
With this light bar, you can expect a service life of up to 50,000 hours. Also, it combines a couple of 60-degree flood beams with a 30-degree spot beam to ensure you get a perfect beam pattern for incredibly clear visibility. And the 6,000K color temperature makes the light quality more natural.
The kit provides a light output of 11,800 lumens, which should be more than enough for both on and off-road driving. Better still, it is ideal for a wide variety of applications as you can use it on Jeeps, trucks, ATVs, cars, and most other vehicle types.
These lights are more resistant to harsh weather as they have a protective cover, flexible silicone stripping, and rubber pad sealing to keep the fog, water, and dust out. Also, installation should be a breeze as the kit includes the required wiring harness.
However, the set is relatively expensive when compared to other options on our list. But you can be sure it is worth every buck.

---
2. Brightest: Willpower 4332995189

Lumens: 12,000
Power: 120 watts
Material: Aluminum
Lifespan: 30,000 hours
The Willpower 4332995189 is the brightest 24-inch LED light bar on our list, and it produces up to 12,000 lumens. What's more, it has a combo beam pattern with both spot and flood beams to ensure you always get superior illumination for maximum visibility.
The LEDs are inside a sturdy aluminum alloy casing for maximum durability. This casting also includes heat sinks to ensure efficient heat dissipation.
Additionally, this Willpower light bar has an IP68 waterproof rating that makes it completely water and dust resistance to ensure you can use it in any weather with no issues.
With this light bar, you also get 360-degree adjustable mounting brackets that make the light easy to install and ensure you can easily focus the light in different directions.
The light bar's few drawbacks are that it does not come with a wiring harness, and the face is not entirely scratchproof. However, the wiring harness is inexpensive and easy to find. It will also be many years before you have to worry about significant scratches on the light bar.

---
3. Best Inexpensive: Primeprolight 1

Lumens: 6,800
Power: 120 watts
Material: Aluminum
Lifespan: 30,000 hours
Motorists looking for a more affordable 24-inch LED light bar should give the Primeprolight 1 a try as it is one of the cheapest options on our list.
Primeprolight 1 is also our best 24-inch curved LED light bar. Therefore, it fits more snugly on the vehicle to create a pleasant look. This curved design also helps provide a relatively wider illumination area than what you get with the straight bars.
With this light bar, you get a flood and spot combo beam for far and broad illumination. Also, it has a 6,000K color temperature for a more natural daylight output.
Durability is assured with this light bar as it is made from durable aluminum material and with sturdy stainless steel mounting brackets. Many motorists will also love that it is a more energy-efficient unit as it does not draw a lot of power.
When you compare this model to others on our list, it has a relatively low output of just 6,800 lumens. But, this is still acceptable, given the relatively lower price tag.

---
4. Best Brand: Blazer CWL524S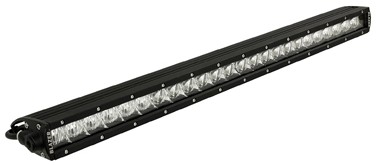 Lumens: 4,800
Material: Aluminum
Lifespan: 30,000 hours
Blazer is a top light bar brand that makes products to meet and exceeds SAE and DOT standards, and they have been in the market long enough to understand what motorists want. Hence, if you are looking for a top brand 24-inch LED light bar, the Blazer CWL524S is a good choice.
The single-row light bar is made for use in any weather with a solid aluminum housing to withstand the elements and a tough polycarbonate lens that is more scratch-resistant. This rugged build also makes this a good 24-inch LED light bar for off-road driving.
With this light bar, you get more efficient heat dissipation as it uses some perfectly designed vent fins. When it comes to the actual lighting, you get a perfect spot and fog combo beam to ensure both far and wide illumination.
Because this light bar is compatible with most systems between 12 and 24V, it is perfect for trucks, SUVs, and ATVs.
While the 4,800 lumens output seems relatively low compared to other options on our list, for a single-row light bar, it is almost as good as it gets. The light bar does not seem completely moisture-proof, but if you keep everything tight enough, you never have to worry about water seeping into the light.

---
5. Most Versatile: Nilight 60007C-A

Power: 162 watts
Material: Aluminum
Lifespan: 50,000 hours
The versatility of Nilight 60007C-A is one of its key highlights. This 25-inch LED light bar works with both 12 and 24V systems, allowing you to use it on almost any vehicle from cars to Jeeps and trucks. Better still, the light bar is versatile and multifunctional enough for other purposes like garage lighting.
Nilight 60007C-A is also a highly durable LED light bar thanks to a 6063 aluminum alloy housing and PC lens. What's more, the aluminum housing has excellent heat sinks that ensure more efficient heat dissipation.
With the adjustable mounting brackets, installation is more straightforward, and they also make it easy to adjust the direction of the light up to 45 degrees. One more thing that makes the light bar fantastic is the water, dust, and quakeproof construction to allow for use in any conditions.
While the 162-watt draw is relatively higher than other models on our list, this unit has more LEDs that provide a higher light output and should not be a deal-breaker.

How to Buy the Best 24-Inch LED Light Bar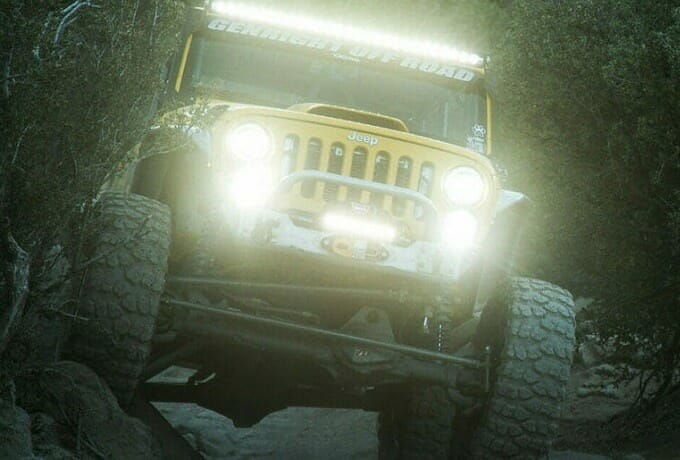 1. Brightness
Brightness is the most crucial factor to consider when picking the best 24-inch LED light bar. It is measured in lumens, and the higher the number, the brighter the light bar.
However, in most cases, a high lumen output usually causes high-power consumption, which means the fixture can drain your car's battery fast.
The 24-inch light bars have an output of anything from under 5,000 to 15,000 lumens, and it is up to you to decide what works best for you. However, something brighter like the 12,000-lumen output Willpower 4332995189 seems to work well for most motorists.
2. Beam Pattern
LED light bars can either have spot or flood beams, or a combination of both. Spot beams are more focused and help to light up a specific area, while flood beams, as the name suggests, produce a wider arc of light.
The ideal unit should have both types to provide a beam pattern that illuminates both far and wide for superior visibility.
For the beam pattern to be perfect, the light bar also needs to provide an appropriate beam angle. Here spot and flood beams set at 30° and 60° respectively are often the most ideal.
However, as you drive on different terrain, it may be necessary to tilt the beam upwards or downwards, and for this, the unit should have an adjustable mounting bracket.
3. Material
Aluminum is the most commonly used light bar material as it is lightweight yet still strong enough to shockproof the circuitry inside. Additionally, an aluminum housing doubles up as a heat sink, helping to dissipate the LED's heat.
Other things like the lens and brackets should also have durable material. Heavy-duty polycarbonate lens like what you get on the Blazer CWL524S and stainless steel brackets are the best.
4. Resistance
Besides rough handling, light bars will also be exposed to the elements. Therefore, a good unit should withstand rainy, frosty, dusty, and many other conditions.
The waterproof level rating should give you a good idea of a light bar's resistance. Here something with an IP67 rating should be good enough to keep most of the water and dust out.
But, if you will be driving in very wet conditions a lot, an IP68-rated model like Willpower 4332995189 is an even better choice as it offers complete water, fog, and dustproof.
5. Accessories
Lastly, the accessories you get with the light bar also matter a lot as they determine the value for cash and whether you can install the unit immediately or not.
While the actual accessories you get differ from one brand to another, some of the key ones to watch out for include wire harness, mounting brackets, mountain hardware, and Allen wrenches.
Conclusion
Our comprehensive review and buying guide above ensure you have an easy time picking the best 24-inch LED light bar or at least something that suits your needs.
From this list, the Yitamotor 4333219797is our top recommendation as it is a fantastic kit with multiple light bars that provide up to 50,000 hours of service life and a lot more to offer, such as a perfect combo beam.
However, if you are looking to save some bucks but still get a good light bar, the inexpensive Primeprolight 1 is what we recommend.