Having plastic glue for car parts in your vehicle can save the day. It helps with everything from reattaching plastic trims and side molding to filling gaps on different vehicle parts.
Plastic glues for car parts are heavy-duty adhesives that will come in either liquid or tape form, and they are vital for small repairs inside and outside your vehicle.
These glues provide a quick, easy, and cost-effective fix, but they are available in various types and models from different brands like any other product. Here we look at a few top options to help you choose the best plastic glue for car parts.
Editors' Picks: Top Plastic Glues for Car Parts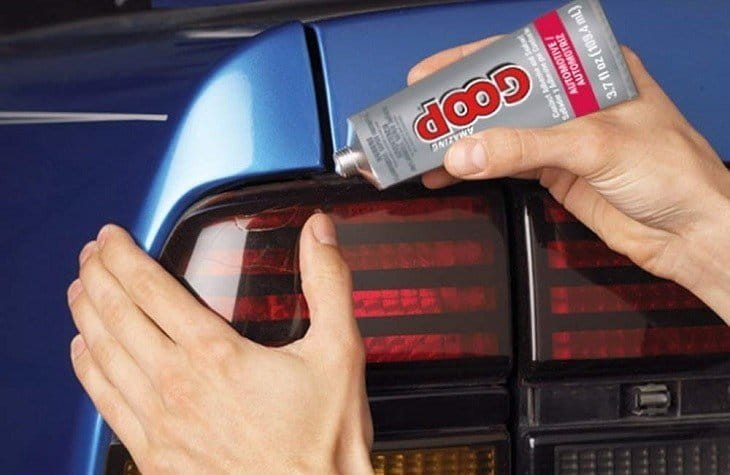 Summary of 7 Best Plastic Glue for Car Parts
IMAGE
PRODUCT
FEATURES

1. J-B Weld 50139 (Best Overall)

Strong plastic bonder with high tensile strength
Easy application with a syringe
Fast enough cure time - 15 minutes
Works on various materials

2. 3M 3614 (Best Molding Tape)

High-strength double-sided tape
Easy, tool-free use
Superior conformability
Noise & vibration dampening

3. Amazing GOOP 160012 (Best for Car Interior)

Very ideal for repairing vinyl tears
Suitable for insulating electrical wire
Easy application

4. 3M 38808 (Best for the Money)

Great value for cash
More versatile formula
Dries to a clear finish
Convenient adjustable nozzle

5. Sugru SBW8 (Most Versatile)

Ideal for various applications
Mess-free & no-runny formula
Drilling not required
Super-strong & can hold up to 4.4 lbs

6. Loctite 1365882 (Best Professional)

Professional-strength adhesive
Fast-setting formula
Precise nozzle
Dries transparent

7. Gorilla Micro Precise 102177 (Fast Setting)

Sets in 10 to 45 seconds
Precise & smooth application
Superior impact resistance
Versatile formula
1. Best Overall: J-B Weld 50139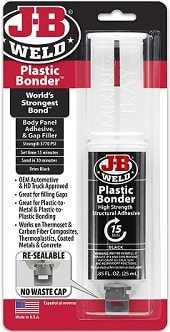 The J-B Weld 50139 takes our top overall spot as it creates one of the strongest bonds you can get from a plastic glue to repair the components permanents.
This glue has a high tensile strength of 3,770 PSI, and it is a multipurpose product that adheres to various other materials like aluminum, ceramic, and coated metal.
You never have to wait long before working on the surface with this glue as it sets in just 15 minutes before curing in around 30 hours.
This heavy-duty glue takes little effort to apply and is ideal for a DIY application regardless of the size of the job at hand. The adhesive comes with a unique syringe that makes it easy to mix the two parts. Also, the syringe has a re-sealable cap that ensures the glue does not dry out or leak.
The plunger seems to be the most notable drawback for this glue as it does not always dispense evenly. However, once you get the hang of it, this will hardly be an issue.

---
2. Best Molding Tape: 3M 3614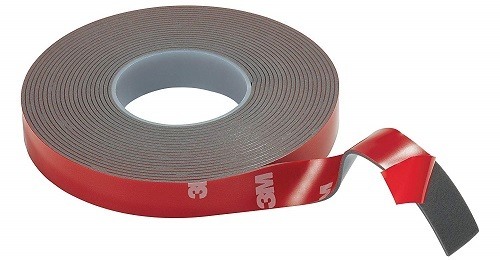 The 3M 3614 is a fantastic molding tape that still offers permanent results when reattaching trim, side moldings, and other components like emblems on both the vehicle interior and exterior.
This aircraft-grade adhesive will be more resistant to impact and weather, and you can use it with no worries for temperatures between -40 and 250 degrees Fahrenheit. What's more, it offers superior conformability as it conforms well to all kinds of surfaces, including textured and irregular ones.
Another element of this plastic glue many users will love is that it offers significant noise, shock, and vibration dampening, making it ideal for much more than just sealing holes. And it is easy to use without any complicated tools.
There is not a lot of tape on the roll, but what you get should still be enough for simple repairs, and you can always order several rolls as they are inexpensive. Although the glue might not stick very well on carbon fiber, it does a fantastic job for all other materials.

---
3. Best for Car Interior: Amazing GOOP 160012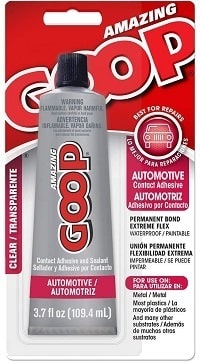 With the Amazing GOOP 160012, you get one of the best plastic glues for car interior as it will be useful for repairing vinyl tears on vehicle surfaces like floor mats and car seats. But, it is still ideal for use on exterior surfaces.
This multipurpose adhesive is ideal for coating electrical wires. Better still, it comes in handy for other things like sticking side molding and emblems in place and sealing windshields or headlights. What's more, its superior bond makes it very useful when you want to make screw connections vibration-proof.
This adhesive is straightforward to use, and you can use it to repair the parts in just a few steps. Better yet, the smell is not overwhelming, and so you should not have any difficulties working with this glue.
For the drawbacks, this glue has a long cure time as it can take up to 72 hours to harden enough on some surfaces, but the results make it worth the wait. Also, it will not adhere very well to Styrofoam, but this is typical of most similar adhesives.

---
4. Best for the Money: 3M 38808

The 3M 38808 offers exceptional bonding strength, and you get 18.1 fluid ounces of glue in the bottle, which ensures excellent value for your money as this offer is unbeatable without spending more cash.
Besides superior binding strength, this is a versatile glue that bonds headliner to plastic and metal surfaces. And you are in full control of the adhesive during application as it comes with an adjustable aerosol nozzle.
Another element of this plastic glue users will love is that it leaves a clear coat, making it ideal for all surface colors.
While this adhesive is super hard to get off from surfaces, this should not be an issue for you, provided you cover surrounding areas during application. And while there seems to be too much of it for those that only want something for single jobs, this is a huge advantage when you have a big job to tackle.

---
5. Most Versatile: Sugru SBW8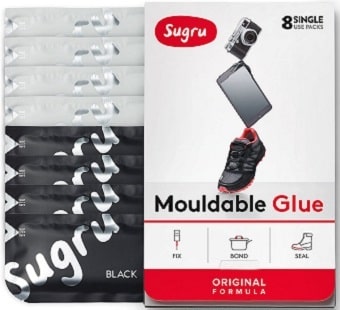 The versatility of the Sugru SBW8 is what makes it such a fantastic product. This all-purpose adhesive uses advanced silicone technology, making it ideal for various vehicle repair jobs. The glue is water, cold, and heat-resistant to ensure you can use it in all environments.
The application is quick and easy, as this adhesive is not runny. Many users love the superior strength as it can easily hold 4.4 pounds, which is much more than many others in its class.
You can use this adhesive for both interior and exterior surfaces. Also, it works for various materials, from plastic to metal and plaster. Regardless of the surface material, you never need to do any drilling during the application.
While the Sugru SBW8 has a relatively shorter shelf life, this often depends on how you store as it can remain usable for up to 6 months or even more when stored properly.

---
6. Best Professional: Loctite 1365882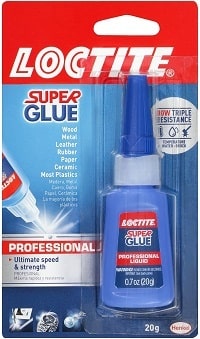 Loctite 1365882 is the best plastic glue for those looking for something that delivers professional-quality results. The professional-strength ingredients will not only provide stronger hold but also work fast.
This fast-setting plastic glue is more resistant to moisture, different chemicals and remains strong at almost any temperature.
When applying the glue, its pinpoint nozzle ensures you can direct the adhesive where you want to place it more precisely. Also, the screw-on cap helps clean and seal the nozzle to ensure it never clogs. Once dry, this glue leaves a transparent finish to give you invisible repairs.
Although this plastic glue seems to soak through thin materials, you should still be able to repair them by reducing the quantity you use. There is also little of it in the bottle, but this is typical of most super glues.

---
7. Fast Setting Plastic Glue: Gorilla Micro Precise 102177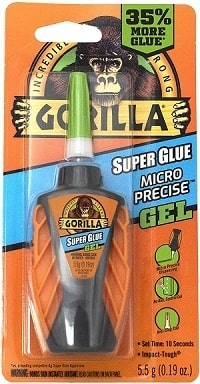 The super-fast setting time is what makes the Gorilla Micro Precise 102177 one of the best glues for plastic parts. This product dries in as little as 10 seconds to ensure you never have waste time waiting for the glue to dry.
Besides the fast dry time, this plastic glue also ensures a more precise application, and it applies smoothly to ensure you end up with a high-quality bond.
The Gorilla Micro Precise 102177 is a more versatile plastic glue that adheres to various surfaces, including wood, rubber, ceramic, and leather. What's more, this glue provides reinforced impact resistance and extra strength to protect the surface from further damages.
There is little product in the bottle as you only get 0.19 ounces, but for such a potent adhesive, a little goes a long way, and hence it will still be quite useful.

How to Buy Best Plastic Glues for Car Parts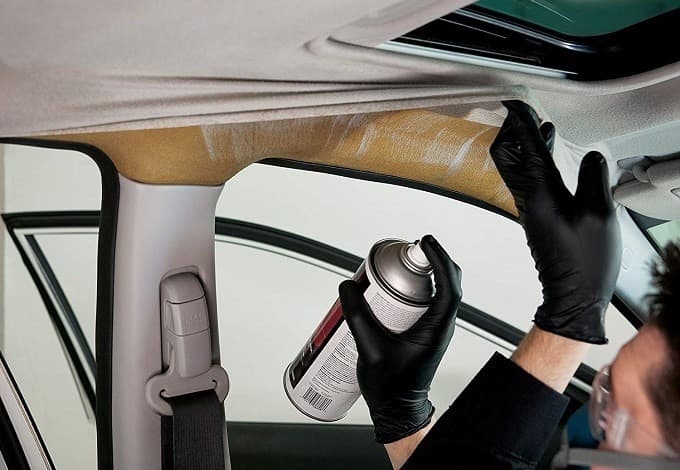 1. Permanent or Semi-Permanent
As you choose plastic glue, you often need to decide the type that you want. Here, this typically means picking between the permanent and semi-permanent types.
The permanent glues will provide a stronger bond between the pieces, and they are ideal for repairing things like bumpers and trims that require more hold power. Note that such glues are built to last, and so in case you change your mind about using them, you will have a hard time removing it from the surface.
With the semi-permanent glues, you get a more temporary solution. But, these glues still form a strong enough bond to hold the pieces together. They are also easier to remove when you want to without leaving any messy residue on the surface.
2. Material You Want to Apply
Given the different chemical compositions and ingredients used to make plastic glue, they adhere to varying surface types. Hence, the best glue for automotive plastic for you should be ideal for use on the specific material you want to repair.
Most of these glues will be suitable for plastic materials, which should be good enough, as this is the most common material in many vehicle interior and exterior. However, some like the J-B Weld 50139 are more versatile as they can adhere to other materials like coated metal, fiberglass, and even ceramic.
3. Need to Drill or Sand
In some instances, you may need to drill or sand over the glue once cured. Hence, when choosing your plastic glue, it is vital to make sure what you buy leaves a finish that can be sanded and is drillable.
The adhesives that act as a filler will be preferable in such cases as they make it possible to restore the surface to your desires appearance by drilling or sanding.
4. Quantity
The quantity of the glue in the tube or container also matters a lot as it determines whether you get good value for money or enough product to finish your intended repairs.
But given that these are heavy-duty glues with strong bonding capability, a little of it will be more than enough for most jobs.
Typically most products provide as little as 0.5 fluid ounces of glue, which is more than enough, but you can still get high volume ones like the 18.1-fluid ounce 3M 38808.
5. Shelf Life
Because you will not always use all the glue in the tube or container, it is essential to check the shelf life to ensure that you can keep any leftover glue until you need to use it again.
Luckily most can last for many months when you store them properly. You need to be careful when handling them because many dry out if you leave them open and allow air to get into the tube.
6. Durability
Any plastic glue that you choose needs to be durable to ensure you do not need to keep reapplying it now and then. Durability becomes even more critical when you have to use the glue on exterior surfaces that are at the mercy of the elements.
A good plastic glue should resist water and sun rays as they are some of the most common elements the repaired section will encounter. Also, it should be tough enough to withstand typical vibrations that emanate from the vehicle's engine.
7. Color
If you are applying the plastic glue on an exterior surface, color-matching is vital to ensure it will not look out of place.
For example, a black glue weld on a red bumper leaves an unsightly look that can make the vehicle look older than it is, and so in such cases, you are better off sticking with something transparent.
Glues that set to black color or tan will often come with more work for you as, in most instances, you need to paint over them to maintain the vehicle's aesthetic appeal.
8. Time to Set
The time the glue takes to set also matters a lot as it determines how long you need to wait before driving the vehicle or doing other jobs like sanding or painting the surface.
Here a fast-setting glue like the Gorilla Micro Precise 102177 that sets in as little as 10 seconds will be super convenient as it means you hardly have to wait for the adhesive to set. But, those that set in 5 minutes, like most others on our list, are still good enough.
Frequently asked questions
Can I Use Plastic Glue on Other Materials?
A: Yes, but this often depends on the specific plastic glue type or model you are using. Besides plastic, most of these glues adhere to other materials like fiberglass, PV, coated metals, and aluminum, which are the typical material in the vehicle's interior and exterior surfaces.
How Long is the Shelf Life of Automatic Glue?
A: Shelf life varies significantly from one brand of glue to the other, but most typically have a shelf life of between 6 and 12 months. But, some brands can last up to 24 months. Also, note that the shelf life decreases once you open the tube.
Conclusion
With the best plastic glue for car parts, you have an effective solution for repairing trims, moldings, and many other car components.
From our review above, it is clear there is a plastic glue for you regardless of the material you want to repair. However, the J-B Weld 50139 is our best overall as it provides superior tensile strength and will bond to almost any surface.
But, if you want something that gives you great value for money, go for the 3M 38808 as this 18.1-fluid ounce glue is worth every buck you pay.