As technology advances, it is evident that devices and appliances are getting interconnected for convenience and ease of use. This also applies to car stereos and if you own an iOS device, you better make sure that the head unit supports Apple Carplay.
With this compatibility, you will get to enjoy the convenience of controlling your device from the dashboard. This will also improve your driving experience by making it safer since your hands will be kept on the wheel and your eyes looking forward.
Having this in mind, below are 7 best Apple Carplay stereos that you should consider for your car.
Top Apple Carplay Stereos of 2021 by Editors
7 Best Apple Carplay Stereos – Review
IMAGE
PRODUCT
FEATURES

Pioneer MVH-1400NEX Apple Car Play Stereo With Bluetooth

1. Pioneer MVH-1400NEX (Best Overall)

Apple Carplay, USB, Aux and Bluetooth for compatibility.

Double din with a 6.2-inch touchscreen.
Three 4V pre-outs for expansion.

Pioneer In-Dash Built-in Bluetooth Car Play Stereo

2. Pioneer DEH-S6100BS

USB control for iOS and Android devices.
Bluetooth connectivity for audio streaming and hands-free calling.
Siri Eyes Free for iPhone 4S or newer.

Pioneer AVH-3300NEX Car Play Stereo

3. Pioneer AVH-3300NEX

Single din with a 7-inch motorable touch screen display.
Apple Carplay, Android Auto and Bluetooth connectivity.
Customizable touch screen interface.

Kenwood KDC-168U Car Play Stereo

4. Kenwood KDC-138U

Affordable single din head unit with a small 13-digit display.
iPhone/iPod control via USB.
Powerful built-in MOSFET amplifier.

Pacific Stereo Alpine ILX-107 With Backup Camera

5. Alpine ILX-107

Double din head unit with a 5GHz Wi-Fi receiver for phone connectivity.
Large 7-inch capacitive touchscreen.
iDataLink-compatible for displaying engine data performance.

Pioneer AppRadio 4 SPH-DA120 Car Play Stereo

6. Pioneer SPHDA120

Double din stereo with a 6.2-inch touchscreen.
Apple Carplay, AppRadio, MirrorLink and Siri Eyes Free for connectivity.
Built-in AM/FM tuner.

Alpine ILX-F309 HALO9 Car Play Stereo

7. Alpine iLX-F309

Single din chassis with a large 9-inch display that can be preset to 4-angle points.
Apple Carplay, Android Auto, Bluetooth for compatibility.
iDataLink-compatible for displaying the car's performance statistics.
1. Pioneer MVH-1400NEX – Best Overall
Pioneer's MVH-1400NEX is available in two options: one with a DVD player and the other without. However, either option is double din in size and is equipped with a 6.2-inch touchscreen that has a resolution of 800 x 400, which is pretty decent for a stereo display.
Compatibility and connectivity are strongly built-in, with Bluetooth for hands-free calling and music streaming from the connected device, a USB port for attaching a flash drive, AUX port, and of course, Apple Carplay for iOS devices.
Once connected, the stereo distributes the sound signal over 4 channels, each receiving a peak power of 50 watts. If this is not enough, there are three 4-volt RCA pre-outs that you can use to expand the sound system and a 13-band graphic equalizer for customizing the sound output.
Combined, these features make it the top-rated apple car play stereo in this review. Other features include mixtrax that acts as a virtual DJ, adding effects and transitions to your music, and is SiriusXM ready.
However, the front face is not detachable and therefore, you cannot remove it for security reasons.

---
2. Pioneer DEH-S6100BS Carplay Stereo

If your car's dashboard has a single din slot, then this head unit from Pioneer is a good option to consider. Despite its small size, this stereo is well equipped for the job, with USB direct control for iPod and iPhone, and USB access to music files on Android devices running version 4.0 +.
On top of this, the unit also supports Pandora music streaming control for both iPhone and Android and is SiriusXM ready.
A built-in Bluetooth feature gives the stereo the safety factor required for hands-free calling and audio streaming from the connected device while a CD player and an AM/FM tuner expand the entertainment options.
As you play music from any of these, mixtrax adds on transitions and effects, effectively deejaying your music for you. The resulting audio mix is channeled out to 4 speakers in 50 watts peak power and 14 watts RMS.
Other features include a detachable face, Siri Eyes Free voice recognition for iPhone 4S and later, and a 5-band graphic equalizer.

---
3. Pioneer AVH-3300NEX Apple Car Play Stereo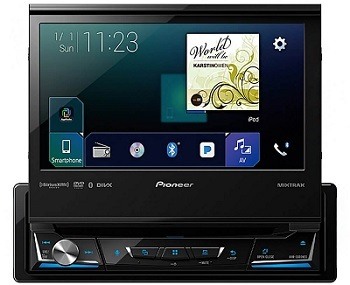 For an aftermarket Carplay stereo, the 3300NEX stands out due to its 7-inch motorable fold-out touchscreen 800 x 400 display, which means that it a single din unit that can fit in all dashboards, yet offers you the benefits of a large display, just like in double din stereos.
Even though this display is not detachable, folding it in hides the panel, thereby making it less of a security risk because it won't be visible.
Being Carplay compatible, you get smooth iOS compatibility, giving you full control from the dash. Apart from this, the head unit also features Android Auto for linking up with Android devices and Bluetooth connectivity for hands-free calling and audio streaming.
Other features include a DVD/CD receiver, an internal amp that churns out 14 watts RMS and 50 watts peak power to 4 channels and a customizable touch screen interface.
Fits into all dashboards due to its single din size with a motorable display
Customizable touch screen interface

---
4. Kenwood KDC-138U Apple Carplay Stereo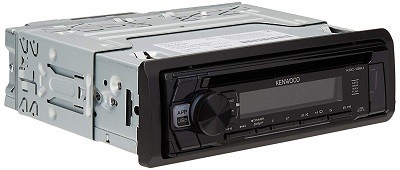 This stereo is the most affordable product in this review, but it still performs very well. For instance, it has a built-in MOSFET amplifier that gives 22 watts RMS, which is quite powerful, and 50 watts peak power on 4 channels.
In addition to this, you also get System Q sound control, which comprises of 8 EQ curves plus a 3-band equalizer, and Kenwood sound reconstruction, which improves the sound quality of music that is encoded at low bitrates.
Even though it has a small 13-digit LCD display and a few buttons on its detachable face, the KDC-168U offers superb smartphone integration, with iPhone/iPod control via USB, as well as Pandora and iHeartRadio control for iPhone.
The unit is also compatible with music control apps for select Android phones, but this is better off for iOS devices.
Other features include a USB port, memory card reader, bass boost, low pass filter, and subwoofer level control.

---
5. Alpine ILX-107 Apple Car Play Stereo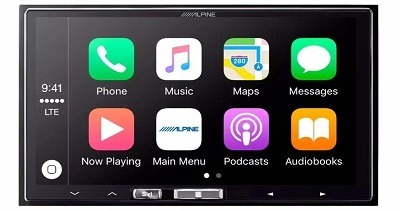 Alpine's ILX-107 is the best Apple Carplay receiver because it has a built-in 5GHz Wi-Fi system, making it a digital media receiver that specifically works with iPhones for wireless connectivity to access the phone's apps. However, this only works with iPhone 5 or newer.
Once connected, you can enjoy music apps such as Pandora, Spotify, and iHeartRadio straight from the dash, using a large 7-inch capacitive touch screen as the user interface.
Apart from music, the other benefit you get with this stereo is a rear camera input, which means that you can hook it up to a reverse camera for convenience when backing up and compatibility with iDataLink Maestro for displaying engine performance data for certain vehicles.
On the downside, this unit is quite expensive and it does not feature a wireless remote control, but the benefits you get far outstrip these few shortcomings.
5GHZ wi-fi digital media receiver for iPhone 5 or newer

---
6. Pioneer SPHDA120 Apple Carplay Stereo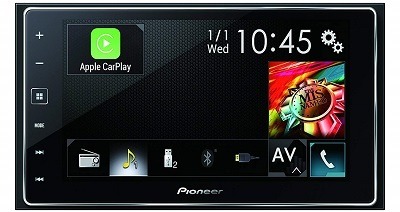 If you want complete control over your phone from the dash, then this head unit from Pioneer is the best option to consider. This is because it gives you two access options, which are Apple Carplay (for iPhone 5 and later) and pioneer's own AppRadio.
Carplay basically mirrors the phone's apps so that you can use maps for navigation, play music, etc., but AppRadio is compatible with both iPhone and Android devices and gives a different interface for controlling your smartphone.
This is further enhanced by MirrorLink and Siri Eyes Free compatibility, as well as Bluetooth connectivity for hands-free calling and audio streaming, making the SPH-DA120 one of the best CarPlay and highly compatible radios in the market.
Other features include a built-in AM/FM tuner and an 800 x 400 6.2-inch capacitive touchscreen display. However, the radio's face is not detachable and a remote control is not included.
AppRadio for connectivity to iPhone and Android devices
MirrorLink and Siri Eyes Free for further compatibility and ease of use

---
7. Alpine iLX-F309 Apple Carplay Stereo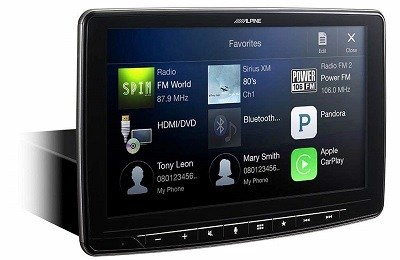 Though very costly, Alpine's iLX-F309 hits the right spot on almost every aspect. For starters, it has a large 9-inch display that hovers out of the dash as its underlying electronics are housed in a single din chassis.
However, the display does not fold into its single din chassis, but can only be preset to 4 angle points, -20°, 0°, 20°, and 45°. This allows you to access any component hidden behind it on the dash while also allowing for better viewing.
Apart from Apple Carplay, this head unit is also designed with Android Auto and Bluetooth, giving you wider compatibility so that you can enjoy maps, music, hands-free phone calls and other apps from a wide array of smartphones.
Other features include iDataLink connectivity for displaying the vehicle info on compatible cars, universal camera input with a distance guideline display for the rearview camera, a 9-band equalizer, AM/FM and HD radio tuners, and is SiriusXM ready.

How to Buy the Best Apple Carplay Stereos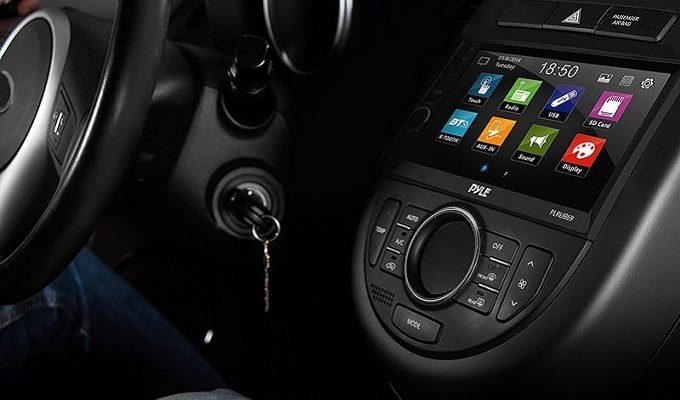 1. OS Integration
While it is recommended that you buy a stereo that is compatible with the OS running on your smartphone, the best stereo should be universally compatible with a wide array of operating systems so that it can still remain relevant even if you switch phones.
That said, most new car radio models are compatible with a wider array of operating systems, with the most important ones being iOS and Android.
However, for the best integration, Pioneer stereos have an edge over their competitors, with additional features such as AppRadio, MirrorLink and the like, which offer better connection, app use and control to a wider variety of devices running different operating systems.
2. Third-party Integration
There is a good side and a bad side to this. Using Apple as an example, they are very restrictive when it comes to third-party integration. This means that if you use Carplay, your app selection will be limited.
However, this also means that there is a lot of control, making such Apple products safer and more secure.
On the other hand, Android and other third-party applications are likely to be less secure and this can be a security risk, especially with the ever-increasing interconnection between appliances, and even cars.
Therefore, even if your stereo can integrate third-party software and hardware, be careful of what you add onto it.
3. Smartphone Connection
For most stereos, the connection to the phone is usually by cable for app mirroring using Carplay or Android Auto. However, this is not the most ideal setup because cables can be cluttered or look untidy, and might look out of place if you drive a high-end car.
Bluetooth is a better wireless option for this connection but the most common use of this technology is for music streaming and hands-free calling.
However, some newer models allow control over Bluetooth, with some even having Wi-Fi instead, which creates a stronger and faster connection to your smartphone, leading to smoother control over the apps and phone features.
4. Screen Size and Resolution
The screen is the first thing that people notice on any head unit. While the larger 6 – 7-inch displays provide better app navigation and even video playback, they are usually expensive and occupy a large space. This means that they cannot be fitted on cars with single din slots.
However, the smaller single din units cannot be used for video playback due to their small screens but they are very affordable and have a universal fit in most dashboards, be it single or double din.
There is a "hybrid" though, which is in the form of a fold-in, motorable screen, in which the stereo can still fit in single din slots, yet afford you the same performance and convenience of having a large screen. Another hybrid option is a hover type of screen, which looks very cool.
Even though the bigger the display, the better, there is one other factor to consider and this is the pixel resolution. Basically, the higher the resolution, the clearer the screen and the better it will be to view videos in high definition.
For instance, a resolution of 800 x 400 is good but the denser the pixels, the better.
5. Car Nativity
Controlling a Carplay stereo either via touch or buttons is more of a convenience and also safer than having to use your phone as you drive. However, there is a better option that will ensure your hands are kept on the wheel at all times and these are steering wheel buttons.
This feature will enable you to control the stereo and thus, control your phone, allowing you to receive calls, adjust the volume, switch tracks and the like, without looking away or diverting your attention.
Unfortunately, not many cars have this feature and for the few that have, some stereos are not compatible with steering wheel controls.
Therefore, if your car has this feature, then ensure you buy a Carplay stereo that supports steering wheel controls so that you can integrate the two and enjoy a better driving experience.
6. Amplifier
All car head units have an inbuilt amplifier that supplies power to its channels, which are then connected to the speakers. However, not all of them produce the same power; some are more powerful than others.
In general, if you want a well-performing stereo, buy one with at least 4 channels and at minimum 20 watts RMS on each channel. It should also have high powered pre-outs (4-5 volts) so that you can expand the sound system with an external amplifier later on.
Anything less than this might not perform very well.
Conclusion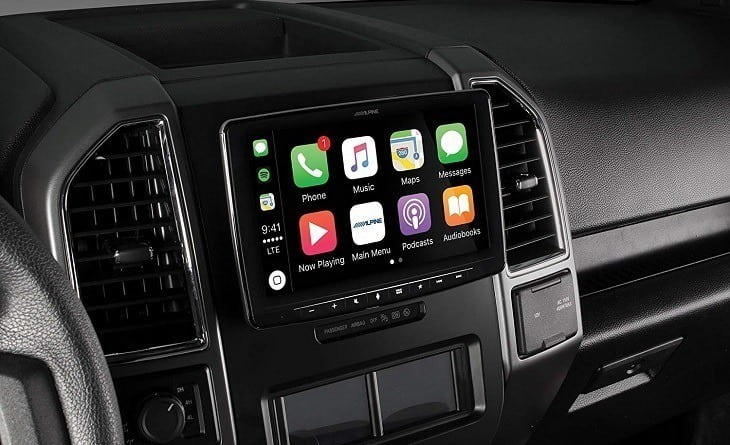 Carplay stereos and generally all car head units are somewhat complex gadgets that should be selected by someone who understands their functioning very well. As you can see above, there are a lot of things to consider in their internal working circuitry and mechanisms.
However, as you go through the content above, you will get to understand all these functional mechanisms that define each head unit so that you can pick the best Apple Carplay stereo for your car.