Single Din Head Units provide an excellent upgrade for your vehicle's sound system. These head units are typically 2 inches tall and 7 inches long, which means they have enough space to accommodate most functionalities that motorists want on their car stereo.
With the best single din head unit, you get functionalities like USB, AUX, Bluetooth ad CD player. Additionally, most also have bright LED displays that make it easy to navigate through the different settings.
Generally, most car owners choose Single Din stereos as they are cheaper than their 2 Din counterparts. Also, they are smaller, which means you can have a storage box above or below the unit. Better still, they fit almost any slot type, making them ideal for any vehicle.
In this article, we review some top-rated single din head units and provide a buying guide to helps make it easier to pick an ideal model for your vehicle.
Editors' Picks for Top Single Din Head Units of 2021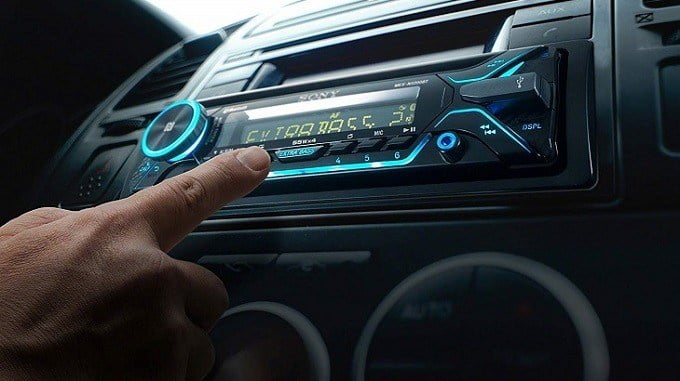 Summary of 5 Best Single Din Head Units
IMAGE
PRODUCT
FEATURES

Pioneer DEH-150MP Single Din Head Unit

1. Pioneer DEH-S1100UB (Best Overall)

Exceptional sound quality
Wide handheld device compatibility
LED-backlit multi-segmented display

Wireless remote control

BOSS Audio Systems 616UAB

2. BOSS Audio Systems 616UAB (Best Budget)

Budget-friendly
Bluetooth connectivity
Dimmable LCD & buttons

Sony DSX-A410BT

3. Sony DSX-A410BT (Best Wireless)

Dual Bluetooth connectivity
Voice control
Powerful 220-watt stereo

Pyle PLMRB29B

4. Pyle PLMRB29B (Best Multimedia)

Accommodates a wide variety of media
More powerful 300-watt receiver
Built-in mic for hands-free calling

Universal 12-volt console

Kenwood KDC-BT375U

5. Kenwood KDC-BT375U (Best Biggest Screen)

Large 1.5-line display
Multiple Bluetooth devices pairing
Smartphone app control
1. Best Overall: Pioneer DEH-S1100UB

Power Output: 200 Watt (50W x 4)
Connectivity: USB, AUX
Smartphone Integration: Wired Android and IPhone via USB
You can hardly ever go wrong with any Pioneer head unit as they are among the industry leaders for all kinds of sound hardware. The quality and sound output you get with their Pioneer DEH-S1100UB shows why millions of motorists trust the brand worldwide.
Besides the sound output, other things that make this our best overall model include the fact that it can work with almost any handheld device via USB and AUX connectivity. What's more, motorists can also control it via their Android devices.
Also, the unit comes with a remote control to allow for wireless operation and has some intuitive knobs and buttons for those that prefer not to use a remote. The head unit has a nice single-line and multi-segmented display with LED backlighting and red button illumination to ensure you can see it even at night.
Since the faceplate is entirely detachable, motorists do not have to leave it in the car as they can quickly remove it for secure storage. One more thing many users will love is that the installation process is relatively straightforward.
Although one would expect this single DIN head unit to include Bluetooth connectivity like most modern ones, its absence should not be a deal-breaker given that you can still connect it to your phone and other handheld devices.

---
2. Best Budget: Boss Audio Systems 616UAB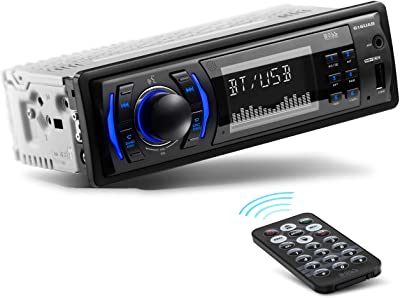 Power Output: 200 Watts (50W x 4)
Connectivity: USB, AUX, Bluetooth
Smartphone Integration: Wired and wireless for Android and iOS phones
BOSS Audio Systems 616UAB is one of the best single DIN head units out there for motorists shopping for a budget-friendly model. But, despite being a budget model, it still has all the functionalities you would expect from a good head unit.
One of its primary highlights is Bluetooth connectivity, which allows you to make calls hands-free and play music from your handheld devices wirelessly. Also, the unit has both USB and AUX to give you more wired connectivity options.
Its LCD display is quite eye-catching as it includes LED dancing lights, and you can also dim both the display and buttons when you do not want distractions. If you prefer wireless operation, the stereo also comes with remote control.
When it comes to the sound output, you will be in more control since the built-in EQ allows you to customize how you want to hear the music by regulating the bass, treble, and balance.
Bass seems to be a little lacking for this head unit, but it should be okay for its price. Also, the buttons and knob might look and feel a little cheap, but they will hold up well for at least a couple of years.

---
3. Best Wireless: Sony DSX-A410BT

Power Output: 220 Watts (55W x 4)
Connectivity: Bluetooth, AUX, USB
Smartphone Integration: Wired and wireless for Android and iOS phones
Sony DSX-A410BT will make wireless operation a breeze for motorists. It has seamless Bluetooth connectivity that allows for dual phone connectivity to ensure you can also include your navigation device even as you listen to music from your phone.
Additionally, it is also one of the most powerful head units on our list as it provides a total of 220 watts to ensure you always get a fantastic sound. Better still, it has a bass boost button you can use when you need to give your music some extra punch and a digital equalizer for further sound customization.
When it comes to controlling the unit, you can use voice control which helps ensure more safety when on the road. But, there are still some intuitive buttons and a knob, and this head unit also comes with remote control.
The LED color might not work for some drivers as it cannot be changed to match the vehicle dashboard, and the screen could also be larger. However, both are minor issues that many motorists will hardly even notice.

---

Power Output: 300 Watts (75W x 4)
Connectivity: USB, AUX, Bluetooth
Smartphone Integration: Wired and wireless for Android and iOS phones
If you are looking for a multimedia car stereo you can use for playing all kinds of media, Pyle PLMRB29B is perfect. The head unit has Bluetooth, AUX, and USB connectivity to ensure you can connect it to different devices for multimedia playing, as it supports most file formats.
Better still, it is a highly powerful 300-watt car stereo that will give you exceptional sound quality. Besides being the most powerful option on our single DIN head unit review, it includes an EQ configuration to customize the sound.
You never have to touch your phone when driving, as this stereo has a built-in mic to allow for hands-free calling. The phone number is displayed on the bright LCD screen when calling, and there is also a button for starting to ending calls
With the universal 12V configuration, this head unit should work with almost any vehicle that came with the single DIN radio.
This head unit seems to get quite hot when you run it for a long time, but this does not affect its functioning. Also, it feels a little too lightweight, which can give the impression of inferior quality, but it is still exceptionally well-built.

---
5. Best Biggest Screen: Kenwood KDC-BT375U

Power Output: 200 Watts (50W x 4)
Connectivity: Bluetooth, AUX, USB
Smartphone Integration: Wired and wireless for Android and iOS phones
Kenwood is another top brand that never disappoints when it comes to car stereos, and their KDC-BT375U model is as good as it gets for single DIN head units. It offers a larger 1.5-line display that ensures easy interaction with radio and includes many other impressive features.
Key among these features is the robust and seamless Bluetooth connectivity that can pair up to 5 phones to allow for music mixing. Additionally, it also allows you to switch between phones easily.
Controlling the stereo is guaranteed to be a breeze as you can easily adjust all the basics settings via the smartphone app or use the included remote control. There are also built-in drive and graphic equalizers that will give you more control over the sound output.
You will need to buy a separate wire harness to set up this head unit, as it does not include them. Also, there is no external antenna, but both are inexpensive things you can get locally.

How to Buy the Best Single Din Head Units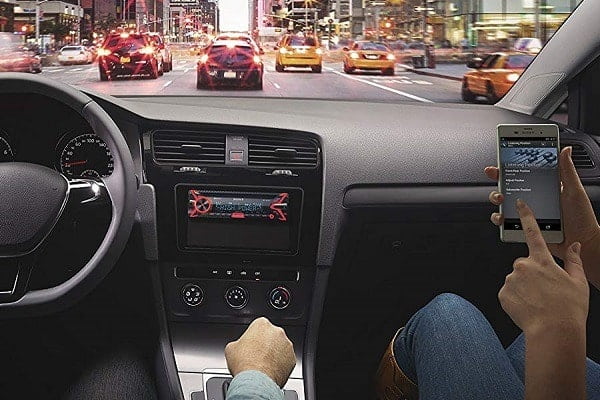 1. Power
Power is a crucial factor to consider before buying a new head unit, as is a determines of how well the unit will provide audio signals to the speakers.
Head unit power is measured in watts, and there are often two ratings, which are the peak and RMS power. Peak power is the maximum power that the built-in amplifier can reach, while the RMS is the actual average power getting to the speakers at all times.
A single DIN unit with at least a 200-watt power rating is often good enough. However, something that delivers even more power like the 300-watt Pyle PLMRB29B is better for those who prefer highly powerful sound outputs.
2. Display
Since single DIN head units are small in size, it is natural to assume that all have small screens. However, this is not the case. Some single din stereos have large screens that flip in and out of the unit, effectively giving you a 2 DIN size screen from the small unit.
Therefore, if you fancy having a large screen with its accompanying features, yet you have a single DIN slot in your dashboard, It is still possible to get something with a larger screen like the 1.5 line display you get on the Kenwood KDC-BT375U.
Besides screen size, it is also essential to make sure that the backlighting is good to see well even in the dark and that the display uses a font that is easy to read.
3. Playback
Stereos are for car entertainment. As such, the best head unit should have USB ports, Bluetooth connectivity and CD players that can play at least MP3, and WMA audio formats as well as MP1, 2, and 4 video formats.
Most songs are available in these formats, and so to ensure you can enjoy them, your head unit needs to be able to read the file.
Since you cannot be certain of all the exact file you will need to play, it is always better to go for a multimedia unit like Pyle PLMRB29B and most others on our review.
4. Expandability
The expandability of a head unit depends on the input and output ports. A head unit with multiple I/O ports is better because it is easy to expand. For instance, having RCA outputs allows you to expand the sound system with amplifiers and subwoofers.
On the other hand, a camera input enables you to expand the stereo's capabilities to improve your driving experience, as you can use it to mount a monitor for your reverse camera. This input makes the head unit useful for more than just listening to music.
Read More: The Best Backup Cameras
5. Connectivity
When it comes to connectivity, the more options, the better as they ensure you can connect your head unit to almost any device. But, here are the three main connectivity options you need to make sure you get.
Read More: 10 Best Bluetooth Car Kits
USB: USB also allows for music streaming via a USB cable and converts the stereo to a charging system for your other devices like smartphones and tablets.
Aux: Auxiliary ports are basically "reverse" headphone jacks. They take input from the connected device (headphone jacks provide output) and play it on the car speakers.
Conclusion
With the best single DIN head unit, you can easily take your car's sound system without having to spend much. Regardless of your preferences, there is a good model for you on our review above.
That said, the Pioneer DEH-S1100UBis our best overall model and top recommendation. Besides delivering exceptional sound quality, this unit works with most handheld devices and is packed with various other fantastic features.
However, for motorists looking for something more budget-friendly, the BOSS Audio Systems 616UAB will be a more appropriate choice.