As you search for ways to improve your vehicle's entertainment and overall driving experience, finding the best double din head unit is always a fantastic starting point.
Unlike traditional single din head units that are more compact and lacking in functionalities, the double din models are larger and more feature-rich. Single units are typically 2" x 8" while the doubles measure 4" x 8", which allows them to accommodate larger screens and more features.
Besides entertainment, these head units do much more for your vehicle, from helping with navigation to allowing you to receive calls and control your playlist hands-free. Other advantages of these head units include providing multiple media connections and enhanced sound quality.
As the market is flooded with all kinds of double din head units, here we review some best performing models and give you a buying guide to help you pick one.
Editor's Recommendation: Top Double Din Head Units of 2021
Summary of 7 Best Double Din Head Units
IMAGE
PRODUCT
FEATURES

Boss BVCP9685A

1. Boss BVCP9685A (Best Overall)

Fast & accurate capacitive touchscreen
Supports Apple CarPlay
USB port included

Boss 850BRGB

2. Boss 850BRGB (Best Inexpensive)

Highly affordable
Multi-color illumination
Bluetooth audio streaming

Sony XAV-AX100

3. Sony XAV-AX100 (Best Voice Control)

Apple CarPlay & Android Auto for voice control
10-band equalizer
Dynamic stage organizer
Ergonomic rotary dial

Pioneer AVH-W4500NEX

4. Pioneer AVH-W4500NEX (Best Android)

Compatible with Android Auto & Android Auto over USB
Large 7-inch motorized display
Built-in Bluetooth

Boss BV9364B

5. Boss BV9364B (Versatile Media Playback)

Supports more media playback options
Built-in equalizer
Wireless remote control

Boss BV9358B

6. Boss BV9358B (User-Friendly)

Easy to use with user-friendly interface
Bluetooth audio streaming
Variety of media playback options

Binize HD

7. Binize HD (Smart WiFi)

Built-in WiFi & GPS navigation modules
Supports HD video playback
Backup camera input
1. Best Overall: Boss BVCP9685A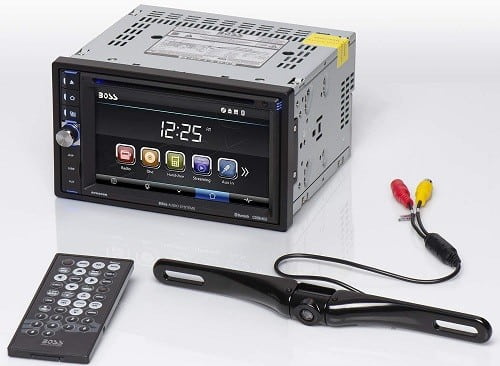 Screen Output: 6.75-inch LCD touchscreen
Channels: 80W x 4CH
The Boss BVCP9685A is our best overall double din head unit thanks to the superior sound quality, Apple CarPlay compatibility, an intuitive touchscreen, and many other features that take your entertainment a notch higher.
With its Apple CarPlay compatibility, this head unit allows you to activate Siri voice control so that you can get easier access to apps on your phone. Better yet, with Siri voice control, you get a genuinely hands-free operation. This head unit also works with Android devices, and so you can make use of Google Assistant.
Operating the device is much more comfortable and fun as it has a highly intuitive 6.75-inch capacitive touchscreen. When it comes to connections, you get both AV and USB inputs. Also, there are front, rear, and subwoofer pre-amp outputs to make it easier to set up your system just how you prefer.
Other things like preset built-in EQ and controls for bass, treble, balance, and fader make this an even better model as they allow you to customize your sound quickly.
There is no DVD or CD player, which can be a drawback for some motorists, but most hardly ever need to use one. What's more, you can always connect an external one via the USB port.

---
2. Best Inexpensive: Boss 850BRGB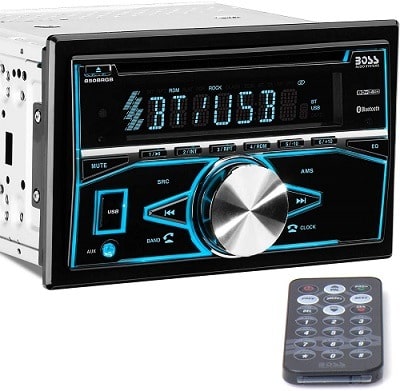 Screen Output: 7-inch display
Channels: 80W x 4CH
If you do not have a lot of cash to spend on a double din head unit, the inexpensive Boss 850BRGB should be an excellent purchase.
Besides being the cheapest unit on our double din head unit review, this model is still quite powerful with an 80-watt output over 4 channels. Also, it has a multi-color display illumination that lets you customize the appearance to set your vehicle's mood.
With the inclusion of Bluetooth connectivity, you can play music and receive or make calls wirelessly. Additionally, there is a remote control to make the stereo even easier to control.
For the inputs, you get an auxiliary input and USB, while for the outputs, there is something for all your car speakers and subwoofer.
There is no dimmer for the display, making it a little too bright at night, but the light is quite pleasant and is hardly a concern for most people. The mic could be better quality for making calls, but it still gets the job done.

---
3. Best Voice Control: Sony XAV-AX100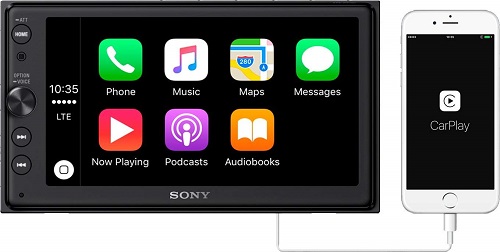 Screen Output: 6.4-inch LCD touchscreen
Channels: 55W x 4CH
For the motorists that prefer a truly hands-free operation of their stereo, the Sony XAV-AX100 is what you need. This model supports both iOS and Android operating systems, and hence giving you the freedom to use either Apple CarPlay or Android Auto for voice control, depending on your phone type.
With the bright and clear 6.4-inch touchscreen, you can control and view everything with ease. Also, there is an ergonomic rotary dial that allows for simple, distortion-free operation. Better still, this model has many sound customization options thanks to the 10-band equalizer.
Many users also love that you can enjoy more authentic-sounding music with this head unit as it includes a dynamic stage organizer to allow you to create virtual speakers on the dashboard. Lastly, the head unit comes rear camera ready, making it very handy when reversing.
The provided installation instructions do not seem very useful, but this is a simple device that most people should figure out quite quickly. Also, DVD/CD player support is hardly necessary these days, and its absence should not be the deal-breaker.

---
4. Best Android: Pioneer AVH-W4500NEX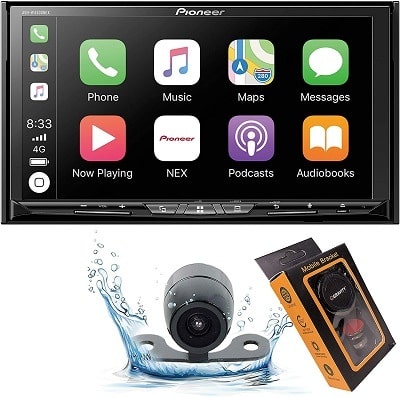 Screen Output: 7-inch LCD touchscreen
Channels: 50W x 4CH
You can hardly ever go wrong with Pioneer when it comes to car stereos as they have been an industry leader for some time now. And if you are looking for something to pair with your Android phone, their Pioneer AVH-W4500NEX makes a great buy.
What makes this such a fantastic option for Android devices is that it can work with Android Auto wireless and Android Auto over USB. Therefore, you can access all your favorite apps and media with ease.
With the built-in Bluetooth, this head unit allows you to make and receive calls hands-free or play music without ever touching the stereo. Additionally, the package includes an HD backup camera and magnet holder, making it an even better buy. What's more, there is a larger 7-inch motorized display for more straightforward operation and media view.
Although the touchscreen could be a little more sensitive, it still works well once you get used to its sensitivity level. It is also pricier than others on our list, but the quality is worth the extra cash.

---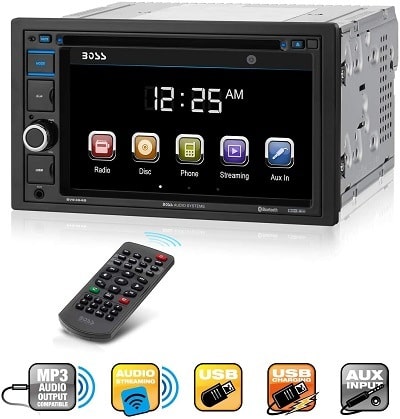 Screen Output: 6.2-inch LCD touchscreen
Channels: 80W x 4CH
The versatility of Boss BV9364B is one of its most distinctive elements. This multifunction unit allows you to play from all your favorite media. It has a DVD/CD player, USB and SD ports, and Bluetooth for wireless media playing.
Another fantastic element is that this head unit makes it easy to tweak the sound to your liking with a built-in preset equalizer. What's more, you can be sure of an easy time adjusting and operating the device as it has a nice touchscreen and wireless remote control.
This model has you covered when it comes to both the inputs and outputs. For the inputs, you also get AUX and a rearview camera port. Better still, there are enough outputs for your subwoofers and all standard vehicle speakers.
Some users have a few concerns with this head unit because the microphone sound is not the best, and instructions are poor. However, both are still not deal-breakers for a majority of motorists.

---
6. User-Friendly: Boss BV9358B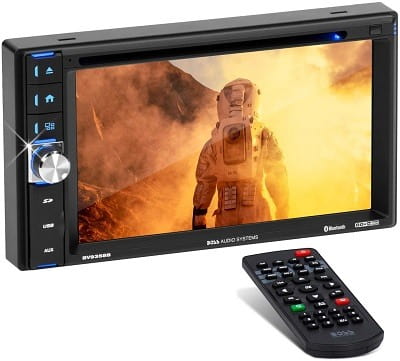 Screen Output: 6.2-inch LCD touchscreen
Channels: 80W x 4CH
The easy to use and more user-friendly interface is what gives the Boss BV9358B an edge and makes it one of the best double din head units out there. The touchscreen interface is clear and easy to read and ensures users can easily navigate through it.
With this stereo, you get wireless media streaming as it has Bluetooth connectivity that makes it easy to pair with your phone. Besides Bluetooth, you get multiple other media playback options as it also includes CD/DVD player, USB, SD card port, and AUX input.
Choosing your preferred sound style should be simple with this head unit as it includes a preset Equalizer. What's more, it comes with remote control and is steering wheel controls ready to give you more operating options.
There seems to be a slight delay when switching to and from the backup camera, but it is not significant enough to cause any issues. Although there is no provision for an external mic, the built-in one is good enough for calls.

---
7. Smart WiFi: Binize HD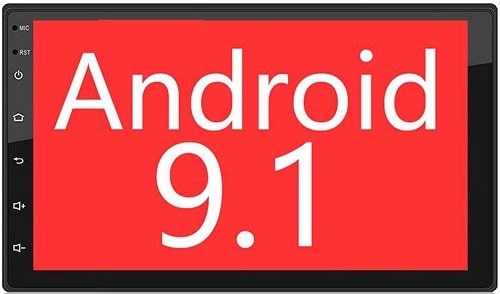 Screen Output: 7-inch LCD touchscreen
Channels: 4CH
A smart double din head unit like the Binize HD is just what you need to spice up your vehicle entertainment system. What makes this one of the best double din stereos out there is that it includes both WiFi and GPS navigation.
With WiFi, you can connect to the internet and download apps or watch movies and TV straight from your head unit. On the other hand, GPS navigation provides free maps for easy navigation and supports a multi-language interface. You also get built-in Bluetooth for wireless call answering and media streaming.
Reversing will be a breeze with this head unit as it supports backup camera input to display the rear image when parking automatically. Additionally, it supports 1080P HD video playback and comes in a more standard 7 x 3.94 inches size to ensure it fits a wide variety of vehicles.
Although this head unit seems to get quite hot at the back, you do not feel the heat at the front section, as it remains cool.

How to Buy the Best Double Din Head Units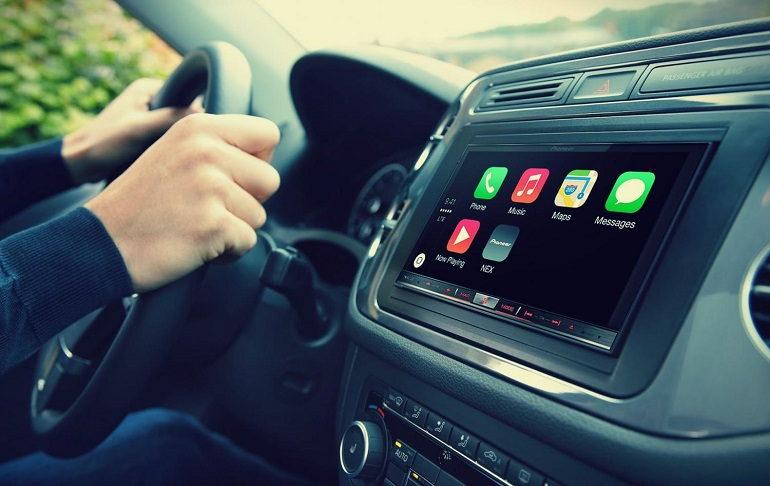 1. Compatibility
Given you may want to stream content straight from your smartphone, and other smart devices, the double din head unit you choose should be compatible with your devices.
Compatibility often depends on the specific operating system on your smartphone. However, something that can work with iOS and Android is more convenient as it will accommodate most people who ride on the vehicle.
A model that can allow you to connect to the internet to access iTunes and Spotify or even Netflix like the Boss BVCP9685A is an even better choice.
2. Screen
While the screen on a double din head unit is more extensive than what you get on the single one, there is more to a suitable display than just the size. Hence, it would help if you considered the specific screen you get when deciding on the model to buy.
Ensure the display is easy to navigate, and those that have touchscreens are by far the best. Additionally, the screen should be bright enough and with the right font to allow you to read easily.
3. Power
Power is also crucial when it comes to choosing the best double din stereo. A powerful unit allows you to play both loud and soft music with no distortions.
When it comes to power, you need to pay more attention to the RMS power handling as it is the actual power the unit can handle continuously. The peak power also matters as it determines the maximum power the stereo can take before burning out.
Make sure whatever model you choose can handle at least 50 watts peak power and 20 watts RMS for the best performance.
4. Pre-Amp
Head units often include different pre-amp outputs, which are simply the signals before getting amplified.
What makes this factor important is that it determines how much you can expand the music system by adding more amplifiers and equalizers without using a conversion adapter.
With that in mind, a double din head unit should have multiple pre-amp outputs to allow for sound system expansion.
5. Control
As you shop for a double din head unit, it is vital to keep controls in mind as you want something easy to use.
Touchscreen models with simple or well-arranged menus and functionalities are always the easiest to control. But, those that have large and comfortable to press buttons should also give you an easy time.
6. Connectivity
The more connectivity options you get on your double din head unit, the better as this ensures you have an easy time controlling it and playing music from different devices.
Bluetooth connectivity has become an almost standard feature in most modern models, and it will be handy for streaming music from different devices and hands-free call answering.
Some such as the Binize HD also include WiFi for more wireless connectivity options and a USB port for a stable wired connection.
7. Theft Protection
Car stereos are a popular target for automobile thieves as they are easy to dispose of and not as risky to steal as other vehicle components. When buying a double din head unit, keep this in mind, and make sure you go for a model with theft protection.
Although a stereo that attaches more securely and is hard to remove might seem the best for theft protection, this is hardly the case as thieves always find a way to remove it. Instead, something with a detachable face is much better as you can take it out and lock it in the trunk or glove box.
Conclusion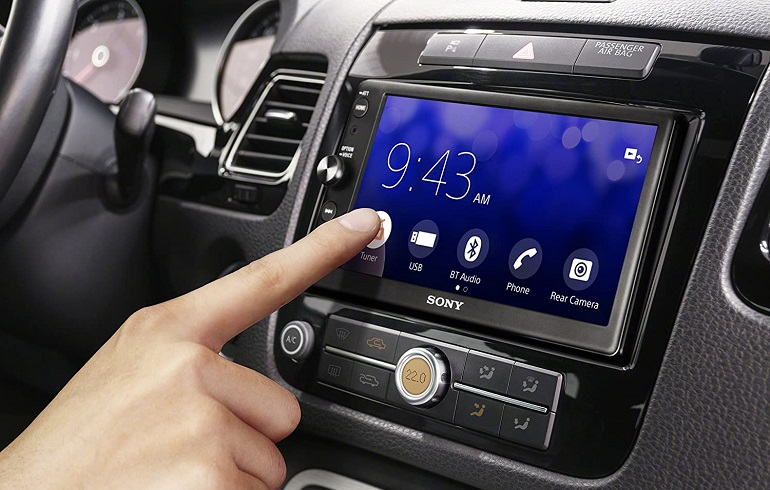 A double din head unit always makes an excellent buy for anyone looking for simple but still effective ways of upgrading their vehicle entertainment system. And with our review above, choosing the best double din head unit should be a breeze.
Although you still get a top-quality product regardless of which option you pick on our list, the Boss BVCP9685A is our top overall product. Besides the nice touchscreen, it also provides an excellent quality sound output and is feature-rich.
For the motorists looking to save a few bucks but still get excellent sound quality, the more affordable Boss 850BRGB should be perfect.