If you have a powerful audio system in your car, then connecting the amplifier directly to your car battery is not a good idea. It may not have the necessary amperage to run such a demanding system.
You should consider getting a car audio battery dedicated solely to your car's sound system. A good car audio battery is usually heavy-duty, with a low discharge rate, and can send a high amperage to power demanding amplifiers for long periods.
With that in mind, let us look at the best car audio batteries you should consider buying in the market.
Editor's Recommendation: Top Car Audio Batteries of 2021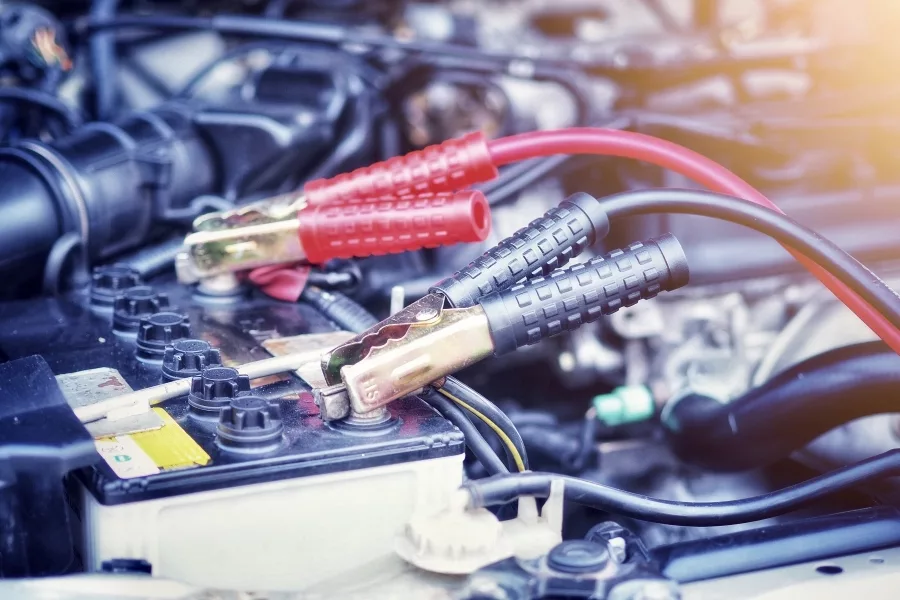 Summary of 7 Best Car Audio Batteries
IMAGE
PRODUCT
FEATURES

Optima 8014-045

1. Optima Batteries 8014-045 (Best Overall)

Ideal for starting & deep cycle use
Long 2-hour reserve capacity
15x more resistant to vibrations

Mighty Max Battery VP-6003

2. Mighty Max Battery VP-6003 (Best Cheap)

Affordable
Efficient AGM technology
Leak proof

XS Power D3400

3. XS Power D3400 (Best High Output)

High 3300-Amp maximum output
Powerful 65 Ah charge capacity
High 1000 CCA rating

Kinetik HC600

4. Kinetik HC600 (Best Lightweight)

Compact & lightweight (11.2 lbs.)
Efficient AGM technology
Relatively high 600 CCA rating

Odyssey PC680

5. Odyssey PC680 (Long Cycle Life)

Lasts 400 discharge cycles
Up to 10-year lifespan
Quick 4 - 6-hour charging

Kinetic KHC2400

6. Kinetic KHC2400 (Powerful)

High 110 Ah charge capacity
Delivers up to 2400 watts
Low internal cell resistance

Stinger SPP1200

7. Stinger SPP1200 (Reinforced)

Protective steel case
Removable brass posts
Good for over 400 discharge cycles
1. Best Overall: Optima Batteries 8014-045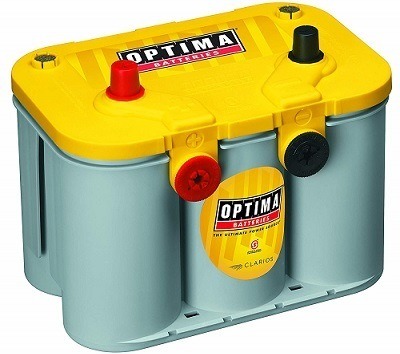 The Optima 8014-045 is our best overall car audio battery because it is a dual-purpose unit with a high charge capacity and is very durable.
Ideally, audio systems require deep cycle batteries that discharge slowly over time, but this unit is suitable for both starting and deep cycle. This makes it very versatile because you can still use it as a regular battery for powering the engine to life.
That said, the battery has a decent 750 CCA rating, which means it churns out enough starting power to turn on a big engine even in cold weather. As for the charge, it is rated 55 Ah with a 2-hour reserve capacity. This is more than enough to run a powerful audio system.
SpiralCell technology is responsible for this exceptional performance, and it consists of spiral-wound 99.99% pure lead plates. As compared to flat plates, these have a larger surface area, which holds more charge.
The battery is 15x more resistant to vibrations, making it very durable. Its hard polypropylene case further improves the durability factor. On the downside, the unit lacks handles for easy carrying.

---
2. Best Budget: Mighty Max Battery VP-6003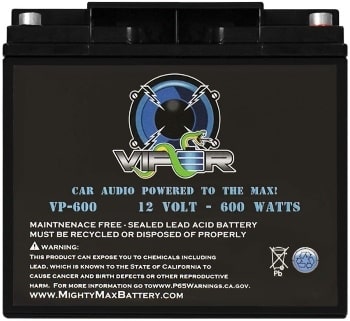 If you've already spent a lot acquiring the sound system, the VP-6003 will not set you back that much. It is very affordable, and we recommend it if you are tight on cash.
Despite this, the unit features AGM technology, which keeps it from spilling the electrolyte inside. It also improves power efficiency and cell durability. In addition to this, the battery is fully sealed to prevent any non-absorbed acid from leaking. As such, you can mount it in any position in your car.
When it comes to power, this piece can deliver 600 watts at 12 volts. While doing so, it withstands high temperature and vibrations for maximum durability.
However, its 18 Ah charge capacity is relatively low, which means it does not hold a lot of energy. On the bright side, the battery is very lightweight (11.9 pounds).


---
3. Best High-Output: XS Power D3400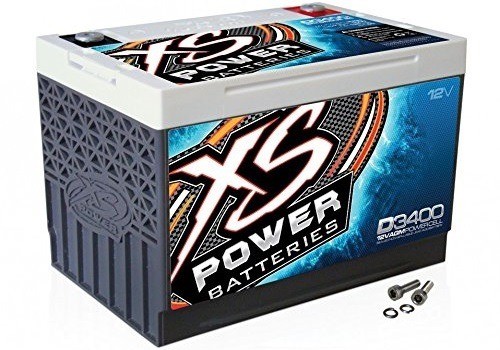 The XS Power D3400 is an ideal choice for powerful car audio systems because it has a maximum output of 3300 Amps. On top of this, the unit has a charge capacity of 65 Ah, which means you get enough power to run your amplifier at full capacity.
Aside from that, you can use the battery for starting purposes as it has a high CCA rating of 1000 Amps. This also means it works perfectly under cold conditions.
A fully-sealed design allows you to position the battery upright, sideways, or upside down because it is spill-proof. Additionally, it has Absorbed Glass Mats between the plates, which absorbs all the electrolyte to leave the inside dry.
You also get M6 terminal bolts for easy connection to audio systems, but the unit is relatively heavy and very expensive.

---
4. Best Lightweight: Kinetik HC600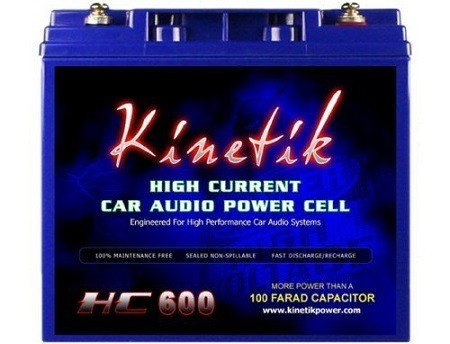 Weighing in at only 11.2 pounds, Kinetik's HC600 is the most lightweight battery in this review. Using it will reduce the overall weight of the new sound system installation in your car.
Additionally, the product has a compact form factor and will fit if you have a little space in your vehicle. It measures only 7.13 x 3.01 x 6.57 inches.
Regardless of this, the unit features 12V high-current power cells that are suitable for 600-watt audio systems. The cells have a rating of 600 CCA and are resistant to extreme heat & vibrations.
Inside, AGM technology ensures there is no liquid electrolyte flowing around for enhanced efficiency, while a fully-sealed design keeps the acid from leaking. This allows you to install the battery in any position.
The only issue is that the product does not store a lot of energy; it is rated 18 Ah. As such, it will discharge quickly.

---
5. Long Cycle-Life: Odyssey PC680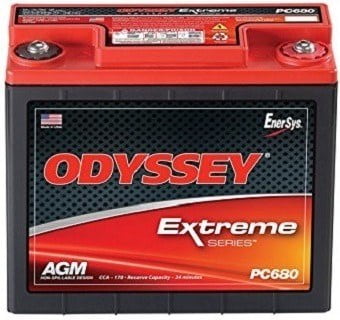 As compared to its peers, this deep cycle car audio battery has a 70% longer cycle life because it lasts up to 400 cycles at 80% depth of discharge. Overall, it is highly durable as it can remain functional for up to 10 years and delivers a high stable voltage for long periods.

Aside from that, the unit has a relatively fast recharge time, which can go from 0 - 100% in 4 - 6 hours. Moreover, this battery is highly tolerant of high temperatures, including when charging.
A sealed design with AGM keeps the acid from spilling outside. This enables you to mount the battery in any orientation. You also get a shock & vibration resistant design.
However, the battery has a low 16 Ah rating and a reserve capacity of only 24 minutes. It is not very powerful, and we recommend it for smaller audio systems.

---
6. Powerful Car Audio Battery: Kinetic KHC2400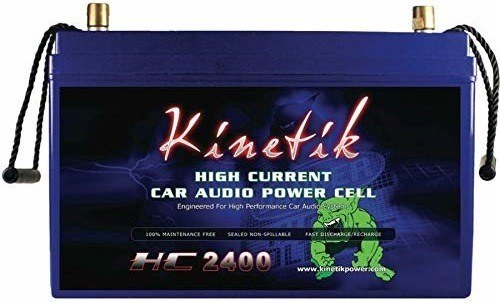 With a charge capacity of 110 Ah, Kinetic's KHC2400 is very powerful because it delivers up to 2400 watts at 12V. This current is enough to run audio systems that produce up to 180dB from the speakers.
The high output is made possible by tightly packed cells that maintain a high voltage under heavy load. These cells also have a low ESR (resistance) for higher efficiency, and their dense packing gives a higher energy density.

Absorbent Glass Mats are placed between the plates in these cells to keep the interior dry of any electrolyte, and the case is sealed to prevent any leaks. This enables you to mount the battery in any position.
You also get superior heat and vibration resistance, but the unit is heavy. It weighs 69 pounds.

---
7. Reinforced Car Audio Battery: Stinger SPP1200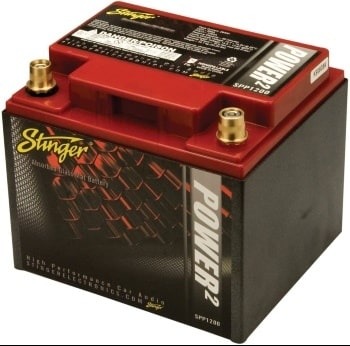 Stinger's SPP1200 features a protective steel case that acts as a reinforcement to protect it from getting punctured in case of rough handling. That said, the unit is fully sealed and has Absorbent Glass Mats inside to prevent any leaks. Therefore, it is maintenance-free, and you can mount it in any orientation.
In addition to this, the battery has brass posts that are removable for easy fitting in most factory battery locations.
When it comes to performance, the SPP1200 can be used for starting or deep cycle functions. It delivers 1200 CCAs for exceptional starting power, and up to 1200 watts for regular use.
The piece has a lifespan of over 400 full discharge cycles but is relatively expensive. It also lacks handles for easy carrying.


How to Buy the Best Car Audio Battery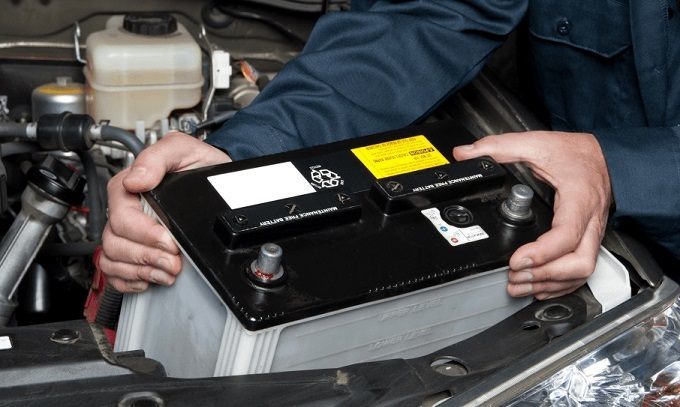 1. Size and Compatibility
The first thing you should consider is the size of the car audio battery. You will need a place to install it inside your vehicle, so it must be the perfect fit.
On top of this, you must ensure the battery is compatible with the audio system. Check the wattage and ampere rating of the system, then pick a unit that can supply this power.
2. Dedicated or Dual-Purpose Audio Battery
A dedicated car audio battery is solely for supplying your audio system with power. Also called a deep-cycle battery, it discharges slowly, and therefore, you should not use it to start your car.
The advantage of this is that the current is not shared, which means your audio system will get all the power it needs to perform optimally.
However, dual-purpose batteries are ideal for both starting and deep cycle use. They are more versatile, but if you want this type, ensure it is powerful enough to handle both functions.
Ideally, the CCA should be above 600, the charge capacity above 50 Ah, and the reserve capacity over 1 hour. For this, you can check out the Optima 8014-045.
3. CCA and Reserve Capacity
CCA or Cold Cranking Amps is a measure of the number of amps that a battery can deliver in 30 seconds at 0ºF without dropping below 7.2V.
This only applies to starting or dual-purpose batteries, and the higher the rating, the better because such units can crank large engines with ease.
On the other hand, reserve capacity measures the number of minutes that a fully charged battery will discharge 25 amps (at 80ºF) until it drops below 10.5V.
It shows how the unit performs over a long time, which is like the opposite of CCA. The longer the duration, the better, and this shows the battery can run the audio system much longer.
4. Handle or Loop
The handle at the top of your car audio battery is for portability purposes. If it is not there, you will have a hard time carrying the product, especially considering most of them are very heavy.
5. Battery Life
Measured in discharge cycles, more is better, and you should consider a car audio battery that has at least 300 discharge cycles so that you get value for money. In this case, Odyssey's PC680 hits the 400-mark, and we recommend it.
6. Maintenance
For easy use, maintenance-free batteries are the way to go. Look for fully-sealed designs with Absorbent Glass Mats between the cells. These features ensure there are no leaks, and consequently, there will be no need to refill the cells using distilled water once the level goes down.
Read More: The Best AGM Battery
7. Vibration Resistance
Generally, cars vibrate when moving. A powerful audio system will also cause a lot of shaking. Therefore, you must ensure your preferred battery is vibration resistant to prevent damages when in use.
Conclusion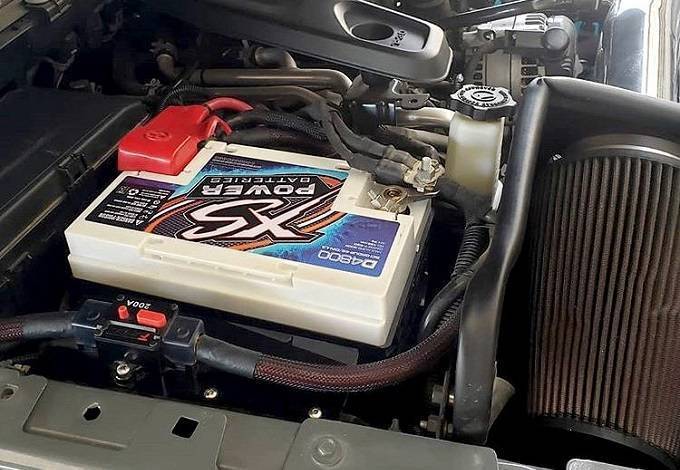 To sum it up, the Optima 8014-045 is our best overall car audio battery due to its dual-purpose functionality. Additionally, it is very durable and has a unique spiral cell design that gives a high charge capacity.
That said, if you have installed a powerful sound system, it makes more sense to go for the XS Power D3400. It delivers 3300 Amps and has a high 65 Ah charge capacity.
However, if you are short on cash, you should consider the VP-6003. It is very affordable but still delivers a decent 600 watts.