If your car has an old stereo, chances are that its functionalities such as its connectivity capabilities are limited. You could opt to replace the entire unit with a modern, advanced piece but this is a costly option.
Buying an FM transmitter is the affordable option and you will still get similar features such as Bluetooth connectivity, AUX, USB ports, etc.
However, since it is the cheaper option, there are many varieties out there in the market that might not meet your expectations due to their substandard features. To help you pick a good unit, these are the best FM transmitters that you should consider buying.
Editors' Picks for Top Fm Transmitters of 2021
Summary of 10 Best FM Transmitters
IMAGE
PRODUCT
FEATURES

JETech 0790-FM-BK

1. JETech 0790-FM-BK (Compact)

Small and compact FM transmitter
User-friendly design
Broadcasts high-fidelity sound
3.5mm audio plug

Https://carcaretotal.com/wp-content/uploads/2019/08/Imden-Bluetooth-FM-transmitter-for-car.jpg

2. Imden Bluetooth FM transmitter for car (With Multi-Safety Protection)

Multi-safety protection features
2 USB ports, one being a 3.0 fast-charging port
Built-in mic with noise suppression technology
Bluetooth connectivity

VicTsing QC3.0 New Version

3. VicTsing QC3.0 New Version (Noise Cancellation Technology)

Advanced noise cancellation technology
Bluetooth connectivity with EDR
2 USB ports, one with fast charging
Large 1.77-inch display

Nulaxy KM28

4. Nulaxy KM28 (Large Screen)

Large 1.8-inch TFT display
2 USB ports, one with fast charging
Multiple safety protection features
4 play modes

Lihan LHFM1039

5. Lihan LHFM1039 (Smart USB Port)

2 USB ports with one being smart, fast charging
Bluetooth connectivity
Battery voltage function
Noise suppression technology

Aukey BT-C4

6. Aukey BT-C4 (Good)

Compact FM transmitter
Easy-to-read display with intuitive buttons
3.5mm audio jack
A 2.1-amp USB port

LDesign FMTR0009

7. LDesign FMTR0009 (Latest Bluetooth Technology)

Latest Bluetooth V5.0, which is very stable
CVC noise and wind suppression
Car battery voltage function
4 music playing modes

Criacr US-CP24

8. Criacr US-CP24 (Easy-to-Use)

Multi-function button for easy use
2 USB ports
CVC noise cancellation technology
Built-in microphone

VicTsing New Version

9. VicTsing New Version (4 Music Play Modes)

4 music play modes
2 USB ports
Multi-functional button
Bluetooth with built-in mic for hands-free calling

TeckNet 811398

10. TeckNet 811398 (Cheapest)

Affordable
3.5mm audio jack
USB charging port
High visibility screen
1. JETech 0790-FM-BK - Compact FM Transmitter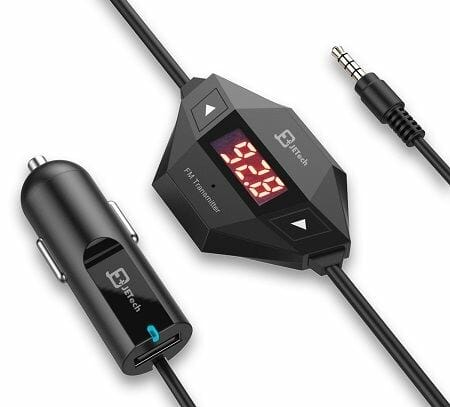 JETech's 0790 has the main advantage of being small and compact. The unit is pocket size, which means it takes up very little space in your car and is effortless to carry around.
That said, the transmitter is very powerful and practical, with a single USB port for keeping your devices charged and a 3.5mm headphone jack for connecting to iPhones, iPads and other mobile devices.
Once connected, the unit broadcasts a high-fidelity sound via FM radio signals so that you can play audiobooks, MP3 and other audio files via the car's stereo system. All you have to do is tune the stereo to the broadcast frequency that you set.
Other features include a user-friendly design with an easy-to-read display and responsive tactile buttons and a durable ABS construction. However, the unit does not have Bluetooth or a built-in mic for responding to calls.

---
2. Imden Bluetooth FM transmitter - FM Transmitter with Multi-Safety Protection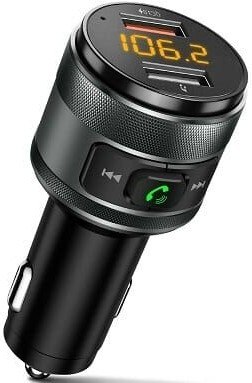 Safety protection features are always important to have for durability purposes and this transmitter is very well equipped in this. It has built-in over-current and over-voltage protection, as well as short circuit protection and intelligent temperature control.
Other than this, the unit is very practical because it has 2 USB ports, with one being a quick charge 3.0 port that will fill up your devices in a short time.
Another important feature you get is a built-in microphone with noise suppression technology (CVC) while a dedicated answer call button makes it safer to use when driving because it is easy-to-use.
Connection to your device is done via Bluetooth, enabling you to link up your phone, iPod, iPad, etc. wirelessly for audio streaming, and this is then broadcast on the frequency you set between 87.5 - 108.0 MHz.
Combined, these features make it the top-rated FM transmitter in our review. However, it does have a very small screen, which does not display a lot of information.

---
3. VicTsing QC3.0 New Version - FM Transmitter with Noise Cancellation Technology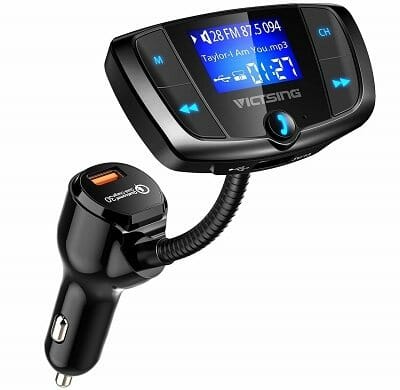 Though expensive, this FM transmitter from VicTsing packs a lot of useful features. For starters, it has a built-in mic for hands-free calling with advanced interference and noise cancellation technology for superior voice quality.
On top of this, the unit has a large 1.77-inch LCD screen, which shows the file name of the audio being played, time, volume and frequency, among many others. This display is mounted on a flexible hose, which allows you to adjust it to the optimal viewing angle.
Bluetooth connectivity is used to link it up with your devices and EDR technology (Enhanced Data Rate) is built-in to make sure the connection is very stable for a faster data transmission rate.
Other features include 2 USB ports with quick charging, a couple of safety protection features such as intelligent temperature control, short circuit, over-current and over-voltage protection, and an on/off switch to prevent battery draining.

---
4. Nulaxy KM28 - Car FM Transmitter with a Large Screen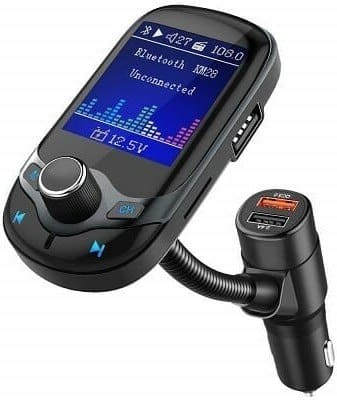 Nulaxy's KM28 is also quite costly, but it has the largest display, coming with a 1.8-inch TFT color screen. With this, the transmitter shows various info such as the incoming call number, song name, battery voltage, FM frequency, connected Bluetooth devices, etc.
The unit is also very versatile because it accepts 4 music sources, which are AUX, TF card, Bluetooth and USB, then delivers crystal clear audio to the car's stereo system via the FM frequency that you set.
For USB, 2 ports are built-in and one is a fast-charging port that charges at 4 times the speed of a conventional charger.
Other features include multiple safety protection features such as smart temperature control, over-current, over-voltage and short circuit protection, 4 play modes (random, repeat one, repeat all and repeat folder) and 5 equalizer modes.

---
5. Lihan LHFM1039 - FM Transmitter with a Smart USB Port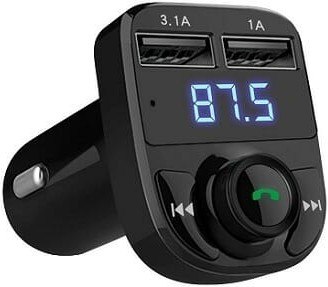 This FM transmitter has 2 USB ports, but one of them is a smart 3.1-amp port that is designed to automatically identify whether the connected device runs on iOS or Android for fast charging purposes. This makes it one of the best FM transmitters for iPhone and Android.
Other than that, the unit has Bluetooth connectivity that is compatible with a wide range of smartphones for audio streaming and calling purposes.
Once connected, a built-in mic makes it possible to switch to a hands-free mode so that you can concentrate on driving the car, while a multifunction answer call key makes it very easy to receive, reject, hang up or recall.
More features include a battery voltage function for showing the battery level, noise suppression technology, and TF card compatibility up to 32GB. However, the unit has a small screen, which limits the amount of information that can be shown at a time.

---
6. Aukey BT-C4 - Good FM Transmitter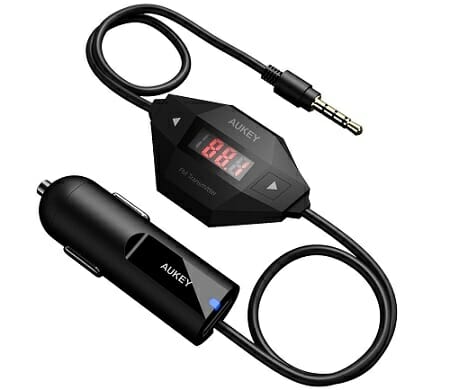 Aukey's BT-C4 is also a compact FM transmitter that features a 3.5mm audio jack, which gives wide compatibility to any device that has a 3.5mm audio port such as iPhones, iPads and Android devices.
The unit features an easy-to-read display that is highly visible and is flanked by intuitive buttons on the sides for changing the FM frequency.
You also get a powerful 2.1-amp USB port for keeping your device powered up as you stream music or any other audio files from it.
However, only 1 USB port is built-in and it has no Bluetooth connectivity. You must use the 3.5mm audio jack for connectivity.

---
7. LDesign FMTR0009 - FM Transmitter with the Latest Bluetooth Technology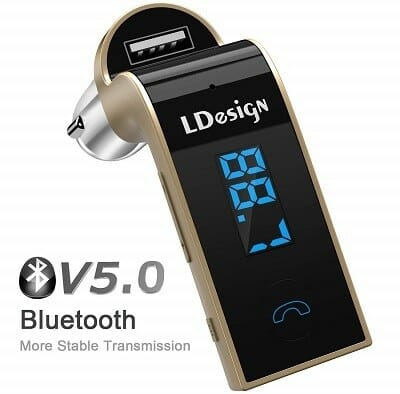 LDesign's FMTR0009 literally has an L-shaped design but most importantly, it runs on the latest Bluetooth version 5.0, which is more stable and gives the best anti-interference for superior quality in audio transmission.
Additionally, the unit has CVC technology built-in for noise and wind suppression, which drastically improves the quality of your hands-free calls.
Other than Bluetooth, the transmitter has 3 other music playing modes, which include USB, TF card and through a 3.5mm audio cable. These options make it very versatile because of its wide compatibility.
A car voltage function is also included, and this is designed to ensure your driving safety by showing the condition of your car battery.
Ideally, the battery's voltage should be between 13.2 and 14.7V when the engine is running, and 12.2 - 12.8V when off. Using this as a guide, you be able to tell if the battery has a problem. On the downside, only 1 USB port is included and the display is very small.

---
8. Criacr US-CP24 - Easy-to-Use FM Transmitter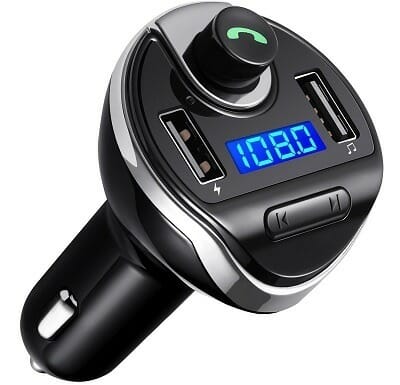 With its multi-function button use, this FM transmitter is very easy to use because it allows you to pause or play music playback using one button, while on calls, the same button allows you to accept the call or end it.
Another intuitive channel selection button is included on the front face, letting you scroll through the frequency range with ease from 87.5 - 108.0 MHz.
Still on the front face, you get 2 USB ports for powering your devices and a small screen for showing the selected frequency.
Other features include 3 music playing modes (USB, Bluetooth, and TF card), noise and wind suppression using CVC technology (creates a full-duplex sound quality), and a built-in mic for hands-free calling. However, no 3.5mm audio port is built-in.

---
9. VicTsing New Version - FM Transmitter with 4 Music Play Modes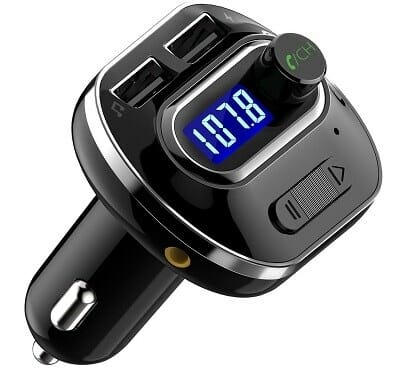 VicTsing's New Version is very widely compatible because it has 4 music play modes, which include Bluetooth, TF card (up to 32 GB), USB (up to 32 GB) and a 3.5mm Aux port. With these, you can connect very many devices because all connectivity options are available.
Additionally, the unit features 2 USB ports, which means you can use one for charging your phone while the other plays music from a flash disk. However, none of the ports is fast charging.
With Bluetooth connectivity, you get a built-in mic for hands-free calling and a multi-functional button for answering, ending, rejecting or redialing a call, and also for adjusting the volume settings, which simplifies its use.
Other features include a battery voltage display function and stable Bluetooth V4.1 with auto reconnection to the last paired device. However, the included display is quite small.

---
10. TeckNet 811398 - Cheapest FM Transmitter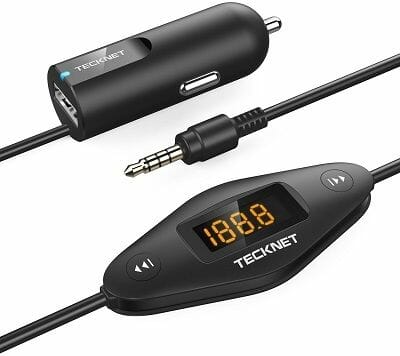 If you are on a tight budget, TeckNet offers this 811398 as an affordable FM transmitter to help upgrade your infotainment system.
That said, this wireless FM unit is still well equipped for the job, having a 3.5mm audio socket for connecting to almost all types of smartphones and audio players. You also get a single USB port for keeping your device powered as you stream music from it.
Two buttons are used for control in turning up or down the frequency, while the actual frequency is displayed on a high visibility screen that is easy to read. However, the transmitter does not have Bluetooth and a car battery voltage display function.

How to Buy the Best FM Transmitter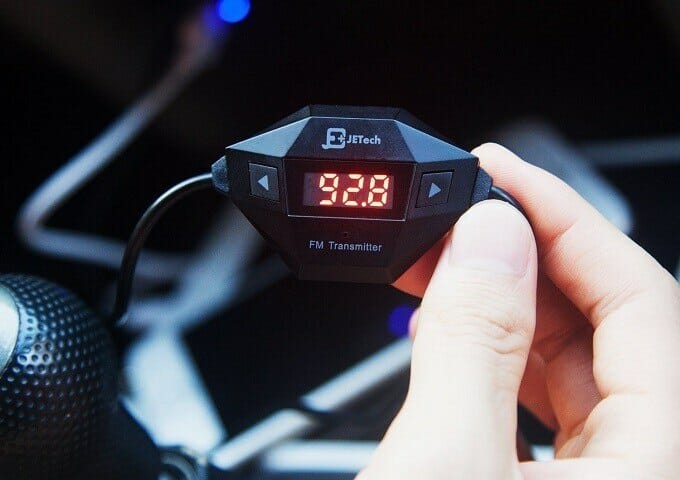 1. Frequency Range
To understand how to go about choosing this factor, you need to understand how an FM transmitter works. Basically, the unit selects a free frequency from its range, then begins to transmit so that you can tune the stereo to pick this signal.
However, at any given time, there are very many radio signals being transmitted using different frequencies from other sources, and especially so in highly populated areas. These multiple transmissions might cause a lot of noise or interference.
Therefore, to avoid lacking a free frequency in such areas, it is important to buy an FM transmitter that has a much wider frequency range so that there is a higher probability of getting unused frequency channels on the wider range.
2. Display
Another feature to check is the display size and this one is pretty obvious. The larger the screen, the better because it will display a lot of information at once, from the file name being played, incoming call number, frequency, battery voltage, etc.
Smaller screens only show the frequency and if the unit has other features such as a battery voltage function, you have to switch between showing the voltage and frequency using a button, which is a bit inconveniencing.
3. Sound Quality
In the process of converting audio to a radio signal so that your stereo can pick it up, some sound quality may be lost, which means you will be listening to low-quality audio.
For this reason, it is important to pick an FM transmitter that reduces quality losses as much as possible and therefore, look for noise cancellation features such as CVC.
4. Compatibility
Compatibility is also a very important factor to consider because you may want to play your music from an MP3 player, your phone, tablet, flash drives or even TF cards.
That said, the best FM transmitter should have all 4 music playing modes (USB, Bluetooth, TF card and 3.5mm audio) so that you can link it up with any of your devices or any devices you plan to buy in future.
The others that have 3 or less music playing modes should be bought only if you are sure the available options are enough for you.
5. Size and Design
While all FM transmitters are a bit similar in design due to their cigarette lighter socket construction, some are small and compact, which makes them easy to carry around.
However, this small size compresses everything together, leaving it with small knobs, screens, and buttons that are a bit tricky to use.
On the other hand, large transmitters can be very bulky but those with the large screens are okay to buy because the big display is a convenient feature.
Without a big screen, however, go for the medium-sized transmitter so that you get conveniently-sized buttons that easy-to-use.
6. Ease of Use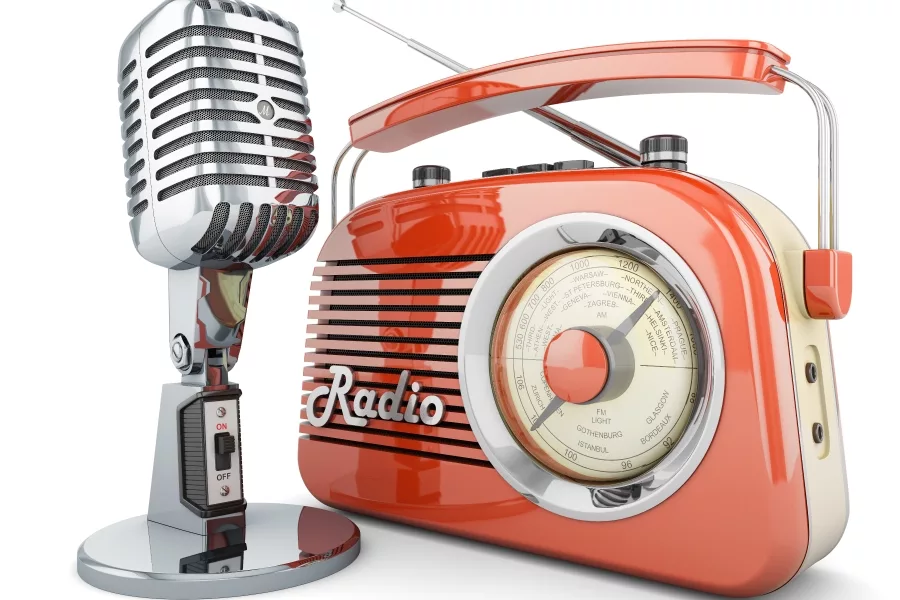 Lastly, you need to consider the ease of use factor. One important thing to look out for is a multi-functional button, which makes it very convenient to answer, end or reject calls from one place, while also doubling up as a volume knob.
There are many features you may get that simplify the transmitter's use and the more they are, the better.
Conclusion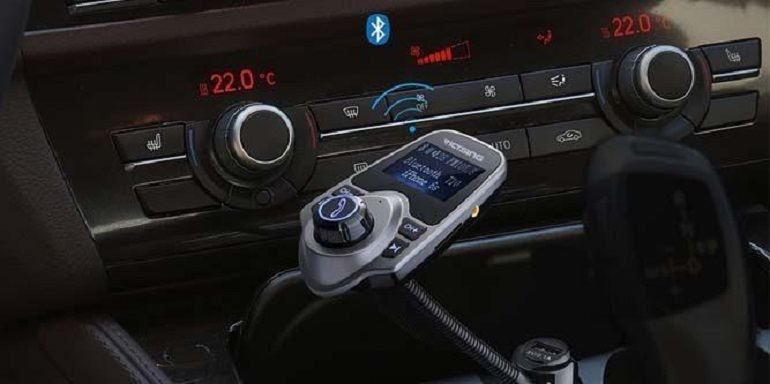 With this wide variety of FM transmitters, you can see that there are a lot of cheap viable options for upgrading your car's entertainment system instead of replacing the whole stereo unit.
Additionally, all of them are powered via the cigarette lighter port, which means power is in unlimited supply.